by Texas Homesteader~
I've struggled with biscuit recipes since, well, FOREVER! No matter what 'guaranteed recipe' I try the biscuits always seem heavy & dry.
But as is tradition I promised to make RancherMan whatever he wanted for his birthday breakfast recently. And his request was (of course) homemade biscuits and gravy, along with a generous supply of thick-cut heavily peppered crispy bacon.
Back to my recipe I went with a sigh. He deserved better! My previous attempts just didn't seem to have enough flavor. And the biscuits were heavy and dry.
But determined to provide my beloved RancherMan the meal he requested and deserved, I tweaked the recipe once again. And the biscuits turned out absolutely DELICIOUS. Flavorful, moist and fluffy. EUREKA!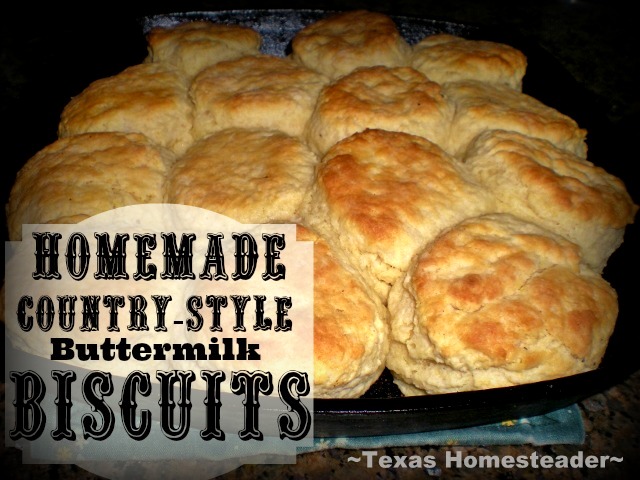 Making The Biscuits
Here's what I did: I took 4 cups of all-purpose flour and mixed in 1/2 teaspoon of baking soda, 2 Tablespoons of baking powder, 5 Tablespoons of sugar and 2 teaspoons of salt. I stuck all those dry ingredients into the bowl & allowed my KitchenAid to do the mixing for me & I turned my attention to cooking RancherMan's bacon.
While the bacon was draining on a newspaper-lined plate I thought,
"Hummm…
BACON GREASE!

"

So I continued with my biscuit recipe & into my dry ingredients I added 1 stick of butter that was softened & cut into cubes plus 1/4 cup of cooled bacon grease.

I mixed it all with my clean hands since I like to get the butter into small pea-sized chunks without making them too small. I've always read that those small orbs of butter help keep that biscuit moist as it's baking.

Finally I combined 1 cup of buttermilk and 1/2 cup of my homemade unflavored yogurt in a large mixing cup. I blended the two together thoroughly & transferred the wet mixture into my dry ingredients.

After mixing everything I plopped the dough onto my floured counter top.

I kneaded the dough for about a minute and then put the whole ball of dough back in the bowl. The bowl was covered loosely and put it in the fridge until I finished cooking RancherMan's breakfast – about 20 minutes. That stint in the fridge gets the dough cold again and makes it easier to handle.
Preparing The Biscuits
After my bacon was cooked I poured off most of the grease and kept just enough to coat the bottom of my cast-iron skillet. I retained the excess bacon grease of course for other uses!
Then I brought the biscuit dough back out of the fridge & patted it down into about 3/4″ thickness. The scientific reason I chose that thickness is because that was about as thick as my vintage biscuit cutter would go through. LOL.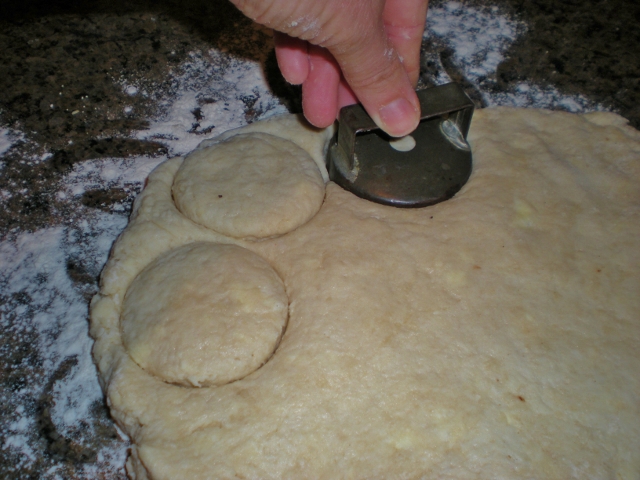 I cut those biscuits quickly and dropped them into my still-hot cast-iron skillet. They even sizzled slightly when the dough hit the hot grease.
Finally I put them into the oven that had been preheated to 450 degrees and set the timer for 12 minutes.
Leftover Dough Can Be A Sweet Treat!
Typically this recipe leaves me with just a little biscuit dough after the biscuits are cut. But what to do with the leftover biscuit dough?
Oh I used to come up with clever ways to add a handful of more biscuits in the oven to bake along with the ones in the skillet. Maybe a small metal pan or some foil to hold the 3-4 extra biscuit dough.
But that was then, this is now.
Now RancherMan MUCH prefers me to use that leftover dough to make cinnamon rolls. I roll out the extra dough into a rectangle & add softened butter/cinnamon/sugar. Then I roll the dough into a log & cut it into discs.
Into a CorningWare baking dish it goes before I place a small pat of butter on each roll. Then I slide it into the oven alongside the biscuits.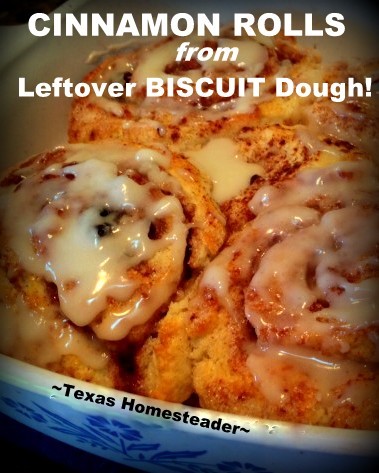 If you want to see the recipe and procedure you can go to my Cinnamon Rolls post to check it out.
In any event, the cinnamon rolls bake along with the other biscuits for a sweet treat after breakfast. RancherMan LOVES THESE!
Now that everything is in the oven I set my timer. Since my biscuits were so thick I pulled them out after that 12 minutes and brushed them with a little melted butter and placed them back in the oven for about 2 more minutes.
By that time they were golden brown and I pulled them out and awaited that delightful aroma of homemade buttery biscuits to waft through the house to RancherMan. It didn't take long!
So he enjoyed his special-request breakfast and was well pleased. I'm so happy that I've finally been able to amend my recipe to make a delicious fluffy & moist biscuit.
And I'm pleased to share that recipe with you now: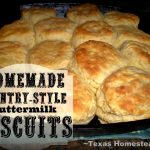 Homemade Country-Style Buttermilk Biscuits
I'm so happy that I've finally been able to tweak my recipe to make a delicious fluffy & moist biscuit. And I'm pleased to share that recipe with you now. Bacon grease is the secret ingredient. Shhhhh....

Ingredients
4

cups

all-purpose flour

1/2

teaspoon

baking soda

2

Tablespoons

baking powder

5

Tablespoons

granulated sugar

2

teaspoons

salt

1

stick

softened butter

1/4

cup

fat of choice

(bacon grease, lard, shortening, etc.)

1

cup

buttermilk

1/2

cup

unflavored yogurt
Instructions
Sift the dry ingredients into a large bowl and cut the softened butter and the additional fat of choice (bacon grease, lard, shortening, etc) into cubes and with your clean fingertips mash the chunks with the flour until they are only about the size of small peas.

Add buttermilk and yogurt and mix lightly but thoroughly. The dough should be soft, but not sticky. (If the dough is too dry add a few drops of milk, if it is sticky dust with a little extra flour.) When the dough is soft but not sticky cover the dough in a mixing bowl and place in refrigerator to cool for about 20 minutes.

After 20 minutes in the fridge preheat the oven to 450 degrees and place cast-iron skillet in oven to begin heating. Roll the biscuit dough to about 3/4″ thick on a lightly floured surface and use biscuit cutter (or drinking glass if you want larger biscuits) to cut out the dough.

Bring the hot cast-iron skillet from the oven and place cut biscuits in the skillet and return the skillet to the oven, baking for about 12 minutes (depending upon how thickly you cut the biscuits.)
~TxH~
Other Favorite Breads
Other Breakfast Ideas
…and MANY MORE!


C'mon by & sit a spell! Come hang out at our Facebook Page . It's like sitting in a front porch rocker with a glass of cold iced tea. There are lots of good folks sharing! And you can also follow along on Pinterest, Instagram & Twitter
If you'd like to receive an email when a new blog post goes live,
subscribe to our Blog!
Save
Save
Save