by Texas Homesteader ~
We typically don't eat breakfast so enjoying it is a special occasion indeed. Usually either when we're on a vacation or every year for Mother's Day or Father's Day when our tradition dictates that the honoree get homemade breakfast in bed.
I typically opt for fresh fruit, yogurt and homemade pancakes. RancherMan always (and I mean ALWAYS) requests bacon, fried eggs, jalapeno/cheese biscuits and gravy.
But as I crept around the house quietly to keep from waking him as I prepared his honoree breakfast, it almost seemed like a comedy. How in the world did our grandmothers do it??!!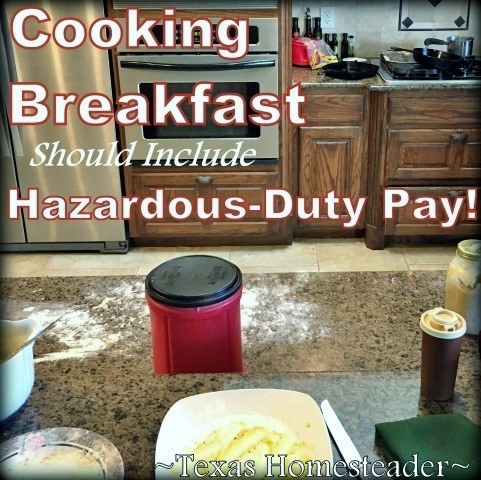 Preplanning The Night Before
I'd planned out everything the night before as I always do. I typically make up my Jalapeno/Cheddar Biscuit dough the night before so the dough is good and chilled when it's time to bake 'em up.
So that's just what I did. Sounds like I'm organized and on the ball doesn't it? Well that's where it all goes south…
Getting Everything Staged
The next morning before beginning breakfast, and also banking upon my experience of ill-timed breakfasts in the past, I first organized everything I'd need.
The bacon was brought out of the fridge and unpackaged. The cast-iron skillet for the bacon was sat next to it. I also brought out my Grandmother's Cast-Iron Skillet for the biscuits. (and try as I might, separating those cast-iron pans was louder than I thought)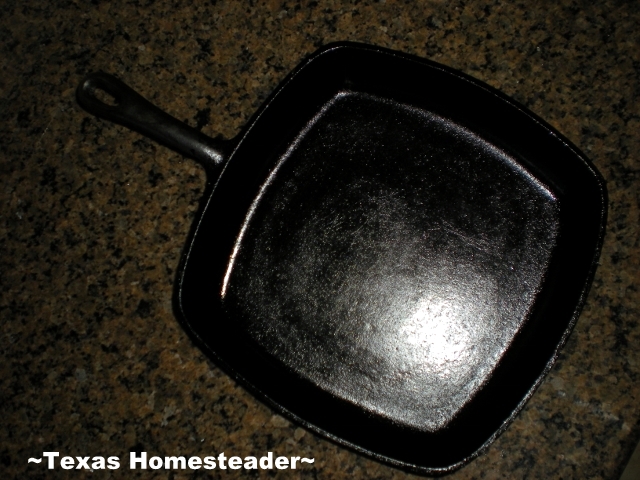 Of course I brought the cold biscuit dough out of the fridge and the flour canister for dusting the counter.
The eggs were brought out too. And the water & gravy mix were measured out, the pan to cook the gravy placed on the stove.
Yeah, yeah – I know gravy is easy to make, and I make brown & giblet gravy all the time with ease. Why-o-why can I simply NOT make white gravy??!!
Rest assured this willingness of mine to use a cream gravy mix instead of homemade is one of the ways I show my love to RancherMan – at least he won't have to cut his gravy with a knife! LOL
Feeling Confident
OK, now all is ready. This year is gonna be different. This year everything will go like clockwork. No more leaving the bacon to bring the biscuits from the oven. Or eggs burning because I'm working on another part of breakfast at the same time.
Perhaps I won't have to wait so long for the biscuits to be cooked that the rest of the meal gets cold this year. Oh yeah, it'll go smoothly this time. Here's my tidy-as-can-be checklist:
Preheat oven, roll out the biscuits and put them in the oven.
While the biscuits are cooking, fry the bacon.
When bacon is done, butter tops of biscuits and return them to the oven.
Turn on burner for gravy's water to come to a boil while eggs are cooking.
Fry 2 eggs.
Bring biscuits out of the oven.
Cook gravy 2 minutes.
Plate everything attractively (mom was right: Presentation is half the meal!)
Serve my handsome, much-deserving RancherMan his special breakfast with my hair tied up in a flowing ribbon, a dance in my step and a cheery song on my lips.
That's where the illusion ends, my friends. Yes I was much more organized this year so that at least helped the breakfast prep go smoothly. Do I get brownie points for that? #pleasethrowmeabone
New Biscuit-Cutting Tool
First I put the cast-iron skillet in the oven so it could heat up while the oven was preheating. I started rolling out and cutting the biscuits.
Oh, and by the bye – I've now discovered and 8-oz pilsner glass is the PERFECT biscuit cutter.
The hourglass shape is easy to grip, the lip is nice & thin and the diameter cuts the dough into jumbo size biscuits, which RancherMan prefers.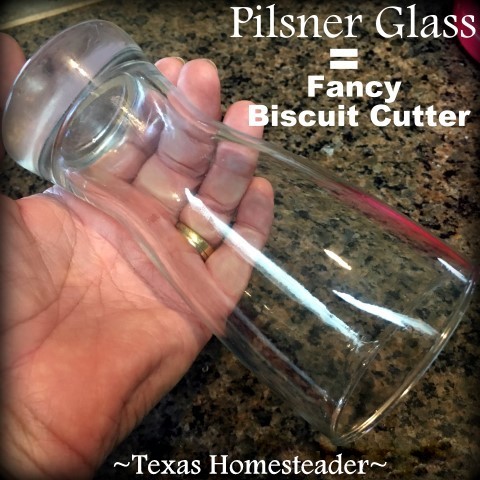 Dancing With A Hot Skillet
When the oven was heated I used a skillet-handle hot pad to bring out the hot skillet.
Now past experience tells me that if cast iron smokes even a tiny almost imperceptible amount, it will set off our smoke alarms.
Smoke from a toaster? Fine. Smoke from over-broiled charred veggies? No problem. Burnt spaghetti? Nary a sound. But the tiniest bit of smoke from a hot cast-iron skillet? Oh man, those smoke alarms will blare!
So as I held the hot skillet I inspected it carefully. Wait – is that smoke? No? Maybe! Now how awful would it be for me to be tiptoeing around trying to keep from awaking RancherMan and then have all the smoke alarms in the house blaring!
Worst. Gift. Ever!
So I quickly sprinted for the back door and stepped outside holding the hot the skillet. Of course by opening the door our security system sent out a loud double beep indicating such. (sigh…) Hopefully it didn't wake him.
Now I'm standing outside with a very hot skillet in my hands, the padded skillet handle cover is keeping it from burning me… but just barely.
It gets hotter & hotter the longer I hold it. If the skillet is this hot, do I dare set it on the grass? No, I'll kill a big square spot in the lawn.
What about the porch? Nuh-uh, a permanent burnt-in grease spot on the color-treated cement.
Maybe the porch swing? Oh no, it's wood and would forever mark it.
So I stand there on the back porch shifting the hot skillet from hand-to-hand until I'm positive it's not smoking.
Back inside I come, once again opening the door so our security system beeps loudly again. (Poor RancherMan will never stay asleep through all of this!)
Trying To Keep Quiet
I place the cut biscuits into the skillet and pop them in the oven. But I don't want to have Siri set my timer to cook them because she speaks the direction back to me. Shhhh – Trying to be quiet here, Siri…
So I decide to set the timer on our microwave instead. But I haven't used that timer in a long time – pre-Siri days of course. So it took a few tries. Each button I pressed (including the cancel button several times) included a nice sharp 'BEEP'! Now that's not very quiet is it??
Bacon, Biscuits & More Noise
Now my attention was turned to the bacon. Oh how it sputtered and splattered. Each splatter strategically aimed at my bare arms and every square inch of my stove top! LOL
Finally the bacon was cooked and I zipped over to bring the biscuits out of the oven and butter the tops. Then I placed them back into the oven for the final 5 minutes to allow the tops to brown. \
Let's see… set timer – time – 5 minutes – start (4 more sharp beeps from the microwave timer.) Maybe Siri would have been quieter after all.
Back to that bacon. The slices that were cooking when I stepped away are now pretty crispy and a small almost-invisible thin line of smoke curls from the far end of the skillet.
Oh no – will that tiny bit of smoke set off the smoke alarms??! (flips exhaust fan switch – fan roars to life) Wow, cooking breakfast is noisy business!
I finally get the bacon finished as the timer beep sounds loudly. Biscuits are ready! I bring the skillet from the oven and cover the hot biscuits with a clean kitchen towel to keep them soft as they begin to cool. Attention back to the stove.
Cooking 'Half-Raw' Eggs
OK, let's get that water boiling for the gravy and get those eggs cooked. Now RancherMan likes his eggs cooked sunny side up (AKA half raw!) I always struggle with this.
"So let me get this straight: you want the whites of the egg cooked but the yolk to stay raw? In other words, you want your eggs raw but not TOO raw?" How long do you cook an egg for raw but not too raw anyway??
Oh, now the water's boiling – let's get the gravy cooking. Pour-stir-stir-stir 2 minutes. Done. Back to those eggs. There's already bacon grease in the pan so I crack 2 eggs into the skillet and they begin to sputter. Is that good for raw but not TOO raw eggs? No? Yes? I guess? We'll see.
Using the spatula I splash some of the hot bacon grease over the yolks so it forms an opaque white topping as I've seen RancherMan do in the past. Then I cook them until I figure they're still raw but not TOO raw – whatever that is. Onto a plate they're placed.
Breakfast Is Served
I add his bacon, pour the gravy into a gravy boat, place the biscuits in a bowl with a cloth napkin to cover and top off his coffee cup with steaming-hot joe.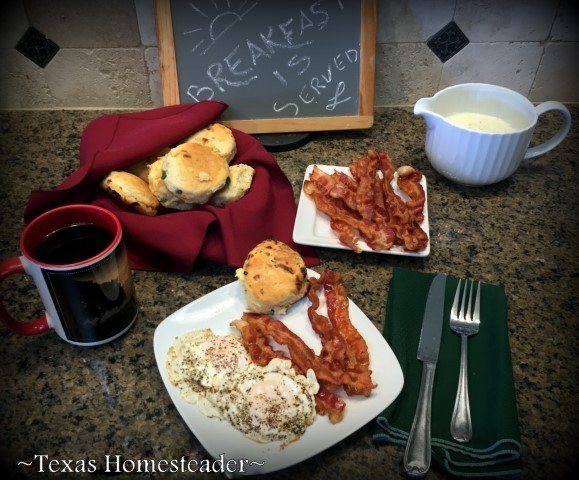 "Oh Honey, Breakfast is SERVED!"
Many oos and aaaahs were audible as he relished his special breakfast. But I couldn't join him for breakfast. Heck I was too tired to eat now!
Then I looked around at my kitchen. I believe every utensil, skillet or pan we own is now dirty. The counter tops are covered with dough & flour and the stove top is covered in bacon grease splatters. Oh and yeah, the sink is filled with piles of dirty dishes too. Sigh…
How did our grandmothers do it?? I swear, cooking breakfast should include hazardous-duty pay! But his tummy is happy, and so is my heart.
~TxH~
Our Favorite Breakfast Posts
…and MANY MORE!


C'mon by & sit a spell! Come hang out at our Facebook Page. It's like sitting in a front porch rocker with a glass of cold iced tea – lots of good folks sharing! And you can also follow along on Pinterest, Twitter or Instagram.
If you'd like to receive an email each time a new blog post goes live it's EASY to
Subscribe to our blog!