by Texas Homesteader ~
In deciding a company-worthy breakfast menu for recent overnight guests, I decided that breakfast biscuits might fit the bill quite nicely.
I like to have ham & cheese egg biscuits. My guests call them BOBs (Breakfast-on-a-Biscuit)
The beautiful thing is I can make everything in advance & just assemble & enjoy.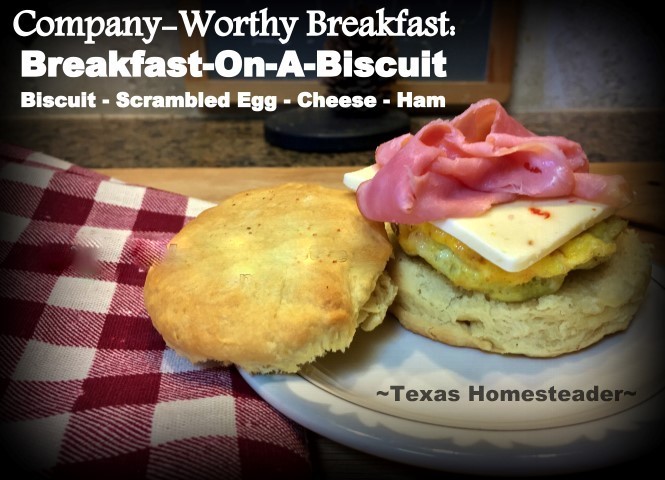 (Note: Some links in this post will take you to other related articles for further information. But links preceded with * are affiliate links. If you click and buy something I could receive a tiny commission.)
I don't know about you, but when I'm hosting guests I always stress about what to feed them. Will I be able to make sure they can eat according to the schedule they're accustomed to? How will I know when they're hungry? Will I be able to whip up something delicious while not being shackled to the kitchen?
And what will I serve? What, what, WHAT??!!
I have an extra-large *silicone muffin pan that I use for so many things. Today it'll help me make the egg portion of my breakfast sandwiches.
If you stress about feeding guests too, I'm about to share one of my favorite breakfast-in-a-flash shortcuts.
Making Scrambled Egg Disks
The day before my company arrives I mix up some of my chicken's eggs one at a time and add a splash of milk & a little salt & pepper. Then I lightly grease each muffin section and set it on a cookie sheet. (of course I'm using my favorite hint of putting Bacon Grease to good use!)
I pour in one mixed egg per cup. Into a few of them I add some chopped jalapeno for those guests who enjoy a spicy kick.
(cough *

me

* cough, cough…)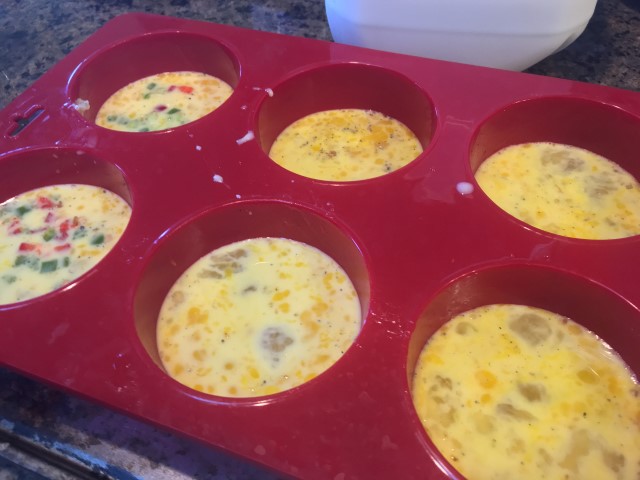 Now I place my silicone muffin tray of scrambled eggs into the oven set to 350 degrees and let the oven cook 'em up. It only takes about 15-18 minutes or so. Those scrambled eggs will fluff right on up in the oven!
Then when they're cooked I bring them out and let them cool. The air comes out of those crazy-fluffy eggs and brings them back to a regular size. After they're cool I scoop out each egg and store them all in the fridge.
Making The Homestyle Biscuits
All that's left to do is mix up my homemade Buttermilk Biscuit recipe. I'll divide the dough in half and mix in some of those chopped jalapenos into one half.
(who the heck eats all these jalapenos?? LOL)
Now I store the biscuit dough in my fridge as well.
I can if needed go ahead & bake up the biscuits the day before company arrives. And sometimes I do. If so I'll store the freshly-baked biscuits in my covered cake plate.
But most of the time I like to wait & bake the biscuits up fresh the morning after they arrive.
So whether I make the biscuits in advance or I wait until the next morning to bake the biscuits, when my guests awake breakfast is super fast!
Since the biscuit dough is already made I just roll out the dough, cut and plop the biscuits on my pre-heated cast-iron skillet and bake them up fresh. I mean, is there any more delightful aroma than freshly-baked biscuits in the morning???
I place the foil-wrapped scrambled egg disks in the oven to heat at the same time the biscuits are baking. How's that for efficiency?
Assembling The Breakfast Biscuits
When the biscuits are done they're cut in half and I add one of my warmed scrambled eggs and a couple of pieces of thinly-sliced ham. (I just use thinly-sliced sandwich-variety smoked ham.)
Or sometimes I make my own homemade Breakfast Sausage and cook it into patties. Whatever breakfast meat you like can go here.
Then you top the whole shebangie with a slice of cheese.
Yep, mine always includes PEPPER JACK cheese, but I have other options for our guests. They often like American or swiss cheese.
Stack it all up and Done & DONE! The hot biscuits and eggs heat up the thinly-sliced ham and melt the cheese beautifully. But if they want them hotter a 5-10 second stint in the microwave will do the trick too.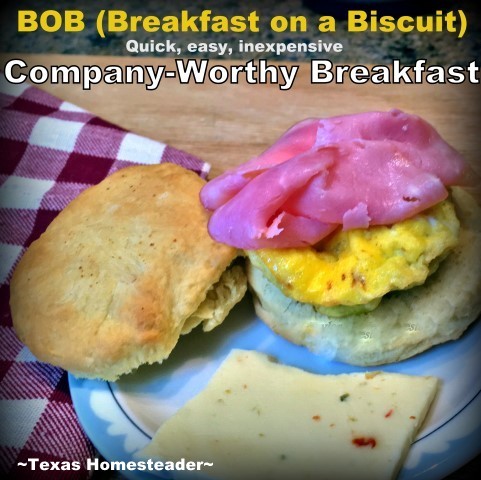 Replace Purchased Convenience Food Breakfasts
Now this would also work well in making your own convenient breakfast biscuits throughout the year. How convenient (and CHEAP) would it be to have these sitting in your freezer for those hectic mornings before school or work? Go ahead & make them up, cover them tightly & freeze them.
On one of those busy mornings you can remove a breakfast biscuit from the freezer & heat it quickly before school. It's easy to send the kids out the door after enjoying a nice hot meal in a flash.
No need to buy convenience food. Now a grab-n-go breakfast biscuit is as close as your own freezer!
~TxH~
Our Favorite Breakfast Posts
Egg-Based Breakfasts
Breakfast Breads
Other


C'mon by & sit a spell! Come hang out at our Facebook Page. It's like sitting in a front porch rocker with a glass of cold iced tea – lots of good folks sharing! And you can also follow along on Pinterest, Twitter or Instagram.
If you'd like to receive an email each time a new blog post goes live it's EASY to
Subscribe to our blog!
Save
Save
Save
Save
Save