by Texas Homesteader ~
This year I've had so much fun dehydrating fruits and veggies. I dehydrated several pounds of potatoes and found that when they were fully dehydrated they take up very little space. They were able to be stored in very small containers.
And of course since they're dehydrated they're going to last much longer than a bag of potatoes would. So it's great for keeping your fresh produce from going to waste before it can be eaten.
But today I decided to enjoy some of those dehydrated shredded potatoes with breakfast. I want to make hash browns for RancherMan & me!
We have plenty of eggs since our pastured flock is still laying great right now, lots of fresh homemade bread for toast, and even some delicious pear preserves I canned recently. Sounds like a great breakfast to me!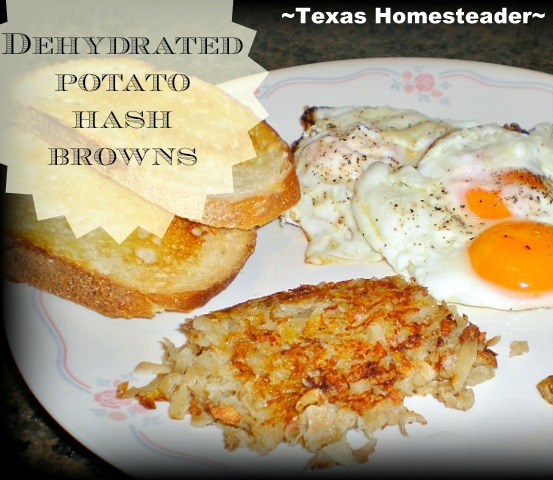 Rehydrating My Dehydrated Potatoes
I've gotta say, those hash browns turned out delicious and oh so easy – here's what I did:
First I poured some of the dehydrated potatoes into a bowl and covered them (just barely) with boiling water. Then I gave them a quick stir & allowed them to rehydrate for about 15 minutes while I cooked the eggs & toasted the bread.
After that 15 minutes of rehydrating time they looked exactly the same as before I dehydrated them – just cooked shredded potatoes…
Hash Browns From Rehydrated Shredded Potatoes
By now my eggs are fried so I removed them from the cast-iron skillet and poured just a touch more oil into the still-hot pan. Then I dropped my rehydrated shredded potatoes in the skillet, pressing them down lightly with the spatula.
I divided the hash browns into quarters to make it easier to turn after each side was cooked crispy.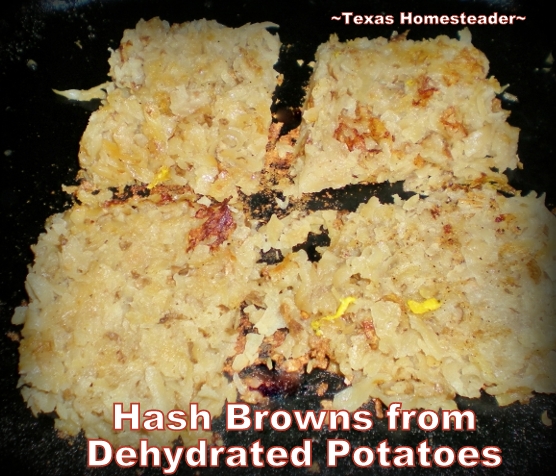 Now here's the drudgery-work-in-the-kitchen part – after browning each side for about 3-4 minutes I scooped up each section and placed them on our plates. How easy is that??!!
(shhhhhh….)
I'd already used my rehydrated shredded potatoes stirred into scrambled eggs for breakfast burritos.
But this was my first time to actually make them into hash browns, one of my favorite breakfast accompaniments.
I've got plenty of dehydrated potatoes in the pantry so I'll be doing this a lot! I really love to make things for myself instead of relying on something from the freezer section of the grocery store.
Plus these hash browns are almost waste free (except for the bag the raw potatoes came in). Love it!
~TxH~
Our Favorite Breakfast Posts
…and MANY MORE!


C'mon by & sit a spell! Come hang out at our Facebook Page. It's like sitting in a front porch rocker with a glass of cold iced tea – lots of good folks sharing! And you can also follow along on Pinterest, Twitter or Instagram.
If you'd like to receive an email each time a new blog post goes live it's EASY to
Subscribe to our blog!
Save