by Texas Homesteader~
*contains affiliate link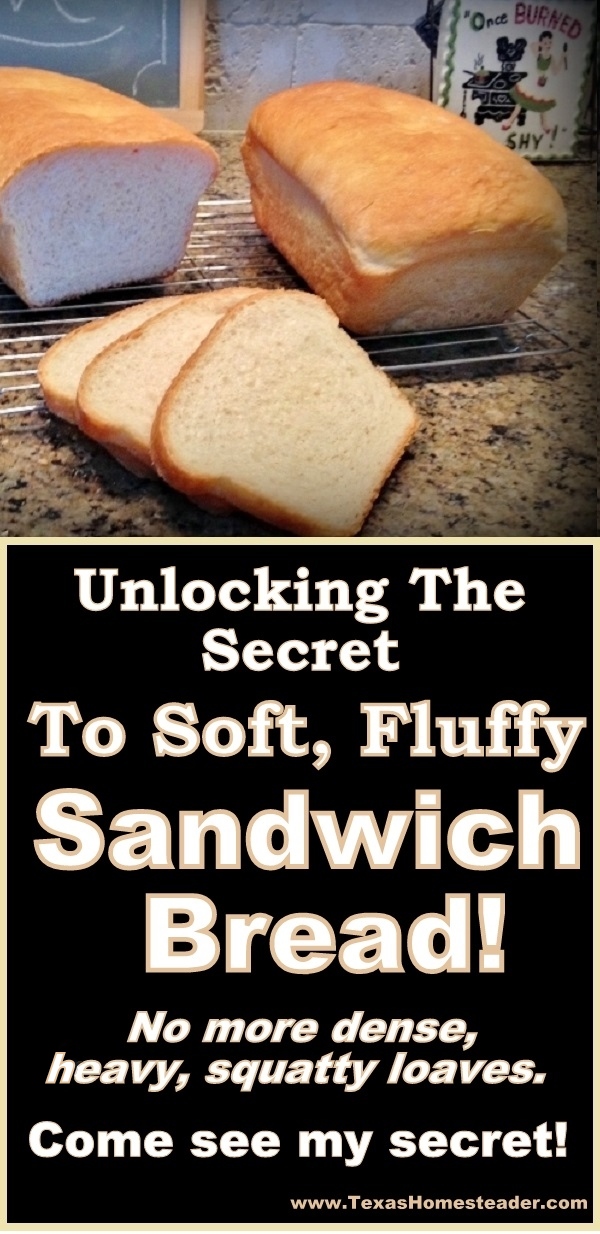 RancherMan loves bread. A lot. And y'all know I like to try to provide for my family whenever possible.
But bread? Hummmm…
I've read the recipes and they all talked about how easy it is, but bread had always been a challenge for me no matter how hard I try. And I'd tried for years.
I always end up with a short, squatty, heavy-textured loaf. RancherMan has never complained but I longed to make him REAL sandwich bread. You know the kind: soft, fluffy and aromatic.
I'm stubbor… I mean PERSISTENT so I kept trying over the years and I'm happy to say at last it appears the stars and the moon have finally aligned.
Cue the celebratory choirs – I've finally been successful in making the perfect homemade sandwich bread!
Learn From My Bread-Making Failures
Don't Add Too Much Flour – In trying to obtain a smooth non-sticky texture with dough I'd always added too much flour.


Using my * KitchenAid Mixer was a major reason my bread-baking session finally resulted in success.
Since I'm not kneading with my hands I'm not quite so apt to start adding flour to keep from having dough-gummed hands reminiscent of a toddler making a mud pie.


Never Scoop Your Flour To Measure – You should never scoop flour when measuring. Instead spoon the flour into a measuring cup and then level it off with the flat edge of a butter knife.
By scooping the flour up with a measuring cup the flour will be compacted, resulting in too much flour being measured.
Hummm… No wonder my loaves were too dense and squatty before…
Try, Try Again!
So with renewed excitement I'm ready to try again. I love the ease of using my * KitchenAid so I looked up the recipe that came with my mixer.
But y'all already KNOW I can't stand to follow a recipe exactly. So I tweaked the recipe to suit our tastes:
Big Improvements: I replaced 1/3 of the butter in the recipe with bacon grease for extra flavor.
I'm not sorry & I'm here to tell ya that you should totally make the substitution too!
I also typically use a blend of whole wheat & all-purpose flour.
(I've also made this bread recipe into an Oatmeal Version by substituting some of the whole-wheat flour with oat flour I made by whirring some whole oats in my *electric Coffee Grinder to make oat flour with delicious results!)
Huge Shortcut: Weighing Instead Of Measuring Flour
Measuring the flour takes lots of time when there's several cups of flour for making bread. Now I measure the flour once and make note of the weight. Then subsequent batches of bread have dry ingredients WEIGHED instead.
I have a kitchen scale that includes the tare function to zero out the weight of the container sitting on it. This is now one of my most valuable tools in bread-making shortcuts!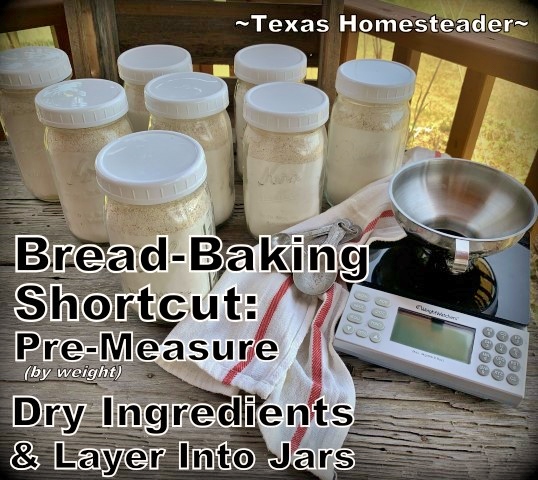 Spooning all that flour into the cup & then scraping it off & dumping it in over & over takes way more time than just taring my empty coffee can and dumping flour in until it weighs what I've noted on my recipe.
So I made notes on my recipe card of the weights to go along with the measurements. Weighing the flour instead of measuring is SO much faster!
Now I've heard that the weight of your flour could vary based on type, and even the humidity in your area. So although this is probably only an estimate, here's a link from King Arthur Flour that gives estimated weights of a cup of different flours.
Making My Fluffy Sandwich Bread
I measured the milk and heated it in the microwave for about 30 seconds or so until it was very warm.
Then I added the butter, bacon grease, sugar and salt and stirred the whole shebangie until the butter was melted. I sat it aside so it could cool to lukewarm.
In a large measuring cup I measured out & warmed the water. Then I stirred in the yeast until it was dissolved.
I poured the water/yeast mixture into my KitchenAid bowl and added the lukewarm milk mixture.
Then I measured out by weight 4.5 cups of flour and added it to the bowl, attached the dough hook and got busy mixing the ingredients on speed 2 for about a minute to get it all incorporated.
After a minute I added another 1/2 cup of flour and continued mixing on speed 2 for about two minutes. (I could have added up to another cup of flour in half-cup increments but I don't want to add too much. I'm looking for the dough to cling to the hook and clean the sides of the bowl)
After I've added & mixed enough flour I continue mixing on speed 2 for two more minutes so the dough is smooth and elastic.
Now I pull out a stainless steel bowl and grease it well. I plop my dough into the greased bowl, then grease my hands and pat the whole thing down.
Most recipes tell you to turn the dough ball to coat all sides of the dough but this was an easier way for me.
Then I greased a piece of wax paper and placed it across the top of the bowl, greased side down.
First Dough Rise
To warm the oven I turn it on preheat for about 30-45 seconds, then turn it off again. This makes a warm draft-free environment for my bread to rise.
With the oven turned off I slide my bowl containing my bread dough into the oven and shut the door. Finally I set the timer for 1 hour and let the dough do its magic.
After an hour the bread has risen beautifully. I lightly flour my counter top and plop the whole thing on the counter.
The dough is sprinkled with a little flour to keep it from sticking to my hands and I begin to knead the dough to break down all the bubbles it contains.
After kneading for a couple of minutes I cut the dough in half, sprinkle a little more flour on one half of the dough and take my rolling pin and roll the dough into a rectangle.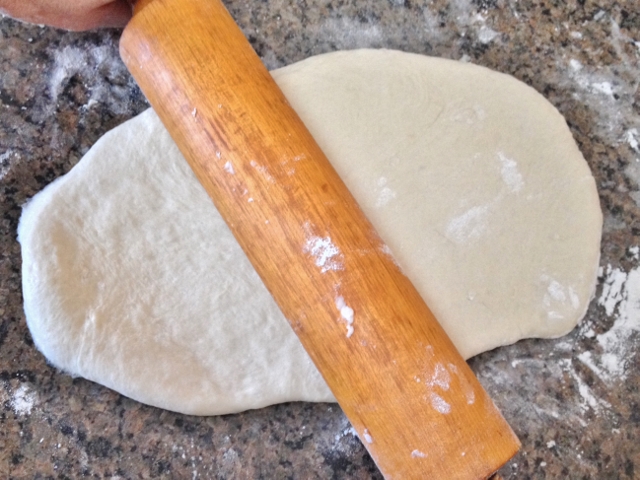 Then I carefully roll the rectangle dough into a log, pinching the ends to seal them. I place the dough log into a greased glass bread pan, turning to coat the top.
Then I repeat the rolling/pinching/greasing procedure for the second loaf.
When both loaf pans are ready I place them back in my warm oven, cover them with the same wax paper as before and allow the dough to rise a second time.
Although the recipe calls for the second rise to be about an hour, this time frame often causes my dough to over-rise. That made large air pockets created that collapsed during baking & resulted in a misshapen loaf.
So now I only allowed the second rise for about 50 minutes and it works beautifully. You want your dough to rise to approximately double in size.
Ready To Bake The Bread!
When the bread is ready to bake I carefully remove the wax paper, turn the oven to 375 degrees (because I'm using glass pans) and set my timer to 30 minutes.
About 5 minutes before the baking time ends I rub the tops of my loaves with a little butter to soften the crust, then allow them to finish baking.
When the timer goes off I remove the bread from the oven & place a clean kitchen towel over the bread while still in the pans for 5 minutes – I feel this further softens my crust.
Then I remove my loaves from the pans and place them on a baker's rack and allow them to cool. I re-cover the loaves as they're cooling with a tea towel, again to keep the crust soft.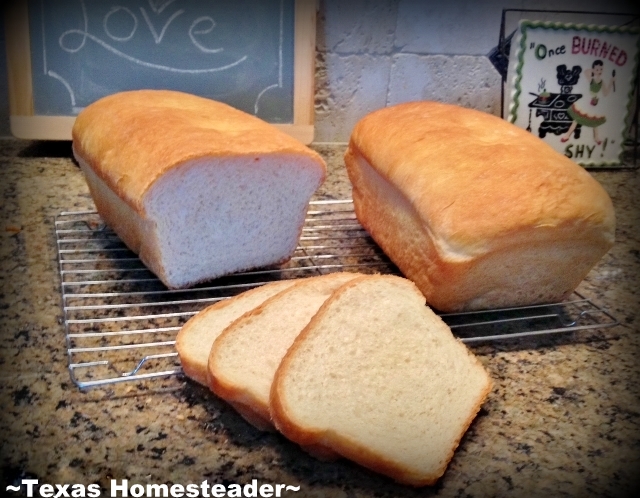 It looks great, it smells great – but how does it taste?? I sliced a big honkin' piece and gave it to my RancherMan to sample.
He says I nailed it. Finally, SUCCESS! I'm practicing my acceptance speech, "I'd like to thank my KitchenAid for making this possible…" LOL (No KitchenAid didn't pay me a cent to say that nor to write this post, but today's bread was certainly made possible by it. I "heart" my KitchenAid!)
Since learning to make delicious sandwich bread I've branched out and come up with an Oatmeal Version too!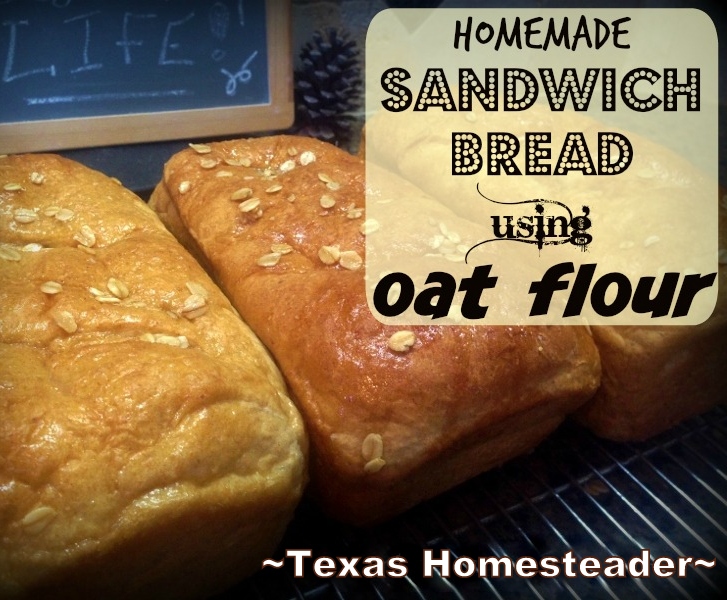 Oh, and since I bake bread so often, I've also created a series of Bread-Baking Shortcuts so I don't have to start from scratch each & every time. Work smarter, not harder right??!!
So now that you've read the behind-the-scenes story, here's the recipe: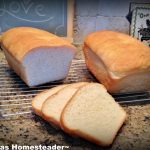 KitchenAid Sandwich Bread, Yields 2 loaves
Ingredients
1/2

cup

milk

3

Tablespoons

sugar

2

teaspoons

salt

3

Tablespoons

butter

(can substitute 1 Tablespoon with bacon grease for better flavor)

4.5

teaspoons

active dry yeast

(or 2 pkgs)

1.5

cups

warm water

(105 - 115 degrees)

5-6

cups

flour,

using the blend below:
(2.5 cups whole wheat flour, 2.5 to 3.5 cups all-purpose flour)
Instructions
Directions:
Heat milk, sugar, salt & butter until butter melts and sugar dissolves. Cool to lukewarm.

Dissolve yeast in warm water, pour into * KitchenAid bowl and add lukewarm milk mixture and 4.5 cups of flour. Attach dough hook and mix on Speed 2 for about one minute or until all ingredients are incorporated.

Continuing on speed 2 add remaining flour as needed, 1/2 cup at a time (depending on our humidity I usually need to add 1/2 cup to the 4.5 cups I started with) and mix until dough clings to hook - about 2 minutes. Continue kneading on Speed 2 for about two minutes longer or until dough is smooth and elastic. Dough will be slightly sticky.

Place dough in a greased bowl, turning to grease top. Cover and let rise in a warm place free from drafts until doubled in bulk, about 1 hour.

Punch dough down and knead by hand on a floured surface for about two minutes. Divide in half and roll each half into a rectangle with a rolling pin. Then by hand roll each rectangle into a log, pinching the ends to seal, and place each log into a greased 9x5x2 loaf pan, turning to coat the top.

Cover & let rise in warm draft-free location until doubled in size, approximately 50 minutes. Remove cover and turn oven to 400 degrees (375 for glass pan) and bake for 30 minutes. When only 5 minutes remains brush melted butter on top of each loaf and allow to finish baking.
Recipe Notes
When bread is done, I like to cool the bread for the first 5 minutes while it's still in the pan, covered with kitchen towel before removing the bread from the pans & placing on wire racks & recovering with the kitchen towel to cool completely. Once bread is completely cooled you can slice it and store it for use. (or do as we do & cut a chunk while it's still hot, slather with butter & ENJOY! LOL)
~TxH~
Other Favorite Breads
Sandwich Bread Recipes
No-Knead Bread Recipes
Flavored Bread Recipes
Recipes For Buns
Biscuit Recipes
Cornbread Recipes
Tortilla Recipes
Sweet Breads / Desserts
Bread Tips


C'mon by & sit a spell! Come hang out at our Facebook Page . It's like sitting in a front porch rocker with a glass of cold iced tea. There are lots of good folks sharing! And you can also follow along on Pinterest, Instagram & Twitter
If you'd like to receive an email when a new blog post goes live,
subscribe to our Blog!
Save
Save
Save