]by Texas Homesteader ~
*contains affiliate link
RancherMan & I eat tortillas. A LOT. But although I have a delicious & easy Corn Tortilla Recipe, I've never been able to make homemade flour tortillas to my satisfaction.
No matter whose 'Oh So Easy' recipe I tried, they took lots of time, made a huge mess & turned out substandard.
So when we ran out recently & were faced with making a trek to the store to buy more flour tortillas, I decided to give the no-roll tortillas a try instead.
I'm reading that you just mix it up and pour it similar to pancake batter, smoothing them into a thin tortilla with the back of a spoon as they cook.
Why not give 'er a try? If this works we may be able to kiss store-bought tortillas goodbye forever! Stand by, Houston….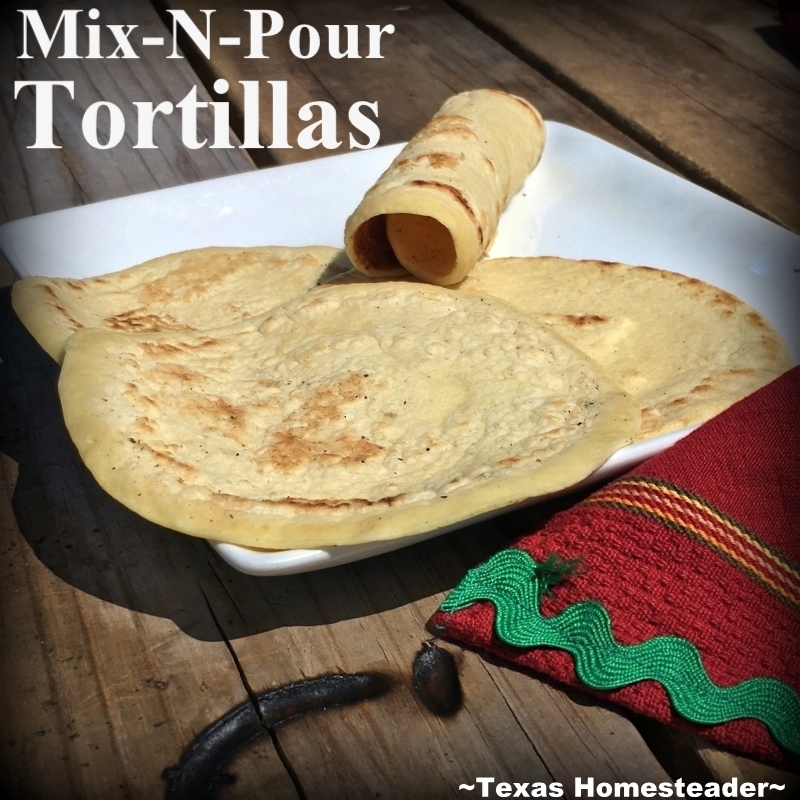 Jump to Recipe
Buying Tortillas Brings Plastic Trash Home
There are a couple of things I don't like about our commercially-purchased tortillas. First it's the fact that they're wrapped in plastic. I'm pushing back against the constant addition of plastic trash brought into the house.
Of course I'm careful to make sure I reuse those bags before trashing them, but I'm not able to recycle them. So eventually into the trash they must go.
I've been on a battle to reduce the amount of plastic (or any kind of trash really) that comes into/leaves this house. But our frequent tortilla purchases have brought in these little plastic bags time & time again.


PLUS, once I looked at the ingredients on the flour tortillas we're buying… Yowza! I'm not even sure what all of these words even mean!

I'd much rather have ingredients I know & recognize instead, how 'bout you??
So I decided to try once again to learn to make our tortillas. I've seen recipes for mix-n-pour tortillas that didn't require all the steps of traditional flour tortillas before. But this time I used a recipe I found at Home Joys as a base recipe because they looked super quick & easy.
But although I loved the texture of the finished tortillas and RancherMan enjoyed the taste, to me they weren't quite flavorful enough to fit the bill.
But I'll not be deterred, making tortillas has been something I've tried and tried again with determination but have failed each & every time.
Successful Flour Tortilla Recipe!
So I tweaked the recipe to fit our tastes and now we love the result. They're a shortcut version of tortilla, so don't expect them to compete with that family recipe that's been down for generations. But if you want to whip up a batch of mix-n-pour tortillas in minutes, this recipe sure fits the bill!
And since they're a mixture of flour & cornmeal, they're reminiscent of a street taco tortilla – I like it.
But although they're delicious, these mix-n-pour tortillas are not quite the same texture of a traditional flour tortilla. They're almost like a very thin, flat, tortilla-flavored pancake. We love 'em!
And unlike the homemade flour tortillas of my past, these mix-n-pour tortillas turned out soft & easy to bend and roll without cracking & tearing. It's a very important quality since RancherMan likes to roll them up & eat them hot off the griddle.
I also like to mash some of our Ranch-Style Beans and slather them on these tortillas, sprinkling with a little cheese & rolling the tortilla to make a bean & cheese burrito for a fast lunch.
These tortillas fit the bill quite nicely for both uses. And it seems to me that they're also much more filling than the commercial counterparts.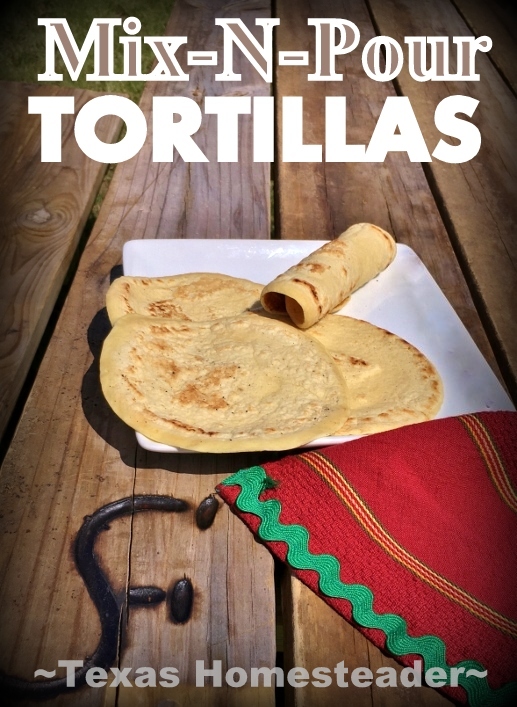 Different Sizes of Tortillas
I made the first batch of mix-n-pour tortillas street-taco sized using about 1/4 cup of batter for each tortilla. When spreading the batter I spread it very thinly to about 5″ across to make a smaller & thinner tortilla. My recipe made about 14 thin street-taco sized tortillas.
The second batch I made larger using about 1/3 cup of batter for each tortilla about 6″ across. I also made them somewhat thicker to use for homemade enchiladas, fajitas and such. Using 1/3 cup of batter the recipe made 8 or 9 tortillas of that size and thickness. They also were very easy to roll without cracking or breaking.
So how many tortillas you end up with will depend on how large or thick you make them.
I typically use a 1/4 cup of batter and use the back of the measuring cup to quickly spread the batter in a circular motion to both shape & thin the batter to the size tortilla I desire. By using 1/4 cup for each tortilla, I end up with about 14 tortillas. This is my favorite – I love these!
(Note: Some links in this post are for further information from earlier posts I've written. But links preceded with * are affiliate links. If you click them and buy something (almost anything, not just the item noted) I could receive a small purchase. But the price you pay will NOT change. It's an easy way to support this blog without anything coming out of your pocket. So click often! Thank you!)
And I'm thrilled to finally be able to make our own tortillas. No longer do I mix up a batch of tortillas and knead, let rest attempt (and FAIL) to roll the dough thin enough. And then having them power-shrink the minute they hit the hot *comal until they're a thick, dry, bland, sorry excuse for a tortilla.
Using this recipe I simply mix the batter, pour them onto a hot comal or griddle, flip to cook the other side and BOOM!
Homemade tortillas.
Finally using my *2-Burner Cast-Iron Griddle I can whip up a batch of tortillas start to finish in about 15 minutes!
And I'm also thinking I can season them specially for a dish I'm making. Maybe I'll add some paprika, or perhaps some ground dried jalapeno to spice things up a bit. There are so many options when you're making it yourself!
But they're so delicious that RancherMan is tearing through them (and raving about them) so quickly that I hope I can keep up with his now-ravenous tortilla appetite! LOL
Now when I make them I always make a double batch….
Give it a try, y'all!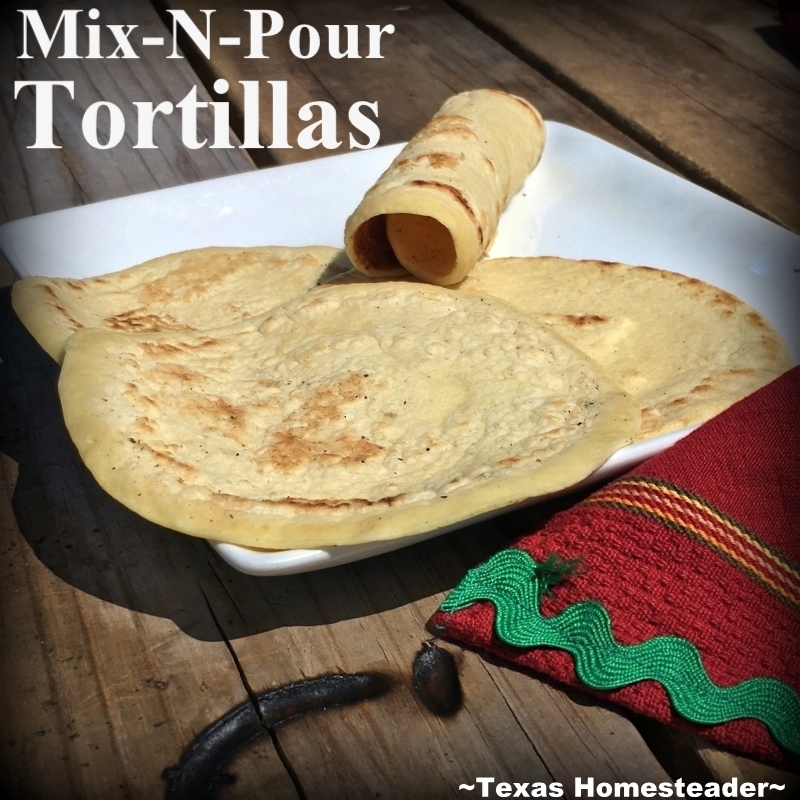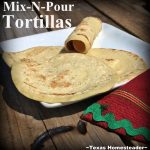 Mix-n-Pour Tortilla Recipe (Go Ahead & Make A Double Batch!)
Traditional tortillas just never came out right for me.  After all that time spent trying & trying, I almost gave up.  But with these Mix-N-Pour Tortillas I can have them made in 15 minutes or so!  They are almost like a super thin tortilla-flavored pancake.  Easy to roll without breaking too, RancherMan loves them! #TexasHomesteader
Ingredients
1 1/4

Cup

All-Purpose Flour

1/4

Cup

Corn Meal

1 1/2

Cup

Broth

(can substitute with water if desired)

1

Small/Medium

Egg

1/2

Teaspoon

Salt

1/2

Teaspoon

Garlic Powder
Instructions
Directions

Combine all ingredients & whisk together until batter is smooth. Lightly oil cast-iron pan or griddle (I used bacon grease on a griddle) & heat on medium-high heat for a minute or so to get it hot.

Pour 1/4 - 1/3 cup batter onto hot surface. (depending upon how big & thick you want your tortillas) Use the back of measuring cup to spread and thin the batter to about 5"-6" tortillas.

After about 2 minutes cooking on the first side, flip and cook the remaining side. When tortilla is fully cooked remove from pan and place on a rack until all tortillas are cooked.

Enjoy tortillas hot or allow to cool completely & then place in airtight bag and store in the refrigerator. Consume within about a week or so.
Recipe Notes
NOTE: Can use water in place of broth
Cooking Note: Make sure to fully cook each tortilla for the best texture. Then place on a cooling rack to cool.
STORAGE NOTE: Make sure the tortillas are completely cooled before storing them in the bag. Even a small amount of condensation that forms while inside the bag will significantly shorten the freshness time of the tortillas.
~TxH~
Links In This Post
Our Favorite Tex-Mex Recipes


C'mon by & sit a spell! Come hang out at our Facebook Page. It's like sitting in a front porch rocker with a glass of cold iced tea – lots of good folks sharing! You can also follow along on Pinterest, Twitter or Instagram.
If you'd like to receive an email each time a new blog post goes live it's EASY to
Subscribe to our blog!
Save
Save
Save
Save
Save
Save
Save