. by Texas Homesteader ~
*affiliate link
Y'all remember I recently wrote about our road trip to visit our all-time favorite aunt & uncle in west Texas? What a wonderful time we had while we were there. It seems we can never get enough of these two amazing family members!
While we were there we went to several garage sales. The sales in Amarillo are AMAZING and have spoiled us forever in going to garage sales anywhere else. LOL
RancherMan was looking for a small stadium seat to use in his hunting stand,. But these things apparently really retain their value and he was not pleased with the prices he found. Even for the used ones!
The good news is we found one while out garage saleing and it was basically free!
The bad news is… Well, it was not only U-G-L-Y harvest gold plastic, but also in bad shape with torn edges and foam sticking out.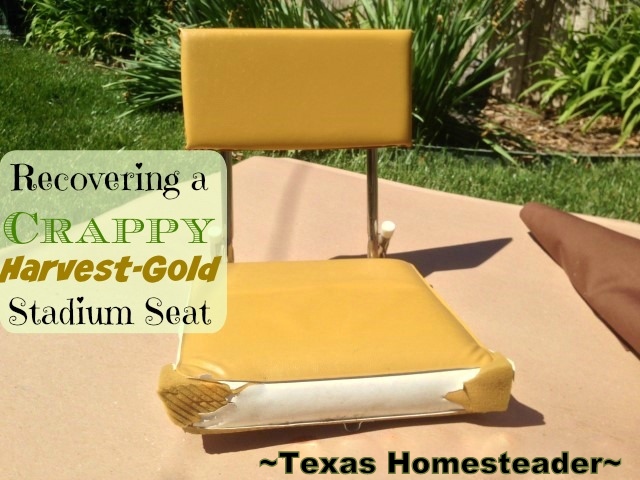 (Note: Some links in this post are for further information from earlier posts I've written. But links preceded with * are affiliate links. If you click them and buy something (almost anything, not just the item noted) I could receive a small purchase. But the price you pay will NOT change. It's an easy way to support this blog without anything coming out of your pocket. So click often! Thank you!)
I'm Skeptical
Thankfully my crafty aunt knew it was a diamond in the rough. "We can salvage this" she exclaimed confidently. "We can recover it easily!"
Humm…. recovering? I've never done it before & it sounds complicated. So I was a bit skeptical of her optimism.
But my aunt was pretty confident. And I knew that with her experience of recovering various items for her own home I wouldn't be going into these recovering-waters alone. So let's do this thing!
Buying Replacement Cloth
We stopped by JoAnn's Fabrics and picked up a small half yard of dark brown heavy-duty outdoor fabric duck cloth. After our 50% coupon it cost only $2.50!
Now armed with fresh fabric, an *electric staple gun and some thin non-corrugated cardboard we tore into the old dilapidated seat to see what we could do. A short time later – wow.
Disassemble The Old Stadium Seat
First she carefully removed the hideous plastic harvest gold/white material to see what we were dealing with. She removed all the seat hardware and cleaned the sticky metal frame that was covered with years (decades?) of dust & grime.
Now let's see what we've got. Hummmm… maybe this *is* a diamond in the rough! And my aunt knew with these materials, we wouldn't even have to SEW anything. Woo-hoo!!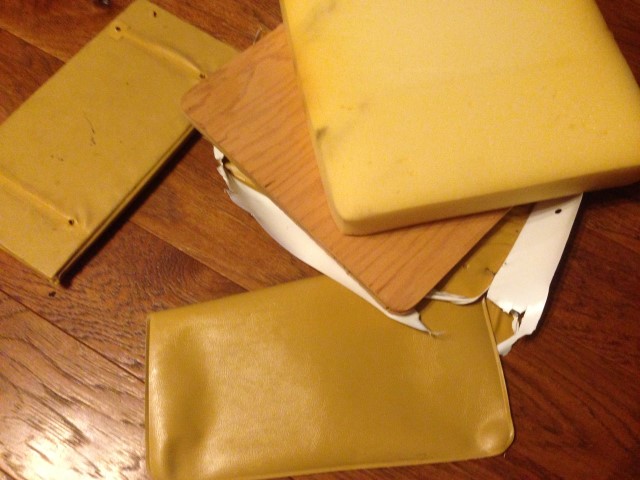 Recovering The Stadium Seat
We pulled out the duck cloth and used the foam & wooden piece that was underneath the seat as a template of sorts. We roughly cut the fabric wide enough that it would re-cover this seat with about 2″ of fabric to tuck underneath.
Then we used an electric staple gun to quickly tack the fabric down firmly to the wooden bottom. BOOM!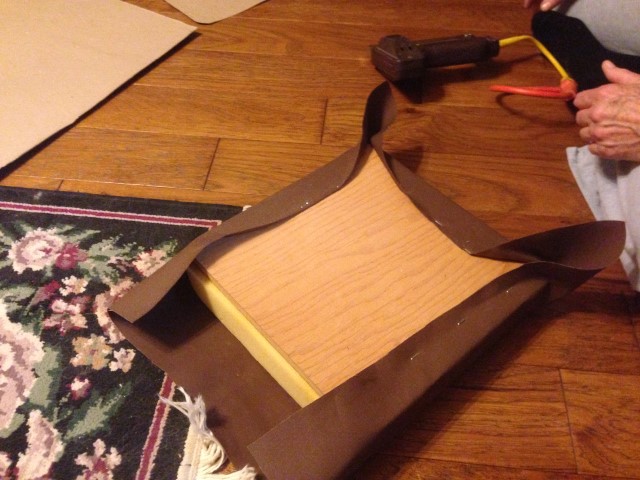 My aunt had some very thin shirt-box cardboard that she cut about 1/4″ less than the size of that board.
She wrapped duck cloth around that cardboard and tacked it over bottom to cover all the bare areas to give it a more finished look. RancherMan & I did the same thing with the padded back piece. Although the back was smaller & the padding was thinner so it was much easier & quicker to do.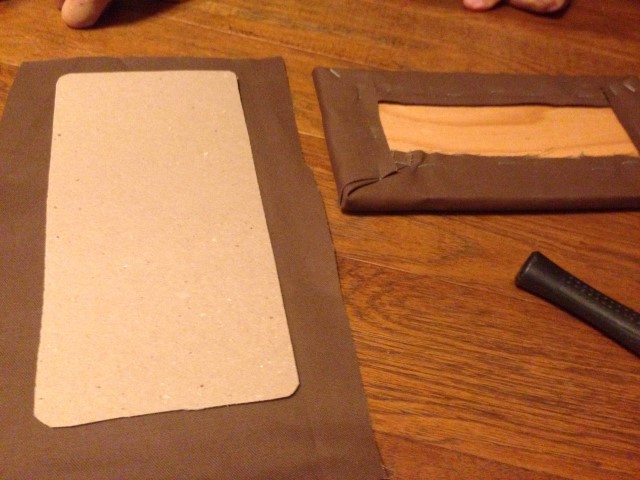 This is the task she gave RancherMan & me to tackle. How much do I love her for that??!! 🙂
Good As New!
When the recovering was complete, we re-assembled the metal frame and stood back to survey the final results.
PERFECT!!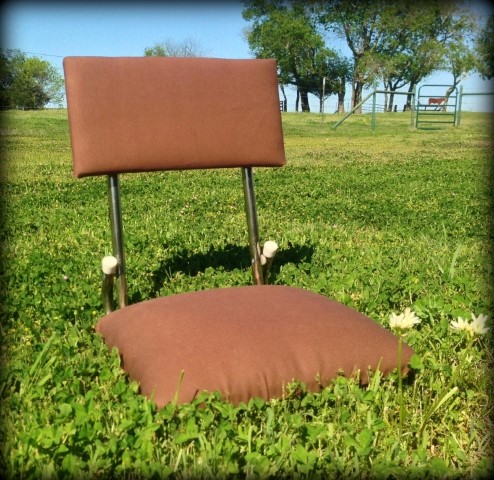 For only about $2.50 and about an hour's time we have a nice-looking stadium seat that's ready for action!
By taking this old, pretty useless (and did I mention *UGLY*?) stadium seat and making it into a nice-looking usable item, nothing new needed to be manufactured except a tiny 1/2-yard of cloth.
I love that we were able to fix-er-up so it's usable again for many years. This adds up to a financial as well as environmental win!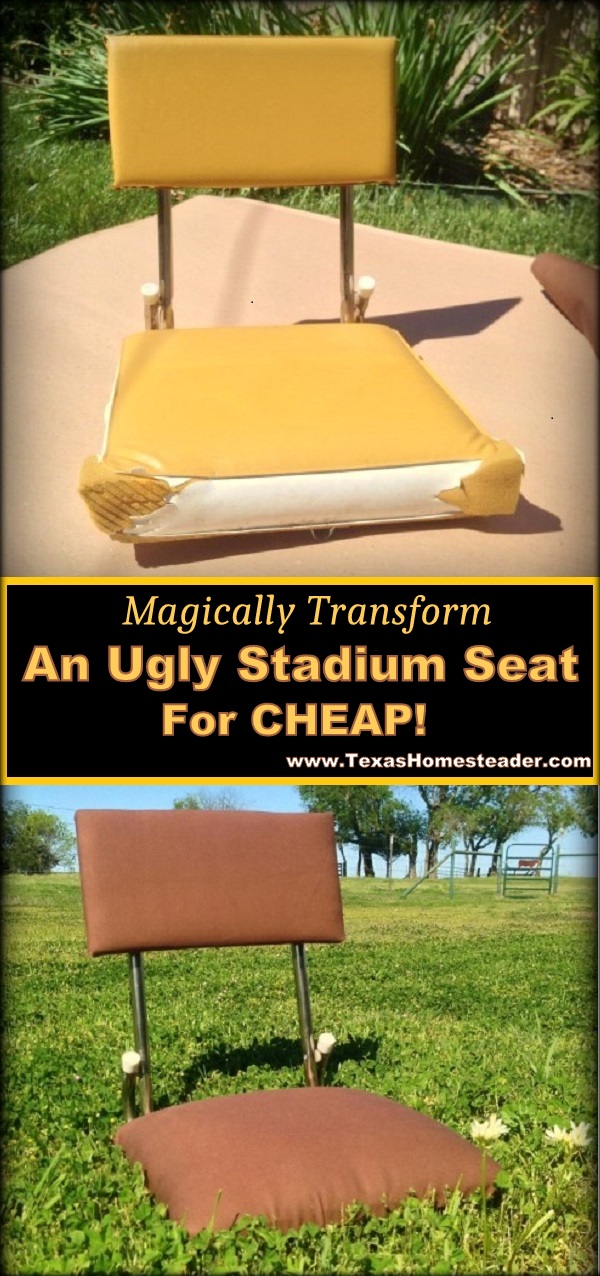 ~TxH~
Other MIY Ideas
…and MUCH More!


C'mon by & sit a spell! Come hang out at our Facebook Page. It's like sitting in a front porch rocker with a glass of cold iced tea – lots of good folks sharing! You can also follow along on Pinterest, Twitter or Instagram.
If you'd like to receive an email each time a new blog post goes live it's EASY to
Subscribe to our blog!
Save
Save
Save