by Texas Homesteader ~
*contains affiliate link
So I love to dehydrate food. My pantry is filled with gleaming jars of dehydrated produce.
I've got sliced and diced carrots, sliced & diced onions, squash, okra and more. Pretty much anything I've grown in my garden I've dehydrated.
I've turned into quite the dehydrating queen since obtaining my *Excalibur Dehydrator. Heck those 9 huge trays let me dehydrate so much more than I ever could before!
When that produce is dehydrated I place them in clean jars in the pantry. I wanted to have chalkboard labels for my jars.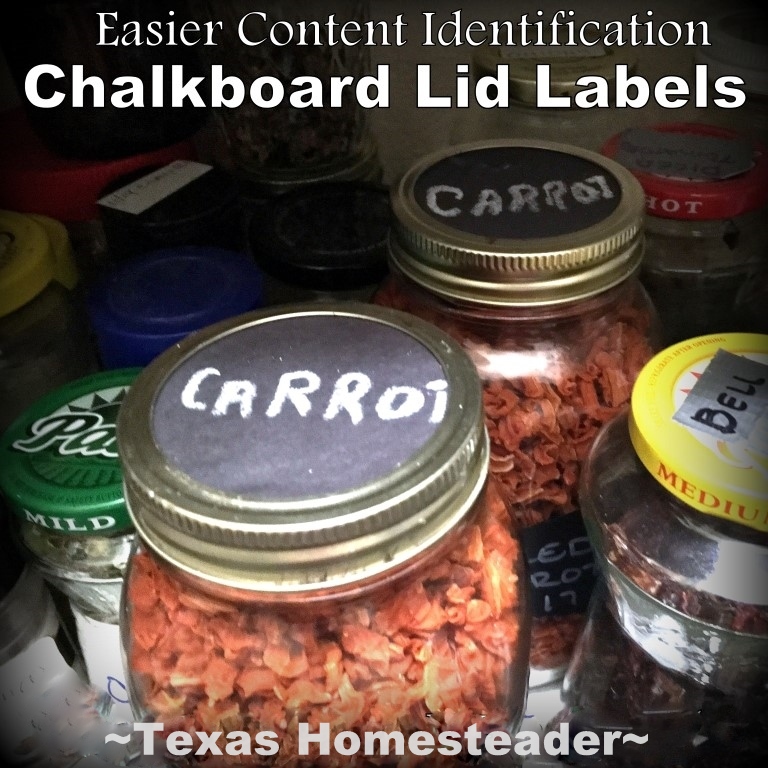 (Note: Some links in this post are for further information from earlier posts I've written. But links preceded with * are affiliate links. If you click them and buy something (almost anything, not just the item noted) I could receive a small purchase. But the price you pay will NOT change. It's an easy way to support this blog without anything coming out of your pocket. So click often! Thank you!)
I'd previously bought these reusable *chalkboard labels for the faces of the jars. They look great and are reusable.
And better still, when that jar of carrots is empty I simply wipe off the text and use the chalkboard pen write the new contents of the jar. Now that's efficient! LOL
But when they're all stacked on the pantry shelf, it's sometimes hard to see what's contained in the jars behind those in the front row.
I needed a way to easily label the top of the jar when needed. That way I could see over the jars in front & still know the contents of the jars behind them.
A DIY Challenge
I went shopping for chalkboard labels I could put on top of the lid. Of course they're out there but I wondered… can I make that myself?
I first tried to make my own chalkboard paint using charcoal tabs, water & baking soda. But even though I lightly sanded the flat lids first, my homemade paint didn't stick. #DIYfail. Back to the drawing board.
I guess I'll just have to buy chalkboard paint & use it to paint the lids. But wait, I've got an idea. You know how bright ideas are, sometimes that's a good thing & sometimes…
No? Just me? (eh hemmm…) Moving on.
Make Your OWN Chalkboard Labels
I got a piece of black construction paper and traced the flat lid shape onto it and cut out the circle shape.
Then I placed it on the flat part of the lids, screwed on the ring and gave it a try. It was perfect and made identifying contents in the back rows easier.
Notice how hard it is to read the other labels in back rows? OK, ok, don't act like you're not secretly jealous of my uppity duct-tape labels. If you work hard, go to school & study maybe you too can have such niceties. LOL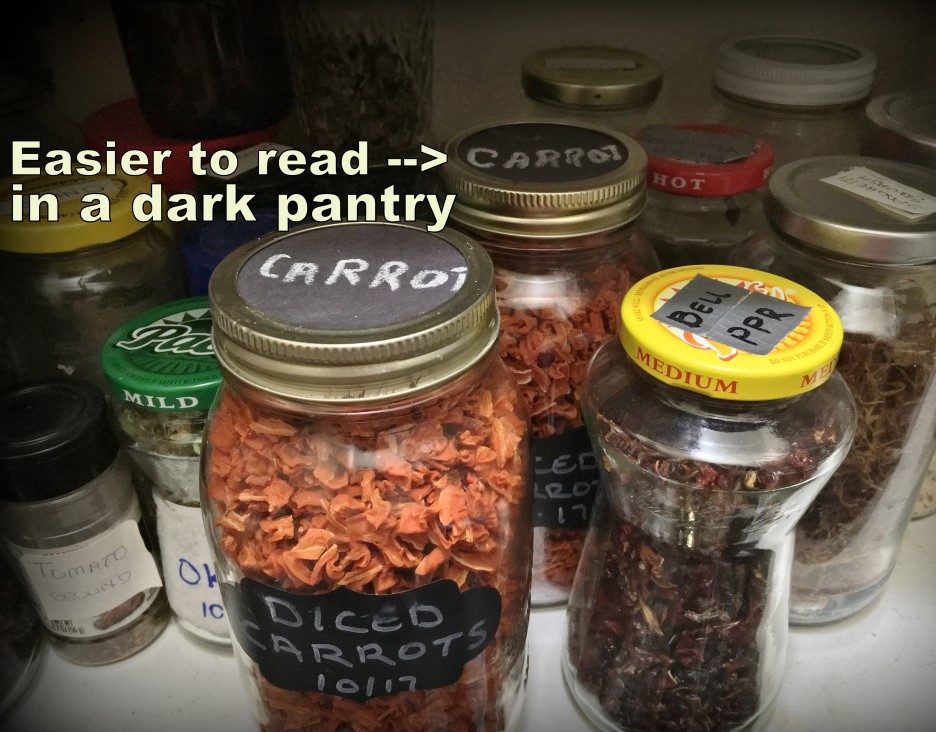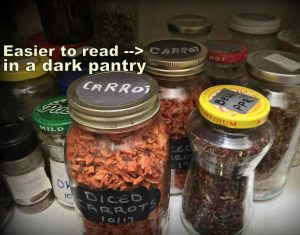 But the lid marking of the carrots in the second row is much easier to read than a piece of tape marking the lid of some of the other jars.
Of course not all of my storage jars are canning jars so I'll need to think about a solution for those repurposed jars not using a 2-part lid.
Although it's apparent that I need to practice my spacing and/or sharpen my chalk, it worked great.
I don't always use canning jars to store dehydrated goods but when I do this will be my go-to addition in labeling. And no money spent. SCORE!
Use Whatcha Got, y'all.
~TxH~
Other 'Use Whatcha Got' Ideas


C'mon by & sit a spell! Come hang out at our Facebook Page . It's like sitting in a front porch rocker with a glass of cold iced tea. There are lots of good folks sharing! And you can also follow along on Pinterest, Twitter or Instagram
If you'd like to receive an email when a new blog post goes live,
subscribe to our Blog!
Save