by Texas Homesteader ~
I wanted a cute porch lantern for ambiance while lounging on our back porch deck. A repurposed jar, some gravel and a small candle and BOOM! Porch lantern!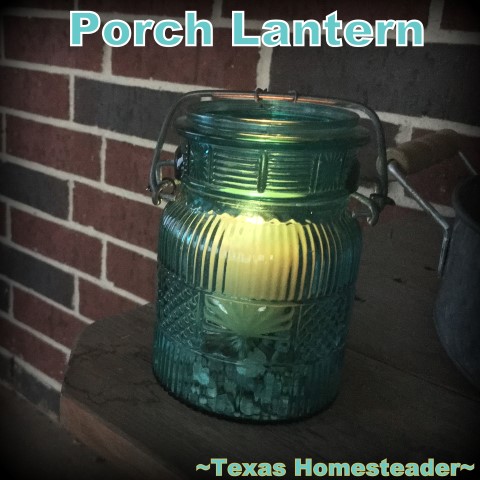 Outdoor Livingroom
RancherMan & I had a wonderful porch addition built to augment our back porch. Even before the porch addition, we've always spent our evenings out there enjoying that Texas sunset.
And when we have company, we all naturally congregated on the back porch. But now with the addition there's even more room to spill outside & visit. And I've landscaped it up (on the cheap though, y'all) so it really is an oasis!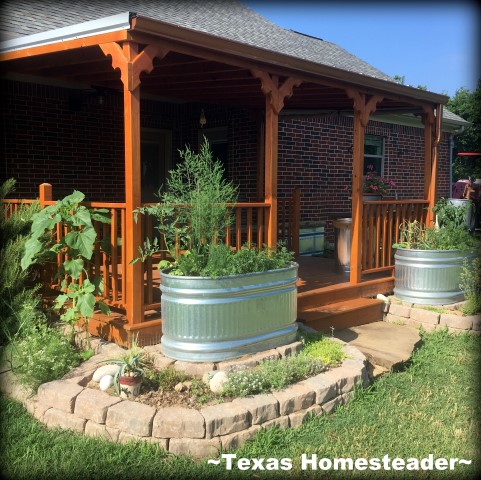 Recently I found several cute glass jar lantern lights at various craft & antique shops when we took a fun quick trip to Granbury, Texas. Of course I thought to myself: "I can make that!"
Now living out in the country without city lighting & all, it gets really dark at night. So a bright light outside will certainly attract every flying bug in sight! I prefer a soft, gentle light.
I thought about various canning jars I had around the house and ways to affix a hanger so I could place it up higher if I wanted. But I wanted something pretty too, ya know?
The Perfect Repurposed Jar… For CHEAP!
Then one day, it happened. We were attending a garage sale in Amarillo, TX with my favorite aunt when I saw a pretty blue flip-top jar, but the top was missing. Since it was 'broken' they only wanted a quarter for it.
But this was PERFECT for my little porch lantern since I wouldn't need the top anyway. I practically danced to the seller as I handed her that quarter!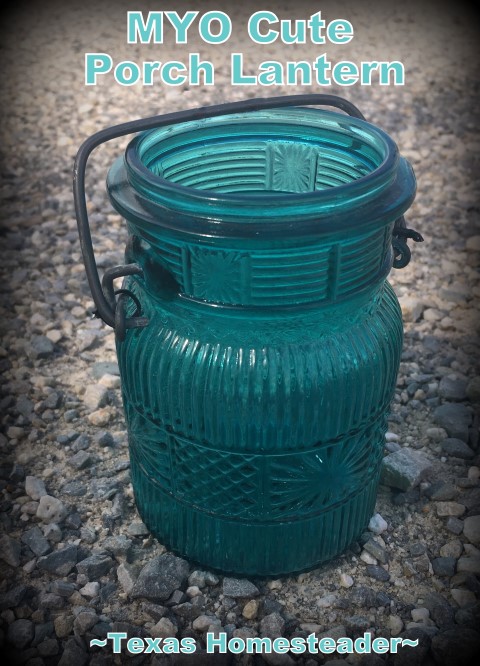 Once we got home I asked RancherMan if he would be able to affix a wire to hang my candle. I needed it to hold the jar steady and upright too, which means the wire shouldn't be able to slide or shift the weight of the candle.
Of course he steps out into his shop and returns just a few minutes later with exactly what I'd asked for.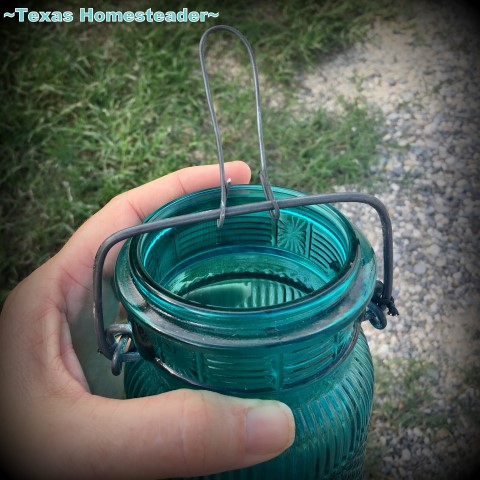 That's perfect! He attached some heavy fencing wire to the leftover flip-top metal hardware from the jar's broken lid.
That little metal loop can be laid down if I want to set the candle jar on the table next to our porch swing. Or the wire can be stood up to hang it on a decorative iron hook I have mounted higher up.
Old Box Of Candles
Now back in my 'old life' I used to burn candles all the time. But I don't burn many anymore, much preferring to burn my Beeswax Candles instead.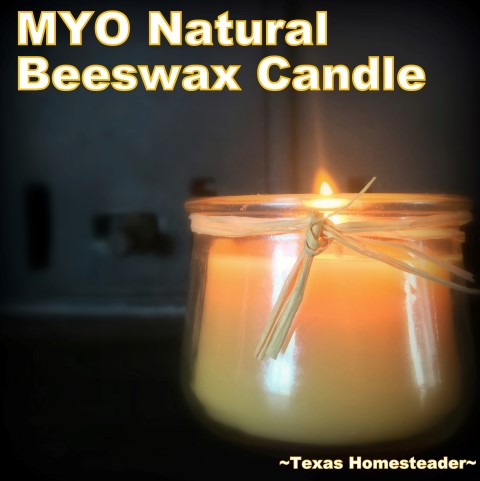 So I had a large box of both new and used scented candles that had been set aside for quite a long time. I'd initially offered them to friends & family.
They eagerly took several off my hands but I still had many in a box. I figured I'd just melt them down for my Fireplace Starters so at least they'd get used.
But now I have a better and prettier use for one of those candles!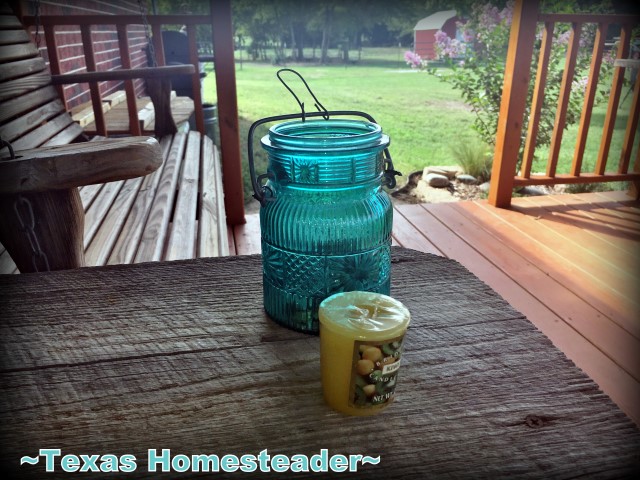 So out to the driveway I go to scoop up some of the gravel for the bottom of the jar. That gives a steady place to set the candle. It also gives a little buffer space for when the candle burns down so the glass doesn't get too hot.
Then I insert a small votive candle atop the gravel. Yes – I like it!!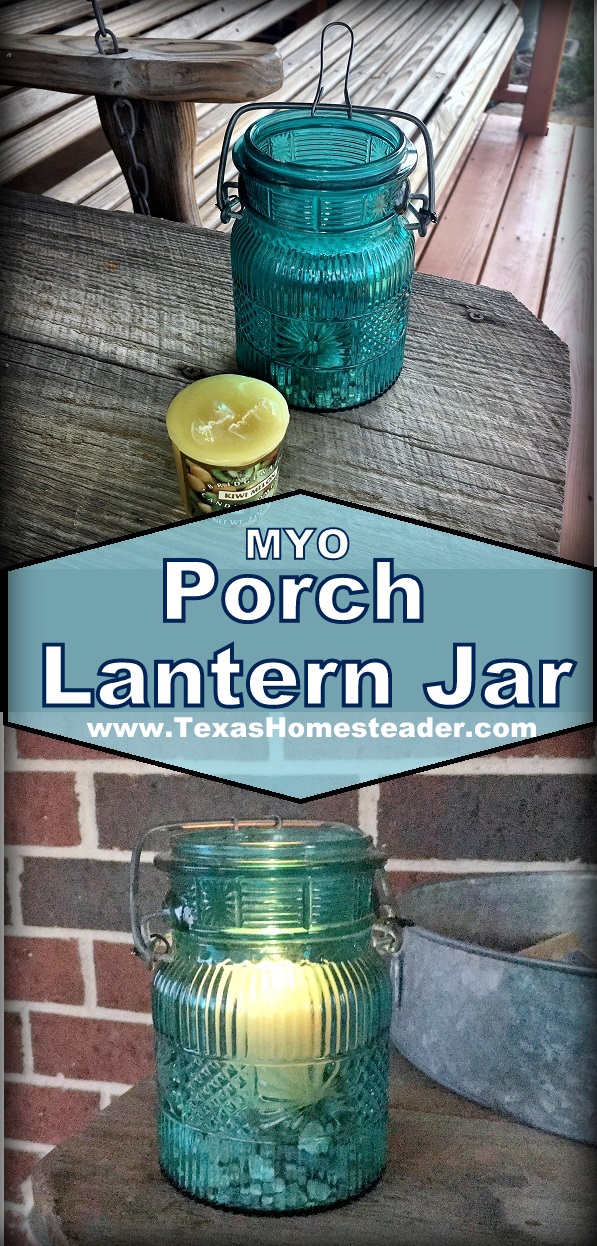 I think my homemade porch lantern is absolutely perfect! Just enough mood lighting to accompany us while enjoying the back porch, but not bright enough to attract every flying insect in the county.
Use whatcha got, y'all!
~TxH~
Links In This Post:
Other 'Use Whatcha Got' Ideas
Outdoors & Garden
Indoors & Décor
Cleaning & Organization
Misc


C'mon by & sit a spell! Come hang out at our Facebook Page. It's like sitting in a front porch rocker with a glass of cold iced tea. There are lots of good folks sharing! And you can also follow along on Pinterest, on Twitter or on Instagram.
If you'd like to receive an email when a new blog post goes live,
subscribe to our Blog!