by Texas Homesteader ~
Landscaping can really be expensive if you're not careful. I'm always on the lookout for landscaping on the CHEAP, y'all.
I was looking to landscape a new porch extension, but I wanted it to be done as inexpensively as possible. It was surprisingly easy to do. Come see!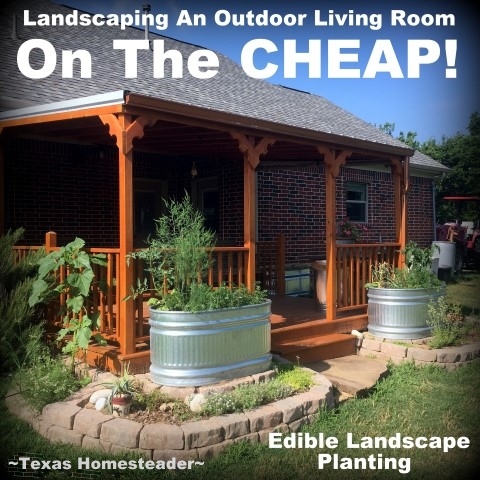 (Note: Some links in this post are for further information from earlier posts I've written. But links preceded with * are affiliate links. If you click them and buy something (almost anything, not just the item noted) I could receive a tiny commission. But the price you pay will NOT change. It's an easy way to support this blog without anything coming out of your pocket. So click often! Thank you!)
Spending Time Outside
RancherMan & I spend lots of time outside. Not only for our work here on the homestead but for pleasure too. And we love the view from our back porch.
Recently I wrote about expanding that back porch to include an Outdoor Living room – be sure to check that out.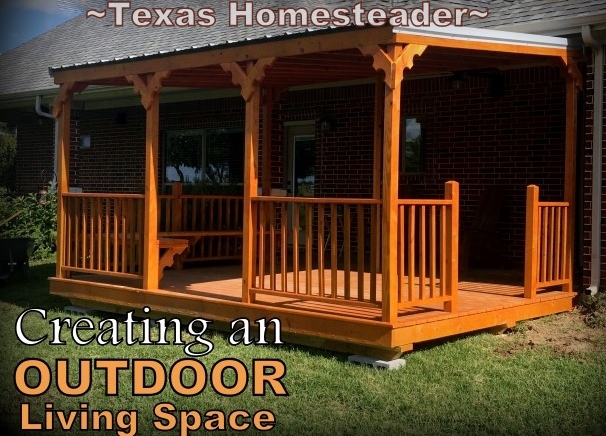 But now that the porch addition has been installed I need to landscape it into the peaceful oasis I've got my heart set on.
But although I want it to be beautiful, I don't want it to cost an arm & a leg!
Landscape Goals
Homesteading life's busy y'all, I don't have time to be shackled to heavy landscape chores. I needed:
Lofty goal?
Read on, dear friends.
Low-Cost Landscaping Stones
Those cement landscape retainer wall stones can be pricey. But we used our credit card rewards points to receive gift cards to a big-box store.
(I wrote about this super-frugal tip along with with other tips to keep all our monthly expenses small, check it out!)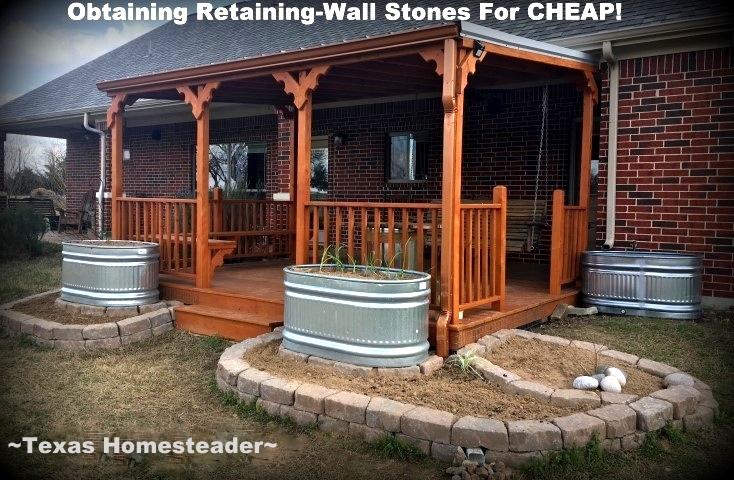 The full price of those landscape stones were paid using points for things we buy every month anyway. Essentials such as groceries, gas and cattle feed.
So the total cost out of our pocket? Nothing. Nada. ZILCH!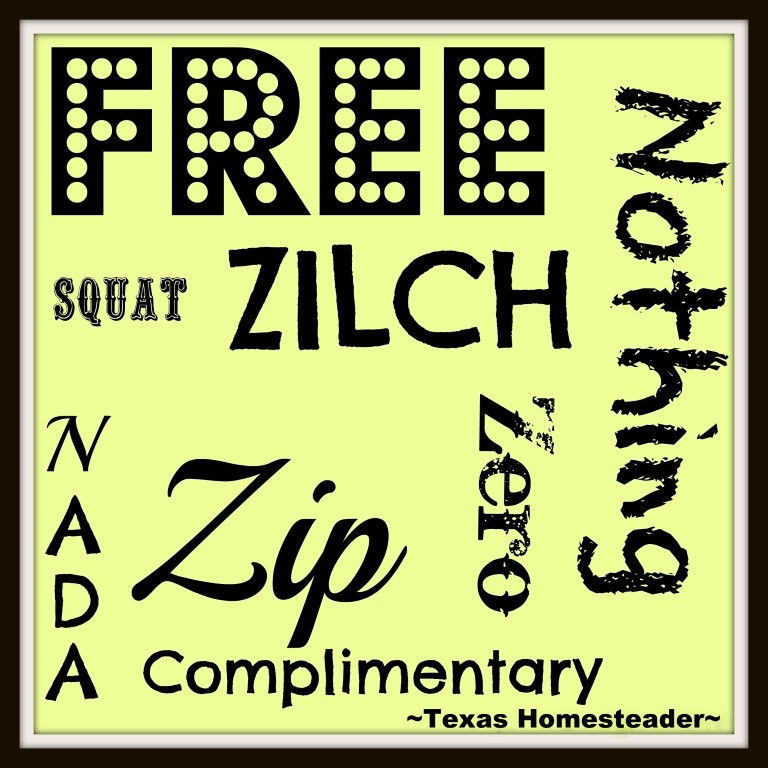 Where To Find Cheaper Fill Dirt & Planting Soil
You know how it is, for some reason buying DIRT is pricey! So we did a little searching.
We found a local guy who had a sand & gravel business. He dumped a full tractor-bucket load of sandy soil into huge tubs we'd placed in the back of our truck. And the cost for several hundred pounds of soil? A mere $25.
I talked about the soil acquisition on my latest 5-Frugal Ways I Saved Money & The Environment I posted recently. It's a fun post to read, I encourage you to check it out.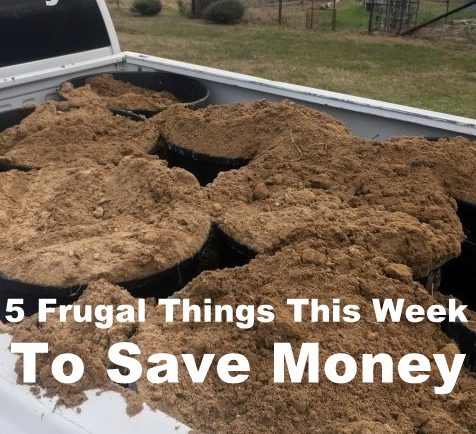 That same soil purchased in large plastic sacks from a big-box store would have cost several hundred dollars.
Oh, and there would have been all those plastic bags to deal with too!
(have I mentioned lately how much I hate plastic?)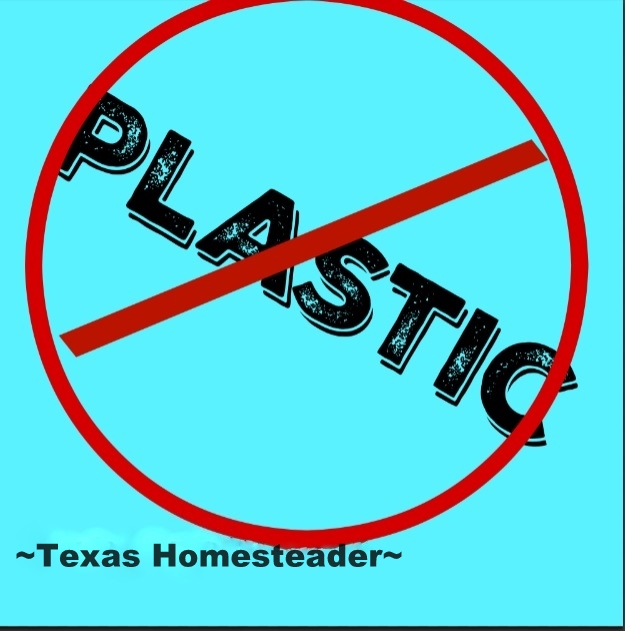 Looking For Cheap Landscape Plants
When the beds were built it was time to start adding the plants. I don't have to tell you how quickly that can add up to a wad of cash!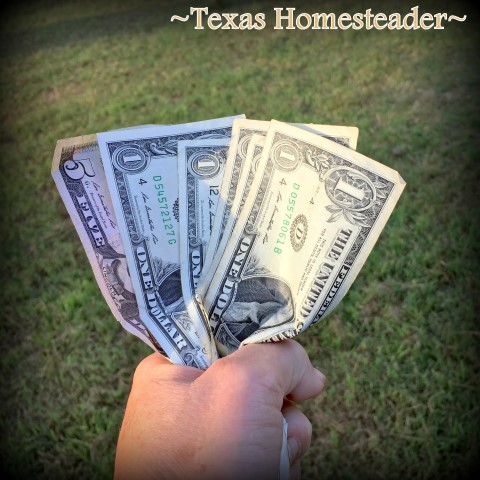 But I was after a primarily edible landscape plan with lots of bee-friendly flowers. Dual purpose – food for us, food for the bees. And edible plants can be beautiful too!
Gifted & Transplanted Plants For FREE!
My aunt gave me some of the decorative wispy grass (I have no idea what it's called but I love it) from a section of her flower beds where it had spread to an unwanted area.
I brought it home & planted it here. Love it!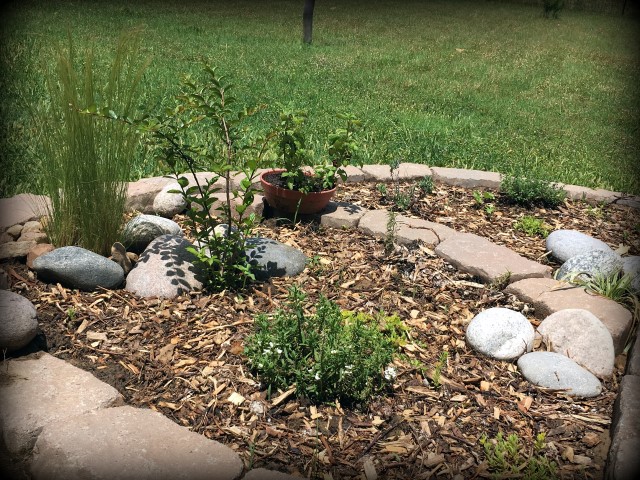 And I pulled the tiny Crepe Myrtle tree out of my veggie garden where it sprouted as a volunteer plant.
That tree was not wanted in the veggie garden, but much valued here!
It's all about taking what you've already got & putting it where it works best for you.
(UPDATE: that 'free' Crepe Myrtle tree you see nestled next to the flowy grass is over 10-ft tall now, blooms beautifully and offers shade for the porch!)
My sister gave me three small lavender plants that were leftover from her daughter's wedding.
Then I transplanted a clump of thyme and oregano from the garden. The bees love when they bloom. And the plants are pretty too.
I also transplanted several clumps of tiny sedum that originally came from my grandparent's home decades ago.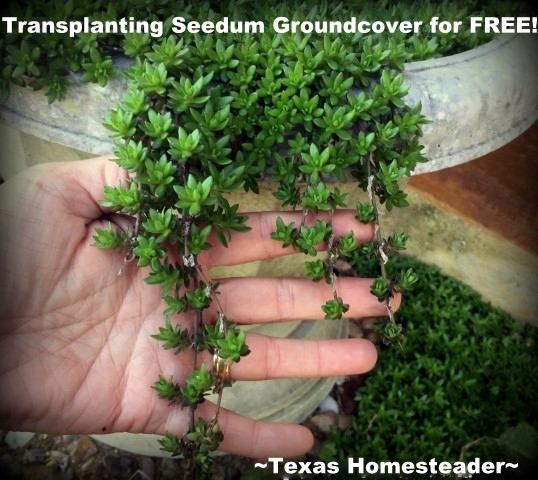 It will make a nice maintenance-free ground cover to help conserve moisture in the sandy soil.
On the other side I transplanted more sedum and a sprinkling of Alyssum seeds that I found in my seed stash from years ago.
I didn't know if they were still viable but they germinated! I love those tiny purple blooms.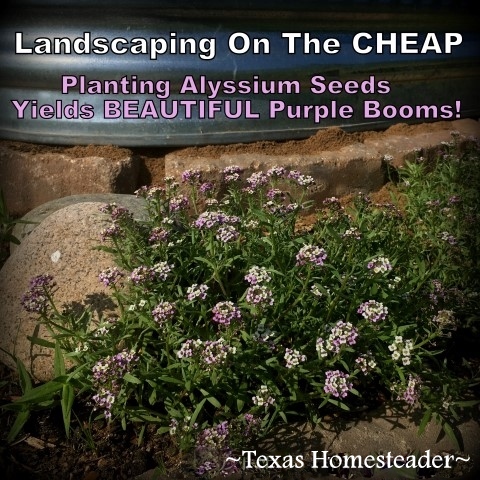 On one side of the porch I transplanted a small cilantro plant that had volunteered itself in the garden.
And my aunt gave me a small dill plant too that she was going to have to remove from her own beds.
Gotta love herbs this fresh! Hey, just because it's edible doesn't mean it can't be beautiful too. And the bees love those blooms.
Planting A Living Sun-Shade
During the hottest part of the summer the sun is as far in the northern sky as it can go.
So if we're sitting on the porch in the mornings when the sun comes up it gets mighty hot until it gets high enough to be shaded by the porch's roof. By then it's too hot to be lounging outside drinking our morning coffee.
I found a partial packet of Mammoth Sunflower seeds in my seed stash. So I planted a couple of mammoth sunflowers both for the natural shade they'll provide with their huge leaves as well as the beautiful plate-sized blossoms that are the bee's delight.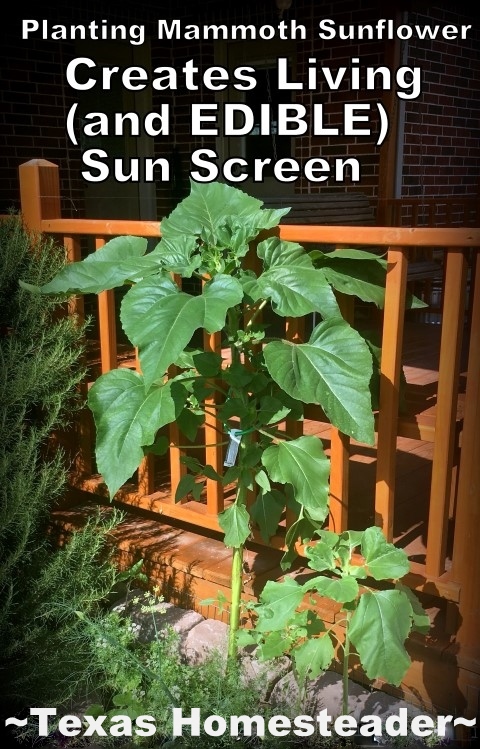 RancherMan & I now sip our coffee outside in the cooler early morning hours and are shaded from the sun.
Edible Landscape Planted In Galvanized Troughs
I plant different things in the two galvanized troughs each year.
One year I might plant carrots for their pretty lacy greenery and spinach for it's chunky crinkly texture. I also transplanted a crown of asparagus for it's light ferny look.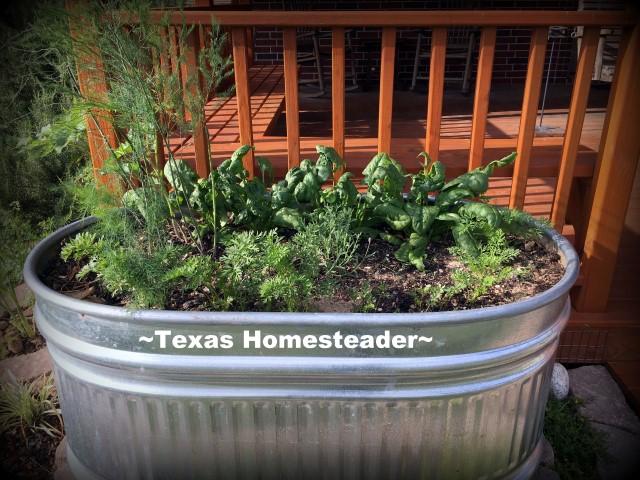 Or I might transfer the garlic bulbs pulled from my grandmother's home over 20 years ago into another planting trough.
Sentimental food!
We like to have a jalapeno plant here as well. When RancherMan's grilling it's easy for him to harvest & grill a large jalapeno at the same time.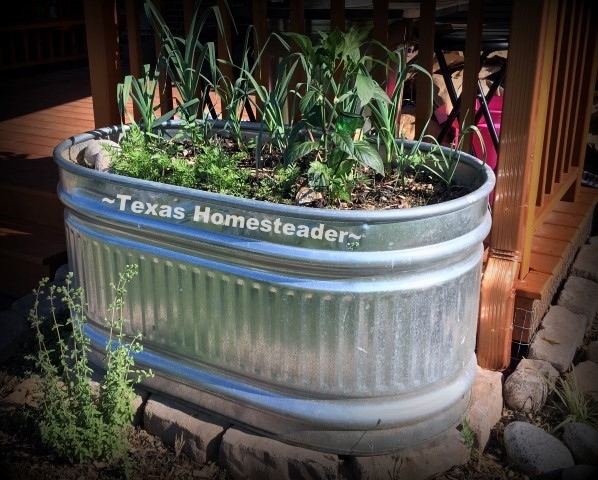 A *terracotta watering spike and repurposed bottle keeps the jalapeno watered. I thought the Dos XX bottle was apropos!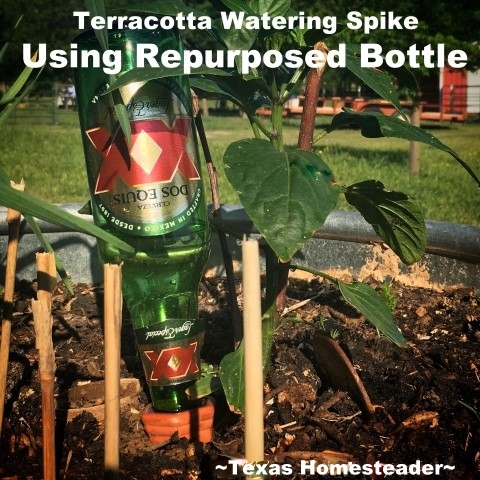 I change those what's planted in those troughs out each year. A couple of years ago I decided to grow strawberries there.
They're Everbearing strawberries and they've been coming back every year.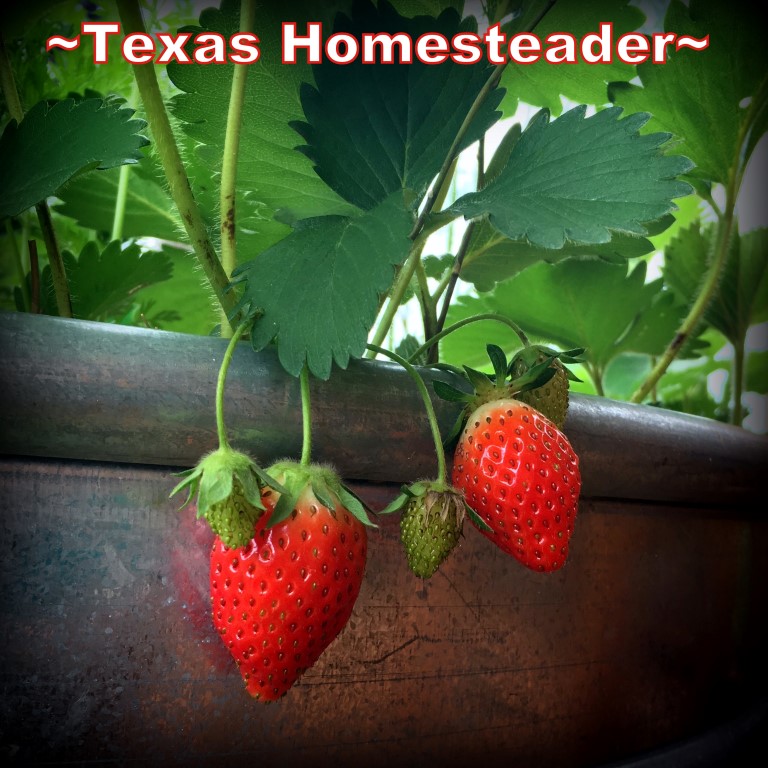 Rainwater Catchment System In Galvanized Trough
To tie into my galvanized theme, RancherMan set up a rainwater catchment system using another livestock water trough.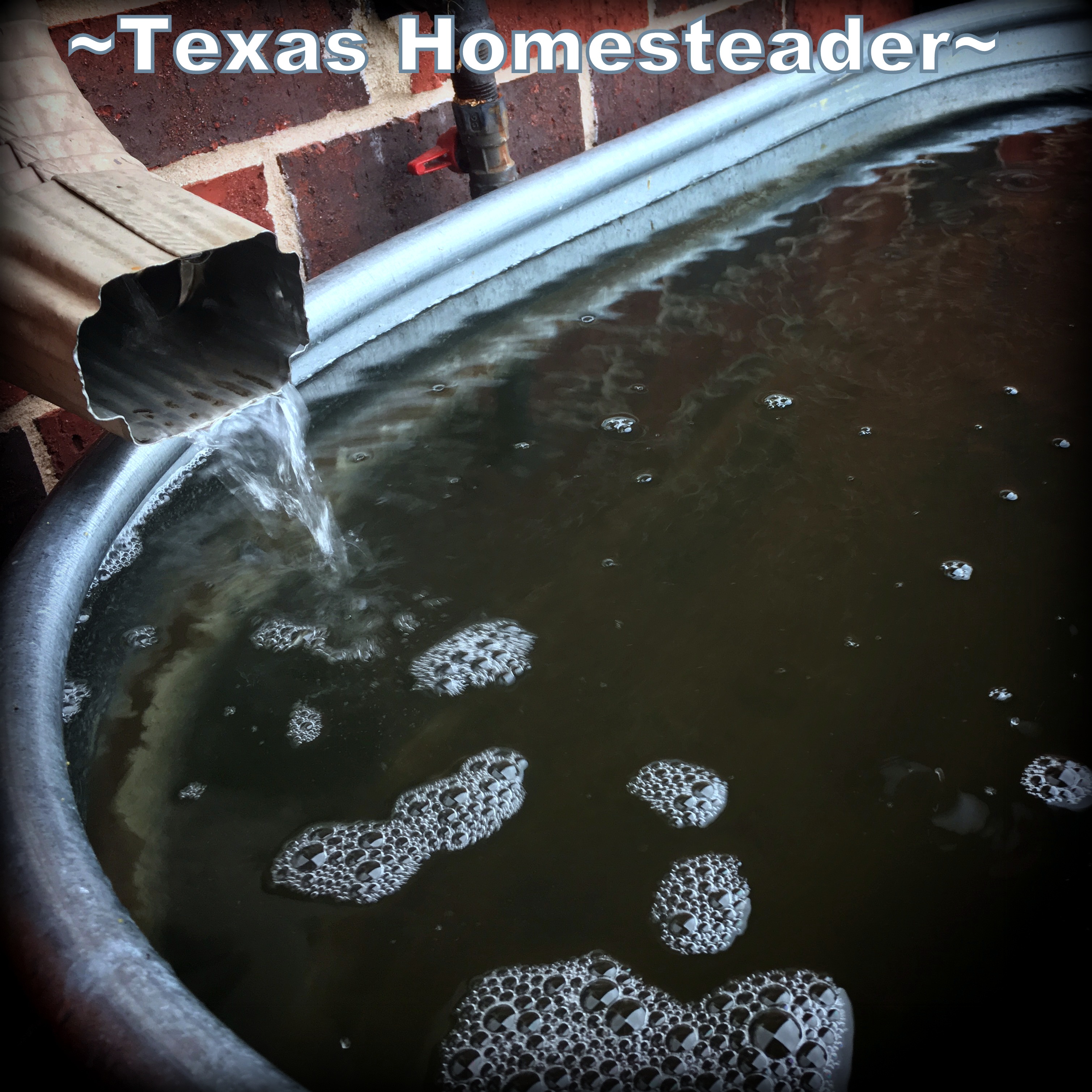 To use this rainwater I simply dip my watering can into the water & I'm steps away from keeping my landscaping watered. For free!
Keeping Bermuda Grass OUT Of Landscaping!
If you've ever dealt with Bermuda grass, you know what a challenge it can be to keep it out of your beds. RancherMan & I installed a Bermuda-Grass Barrier.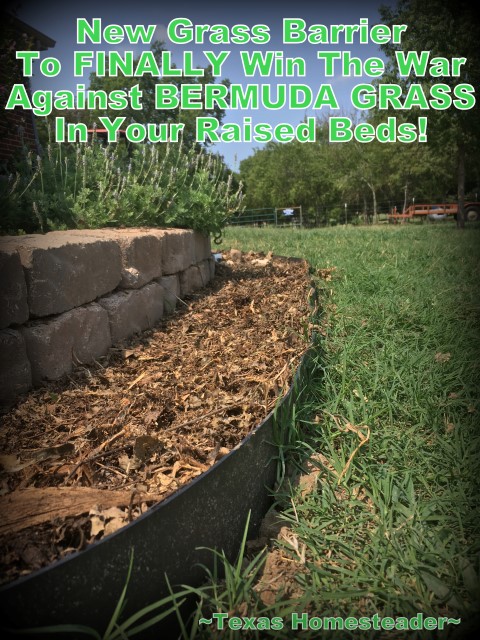 So far the grass barrier has been 100% effective at keeping that dang Bermuda grass from encroaching on all my plantings for 5 years and counting. #canyoubelieveit??!!
Reducing The Cost Of Landscaping
So I've been able to landscape this entire area for almost no money. I've been able to use: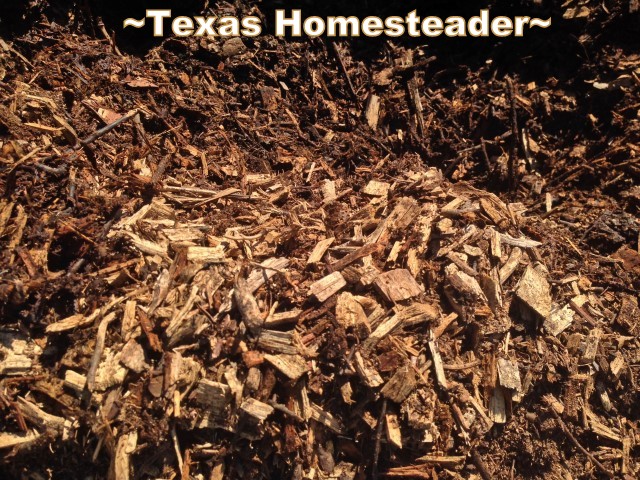 All my goals were met for this large landscaping project.
~TxH~
This post categorized in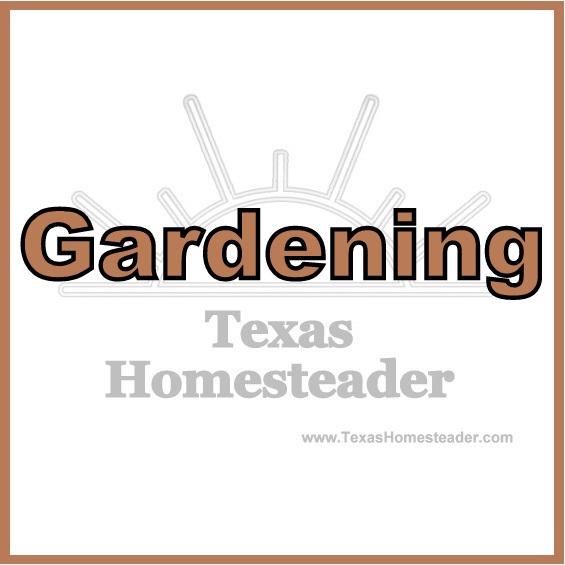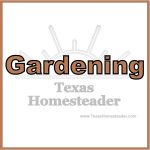 Links In This Post:
Want To Read More About Our Porch Extension?


C'mon by & sit a spell! Come hang out at our Facebook Page . It's like sitting in a front porch rocker with a glass of cold iced tea. There are lots of good folks sharing! And you can also follow along on Pinterest, Twitter or Instagram
If you'd like to receive an email when a new blog post goes live,
subscribe to our Blog!