by Texas Homesteader ~
I don't know if y'all deal with ants like we do, but dang this time of year when it gets super dry, the ants will go marching out looking for food.  Every now & then we find that they have invaded Bailey's food dish! When we adopted her she had bladder stones.  So now her diet is very rigid.  Never human food, only special formula low-oxalate crunchy dog food and lots of fresh water to keep her system healthy.
Knowing how common it is to overfeed pets and to keep her fit, RancherMan researched to find out how much food a dog her size and activity level should eat daily.  We give her half that amount in the morning and the other half in the evening. So there's typically not food left in her bowl for any length of time, but sometimes she leaves her food in the bowl a little longer.  It's then that we'll notice it's attracted the attention of ants.   Oh how we hate to have ants in the house. And Bailey REALLY hates them to be in her dish!  But we found an easy fix.  Check out this Homestead Hack.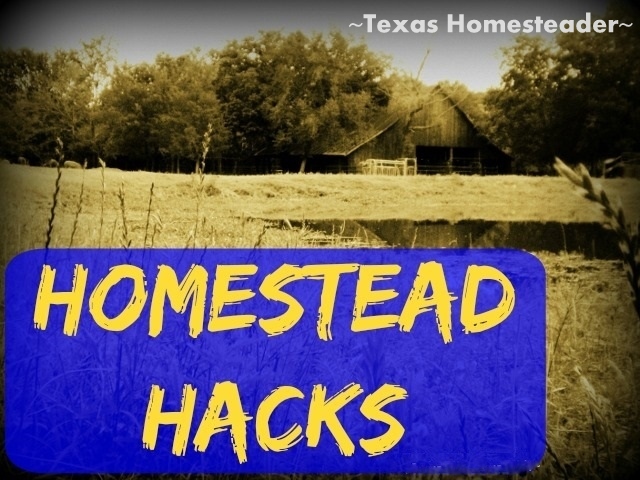 We have a larger dog bowl from years ago when we had a much larger dog.  These days that big, heavy bowl is used for various other things but today we brought it in & cleaned it up as well as we could. This bowl is OLD so it's pretty dingy even after it's cleaned up, but it's only temporary anyway.  We sat Bailey's smaller dish inside it.  Yea – it fits perfectly!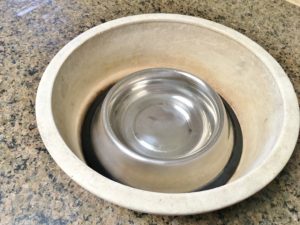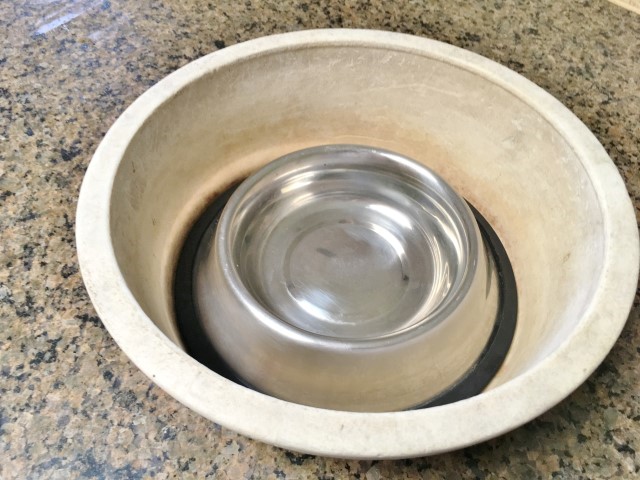 Then we poured water into the bigger bowl, surrounding Bailey's smaller bowl with an ant-free and water-filled moat.
Take THAT, ants! 
It's a poison-free way to eliminate ants from invading your pet's food bowl.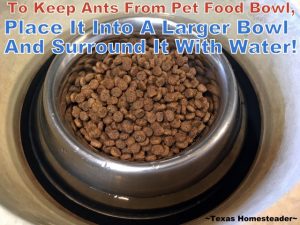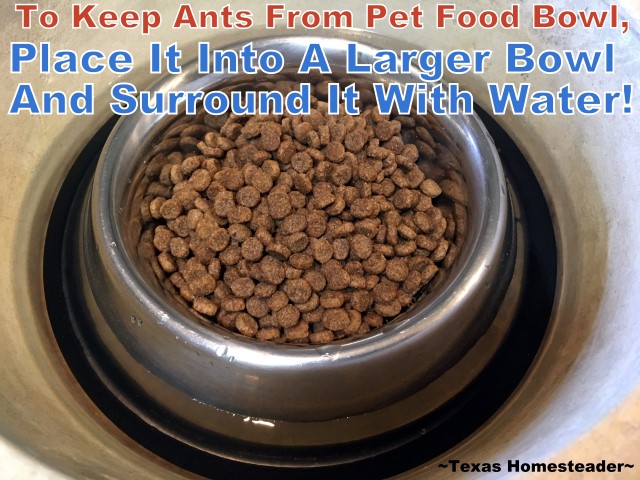 The ants aren't able to cross the water, so they grumble about their working conditions inside the house and then they all stomp back outside where they belong!
So long, pesky ants!
~TxH~
Other Non-Toxic Living Posts We Love


C'mon by & sit a spell!  Come hang out at our Facebook Page . It's like sitting in a front porch rocker with a glass of cold iced tea.  There are lots of good folks sharing!  And you can also follow along on Pinterest, Twitter or Instagram
If you'd like to receive an email when a new blog post goes live,