by Texas Homesteader ~
*affiliate link
Y'all know I hate plastic. Hate. Yes, HATE. HAAAATE plastic, so I wanted to get rid of the plastic tumbler I'm using to drink water throughout the day.
I've had aluminum water bottles & wasn't pleased with the experience. I'm assuming maybe stainless steel wouldn't have the same issues?
But although I've shopped for stainless water vessels, I really, REALLY would prefer to drink from glass.
As a matter of fact the last time I had multiple-day tractor duty mowing pastures I used a canning jar filled with ice water so I could enjoy that icy refreshing water in glass. And I loved it.
But the jar was so big around I was afraid I would drop it. Especially since my grip was 'iffy' after hours long maneuvering of the tractor's steering wheel.
I need a glass water vessel that would be much easier and safer to grip but still holds a lot.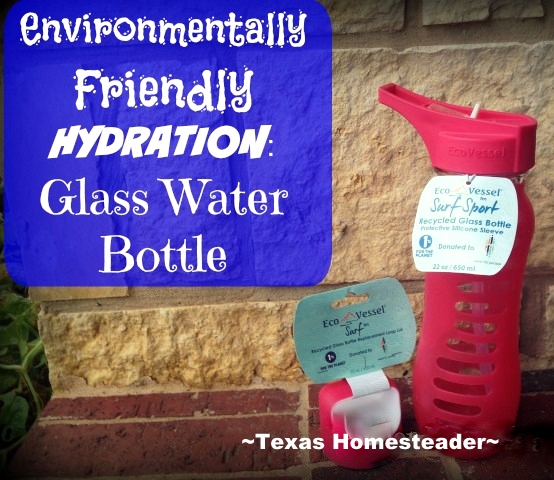 Now I should mention here that although Eco Vessel supplied the bottle for review at no cost to me, my thoughts and my review of this product are my own honest opinions.
(Note: Some links in this post are for further information from earlier posts I've written. But links preceded with * are affiliate links. If you click them and buy something (almost anything, not just the item noted) I could receive a small purchase. But the price you pay will NOT change. It's an easy way to support this blog without anything coming out of your pocket. So click often! Thank you!)
Environmentally Friendly
Not only do I want to get rid of my plastic tumbler, but I want to remove the need for disposable plastic water bottles. A glass water vessel fits the bill quite nicely for me!
Plus the environmental side of me loves that *Eco Vessel Surf Glass Water Bottles contain up to 60% recycled glass.
And almost all of the shipping materials used to ship it to me went into my *tumbling composter, including the cardboard box and all the paper padding. (I was able to repurpose the small piece of bubble wrap, but the plastic bag had to go to the trash).
I've also enjoyed iced tea from the bottle during our weekly dinner/class at church. I love that by bringing my own tea to share with RancherMan, we're not using the styrofoam disposable cups offered for the drinks at our meal.
(Let's do the math… 2 styrofoam cups per week x 52 weeks per year = 104 styrofoam cups NOT going to the landfill EVERY YEAR for our weekly classes alone!)
Bottle Features
The bottle comes with a colorful silicone protective sleeve that's extra padded at the base to help protect against damage when dropped.
Although I have no intention of testing them to this degree, their website states that it's been tested to withstand damage even when dropped from a height of 8 feet!
And I love that you can opt for beautiful colors & different screw tops for the water bottle. You can use either a loop top for easy carrying or a flip spout for tilt-free drinking – or both since they're interchangeable! All components are dishwasher safe although the lids need to be loaded in the top rack.
Eco Vessel sent both tops for me to try. I especially like the flip top option since I often use my water bottles while I'm on the tractor. Fiddling with a screw top with leather-gloved hands and tilting my head back to drink is an unnecessary difficulty with the flip top.
The bottle stays sealed as long as the flip-top straw is closed and the inner straw allows tilt-free drinking. That's super helpful for keeping my eyes on my work while on the tractor!
The curved shape of the bottle makes it easy to securely grip the bottle, which helps me safely rehydrate using this water vessel during my chores.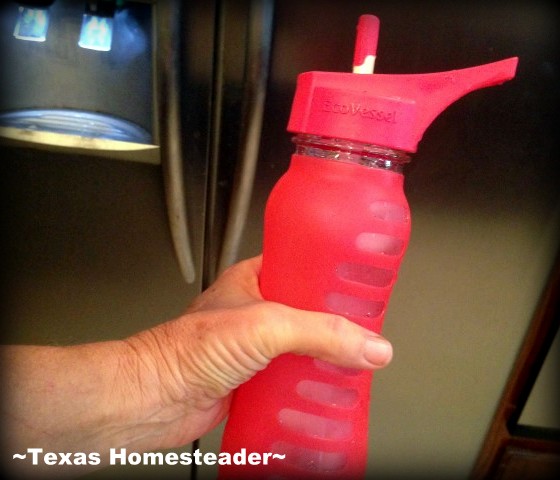 Although I prefer "Made in the U.S.A." for products I buy, the Eco Vessel site states that all their products are manufactured in China. Although I wish it was American made I don't see this as a deal breaker for me.
The vessel itself is made of up to 60% recycled glass and the straw inside the bottle is made from an FDA approved food-grade silicone. The protective cover is also made of silicone which helps keep a firm grip.
Real Life Experience
Now you know the features, but the real question is how does it work in real life?
Well I carried this water bottle with me on many different errands, several community commitment work days and to our weekly classes at church.
And I was pleased that it fit snugly in the cup holders in both our small sedan as well as our work truck.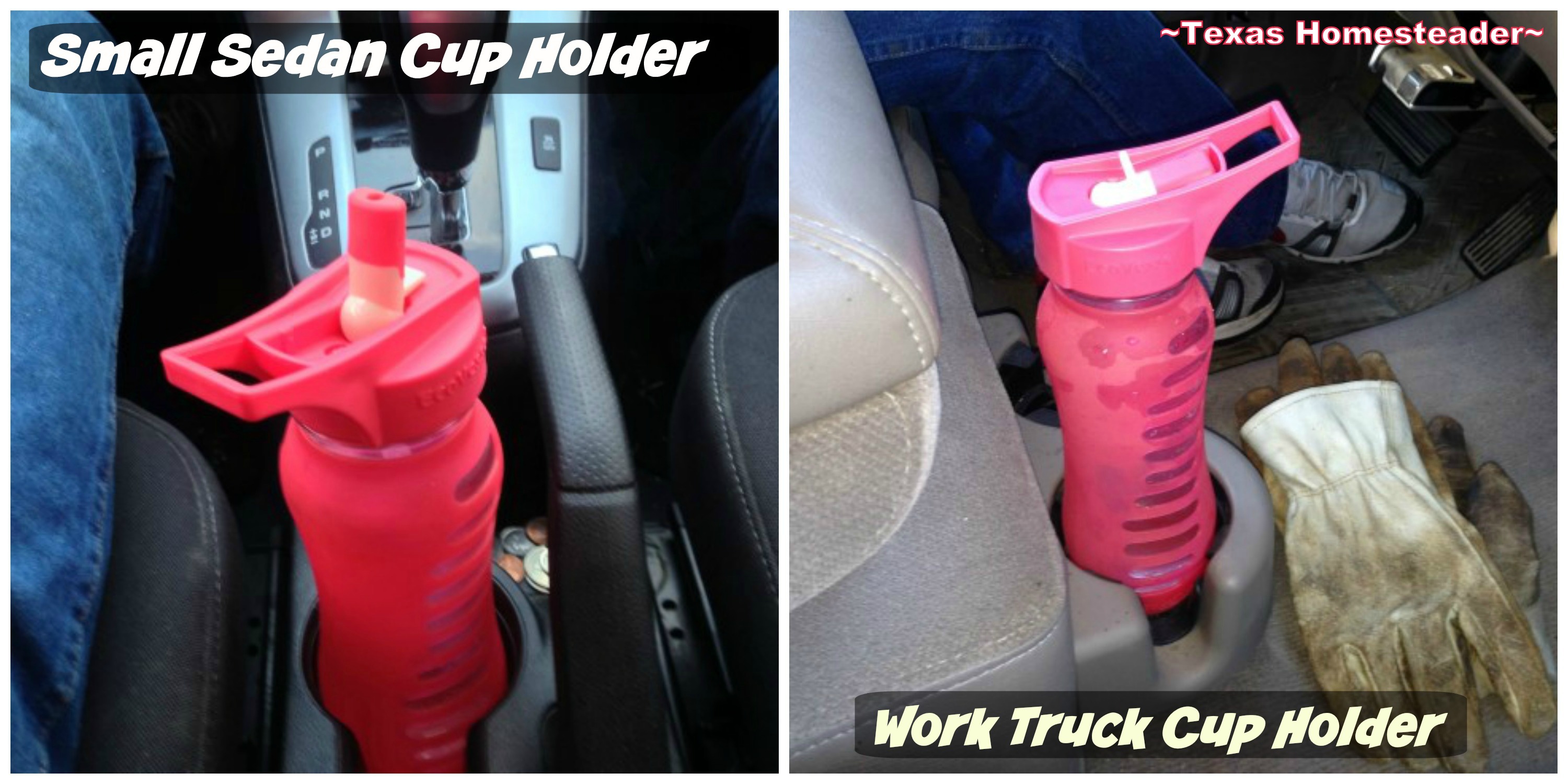 The bottle is a hefty 12 inches tall so it holds lots of water. It is not insulated so it doesn't keep my water cold for long periods of time. But for my use it seemed to work just fine.
Also because it's not insulated be aware that it does condensate on the outside. But I have one of these cute no-sew denim coasters next to my chair. So that small amount of condensation never created a problem with too much moisture.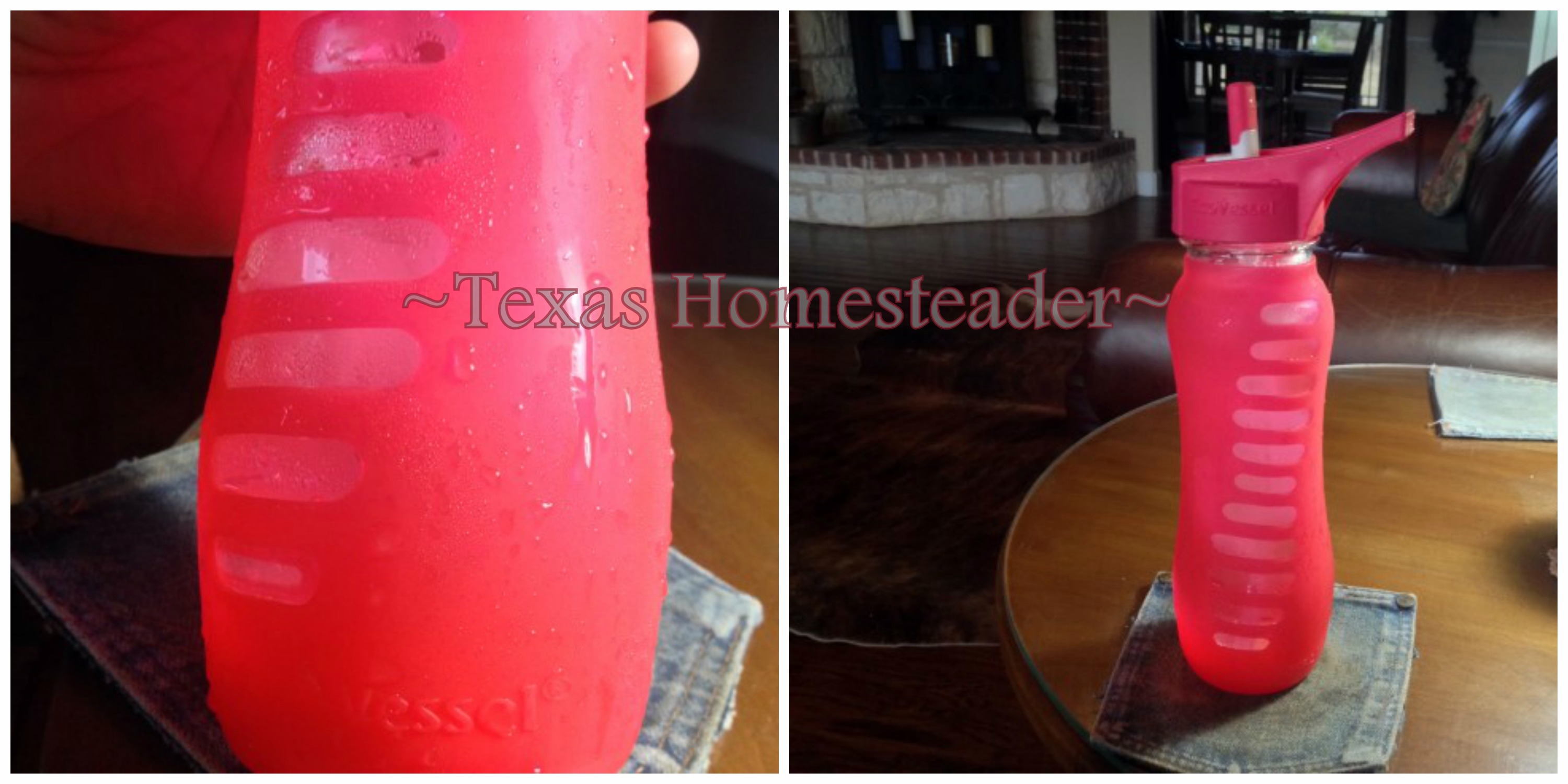 The flip-top straw is convenient but I had to get used to it at first. It's a different size/shape than a typical straw.
But I find that by keeping this bottle filled with ice water that I drink much more water during the day. This is something I've been trying to do more of lately anyway.
The wide mouth made it easy to add ice to my bottle right from the refrigerator door's ice maker, and then quickly fill with filtered water.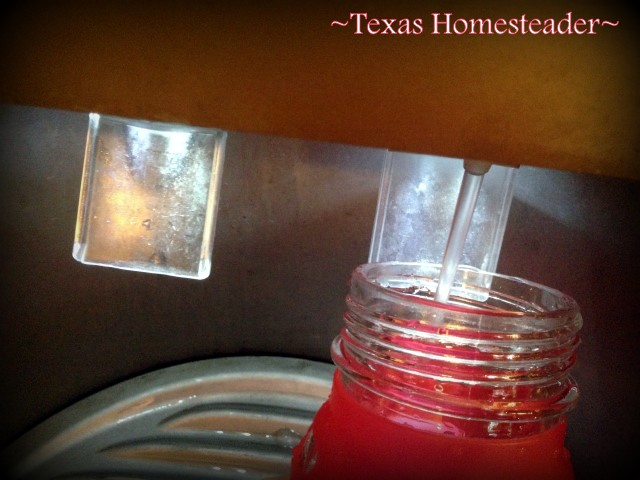 I am somewhat disappointed that there was not a straw cleaner included with the flip-top straw cap. So I'm planning to buy this *straw-cleaner kit to keep everything clean. I suppose you can just use pipe cleaners for straw cleaning but again, I hate anything disposable. Any thoughts?
So here's the rundown of benefits vs. disadvantages:
Benefits:
Water Vessel Is Reusable – Reduces Or Eliminates Disposable Plastic Water Bottles or Styrofoam Cups Needed For Cold Drinks
Curved Shape Makes It Easy To Securely Grip The Bottle
Wide Mouth Opening For Easy Filling
Large 22-Oz Capacity
Two Different Tops Available – Flip Straw Or Loop Handle
Flip Straw Allows Quick Access As Well As Tilt-Free Drinking
Recycled Content For Bottle – Up To 60% Recycled Glass!
Environmentally Friendly Shipping Materials
Dishwasher Safe (Lids Should Be Placed In Top Rack)
Fits In Both Our Car & Our Ranch Truck Cup Holders
Disadvantages
Not Made in The USA
The Flip Top Straw's Size and Shape For Drinking Takes Getting Used To
Lack Of Bottle Insulation May Make It Difficult To Keep Contents Cold For Longer Periods Of Time
Bottle Condensates When Using
All in all, I'm very pleased with this glass water bottle!. I'm enjoying many benefits – drinking more water throughout the day, carrying my own beverages with me when RancherMan & I are running errands instead of stopping to purchase a beverage, and especially not adding disposables to the landfill.
And c'mon, nothing tastes better than when you're drinking from real glass! If you'd like one of your own, you can find them at Amazon here –> *Eco Vessel Surf Glass Bottle
~TxH~
Other Eco-Friendly Posts
…and Many More


C'mon by & sit a spell! Come hang out at our Facebook Page. It's like sitting in a front porch rocker with a glass of cold iced tea – lots of good folks sharing! You can also follow along on Pinterest, Twitter or Instagram.
If you'd like to receive an email each time a new blog post goes live it's EASY to
Subscribe to our blog!
Save