by Texas Homesteader ~
I was looking to find repurpose ideas for RancherMan's worn jeans. I decided to make cute no-sew denim coasters from the pockets. I love the rustic western feel and I enjoy having them in various places in our home.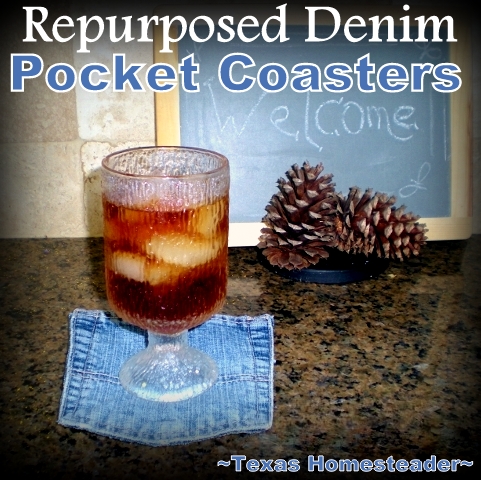 (Note, we often sell these authentic Texas Rancher-worn denim coasters in my e-Bay store)

It's a great way to support this blog so RancherMan & I THANK YOU!
It's no secret to those who know me that I love denim. It's about all I wear here on the Homestead. RancherMan too!
But even when those jeans finally wear out, I hate to throw away that beautiful blue dungaree cloth. It's so rustic & heavy. And it begs for another purpose.
Repurposing Various Fabrics To New Life
Y'all know I have an environmental bend. I'm big into repurposing things that have reached the end of their current purpose.
Take holey socks for instance. I've even found ways to repurpose clean but no-longer-wearable socks to many other helpful Homestead purposes.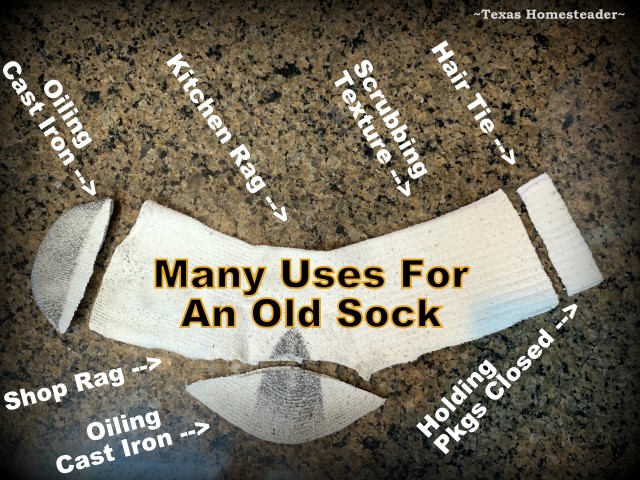 From an elastic hair tie, kitchen rag, scrubbing-textured cleaning cloth to cast-iron oiling cloth, and shop rags. There are lots of ways to put that terrycloth to additional use.
So if I can put holey socks to good use, you just know I'll be able to do something good with this denim.
So what will I do with these worn jeans? The fabric is so beautifully worn, and so rugged. Surely I can put it to another good use.
Different Purposes For Our Denim Blue Jeans
I've always been a blue jean girl. Now that I live and work full time on the Homestead, the only time you'll see me in anything but denim is on Sunday morning in the church pew. And even then, it being a country church and all…
We go through lots of denim because it's basically all we both wear every day. Different blue jeans have different purposes.
Nicer meeting-customers work jeans,
Casual out-&-about town blue jeans,
Grungy chute-side heavy work jeans.
All categories of denim blue jeans are worn very frequently. Until they're just DONE and looking for their next purpose.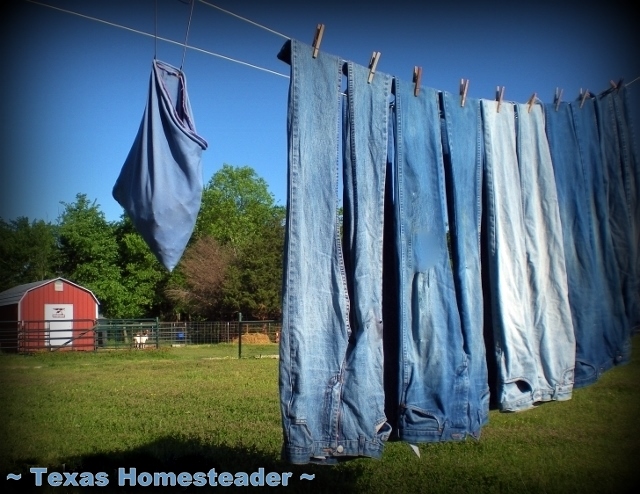 But here's my (not-so) secret confession: I hate to sew.
When Blue Jeans Are No Longer Fit To Wear
When our jeans aren't fit to wear anymore I make sure to put that heavy denim fabric to good use.
I remove & open up the leg sections and use those wide strips of denim underneath shade cloth over our chicken's water tub.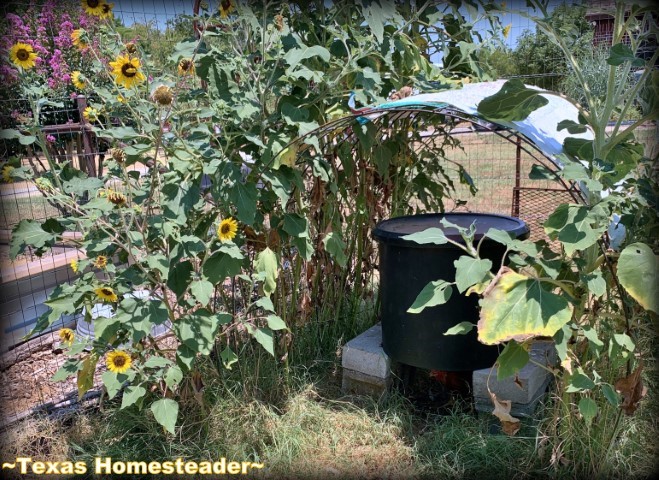 It offers the chickens a cooling place to hang out and keeps their water cooler too.
Sometimes I use those worn blue jeans to make something country-styled yet functional to decorate our home such as these denim baskets.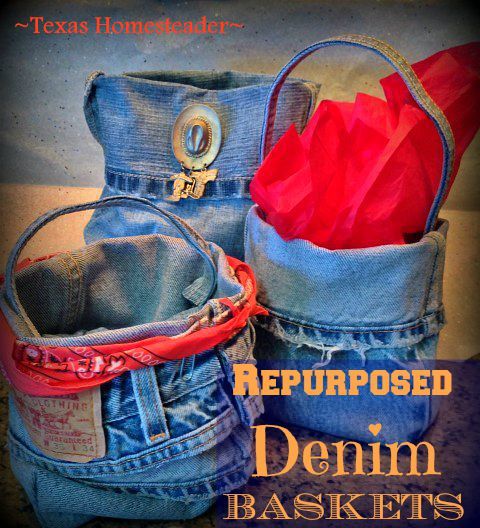 No matter the purpose for the rest of the material, I always make drink coasters out of the pockets!
Rustic Texas Cattle-Rancher Feel
There's just something about that authentic Texas cattle-rancher patina on RancherMan's blue jean pockets.
The worn places where he keeps his pocket knife in one pocket & his cowboy wallet in the other as he goes about his daily chores. It's so real, so rustic, so TEXAS RANCHER!
Making No-Sew Denim Pocket Coasters
To make these coasters I start by cutting out a pocket, leaving a small flap of material on the top of the pocket.
We enjoy iced water or tea in those hot summer months, But the condensation from the glass or my reusable glass water bottle always creates a mess.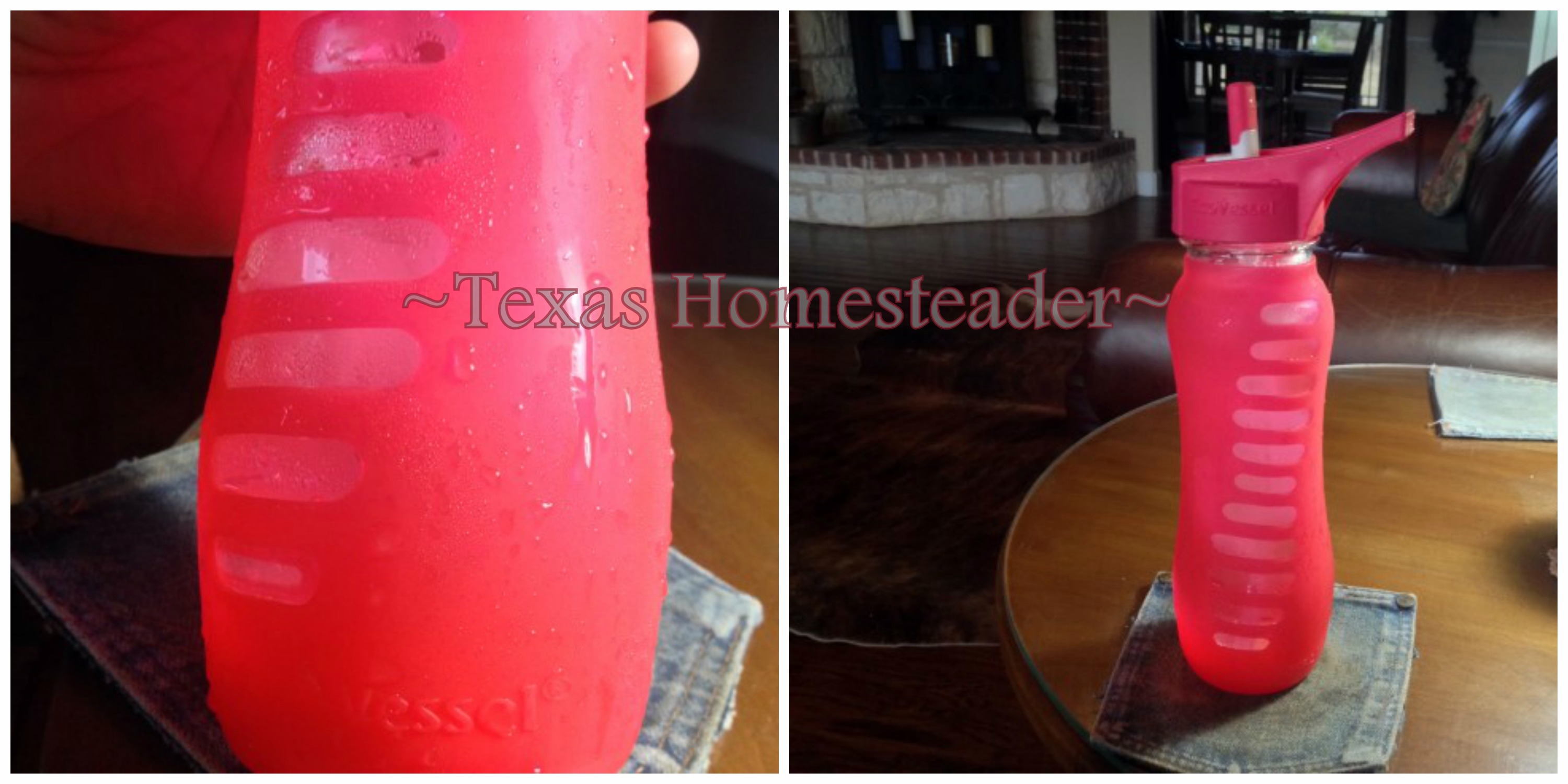 So I like to have something waterproof to stop any moisture from our glass of tea from soaking through the two layers of fabric and onto our wood furniture.
Waterproof Layer Inside Denim Coaster
But that's an easy fix too. I cut a waterproof plastic sheet to the exact size to fit inside these pocket coasters. I've used various thin flexible water-proof materials to fill this need. Heck I've even used a chip bag cut to size to fit the bill!
I slide this moisture-proof barrier into the pocket so any moisture would be stopped after that first layer of cloth.
Finally I tuck the top flap back in and give it a quick ironing to crease it so it stays tucked in. Sometimes I'll add a little hot glue to the flap. But sometimes not.
Just flyin' by the seat of my pants, y'all! (see what I did there??)
Putting together these denim pocket coasters was not only no-sew simple, but fast too. And now I've got brand new coasters that didn't cost me a penny. But not just any coasters:
DENIM COASTERS!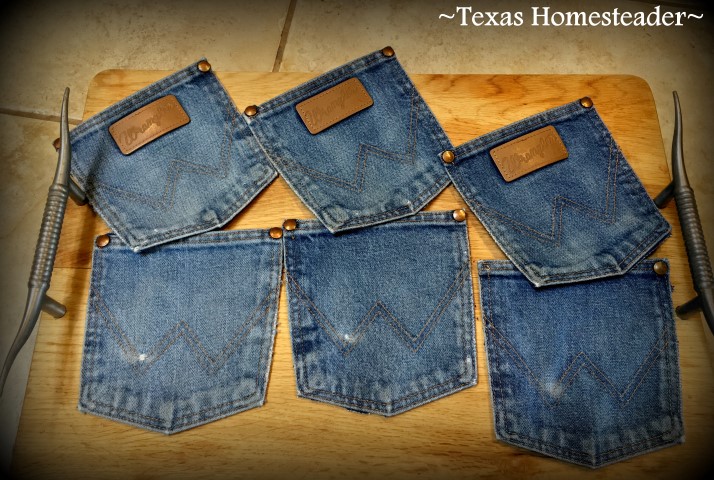 I love them. And I didn't sew anything. Not one stitch.
I love these coasters so much that I have them all over our home.
There's one on each of our nightstands in the bedroom for morning coffee.
A couple of denim coasters are on the end tables in our living room for iced tea.
There's even one at each place setting at our dining room table.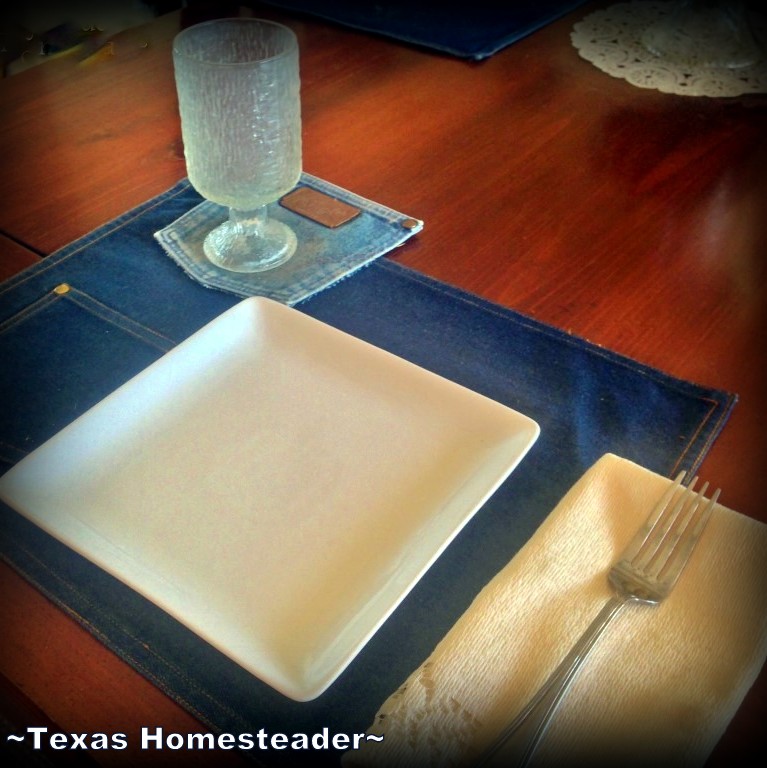 And the beauty is that if a coaster gets too stained from dribbled coffee or other drinks, there are no worries. I'm always gonna have a steady supply of these country-chic coasters since I can make them in just minutes.
I always get lots of compliments on these simple coasters displayed in our home. I've even given them as homemade gifts to a cowboy acquaintance. He loved them.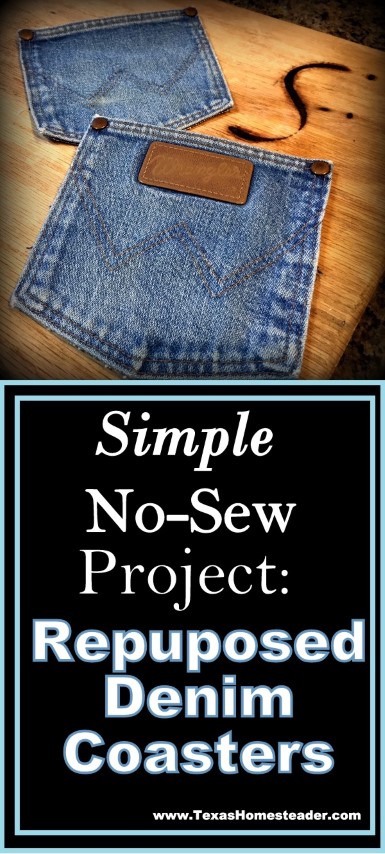 That's a lot of mileage for a pair of jeans with rips in the knees! Plus it suits my rustic Texas ranch décor and my eco-friendly mindset as well as my lack of sewing skills. Oh, and they look great too!
~TxH~
This post categorized in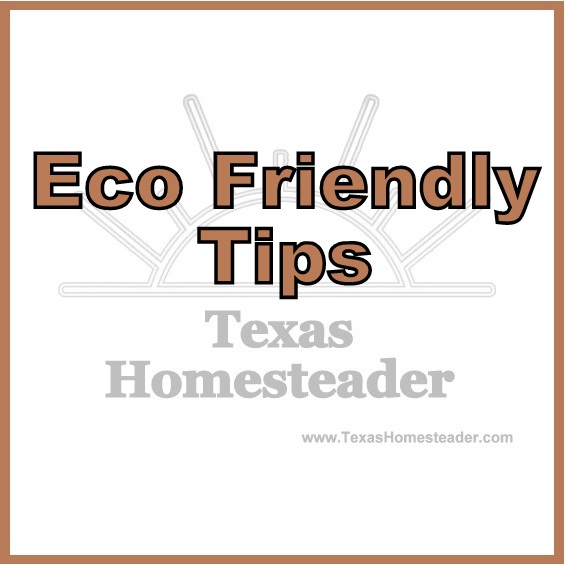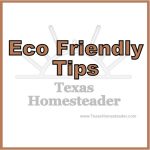 Wanna See Other Repurposed Denim Crafts?
Easy Beginner's Crafts & Projects We Love
Gifts
Home Décor
Clothing & Accessories
Other Easy Projects
…And Much More


C'mon by & sit a spell! Come hang out at our Facebook Page. It's like sitting in a front porch rocker with a glass of cold iced tea – lots of good folks sharing! You can also follow along on Pinterest, Twitter or Instagram.
If you'd like to receive an email each time a new blog post goes live it's EASY to
Subscribe to our blog!
Save
Save