by Texas Homesteader ~
It's no secret to those that know me that I love denim, I've always been a blue jean girl. It's basically all I wore in high school. Now that I live and work full time on the ranch, the only time you'll see me in anything but denim is on Sunday morning in the church pew.
We go through lots of denim whether our grungy chute-side work clothes, our nicer meeting-customers work clothes and even our out-&-about play clothes. Even when it wears out I hate to throw away that beautiful dungaree cloth. It's so beautiful & heavy and it begs for another purpose.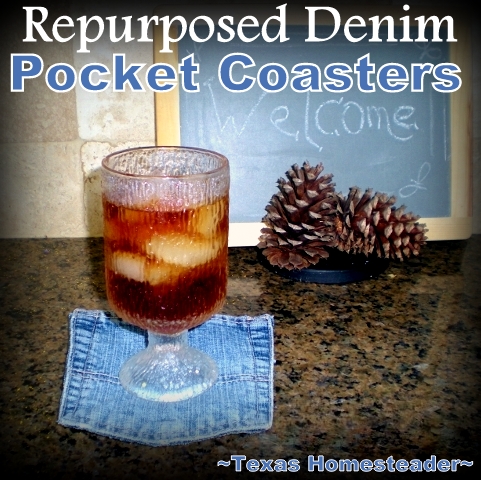 (Note, we often sell these authentic Texas Rancher-worn denim coasters in my e-Bay store)

It's a great way to support this blog so RancherMan & I THANK YOU!
I've seen many denim repurposing ideas and I really like some of them. But here's my secret confession: I don't sew. Now I don't mean I don't like to sew fancy things, or my sewing ability is novice, I mean
I.
Don't.
Sew.
Using Worn Jeans
Recently RancherMan wore though the knees of another pair of his Wrangler jeans. Now I may be the only wife in the world who gets happy when her hubby wears out the knees of his jeans. When he does I always make drink coasters out of his worn jeans!
There's just something about that authentic cattle-rancher patina, the worn places where he keeps his pocket knife in one pocket & his cowboy wallet in the other as he goes about his daily chores. It's so real, so rustic!
To make these coasters I cut a pocket off, leaving a small flap on top. We enjoy iced tea and the condensation on the glass always creates a mess. So I cut a thick waterproof plastic sheet to the exact size to fit inside these pocket coasters. I slide it into the pocket so any moisture would stop after that first layer of cloth.
I tuck the top flap back in and give it a little ironing to crease it. Sometimes I'll add a little hot glue to the flap. Now I've got brand new coasters.
DENIM COASTERS!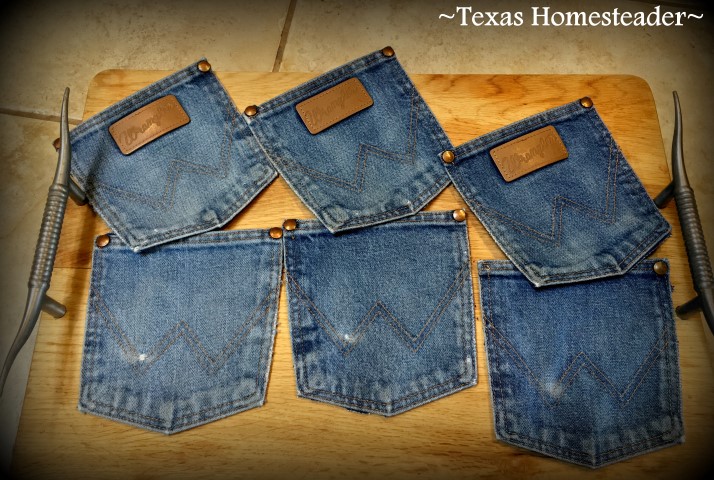 I love them. And I didn't sew anything. Not one stitch.
I love these, and I have them all over our home. There's one on the nightstand for morning coffee, a couple on the end tables for iced tea, and even one at each place setting at our dining room table.
~TxH~
Wanna See Other Repurposed Denim Crafts?
No-Sew Or Beginner's Projects We Love


C'mon by & sit a spell! Come hang out at our Facebook Page. It's like sitting in a front porch rocker with a glass of cold iced tea. Lots of good folks sharing! You can also follow along on Pinterest, Twitter or

Instagram

.
If you'd like to receive an email each time a new blog post goes live it's EASY to
subscribe to our blog!
Save
Save