by Texas Homesteader ~
When someone you know is having a baby, you want to get a little something for them, right? But what?
How about getting several little baby items and displaying them into a pretty wreath?
That results in a dual-purpose gift. The parents-to-be could use the pretty wreath to decorate the nursery until the baby is born. Then they can use each of the items as needed. And a baby wreath is super easy to put together too!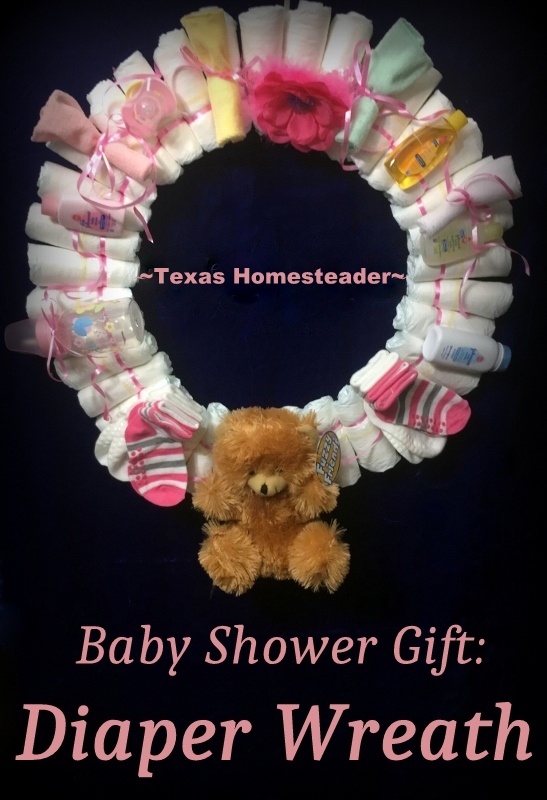 New Baby Expected
RancherMan & I have dear friends who are expecting a baby soon. I was beyond disappointed when I found out that her baby shower was on a day that RancherMan & I had unchangeable plans.
We always have a pretty tight schedule but typically we can tweak something a few hours or even a day or so and work in things that come up. But not this time.
But I just couldn't let this joyous occasion pass without our showing of love & excitement to them about their new baby.
Gift Giving Doesn't Come Naturally To Me
Now I'm terrible at gift giving. I stress about what someone needs, what they want. And I worry about what they may already have so as not to duplicate.
Some people are really good at gift giving but not this girl right here. To me it's very, very STRESSFUL!
Then I remembered what my mama always told me – "Presentation is half the gift". EUREKA – I know what I want to give them. I decided to make a cute diaper wreath.
Now I initially saw this idea on my Facebook newsfeed from Behind the After and thought her version turned out really cute (you can see hers here) So RancherMan & I went shopping.
Diaper Wreath Items
We bought an 18″ wreath frame at Wal-Mart – it was only a couple of bucks. Then I bought a 48-pack of newborn diapers, some baby girl socks, a tiny bottle, a pacifier, some travel-sized baby products, a cute headband, some baby washcloths and a soft plush teddy bear.
This part of the gift is actually pretty fun to pick out. You can look for whatever cute baby things you want to add. The more colorful the better.
I also bought some ribbon for adding a little more color. And some tiny super-stretchy hair elastics to use to attach everything together. These things were purchased at the dollar store so they were super cheap.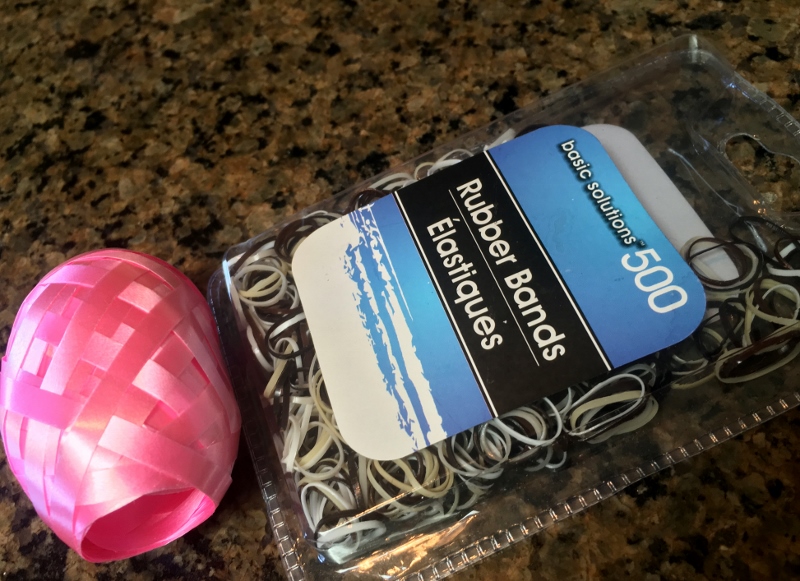 Now I'm ready to begin assembling my wreath. I need to make diaper rolls out of the package of diapers.
Making Diaper Rolls
First I need to make diaper rolls. So I opened the package of diapers and took a tiny diaper out. Awwwww… so tiny!
I rolled the diaper tight starting at the top of the diaper and rolling toward the fold. When it was rolled tightly, my diaper roll was held in place using one of the tiny elastic hair bands that I wrapped around the diaper.

Now I'm left with a diaper roll. I set the diaper roll aside and repeated the procedure until I had as many diaper rolls as I'd need to go all the way around the wire wreath frame.
When I had rolled up around 40 diapers I started tying them to the frame with pink curly ribbon. I thought the pink ribbon would add a little color to my pretty wreath.
Attaching Diaper Rolls To Wire Wreath Frame
It was easy to attach my diaper rolls. I simply wrapped the ribbon tightly around the bottom 1/3 of the diaper and looped the ribbon around back to the middle wire on my wreath frame.
Then the ribbon was wrapped around the next diaper until they were all securely tied onto the wire wreath frame.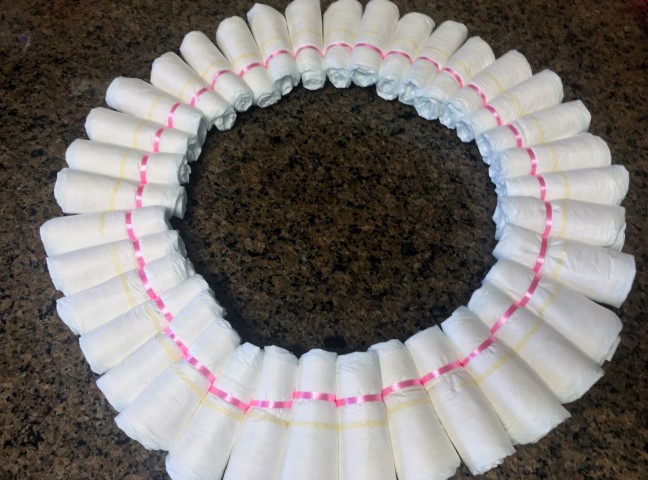 After all the diapers were anchored to the frame I was ready to start attaching all the cute little baby products I'd bought.
Attaching Baby Items To Diaper Wreath
You can add as many or as few baby items as you want here. I wanted the diapers to show and add a few little baby items sprinkled in for looks. But if you want you can pile those baby items on!
Here's how I attached the things I'd bought for baby. First I laid those cute little baby things out around the wreath, spacing them evenly apart until I was happy with the look.
Then the items were all anchored to the diaper wreath using the same type of super-stretchy hair bands I'd used on the diapers.
Embellishing With More Ribbon
When I was just about done with my diaper wreath, I wove more pink ribbon loosely throughout the wreath just to give it a little more PINK.
I wanted dainty ribbon, but again you can go as dainty or as bold as you want here.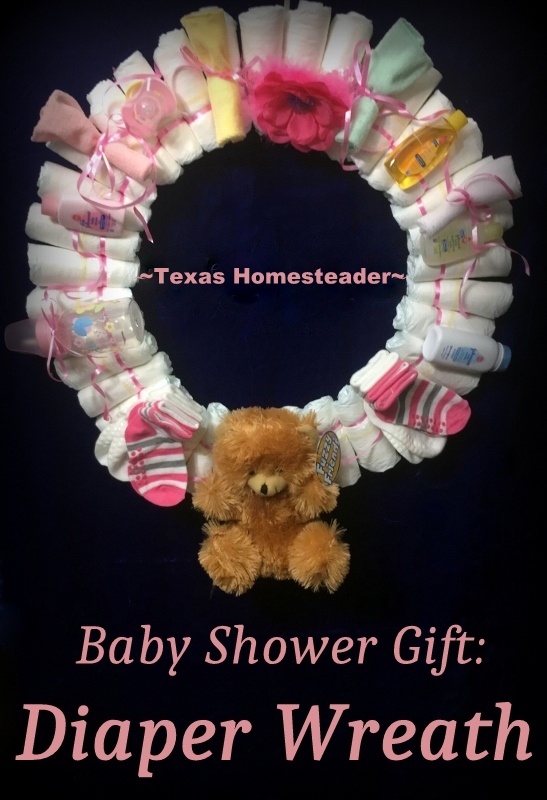 I didn't use all the diapers in the package that I'd bought for my diaper wreath. So I wrapped up the remaining loose diapers with some tissue paper and ribbon to give them as well.
New parents can NEVER have enough diapers!
I think my diaper wreath turned out super cute! The new parents loved this gift for their baby girl. But you can customize this gift for either boy or girl if you want. So many options!
Now my mama will be so proud, a decorative (yet useful) gift presented beautifully! See mom, I really did listen to you while I was growing up. LOL
Several months later I made another diaper wreath for my sweet little niece. She was having a baby girl too.
For that wreath I included cute little ugg-styled boots as part of my wreath. I think it turned out cute too! Our little niece loved it.
~TxH~
Easy Beginner's Crafts & Projects We Love
…And Much More


C'mon by & sit a spell! Come hang out at our Facebook Page. It's like sitting in a front porch rocker with a glass of cold iced tea – lots of good folks sharing! You can also follow along on Pinterest, Twitter or Instagram.
If you'd like to receive an email each time a new blog post goes live it's EASY to
Subscribe to our blog!
Save
Save
Save
Save
Save
Save
Save
Save