by Texas Homesteader ~
I made this cute diaper wreath gift for a baby girl. It didn't cost much money but it was hand-made with love. The wreath can decorate the nursery until the baby comes, then Items can be pulled from the wreath as needed.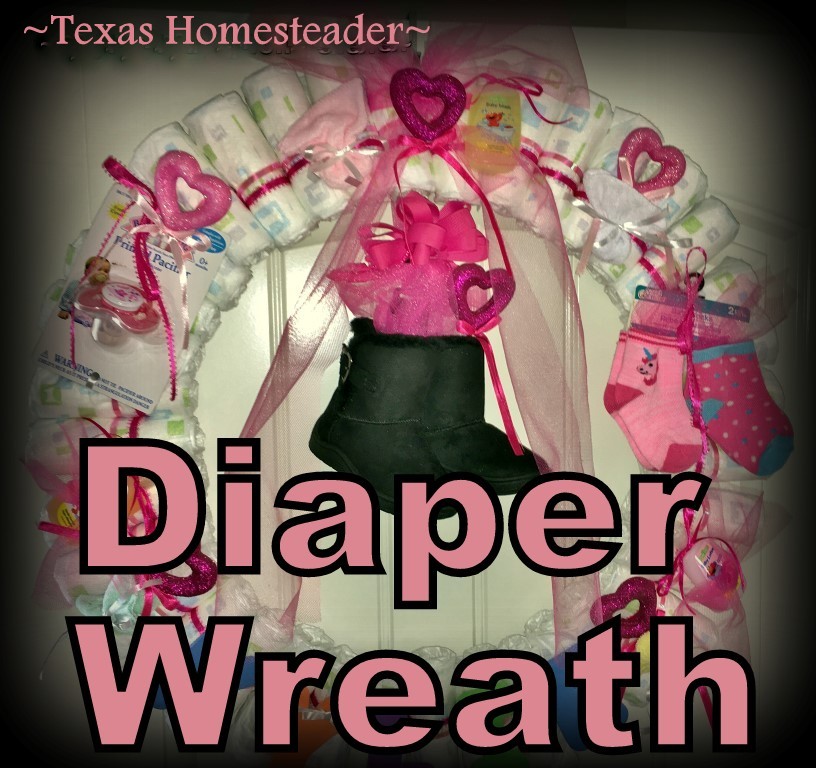 I've written before about making a diaper wreath for our neighbor's baby shower. The gift was well received and was initially used right there, right then for some eye-catching decoration during the baby shower.
Not only that, but it also served as decoration in the nursery before the baby was born. And then after the baby was born, all of these items included in my diaper wreath gift could be actually used for the baby. Gotta love it!
But now my sweet little niece & her hubby were expecting their first baby – a baby girl. I really wanted to make a diaper wreath for them as well.
They loved it, and I think it turned out really cute.
Wreath Embellishments Cheap
But due to circumstances beyond our control, money was extra tight for RancherMan & me at gift-giving time.
I wanted to obtain the basic eye-catching components of my diaper wreath as inexpensively as possible. Luckily my aunt is the queen of garage-sale shopping.
So we went in search of some of the basic components and were able to buy them very inexpensively. A brand-new wire wreath frame & lots of pink tulle and embellishments for the wreath were picked up for only about $1.
The little glittery heart pics were only ten cents for the whole group. They were so cute and will offer lots of visual appeal. And all for for only $0.10? Now THAT'S in my budget, y'all. Perfect!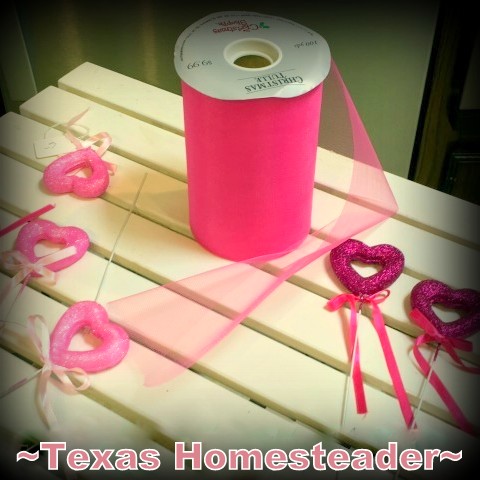 And those cute little Ugg-styled boots with the adorable heart clip on the side? Brand new, never worn & only about a buck.
Oh and my uncle secured the brightly-colored foam letters to spell out the baby's name for free! Now inexpensive is one thing, but FREE?? YES!
I still had a supply of the super-stretchy tiny hair elastics for attaching the tiny diapers to the frame from the previous diaper wreath I'd made for our neighbors. But even if you had to purchase them, I got about 100 for only $1 at the dollar store.
Now that I had all the basic framework components I needed to purchase the actual baby items – those needed to be brand new of course.
So I went shopping for a few cute baby items. I ended up buying a pack of tiny baby diapers, a pink pacifier, some baby washcloths, a few tiny pink baby socks, some travel-sized baby toiletries, etc.
All of those baby things will be used to embellish my diaper wreath as well. Now I was ready to assemble my diaper wreath gift. It's easy and doesn't take much time at all.
Assembling A Diaper Wreath
First I rolled each diaper and secured it with one of those tiny white elastic super-stretchy hair bands stretched around each diaper to make a diaper roll like this:

Now it's time to attach those little diaper rolls onto the wreath frame. And I wanted it to look decorative too.
So when I got about 40 diapers rolled, I used pink ribbon to lace the diapers to my wire wreath frame.
The ribbon was wrapped around each diaper and laced onto the wire wreath like this: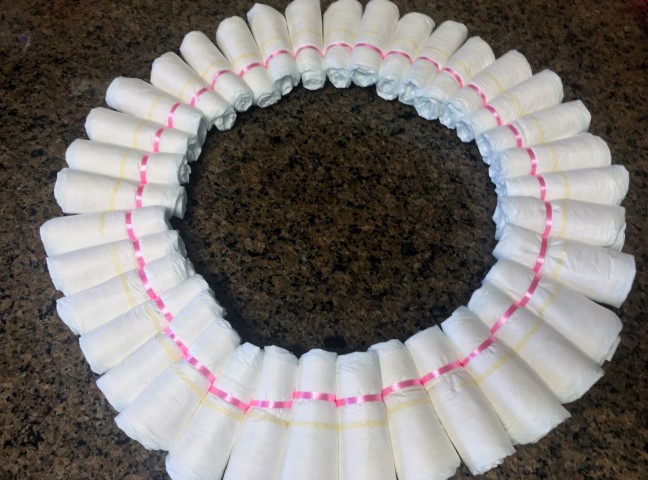 Attaching The Baby Gifts
Then I attached my baby-item gifts using those same elastic bands & more ribbon to tie them to the diapers. I just spaced them around the edges of the diaper wreath until I liked how they looked.
The tiny Ugg-styled boots were hung from the top using pink tulle. I added a bright-pink hair clip for a little more eye-catching appeal.
More tulle was tucked into the top of the tiny boots to add a little more pink pop!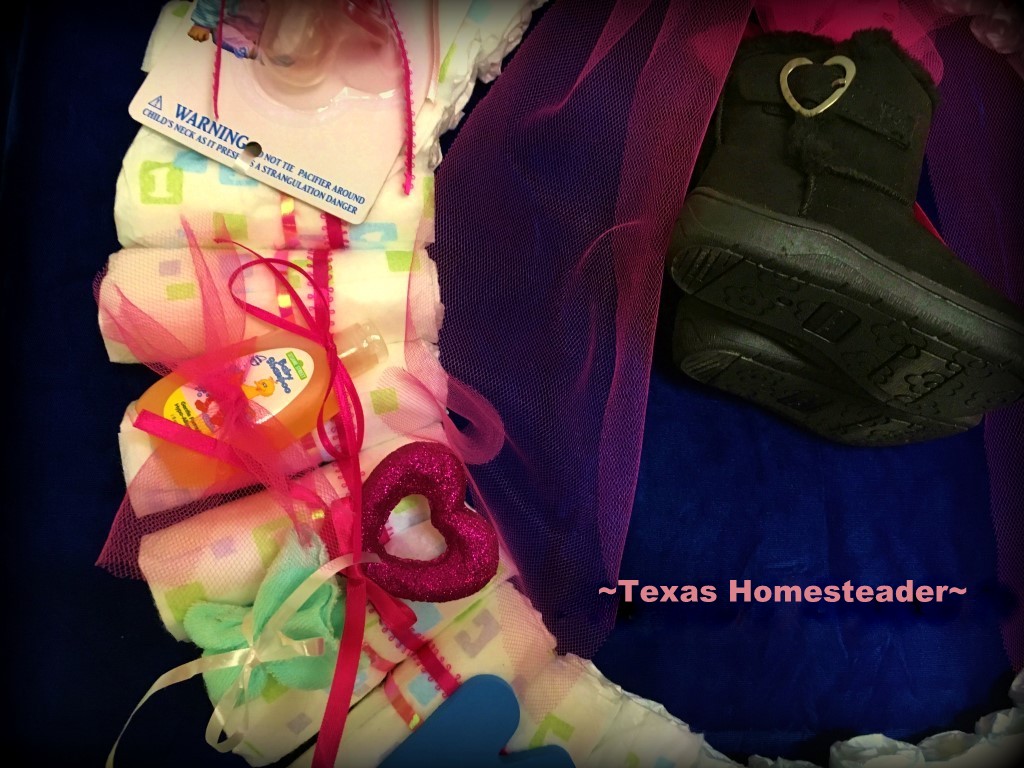 Finally I hot-glued the foam letters on the bottom to spell out the baby's name. And I inserted the glittery heart-shaped decorations here & there to fill in any empty spots.
Finally I fluffed in a little extra pink tulle. It was inexpensive and I had plenty of it. So I used it liberally as I wanted. Now my personalized baby diaper wreath gift was complete!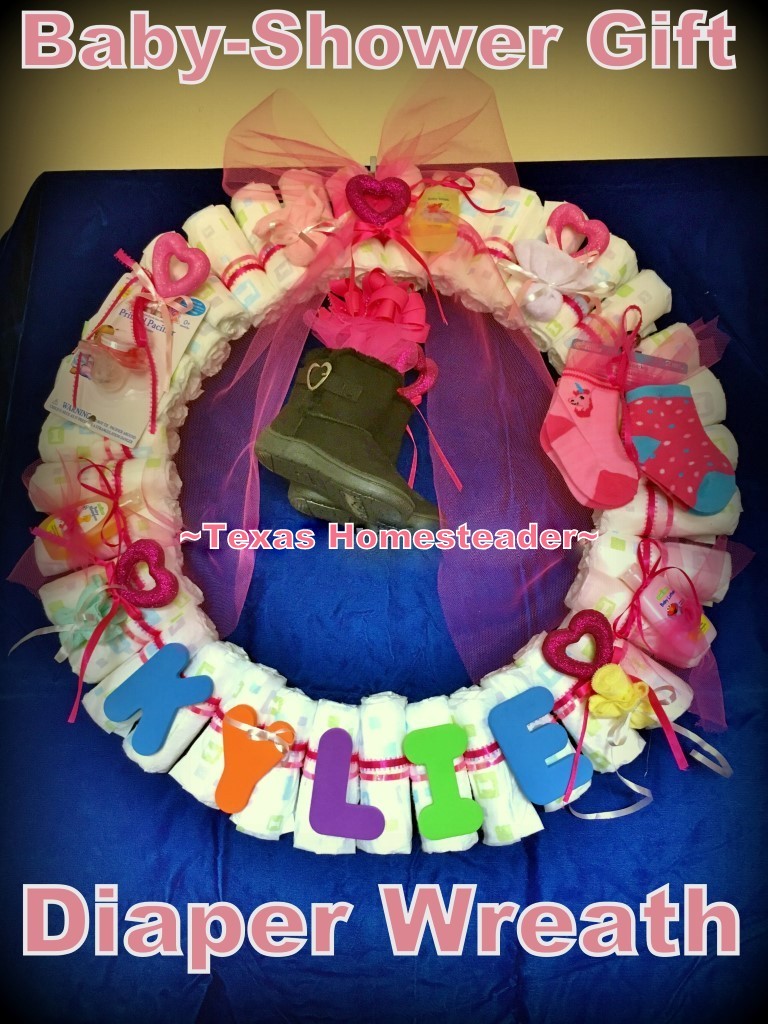 Ya know, mama always said half the gift was in the presentation. This gift presents itself beautifully!
It didn't cost much money and didn't take much time to assemble. But it was hand-made with much love.
And the new parents-to-be really loved it! I told them when we gave it to them that we fully expected them to pull these items from the wreath as they were needed. It wasn't just for decoration unless they wanted it for that purpose only.
I didn't want them to feel obliged to leave it intact for fear of offending us. They were free to use it however they pleased.
Either way, in the meantime they could use this cute personalized diaper wreath to decorate the baby's nursery. It was the perfect gift for them!
Oh, and remember I mentioned that I'd made a diaper wreath before? Here's a peak at the other baby girl diaper wreath I made months ago for my neighbor. It also included baby washcloths, baby toiletries, tiny socks and cute hair decorations.
Instead of boots this one had a plush teddy bear attached at the bottom. I think it turned out really cute too.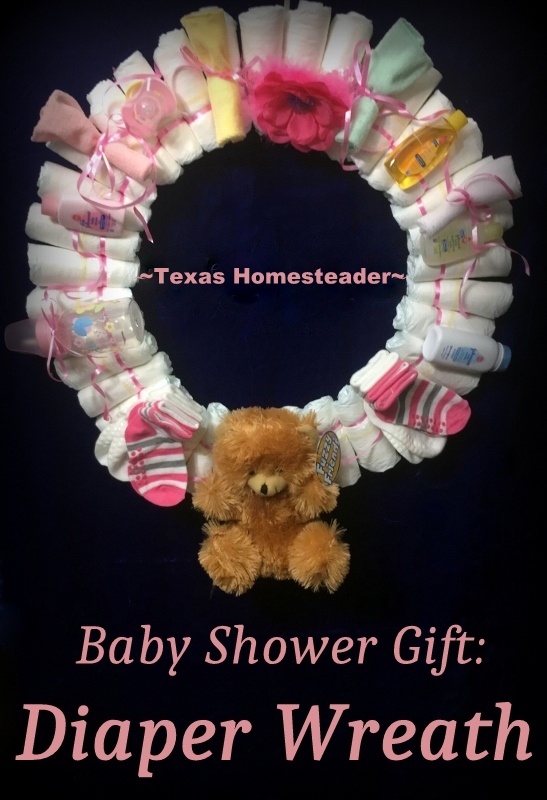 You can personalize a diaper wreath however you want. I'd think little cowboy boots added to the wreath would be super cute, maybe along with some colorful bandanas. Let your imagination run wild and just have fun with it.
This gift doesn't cost much but it'll be much appreciated by the parents to be. And it serves not one but two purposes – gifts for the new baby and nursery decoration until the baby comes home!
~TxH~
Easy Beginner's Crafts & Projects We Love
…And Much More


C'mon by & sit a spell! Come hang out at our Facebook Page. It's like sitting in a front porch rocker with a glass of cold iced tea – lots of good folks sharing! You can also follow along on Pinterest, Twitter or Instagram.
If you'd like to receive an email each time a new blog post goes live it's EASY to
Subscribe to our blog!