by Texas Homesteader ~
How do you plan & throw a fun party without all the expensive single-use items simply bound for the trash afterward?
Come see my tips for an inexpensive, fun yet low-waste party. Everything from saving money, low waste dining and fun waste-free party game ideas.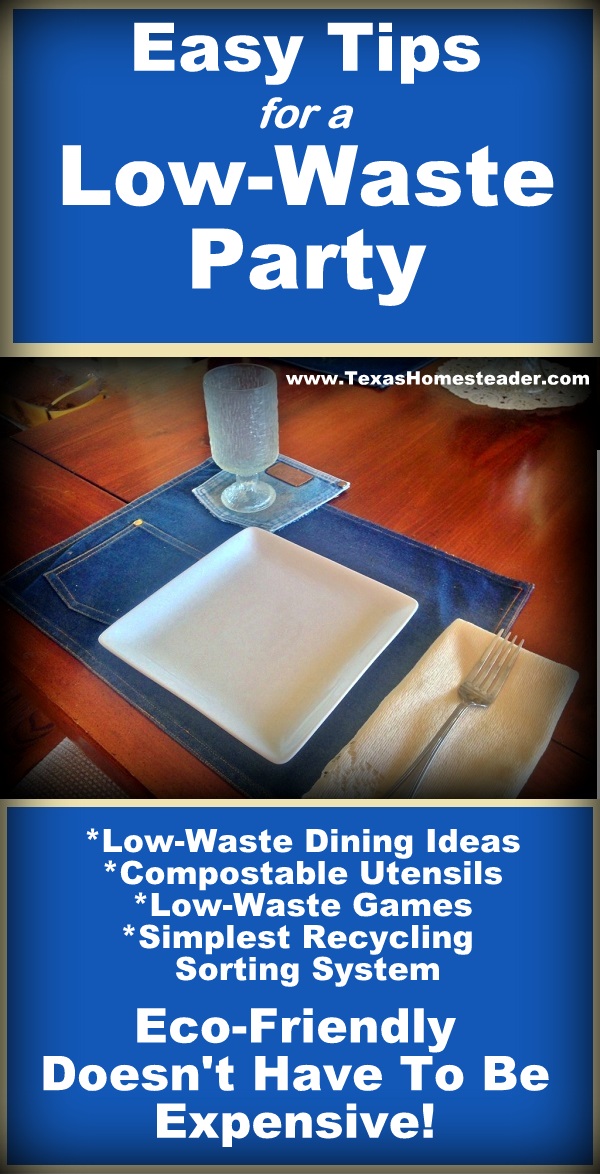 (Note: Some links in this post will take you to other related articles for further information. But links preceded with * are affiliate links. If you click and buy something I could receive a tiny commission.)
How To Have An Inexpensive Low-Waste Party
You say you're hosting a party for family and friends but hate all the trash you know it will produce?
Well worry not, there are easy ways to host a low-waste party. Whether a holiday gathering in your home or outdoor family reunion.
Below we'll talk about our favorite zero-waste party tricks such as:
How To Reduce Disposables With Plates

Compostable Flatware

Zero Waste Games & Entertainment Ideas

Dealing With Compostables, & Recyclables
Our Small-Town Family Reunion
My family gathers here at the Homestead every May to celebrate something we've named 'RanchFest'. We all consider it our family reunion.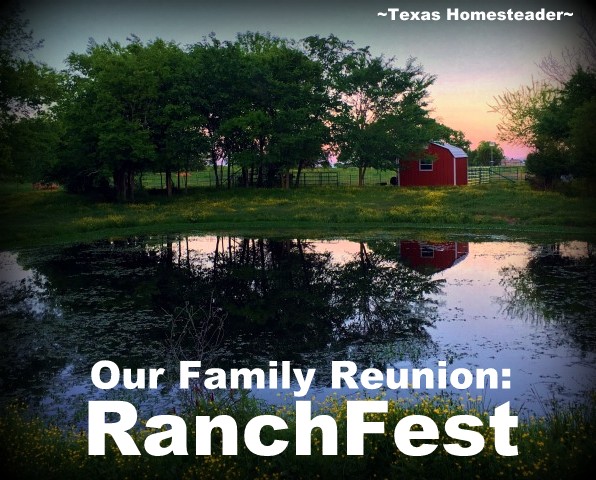 I've found there are a few zero-waste things that are easy to implement to make a HUGE difference in the amount of trash our gathering ends up producing. And it saves us money too!
Maybe you can use some of these tips at your own gathering as well.
Low-Waste Party Tip: Are Real Plates More Effort?
Everyone in my family knows how crunchy I am. They're not surprised at all about any steps I take to reduce daily waste.
But even though my family recognizes my strong eco-bend, sometimes they're still kinda surprised that I'd rather put out (and wash) regular plates for a larger gathering than to use something disposable.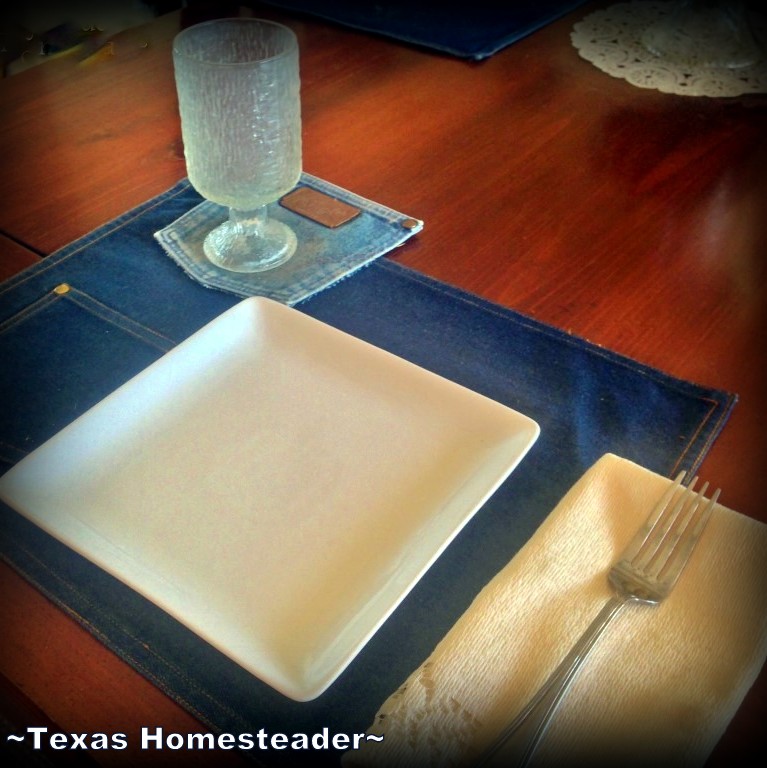 They often assume disposable options for a larger party must be more convenient.
More convenient??
Truly here's how much effort I'm faced with by using our existing household plates:
Scrape plates, load into dishwasher, push button.
Now I realize that if you had to hand-wash your dishes you may feel differently. But for me there's really just no downside to using our own household plates and flatware.
We reuse them over & over again for years instead of buying (and throwing away) something disposable each year.
It's certainly a simple way to stand by my eco-friendly convictions.
Buying Inexpensive Reusable Party Dining Ware
Some people are uncomfortable using their household plates and utensils in this manner. Maybe their dishes are more fragile, sentimental or expensive. There's an easy fix for that too.
You can go to thrift stores and buy lightweight plates and flatware specifically for use at your parties.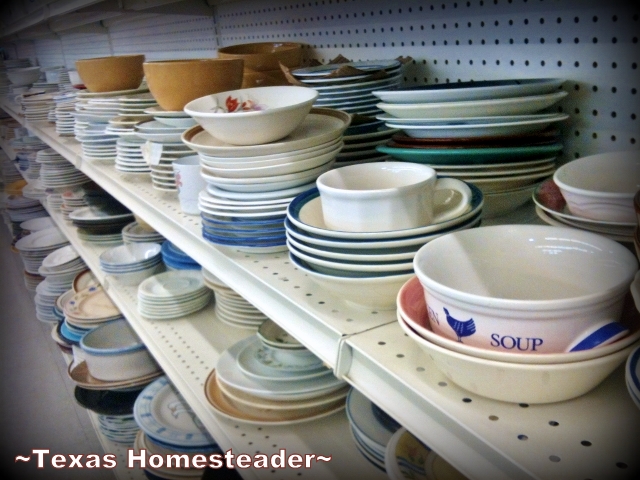 The benefit is that you stand less chance of breaking your own plates or losing your own flatware. Those dishes are simply washed and stored in tubs along with other party items to be used again next time.
It's still a more eco-friendly option than purchasing disposable dining items just to throw them away and buy all over again next time.
Plus if you're Buying Things Used at a charitable thrift store, pat yourself on the back. You've made double use out of your money since your purchase also helps fund a charitable cause you believe in.
For me, I just use my plain ole everyday plates. They're *Corelle Plates and they're dang near indestructible.
Heck some of my plates were given to me as gifts at my high school graduation. (Let's just say that was a looooong time ago!) And they've survived heavy use while raising all four of our kids too.

Eco-Friendly Disposable Plates/Flatware Option
Occasionally for a larger party I'll have need for more plates than I own, additional plates for desserts for instance. In this case my baby sis always brings heavy *Non-Coated Paper Plates.
When I'm cleaning kitchen I'll make sure all my metal flatware is put in a tub of soapy water in the sink. Then I'll toss any used compostable paper plates along with any uneaten food into a properly labeled 'compostable materials' bucket that I've sat out for this gathering.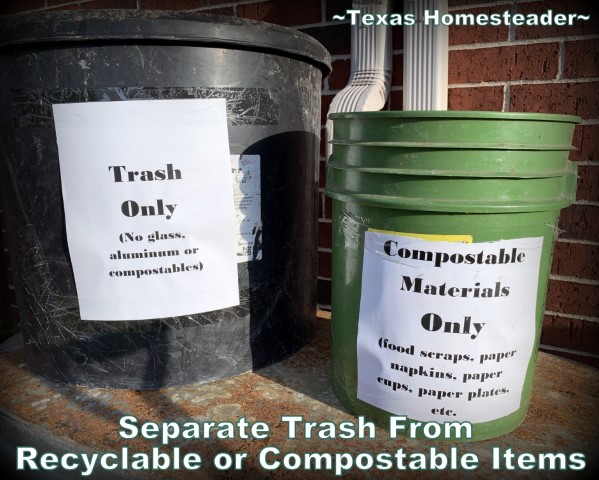 That bucket of compostable items will be emptied into my tumbling composter after our party is over.
A little water from one of my Rainwater Catchment Systems is poured into the bucket, a little swish to rinse and then that water is also poured into the composter.
A quick turn of the tumbler and I walk away. Simple.
What About Compostable Flatware?
If there will be many littles in attendance where I'm not quite guaranteed to get my good flatware back, I've been known to use these *compostable bamboo utensils instead.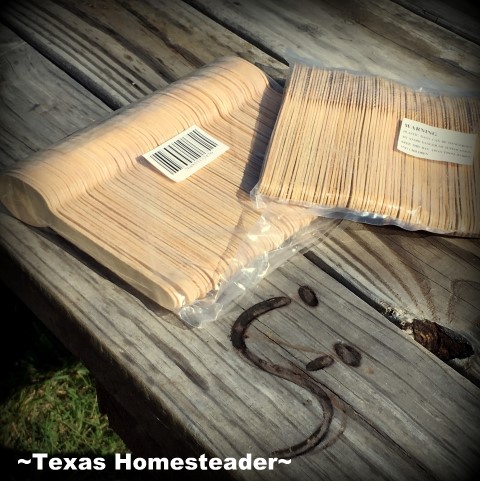 Using 'disposable' Bamboo Utensils is a great option for outside parties, offsite picnics and such.
At our party the used utensils will also be dropped into the bucket labeled 'compostables'. I've been pretty impressed how quickly those bamboo utensils decompose in my compost tumbler.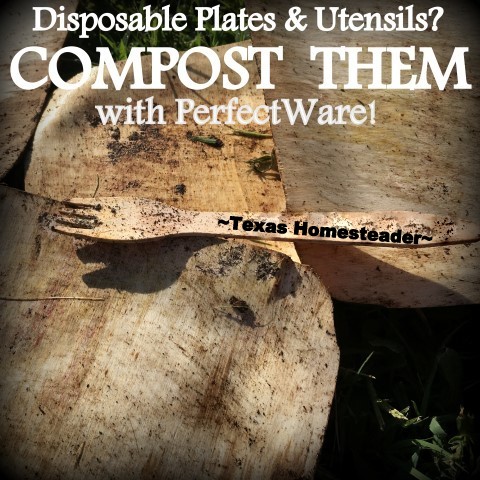 Sorting Party Discards That Are NOT Trash
During our family reunion party, RancherMan sets up 4 empty 5-gallon buckets (or larger cattle supplement tubs when necessary) with a large paper label on each one:
GLASS / PLASTICS
METAL
COMPOSTABLE
TRASH
We'll make sure recyclable plastics, glass and metal each gets to a recycling facility when we're in a nearby town.
Heck the metal recyclables such as aluminum beverage cans even net us a little cold, hard cash!
The compostable items will of course all get dumped into my *Tumbling Composter.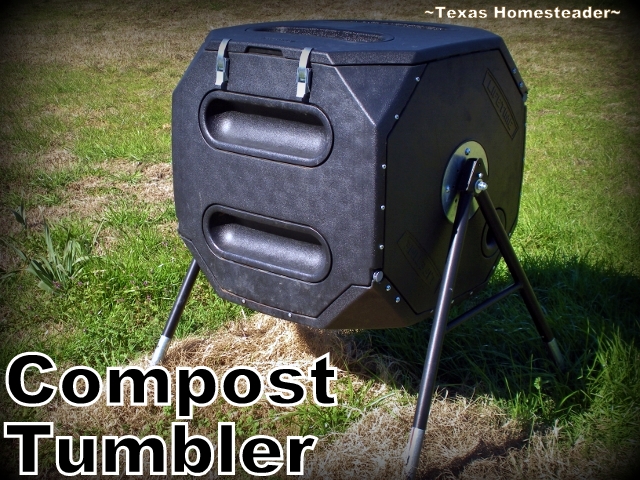 And finally what little trash is present will be disposed of properly. That trash bucket is usually the emptiest one of all since almost all materials have already been separated out.
Zero-Waste Party Fun & Game Ideas
Our country-style family reunion always includes a competition game of some sort. And they always have a ranch theme.
We oftentimes hold a *Cornhole Game tournament. We even made our own Personalized Cornhole Boards with a funny image custom-painted on it.
(Potty humor of a small child? Yes, but still fun!)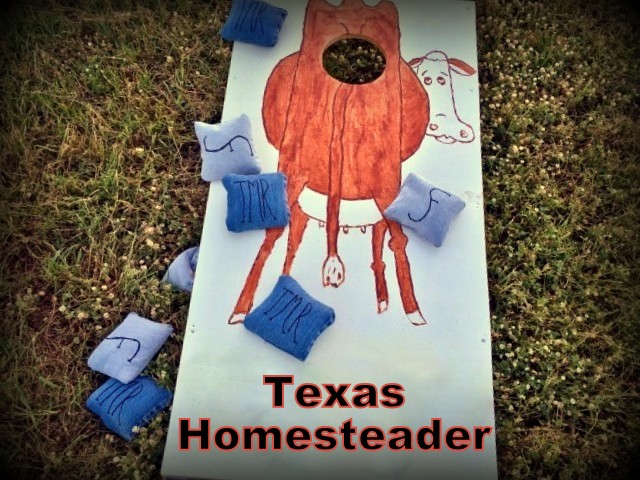 Other times we've had other low-waste games such as:
Scavenger hunts (looking for cattle tags, etc)

Golf drive competitions (off piles of manure!)

Relay races

Homemade piñatas using paper animal feed sacks

Frisbee golf using huge cattle-feed tub lids & hay rings
All of those games were specifically personalized to have a ranch theme.
Since the piñatas were made of paper they were either placed in the composter or just tossed into the bonfire at the end of the evening.
Waste-Free Party Fun With A Hayride
After we've eaten our fill and played our competitive game we often pile everyone into a flatbed trailer pulled by the tractor.
Then we take our party attendees on a hayride around our property. The kids especially love this time.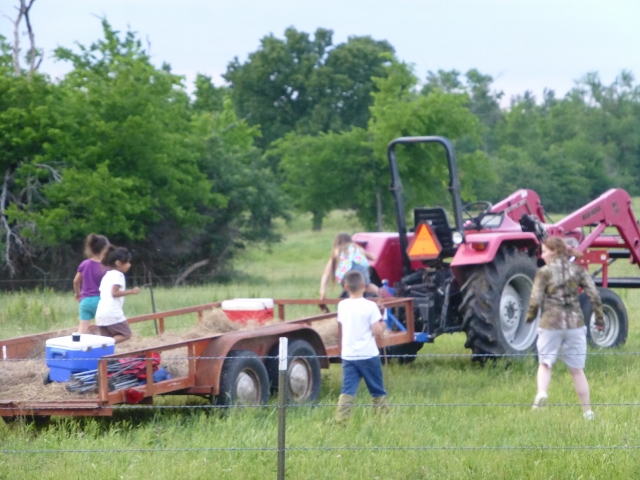 We pile clean but spent hay from around a dormant hay ring thickly on the floor of our flatbed trailer floor. It provides cushion for the ride.
After the hayride we park the hay-lined trailer near the bonfire area. So it's a nice soft area for many to lounge in the soft hay as they enjoy the bonfire way into the evening.
After our party we simply sweep the hay out right onto the ground. It's an all-natural material that will degrade over time, enriching the earth below. Plus it's zero waste and free.
Bonfire Tops Off The Party's Evening
For the bonfire we've piled high all the tree trimmings accumulated over the past year. Then days before our party we use the tractor to compress the pile and mow the grass around it very short.
I notify our closest neighbors about our bonfire. That's just so they'll be aware If they happen to drive by and see fire in our pasture.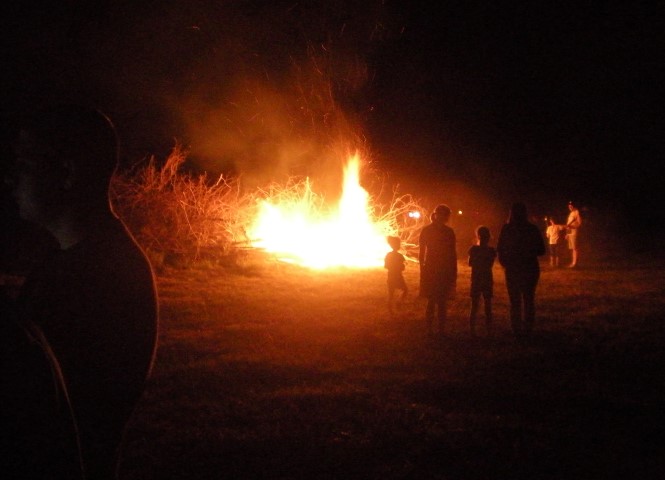 Water-Gun Fights For Low-Waste Party
We have fire extinguishers and also filled large 30-gallon tubs with water for fire safety around the bonfire. But the grandkids have a different purpose for those huge tubs of water.
We bring along several lightweight *Water Cannon Toys. They excitedly grab the water cannons and fill 'em up from those tubs and have a good old-fashioned water gun fight with their siblings & cousins.
It's probably the highlight of their celebration and the adults often join into the water play as well. It's a fun way to cap off the evening, cool off and enjoy each other's company.
Your Favorite Ways For A Low-Waste Party
So there ya have it. The only waste we've ended up with is a tiny amount of non-recyclable, non-compostable trash that partygoers may have brought along with them.
Everything else is reusable, repurposed, recycled or composted.
Even if you're not having a party in a country setting where you'll be able to offer hayrides and bonfires, hopefully you've gathered some helpful low-waste party tips for your own parties.
Anything from reusable dinnerware, low-waste game options or repurposing/recycling/composting ideas. So sit back & enjoy your time together!
What are YOUR favorite ways to host a low-waste party?
~TxH~
This post categorized in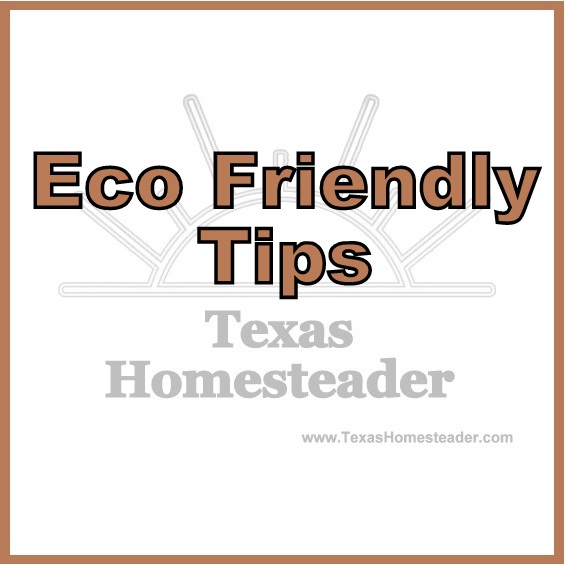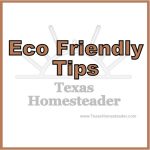 Links In This Post:
Low-Waste Articles
C'mon by & sit a spell! Come hang out at our Facebook Page. It's like sitting in a front porch rocker with a glass of cold iced tea – lots of good folks sharing! You can also follow along on Pinterest, Twitter or Instagram.
If you'd like to receive an email each time a new blog post goes live it's EASY to
Subscribe to our blog!