by Texas Homesteader ~
*contains affiliate link
Several weeks ago I got a seedless watermelon. Now I love fresh watermelon but RancherMan only enjoys it in moderation. I ate it fresh for a few days but wondered if I'd be able to eat it all before it went bad.
A friend of mine suggested cutting it into chunks and freezing it. She said I could blend it up into a cool daiquiri on a hot summer day. (of course you could leave out the alcohol and make it a slushie instead – a sweet treat for the whole family!)
I was intrigued and decided to give it a shot. HA!! 'give it a shot'! See what I did there??!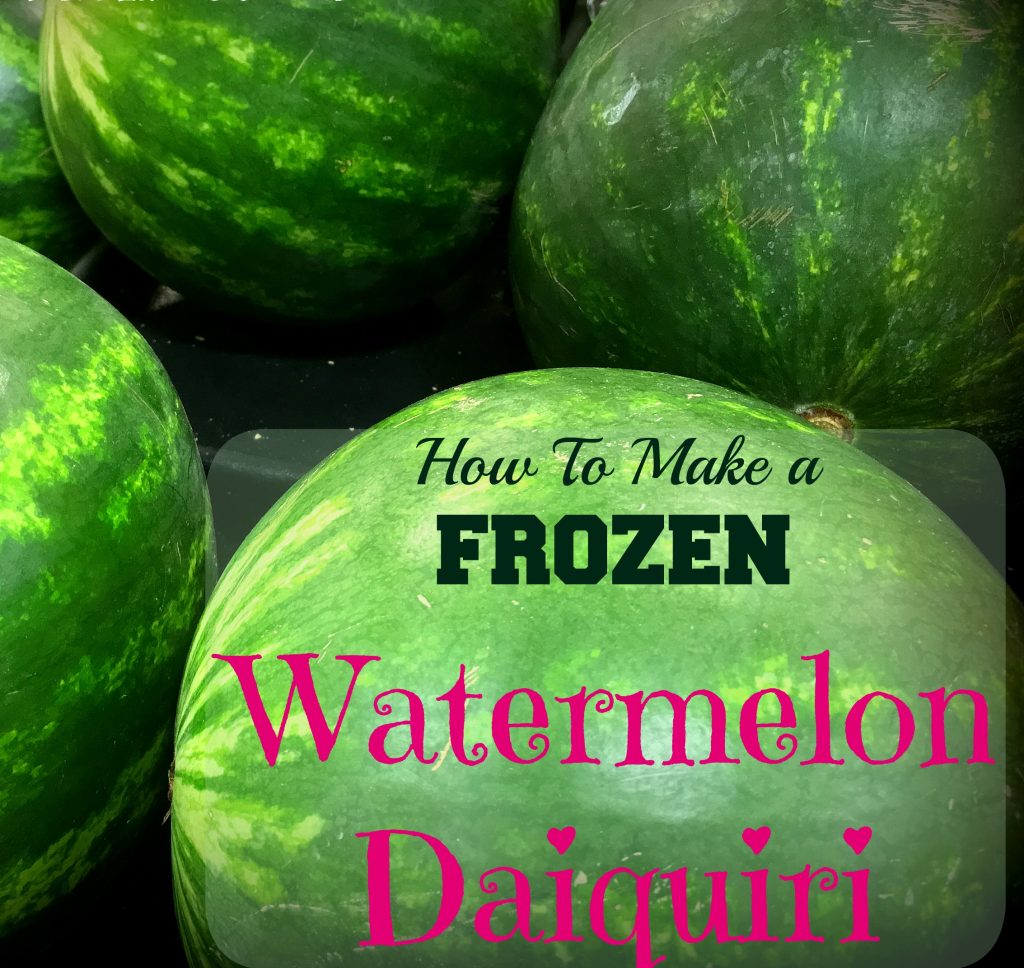 Preparing Melon For The Freezer
I had to admit that putting that watermelon in the freezer would certainly solve the 'must eat it now' problem I was having! So I cut the watermelon into about 1/2 to 1-inch chunks, placed the chunks on a baking sheet and placed it in the freezer for a couple of hours.
After that time I removed the semi-frozen chunks and slipped them into a freezer bag and returned them to the freezer.
By doing the cookie-sheet step I kept all of those watermelon pieces from freezing into one hard blob.
(taps top of head smugly) Not just a hat rack, my friends!
Several days later after a hot day in the pastures, RancherMan suggested that he fire up the grill for our supper. I always love when he grills and I immediately planned on some cooling Pasta Salad that had been cooked & seasoned with my favorite herb bombs, some sliced hard-boiled eggs from our hens and thick slices of fresh garden tomatoes.
Everything would come together beautifully and be a cooling meal for us on a hot Texas summer day.


But RancherMan mentioned that frozen watermelon in the freezer. Hey, while we're hanging out on the back porch by the grill we might as well be sipping a delicious cold drink! I couldn't agree with him more. So we sat out to figure out the recipe that would delight our taste buds.
Assembling The Watermelon Daiquiri
We needed this frozen fruit to be blended completely smoothly and thank goodness we have the *Ninja blender (have I mentioned lately how much I LOVE this thing??!!)
He pulled out the blender attachment and filled it with (about 5-6 cups) of frozen watermelon chunks and added 1/2 cup sugar and 1/2 cup Captain Morgan Spiced Rum.
We pressed the button and watched anxiously as the frozen chunks whirred into a smooth creamy consistency.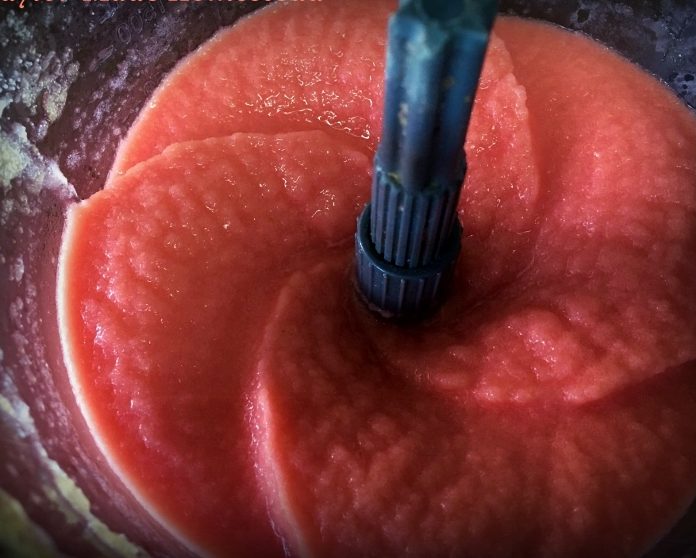 RancherMan brought out a couple of heavy glass tumblers and poured the frozen watermelon daiquiri into them.
I brought out my *stainless steel smoothie straw (yes, I hate plastic!! LOL) and we went in for a taste…

Delicious, Cold Treat
DELICIOUS – even RancherMan loved it! The texture was perfect, the rum wasn't too strong and the drink was sweet without being too sweet.
We took those cold drinks out to the patio where we reclined in our chairs to watch the sunset & enjoy the wafting aroma of chicken cooking on the grill as we sipped our watermelon deliciousness. Aaaaaahhhh…. now THIS is the life!
I love that we were able to salvage all that sweet ripened-to-perfection watermelon. And also turn it into a delicious treat for us.
As I mentioned before, you can omit the alcohol and make delicious healthy smoothies for the whole family! Here's how we made ours:
Frozen Watermelon Daiquiri
Ingredients
5-6

cups

frozen cubed watermelon

1/2

cup

sugar

(or to taste)

1/2

cup

Captain Morgan Spiced Rum

Omit for Alcohol-Free Smoothie
Instructions
Put all ingredients into blender - Blend, serve & ENJOY!
~TxH~
Our Favorite Homemade Drinks


C'mon by & sit a spell! Come hang out at our Facebook Page. It's like sitting in a front porch rocker with a glass of cold iced tea – lots of good folks sharing! You can also follow along on Pinterest, Twitter or Instagram.
If you'd like to receive an email each time a new blog post goes live it's EASY to
Subscribe to our blog!
Save
Save
Save
Save
Save
Save
Save
Save
Save
Save
Save