by Texas Homesteader ~
*Contains affiliate link
One of the job hazards of being a homesteader in Texas is the heat & humidity you're subjected to during a typical Texas summer as you go about your daily tasks. WHEW!
It's really turned hot out there, but I'm not afforded an air conditioned job behind a desk anymore. (not that I'm complaining!) I need to be in the garden, on the tractor or maybe at the barn. Much of my responsibilities involve me working outside.
Recently a smart friend shared her recipe for making what she called 'Haymaker Punch'. She uses this healthy drink as her own homemade Gatorade during the summer. Her recipe used 4 simple ingredients: apple cider vinegar, filtered water, grated ginger and honey.
I'm a big fan of carbonated ginger drinks so I couldn't wait to try it out!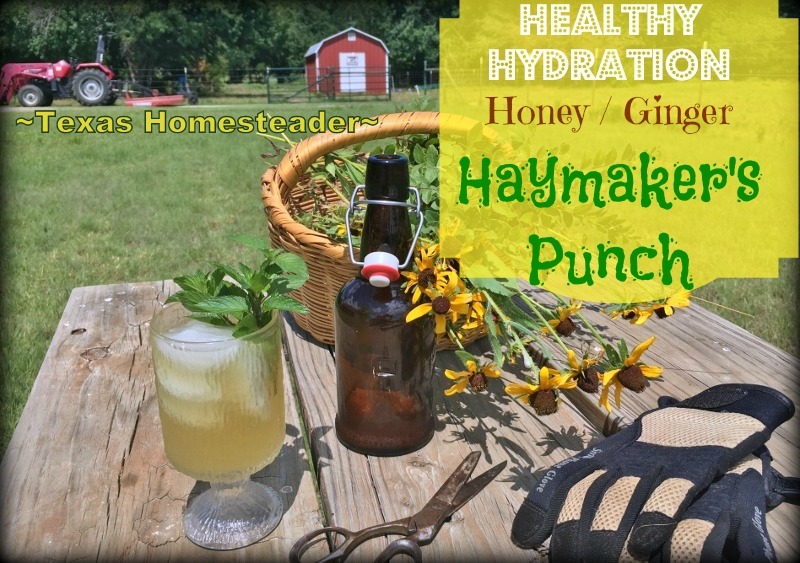 Carbonated Ginger Drink? YES PLEASE!
Haymaker Punch is named for the days gone by when farmers used to drink it to keep hydrated during the summer when they were out in the fields all day. (I think it's also called Switchel)
I'd envisioned this concoction tasting somewhere between ginger-flavored beer & ginger ale. It makes sense to use ACV – I'd always heard of folks consuming small amounts of ACV daily for various health benefits. But I don't think I'd be able to stomach a big ole spoonful of it.
I know honey is a healthy food too. I'm ALWAYS interested in honey! And who doesn't love ginger ale? Maybe I should give this a go.
Of course finding fresh ginger may be an issue shopping out here in the boondocks. So the next time RancherMan & I went to 'the big city' I stopped in a Sprouts market and found a large fresh ginger root & a bottle of organic, raw, unfiltered ACV for under $5. Score!
If you make this drink you'll also need 16-oz grolsch-style bottles with the wire & ball stoppers, I found some on Amazon *here.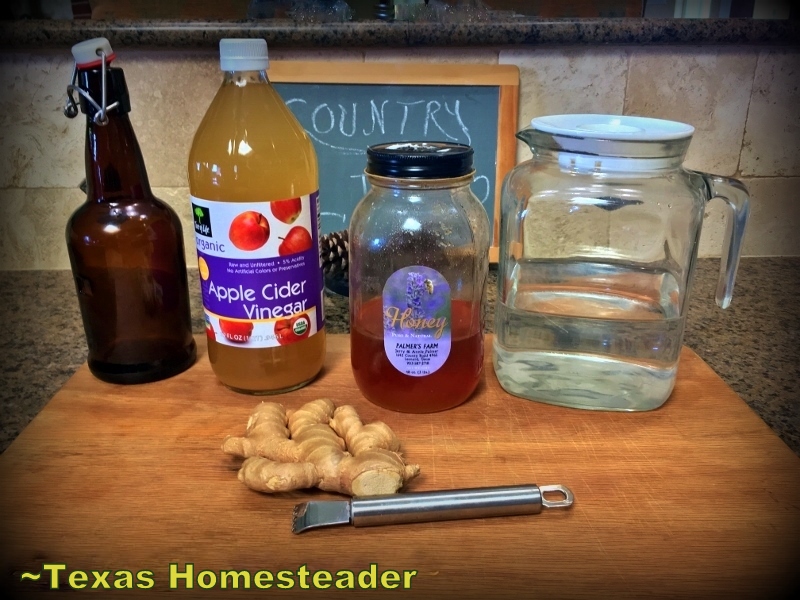 My friend said that after mixing the drink you should seal the bottles & leave them on the counter for 2-3 days to allow it to carbonate. After that time you move the sealed bottles to the refrigerator to slow or stop the carbonation process.
Even though the carbonation process slows to a crawl when refrigerated, she cautioned that when opening these bottles you should open slowly at the sink. And only when the beverage is very cold to prevent powerful over-pressurization or the drink foaming out of the bottle and making a mess.
Playing With The Recipe
Of course as is apparently my nature, I didn't follow the recipe exactly. I initially decided to make mine with double honey & ginger just because I thought I'd like it that way. But then I took my first tentative taste… Would it be too sweet, would it taste too much like beer?
After that first sip I discovered that the quantity of honey I used made the drink a little too sweet for my taste, but otherwise it was absolutely delicious!
RancherMan said if I left it on the counter for another day or so before placing it in the refrigerator it would be slightly less sweet and more carbonated. So I reduced the amount of honey & left the bottles on the counter for an extra day before refrigerating. That was the balance I was looking for & it was perfect for me. Here's what I did:
Mixing Up The Haymaker's Punch
First I gathered my supplies – ACV, filtered water, honey, ginger root, grater, whisk, large pitcher, funnel and four wire & ball-stopper glass bottles. I sanitized my glass bottles first by washing them with soap & water, then ran a little bleach through each of them & rinsed thoroughly.
Then into my pitcher I stirred in 2 quarts of filtered water, 1/2 cup ACV and 3/4 cup honey. Finally I grated some of my fresh ginger root and added 1 Tablespoon into each bottle.
Finally I poured the liquid into each bottle using a funnel. I filled each bottle just to the bottom of the neck and it seemed to fill all 4 of my bottles pretty well.
Flavoring Options
The next time I made this drink I decided to experiment with the recipe again (I'm seeing a trend here, are you?? I just CAN'T seem to follow a recipe without playing with it! LOL)
I love Seagram's Blueberry Lemonade. So I thought I'd add a little blueberry flavor into this ginger drink.
Into two of my bottles I added a Tablespoon of frozen blueberries so I could try a ginger/blueberry-flavored version. Then I fastened the tops of each of the bottles and gave each one a swirl to make sure all ingredients were mixed.
I tied a ribbon around the necks of the two blueberry-flavored bottles so I'd know which ones were blueberry flavored. Then all four bottles sat on my kitchen counter for 4 days. After that time I moved the bottles to the refrigerator.
I also infused some filtered water with my fresh peppermint and made ice cubes from it. The minty refreshment seems to blend beautifully with this Haymaker's Punch.
And hey, I have this beautiful mound of mint in my front beds. Why not use it to even further enhance the refreshment? Looks like there will be many flavor options for this punch!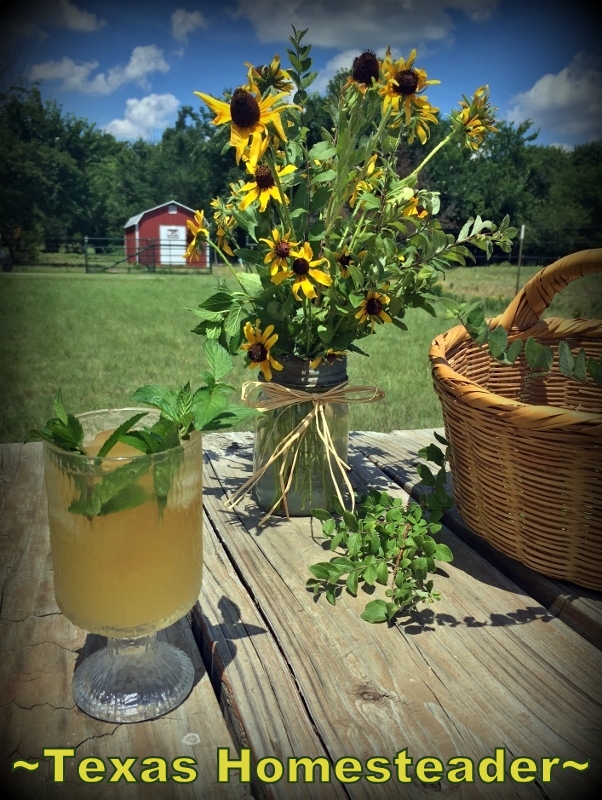 So after a hot day of work, RancherMan & I retired to the back porch to watch the sunset as we typically do. I pulled a cold bottle from the fridge, dropped a couple of ice cubes into a small glass and poured the drink over the ice using a sieve to filter out the ginger pieces.
Aaaaahhhhh, refreshing! With one sip I knew I had a new, healthier favorite drink, I think I'll keep the fridge filled with these Haymaker's Punch drinks for the rest of the summer.
Now that I have my proportions to my liking, I think I'm in love! Here's the recipe as I amended it:
Haymaker's Punch
(makes (4) 16-Oz Bottles, about ½ gallon)
Ingredients
2

quarts

filtered water

1/2

cup

raw apple cider vinegar

3/4

cup

raw honey

1/2 to 1

Tablespoon

fresh grated ginger for each bottle

1

Tablespoon

blueberries for each bottle,

fresh or frozen (optional)
Instructions
Stir everything except ginger (& optional blueberries) together in a large pitcher and mix very well. Slowly pour liquid mixture into 16-oz glass bottles with wire and ball stoppers. Add about 1 Tablespoon grated ginger into each bottle (add 1 Tablespoon blueberries if desired) and fasten the lids.

Leave the sealed bottles on the counter for at least 2-3 days to allow it to carbonate, then refrigerate. Open slowly at the sink and only when the beverage is very cold to prevent explosions or the drink foaming out of the bottle. Use a sieve to filter out solids and pour over ice - enjoy!
~TxH~
Our Favorite Homemade Drinks


C'mon by & sit a spell! Come hang out at our Facebook Page. It's like sitting in a front porch rocker with a glass of cold iced tea – lots of good folks sharing! You can also follow along on Pinterest, Twitter or Instagram.
If you'd like to receive an email each time a new blog post goes live it's EASY to
Subscribe to our blog!
Save
Save
Save
Save
Save
Save
Save
Save
Save
Save