by Texas Homesteader ~
Are you concerned about keeping mint plants contained in landscaping? Come see how we're enjoying fresh mint without worrying about it going wild in the landscaped area.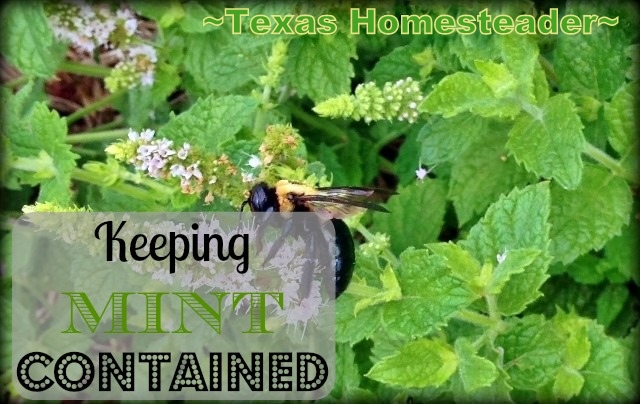 Getting Mint To Grow
I love mint but although others have always warned me that it was invasive, I've never been able to get it to grow. I've planted various kinds of mint over the years but none of them last over a few months.
Then my aunt shared some mint plants with me. I carefully planted it in an area of our landscaping that was notoriously hard to get anything to grow due to the fact that it faced west.
The brutal Texas heat makes all but the scrappiest of plants succumb in this location. But c'mon, its mint plants – surely they will grow!
So I planted them and watched as it grew beautifully.
I loved the vibrant green growth even during the brutal heat of our typical Texas summer. And it flowered all season long!
After it was established I never watered or fussed with it at all, yet it grew.
Using Fresh Mint
I used the leaves to make mint extract and a homemade minty toothpaste. It was also used to make a healthier mint chocolate chip ice cream alternative using frozen bananas.
And I harvested, washed and steeped fresh leaves for mint tea were delightful when the weather turned cold. I absolutely loved it.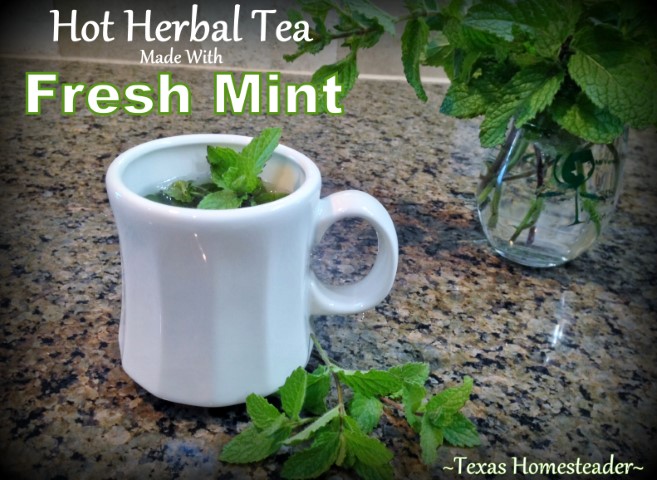 Mint Growers Beware!
But I was also nervous… Although I'd planted mint several times before only to have it die, this mint was scrappy indeed!
Although I loved it I'd heard horror stories about mint gone wild in flower beds. So I put out an earnest plea to our TxH Facebook followers asking for advice:
Plant lovers – I need your help! Apparently when we built our home we planted it in the valley of death – I struggle to get any landscaping to live. The struggle is REAL, y'all! I've even boldly planted invasive mint plants over & over again just to have it succumb after a few weeks. I got tired of buying it repeatedly just to have it die so I asked family members to share & my aunt shared several tiny spouts of some very vigorously-growing mint.
I plunked 'em into a section of our 'flower bed' that is traditionally very rough since it faces the hot west and is backed by a rock surface of our home. But they did GREAT and I've enjoyed them immensely. Now that they're established I need some hints on keeping them corralled in this one triangle-shaped area of our beds. They are bordered by the sidewalk on one side, a rock drain feature on one side (which they could grow under) and metal bed edging on the other side (which they could also grow under). So two of the three sides need some sort of barrier to them. Suggestions?
Suggestions to Keep Mint Contained
Elle Mental said: Good luck with that… about the only way I know how to keep mint contained is in a hanging basket, hung 6 feet off the ground. We have a mint bed, it started out as a herb bed, but we all know what happened to the rest of the herbs… now that it has escaped the confines of the bed and is in the grass we just keep it mowed with the rest of the grass. That seems to keep it from spreading with as much enthusiasm
Kathryn said: If you want to keep mints in their flower beds, you need a garden fence with deep runners around them. Dig a trench around the mint and either (1) fill with cement or (2) fill with bricks/gravel and line with plastic garden liner. I cannot say how deep, because i don't know what mint you have got there. They send out underground runners, so even this is no guarantee.
Jerry said: Corralled,,,CORRALLED!!!! Are we talking mint here? NO WAY!!!…Roundup is the only deterrent and it doesn't always work. Might try gasoline and a match!!! Around here it's more robust than crabgrass…
Formatting A Plan To Confine The Mint
OK, consider me officially nervous. I love my mint but I must make it play nice!
One of my least favorite chores ever is weeding. I mean it now, I'd rather scrub toilets or clean hair out of the drain Every. Stinkin'. Day. than to be tasked with pulling weeds. So the work I do now will be important later.
We decided to buy a 36-inch galvanized fire ring that was 18 inches deep, we buried all but about 3 inches of its depth.
Then we poured several bags of gravel along the bottom and sides and added back in the crappy clay soil we had previously dug out.
I've heard that if you give robust mint plants less desirable soil they'll still grow of course but have some of the wind let out of their sails. So I didn't amend the soil at all.
Then I replanted a few of the reserved sprigs and waited…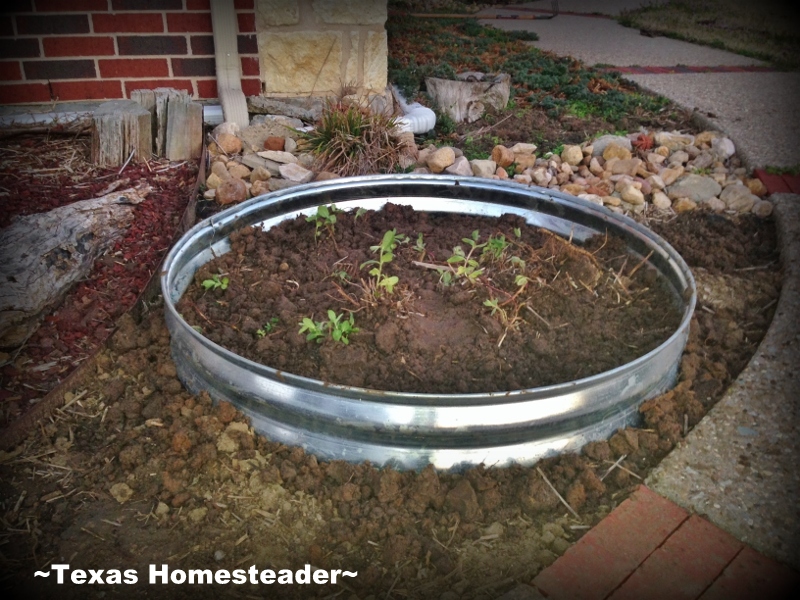 Prettifying The Mint Planting With Mulch
I left the area around the ring bare for a while so I could see and remove any mint sprigs that attempted to come back from missed roots. Then I topped the surrounding soil with the heavy paper from a few empty cattle feed sacks and finally topped that paper with bark mulch I got for FREE from our county.
Soon the mint plants filled in completely within this ring. I think it adds visual interest to the bed.
The mint obviously grows effortlessly, blooms prolifically for the pollinators and looks just lovely! (And now, it's properly contained too)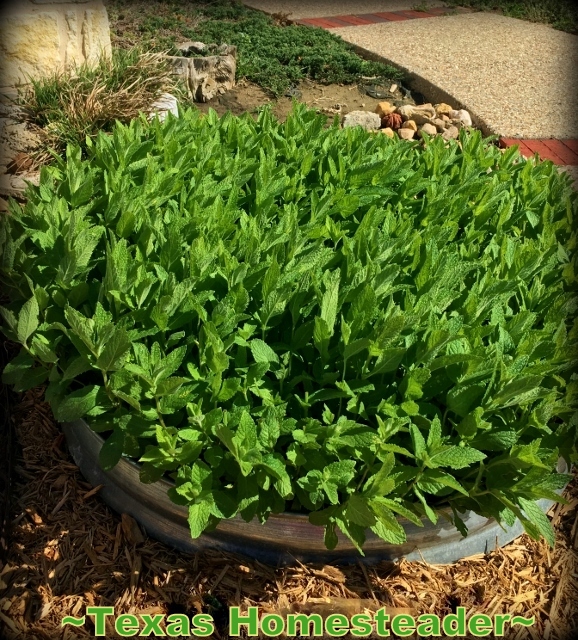 ~TxH~
This post categorized in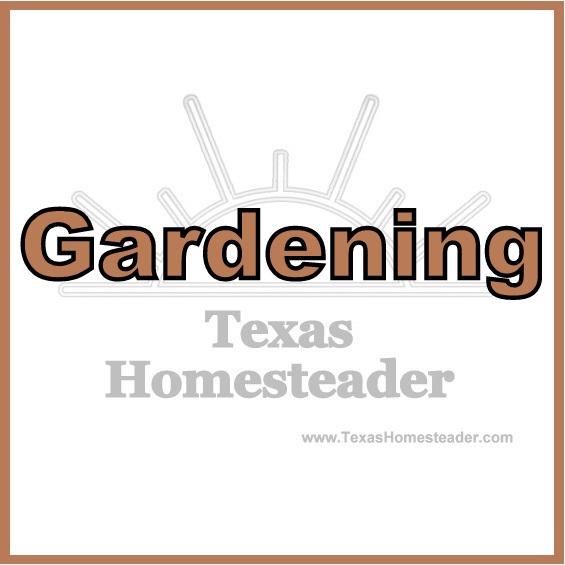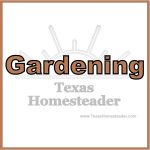 My Favorite Garden Hacks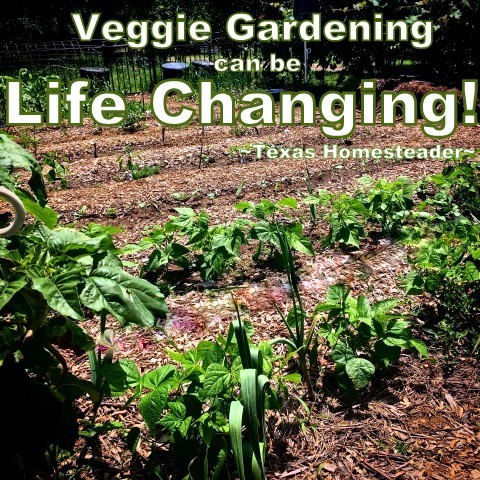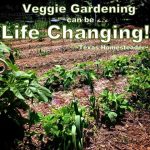 C'mon by & sit a spell! Come hang out at our Facebook Page. It's like sitting in a front porch rocker with a glass of cold iced tea – lots of good folks sharing! You can also follow along on Pinterest, Twitter or Instagram.
If you'd like to receive an email each time a new blog post goes live it's EASY to
Subscribe to our blog!
Save
Save