by Texas Homesteader ~
I like to serve healthier beverages. It's important to drink water, but sometimes it get cat boring. What about a minty drink that's sugar free. Is there any such thing?
Recently I was looking at my mint bed which is doing VERY well #thankyouverymuch. A little too well actually. It's spreading in places I'd rather it not grow.
But while I was thinning the rambling mint runners, it smelled so dang good. I wondered if I could use it for a refreshingly-cold minty drink?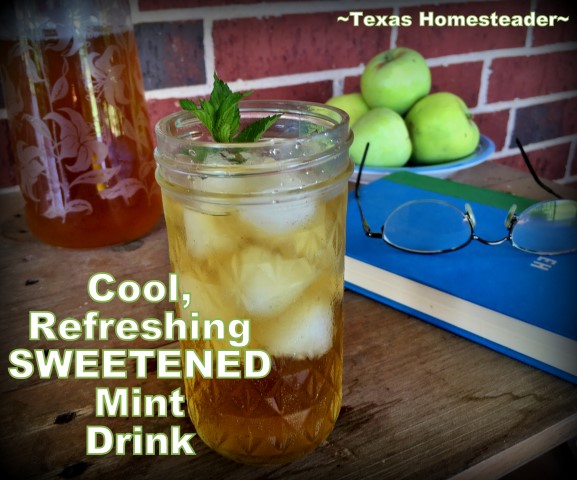 Other Drink Options
When it's summertime in NE Texas, it's hot, hot, HOT! RancherMan used to drink way too many colas as his beverage of choice. But it was so unhealthy. And expensive. And produced lots of trash.
So I started brewing him Sun Tea. It was a good change! RancherMan got to enjoy a much lower-cost beverage that was healthier for him. And the only waste was the tea bag which I placed in my compost.
But can I make an even lower-waste, lower cost beverage from this refreshing mint? Let's give it a try.
Everything I Need, Growing Right Here At Home!
So I brought in the mint trimmings and washed & stripped the leaves. I measured out a cup packed tightly with those leaves.
When the leaves were washed & measured I crushed them between my hands to release the most minty flavor. I dropped those crushed leaves into my sun tea jar.
RancherMan's Sweet Tooth
But RancherMan's sure got a sweet tooth. He likes sweet drinks. Hummmm… I've got that gorgeous Stevia plant growing right outside for sugar-free sweetener whenever I want it. Why not put it to use here?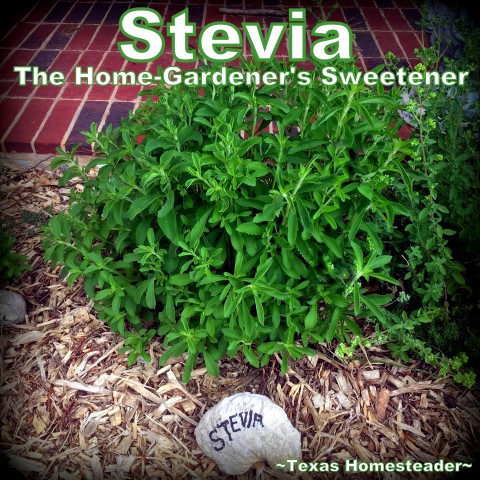 So I pulled about a 10-12″ stem of Stevia & washed and stripped those leaves as well, crushing them and adding them to the jar along with the mint leaves.
Brewing The Minty Beverage Using Only The Sun
I placed my fancy-schmancy Sun Tea jar (aka: repurposed picante sauce jar) into that hot Texas sun for about 6 hours. Your time may vary depending upon the intensity of the sun.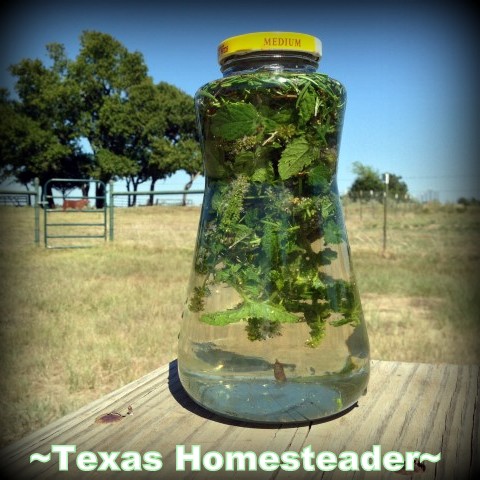 When the minty beverage was fully brewed it was about the same color as brewed green tea.
So I brought it in, strained out the leaves and served a icy glass of this minty delight to RancherMan, asking him what he thought.
RancherMan's Reaction
"That's pretty good. Sweet & very minty." he said.
"Wow. That's REALLY good!" he continued.
"I'd absolutely drink that – brew more next time instead of the regular tea!" he exclaimed.
Well I'd say that was a raving endorsement!
So in essence… I've completed some 'weeding' chores in my landscape beds while also being able to provide RancherMan a refreshing, sugar-free sweet minty beverage for absolutely FREE?
Yes please!
Here's the 'recipe' in case you want to try it yourself!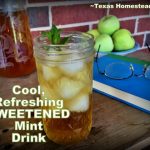 Sun-Brewed Sugar-Free Refreshing Mint Drink
I whip up this refreshing minty drink using the fresh mint and stevia I have growing right outside. And the sun infuses it all for free. Delicious, refreshing & sugar free! #TexasHomesteader
Ingredients
Ingredients:
1

Cup

Fresh Mint Leaves - washed, crushed & tightly packed

(I use chocolate mint)

1

10" - 12" Stem

Fresh Stevia,

leaves washed, stripped & crushed
Instructions
Instructions:
Rinse fresh mint stems & strip leaves. Pack 1 cup tightly with mint leaves to measure. Then crush leaves between your hands and drop the crushed mint leaves into your jar.

Repeat procedure with the stem of fresh Stevia.

When all is added to your sun tea jar, finish filling jar with approximately 4-5 cups filtered water. Set tea jar in the sun & allow sun to 'brew' mint for about 6-8 hours. (depending upon sun intensity) Brewed liquid will be the color of brewed green tea.

Strain out leaves and pour liquid into a glass filled with ice and enjoy!
~TxH~
Our Favorite Homemade Drinks
Using The Sun
You can see our other SOLAR articles

here


C'mon by & sit a spell! Come hang out at our Facebook Page. It's like sitting in a front porch rocker with a glass of cold iced tea – lots of good folks sharing! You can also follow along on Pinterest, Twitter or Instagram.
If you'd like to receive an email each time a new blog post goes live it's EASY to
Subscribe to our blog!