by Texas Homesteader ~
Whelp, we made it to July, y'all! Now in NE Texas the rain taps will typically turn off about now and will stay off for the rest of the summer. So although we may get a little ole 1/4″ inch or so every now & then, we can count on manually irrigating the garden from our Rainwater Catchment Systems from here on out.
Let's stroll through the garden and see how it's doing, shall we?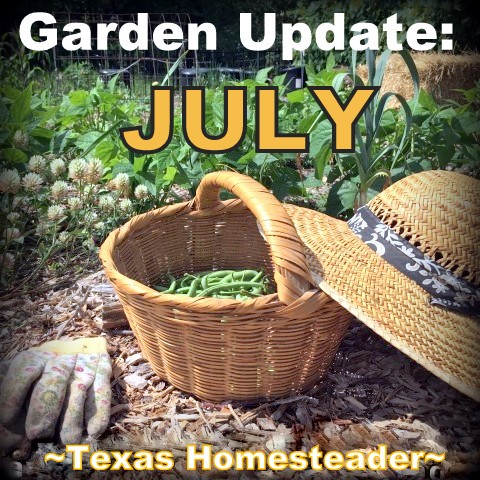 My garden was very slow to get started this year. Our spring was very wet, cool and cloudy. But in a typical year for us in zone 8, July is where things begin to grind to a halt. It's so hot & dry that even if you're able to keep everything watered it's hard to get plants to set fruit. So we'll see how it goes. So far:
Squash
I was pretty determined to remove any and all squash bug eggs. I inspected the squash plants every morning. I removed all squash bug eggs and dispatched any squash bugs I found. But alas, things got super busy & chores got away from me. I'm guessing squash bugs have killed my spaghetti squash and summer squash plants. Grrrrrr…
But before the vines died I harvested several spaghetti squash. So I'll be making Cheesy Spaghetti Squash with them over the next few months.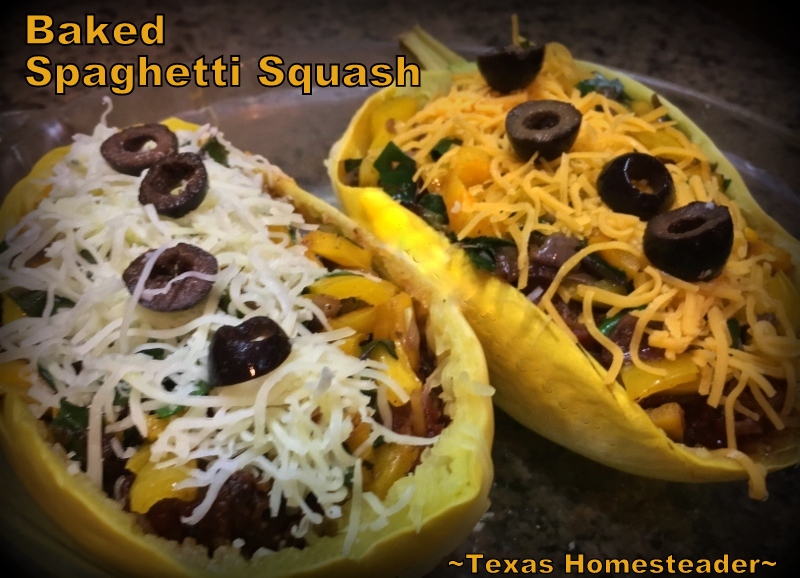 And I'd already harvested several summer squash before the plants succumbed. We enjoyed them sauteed in fragrant herb & olive oil Herb Bombs and they were delicious. I guess I must sigh and let them go now though.
So far the zucchini plant is still vibrant and producing. So I'm enjoying zucchini as long as I can!
Concord Grapevine
The grapevine has grown like CRAZY. But although the vines set lots of fruit, I'm noticing lots of grape drops. Even full bunches of grapes on the ground.
The culprit? Raccoons. They've decimated the corn and are working through my grapes. Oh, and they've been caught visiting the chicken pen every night. Thankfully the hens are locked in tight when the raccoons come-a-callin' but those raccoons have got to go.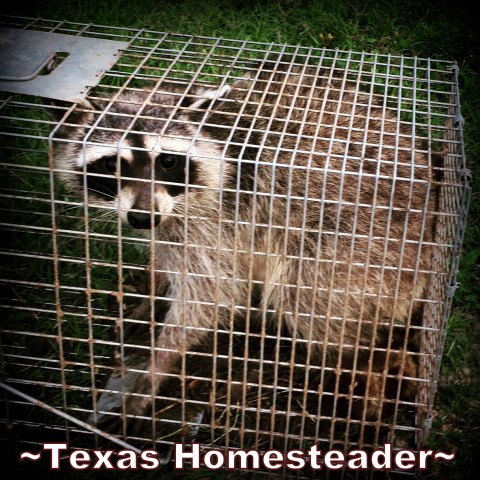 RancherMan's set traps to remove the raccoon. Hopefully we'll still be able to harvest grapes in the coming weeks.
Green Beans
Our green beans this year is hit-n-miss. I planted several rows of green beans this past spring. Each row was planted a few weeks apart to prolong the harvest.
But since they're slow growing I have to make several small harvests. I'll go to the garden & pick as many green beans as I can and bring them inside. Into a container in the fridge they go until there's enough to serve as a supper side dish. RancherMan loves 'em simmered until tendercrisp with a little bacon.
Other Garden Areas
Let's look at the other parts of the garden, shall we? There is a watermelon vine that's just now starting to grow. But it may be entirely too late to have it set fruit & ripen this year. I'll be watching to see how it goes.
The okra is just now beginning to produce. I've never been a fan of eating lots of okra because of the mucilage they contain. But we love Okra Fritters! So I'll harvest the small, tender okra and make them into okra fritters.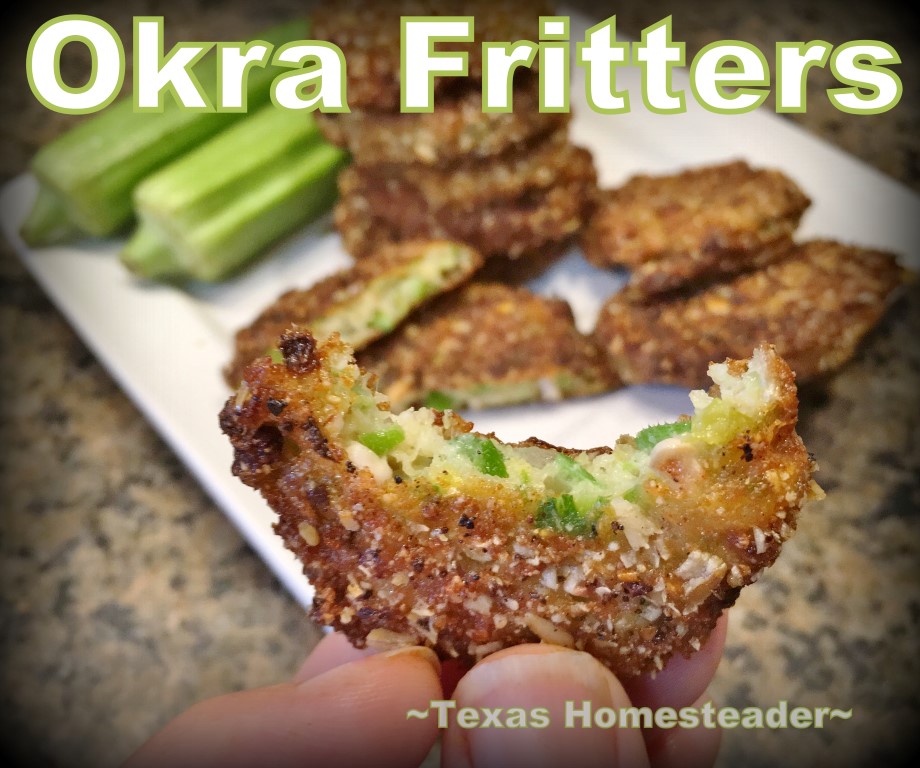 Tomatoes
What about tomatoes? Whelp, I've struggled with my tomatoes this year as well. None of the plants from my indoor greenhouse made it when they were transplanted into the garden. Our spring was just too wet/cool/cloudy!
So I bought several varieties from a local woman who grows and sells from her greenhouse. I've harvested a few tomatoes but it looks like they're just now starting to really produce. I'm looking forward to harvesting more in the near future.
Onions & Garlic
I've harvested lots of onions and Garlic. As I do each year, I've saved the largest garlic head to replant in the garden. That improves my garlic each & every year.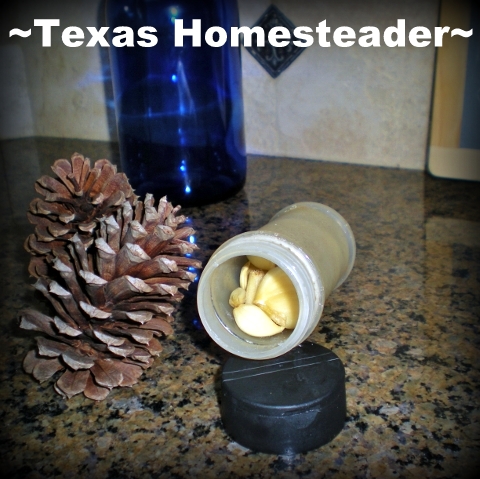 I love to season our food with garlic and I use lots of it. So I'm sure to Preserve The Garlic so it's available to me whenever I want it.
3-Sisters Garden
Across from my onion patch is this square where I planted my 3-Sisters Garden. I used Kandy Korn & black-eyed pea seed from my sweet friend's father's veggie seeds and heirloom pumpkin too.
But the raccoons climbed the garden fence and pretty much decimated this section of the garden. Sigh – maybe next year.
Cucumber
The cucumber vine in the garden is actually growing pretty well. I only planted one because RancherMan's not a fan of cucumbers. But I like to include them in a salad from time to time.
And perhaps I can use a few cucumbers to make a jar or two of Refrigerator Pickles. I love that I can make one quart at a time.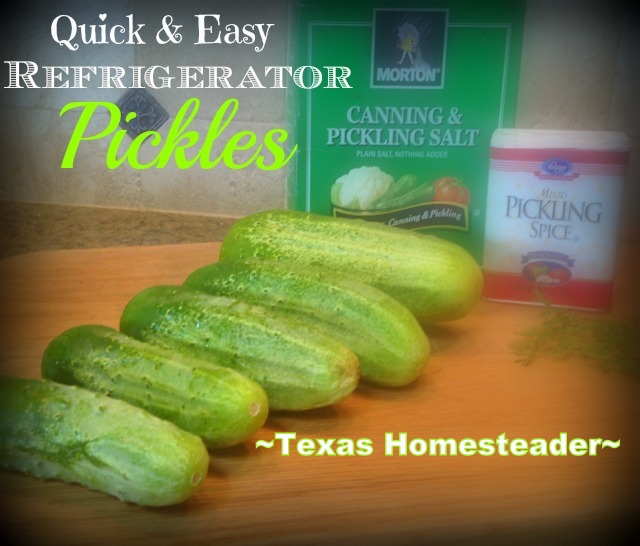 And sometimes I'll let one grow huge so I can offer it to my chickens. The chickens love them and I love that I'm growing my own chicken food that way. If there are still more than we can consume I'll pile them into my Blessing Basket (see below)
Sunflowers!
And sunflowers! Oh my! I planted a row of them at the end of my garden right next to the chicken pen. My thought was to enjoy the beauty while giving the chickens that much-needed summertime shade. But they went CRAZY!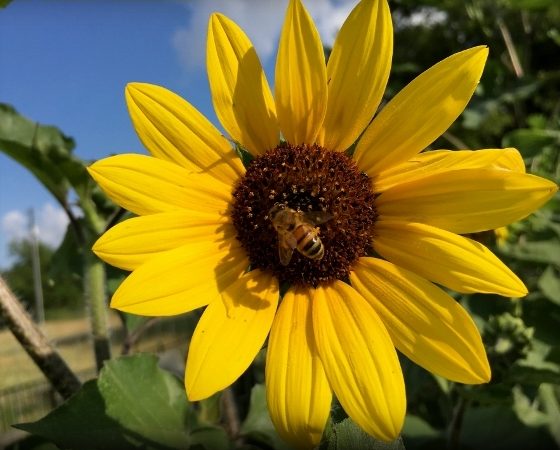 I planted these from harvested Mammoth sunflower seeds last year. I knew they wouldn't come back true since they weren't heirloom. But I've been thrilled with the results. Some have the huge Mammoth seed-bearing head. I've harvested those seeds and saved some for next year.
Some of the sunflowers have slightly smaller but still seed-bearing heads. But these… These sunflowers are currently about 12-feet tall and are peppered with regular-sized bright yellow blooms. The honeybees, bumblebees and butterflies are delirious with excitement over them. I can't help but to smile each day as I pass by them. Beautiful!
Weekly Blessing Basket
Finally, I'm carrying on my weekly blessing basket tradition. RancherMan & I meet with a church study group one day each week. Many in the class are older or don't garden anymore. So I've started something I'm calling a "Blessing Basket". I've vowed to put everything I harvest on that day into my Blessing Basket and take it with me to class to share the love. The reaction has been amazing!
The contents change every week depending upon what I'm harvesting. There may be green beans, cucumbers or a large head of garlic. Maybe it will include some fresh herbs such as rosemary, sage, basil and oregano. And I even include the fresh eggs my girls laid that day. Whatever's being harvested that day goes into the basket to share!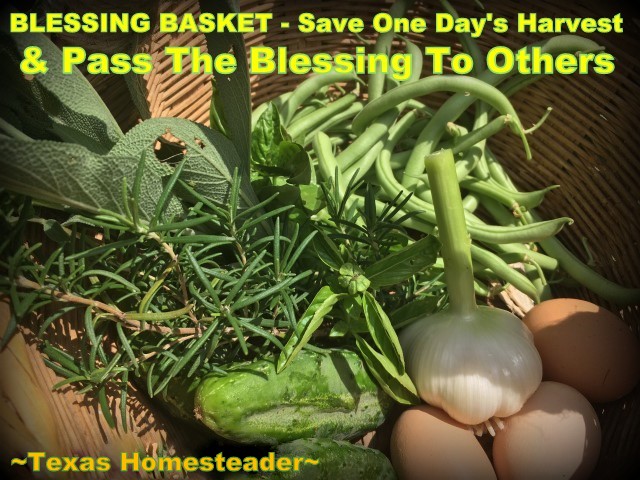 I challenge all of you gardeners to do the same. Whether you meet with a book club or garden club, or maybe just for a neighbor down the street. Bundle your harvest one day each week and pass the blessing on!
And let's get others to do the same. Share a photo of your weekly Blessing Basket on Instagram with the hashtag #BlessingBasket.
So there's a (not-so) quick tour of our NE Texas garden. What's growing in your garden these days?
~TxH~
This post categorized in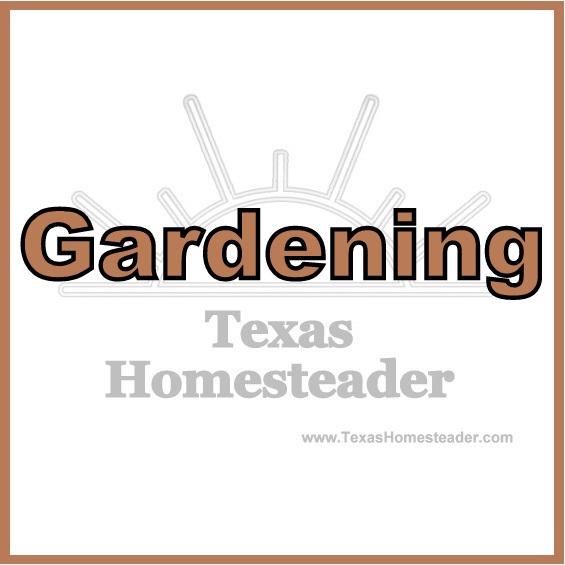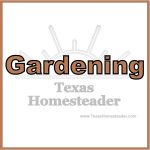 Links In This Post:
My Favorite Garden Hacks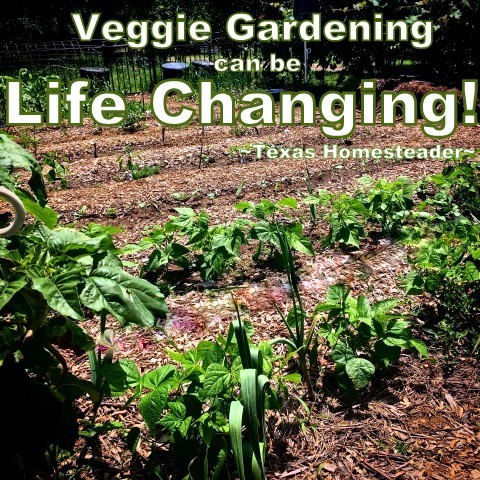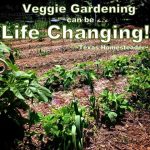 C'mon by & sit a spell! Come hang out at our Facebook Page. It's like sitting in a front porch rocker with a glass of cold iced tea – lots of good folks sharing! You can also follow along on

Pinterest

, Twitter or

Instagram

.
If you'd like to receive an email each time a new blog post goes live it's EASY to Subscribe to our blog!
Save
Save
Save