by Texas Homesteader

We eat a lot of garlic. It lends a vibrant flavor to even the simplest savory dishes. And the health benefits of garlic are well documented. So I make sure to plant plenty in my garden each year.
But how do you preserve a full harvest of garlic? I want to make sure that not a single clove of my homegrown garlic goes bad.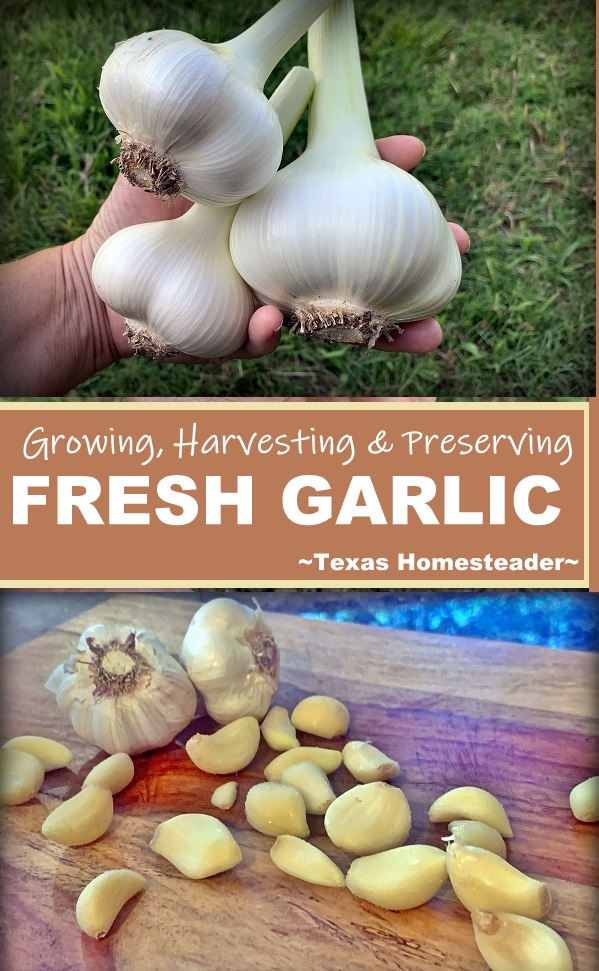 Garlic In The Home Garden
We usually grow an entire bed of garlic in our garden. I understand garlic plants repel aphids and beetles in the garden too.
And they make great companion plants for tomatoes and peppers as well. So I usually plant a few close by those crops too if possible.
Growing Garlic
My garlic was planted in the fall of last year. I'd saved full cloves from the largest heads harvested and replanted those. My garlic gets to improve every year this way. I'll mulch the bed heavily with fallen leaves as the garlic goes through the winter months.
Then in the spring all of that garlic sends green shoots up from the soil. I typically mulch it again to keep the soil soft and lightly moist. This helps the garlic cloves grow larger.
Garlic scapes usually make their appearance around the first of May. Those are a actually just the garlic's blooms. But I'll cut them off quickly to make sure the garlic's energy goes into making large, plump heads instead of spending that energy on flowering.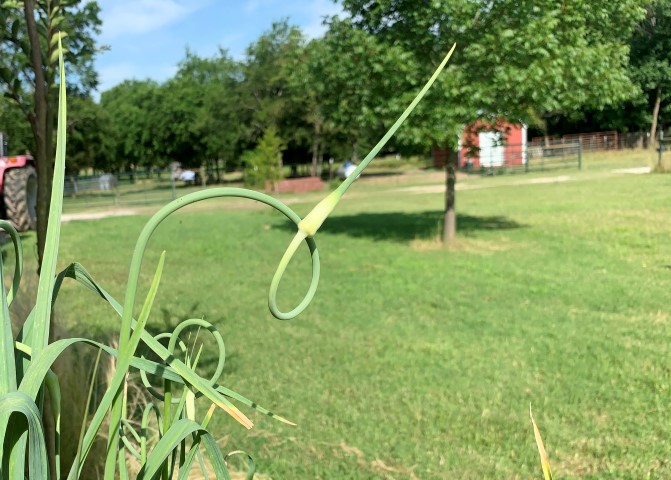 The good news is that those garlic scapes are tasty! It's usually our first taste of garlic for the year before I even get to harvest garlic from the garden. Scapes a little milder garlic flavored than the actual cloves. I'll typically chop it them up and stir them into savory dishes as I'm cooking.
Harvesting Garlic
Then around June, the bottom section of leaves start to yellow. That's my cue that it's harvest time!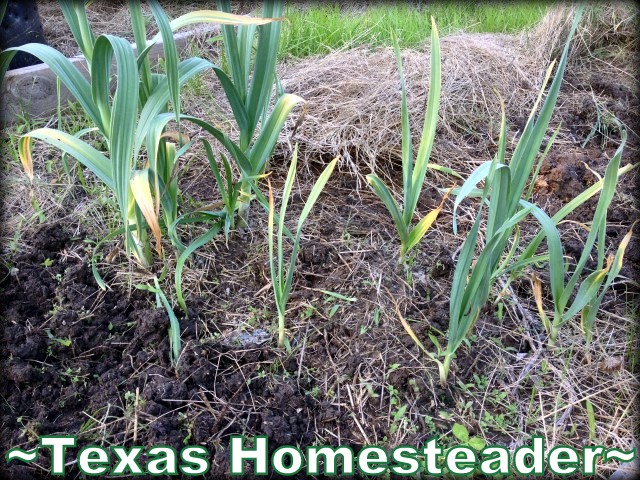 You can't just grab the greenery & pull though. If you try to do that, you'll probably end up with a handful of green leaves with the bulb still beneath the ground. Garlic needs to be dug from the soil. Don't worry, it's easy!
I'll take my gardening fork and plunge it about 6″ away from my garlic and about 10″ below ground. Then I'll bring the handle downward to push the garlic up from beneath the soil.
Finally I'll pull the garlic, greenery and all, from the ground. I'll shake the excess dirt from the garlic roots and set it aside as I go down the garlic row harvesting each plant.
Preserving Garlic
After the garlic is harvested I'll bring it all to the house. I snip the roots off right close to the bulb. Then I strip off the bottom leaves to both clean off any clinging dirt as well as to uncover some of the outer layers of the garlic head. This will allow quicker drying.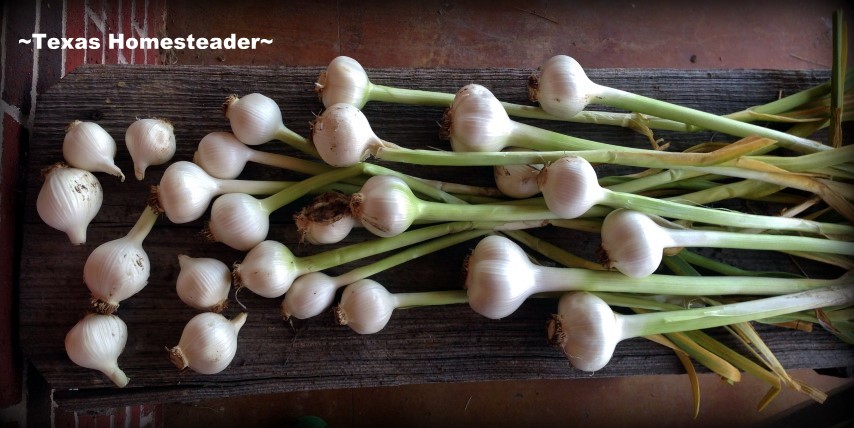 But garlic needs a chance to cure in a cool shaded place where there's plenty of airflow. So I spread those cleaned garlic plants out on our covered back porch. They'll get plenty of air circulation there are they continue to cure. I typically cure them for a month or more.
Storing Cured Garlic
Then when the garlic has been cured I bring it into the house for use. To store them I use a cotton string from a cattle feed bag and tie the garlic in layers. I hang the whole thing on this vintage hanger in my pantry.
The arm folds out for hanging and folds back flush to the wall when not in use. I loved it so much that I bought two of them at the antique store and now have them hanging on either side of my pantry. (Don't you just LOVE 'em??)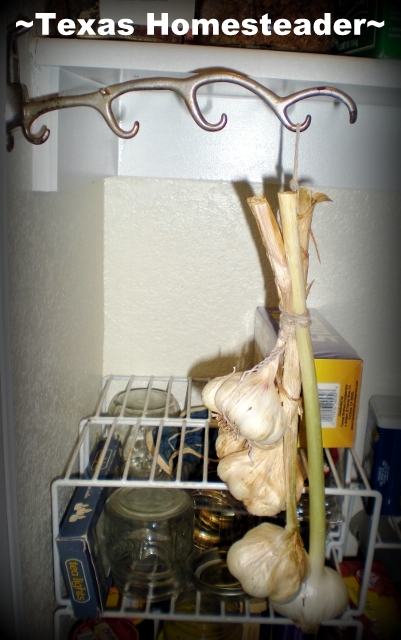 When I need garlic in my cooking I'll come snip off a head of garlic from this hanger in my pantry. But even through I'm using garlic pretty consistently I can never use it all fresh. Plus I'd like to have some to use in the winter months as well.
So I preserve the excess garlic by peeling the cloves, as if ready to use. Then I place all these peeled cloves into a repurposed spice container that I keep in the door of my freezer.
The cloves don't stick together even after they're frozen. So when I want to use a clove of garlic I simply bring out my container, pull out a single clove and mince with a knife. I've discovered that garlic doesn't freeze rock hard so it's easy enough to do. Sometimes I'll allow it to thaw so I can easily run it through my garlic press instead.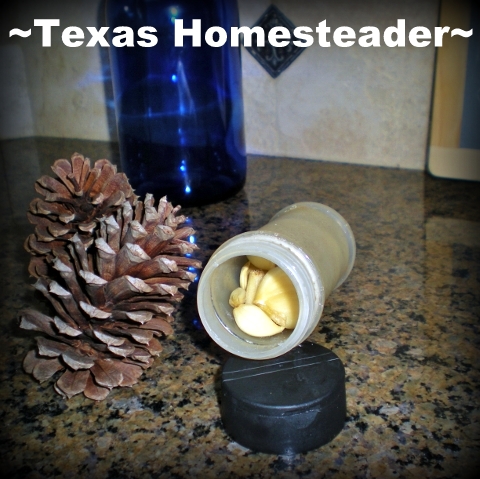 We've noticed no difference in taste when using frozen garlic cloves. And since garlic is typically cooked in some way, obviously there would be no difference in texture either.
By preserving garlic this way I've repurposed a container and also side-stepped buying a product at the store that I can easily grow & preserve myself. Y'all know that's all important to me from an environmental, health & financial standpoint too. You don't eat more locally than out of your own garden!
Have you ever tried preserving garlic from the garden? What worked best for you?
~TxH~
Preserving The Harvest Posts
…And Much MORE!
Dehydrating Posts
C'mon by & sit a spell! Come hang out at our Facebook Page. It's like sitting in a front porch rocker with a glass of cold iced tea – lots of good folks sharing! You can also follow along on Pinterest, Twitter or Instagram.
If you'd like to receive an email each time a new blog post goes live it's EASY to
Subscribe to our blog!