by Texas Homesteader

We eat a lot of garlic, it lends a pretty vibrant flavor to even the simplest savory dishes and the health benefits of garlic are well documented.  But how do you eat a harvest-full of garlic before it goes bad?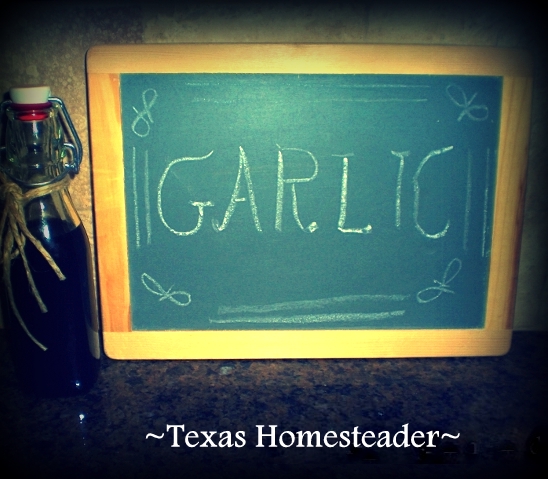 We usually grow many cloves of garlic in our garden – I understand they repel aphids and beetles in the garden and make great companion plants for tomatoes and peppers so I usually plant them close by those crops when I can.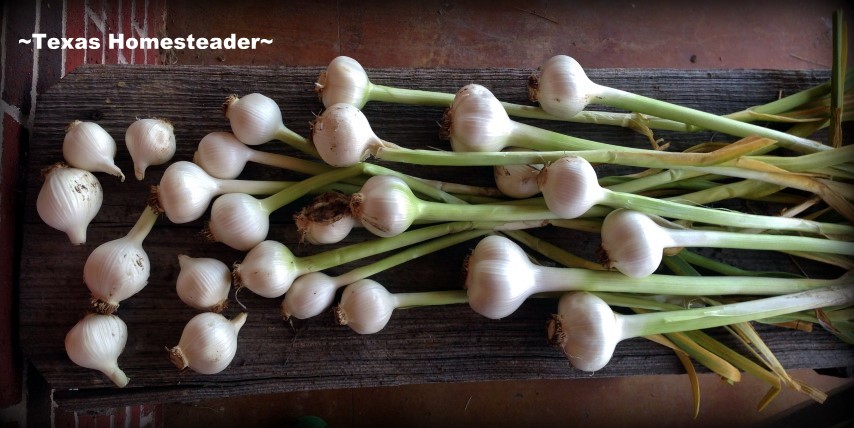 Preserving Garlic
When I harvest my garlic, I strip off the extra outside leaves to both clean off any clinging dirt as well as allow quicker drying of  the clove.  Then when the garlic is pretty dry I use the cotton string from a cattle feed bag and tie the garlic in layers.  I hang the whole thing on this handy-dandy hanger I found at a local antique shop.
The arm folds out for hanging and folds back flush with the wall when not in use.  I loved it so much that I bought two of them at the antique store and now have them hanging on either side of my pantry. (Don't you just LOVE it??)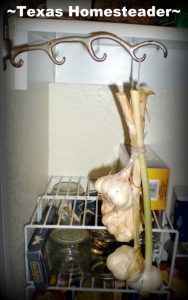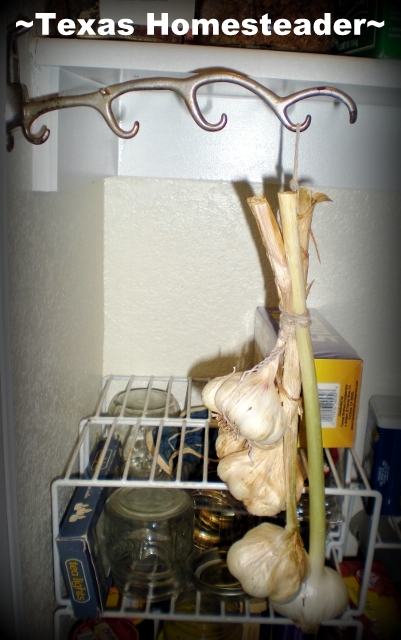 But even through I'm using garlic pretty consistently I can never use it all fresh and I'd like to have some to use in the winter months as well.  I preserve the extra garlic by separating the bulb and then stripping the cloves themselves, as if ready to use.
Then I place all these cloves into a repurposed spice container that I keep in the door of my freezer.  The cloves don't stick together so when I want to use a clove of garlic I simply bring out my container, pull out a single clove and mince with a knife (garlic doesn't freeze rock hard) or run it through my garlic press.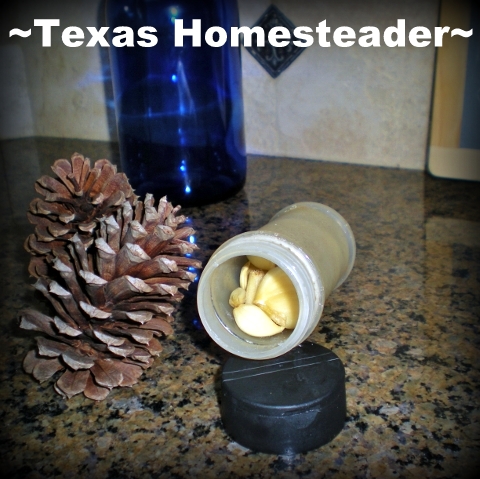 We've noticed no difference in taste and since garlic is typically cooked in some way obviously there would be no difference in texture either.  Add to that benefit that I've repurposed a container and also side-stepped buying something at the store that I can easily grow myself, which of course is important to me from an environmental standpoint.  It's good for my budget as well since I strive to provide as much for myself as I can before resorting to purchasing a product.  Have you ever tried to preserve your abundance of garlic from the garden?  What worked best for you?
Preserving The Harvest Posts
…And Much MORE!
Dehydrating Posts
~TxH~


C'mon by & sit a spell!  Come hang out at our Facebook Page. It's like sitting in a front porch rocker with a glass of cold iced tea – lots of good folks sharing!  You can also follow along on Pinterest, Twitter or Instagram.
If you'd like to receive an email each time a new blog post goes live it's EASY to Subscribe to our blog!