by Texas Homesteader

I've tried on numerous occasions to grow oregano but for some reason never successfully. This year I planted an oregano plant as proof of the eternal optimist that I am. Surprisingly the oregano is flourishing!
Italian seasonings are one of my favorites. So I'm always using a mixture of some kind in my cooking. Because I'm so cheap thrifty, wherever possible I like to grow and preserve my own. So now I want to preserve this surprising oregano harvest.
This type of oregano grows primarily by stems along the ground. So I really don't want to take too many of those as I'm hoping it will continue to spread. It might be wise to take most of the cuttings today from the top with only a few from the perimeter.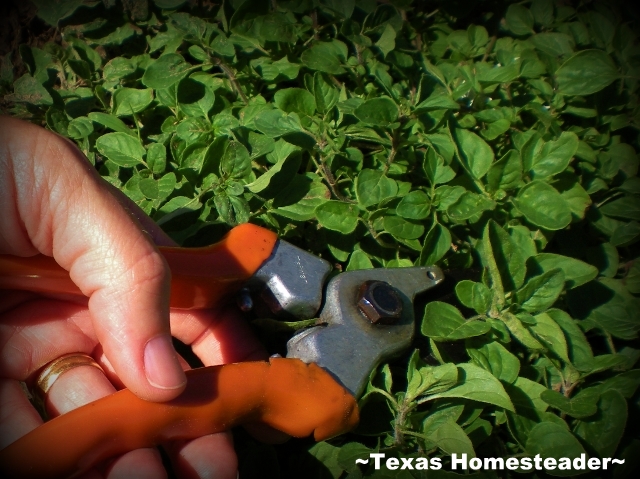 I brought the cuttings inside and washed them in a colander. Then I laid them on a towel to air dry. When they were dry I moved them to a large platter to finish drying. I'll fluff the oregano several times each day until it's completely dry, probably about 1.5 to 2 weeks.
Or sometimes I'll hang the stems in my kitchen from a cotton string. That also allows airflow and the leaves dry easily with no other input from me. I simply leave them hanging until they're completely dry.
Then I remove the leaves from the stems and place my home-grown dried herb in an empty spice container, giggling gleefully at how I've managed to bypass another expensive purchase. Hummm… Now I'm eyeballing the new oregano growth and I think I may do this again very soon.
~TxH~
Preserving The Harvest Posts
…And Much MORE!
Dehydrating Posts
C'mon by & sit a spell! Come hang out at our Facebook Page. It's like sitting in a front porch rocker with a glass of cold iced tea – lots of good folks sharing! You can also follow along on Pinterest, Twitter or Instagram.
If you'd like to receive an email each time a new blog post goes live it's EASY to
Subscribe to our blog!