by Texas Homesteader ~
We love dill pickles but I struggle making my own brine. I've found the secret weapon – a SUPER EASY brine. Making homemade pickles has never been THIS easy! Check it out.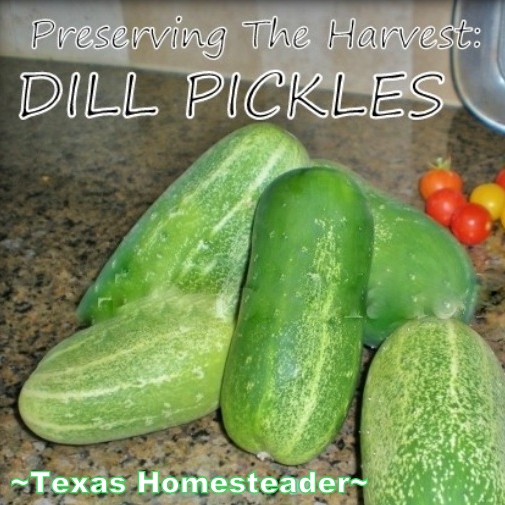 (Note: Some links in this post will take you to other related articles for further information. But links preceded with * are affiliate links. If you click and buy something I could receive a tiny commission.)
Garden Gift Of Fresh Cucumbers
Recently I was given a handful of cucumbers from the veggie garden of a sweet friend. So instead I set out to preserve them.
I use dill pickles often in deviled eggs, making pickle relish and in other dishes but especially in my homemade ham salad
So the decision as to what to do with these cucumbers was easy for me – make DILL PICKLES!
Secret For Making Great Dill Pickles Easily!
I've made pickles completely from scratch on a few occasions. But I wasn't pleased with the results.
The finished pickles were often soft, even when using special pickling cucumber varieties. And the brine (no matter what recipe I used) was always too strong or with not enough herb flavor for my tastes.
But one day I was visiting a family member who had grown & pickled cucumbers from his garden. He offered a taste of his finished pickles and I loved them!
I asked what his secret was and he whispered "Mrs. Wages".
I had never even heard of Mrs. Wages. So he described the package to me and I went looking for it. (by the way I found that you can get various flavors of * Mrs Wages Pickling Mix from Amazon)
I used the Mrs. Wages dill pickle mix using our own cucumbers. Finally SUCCESS!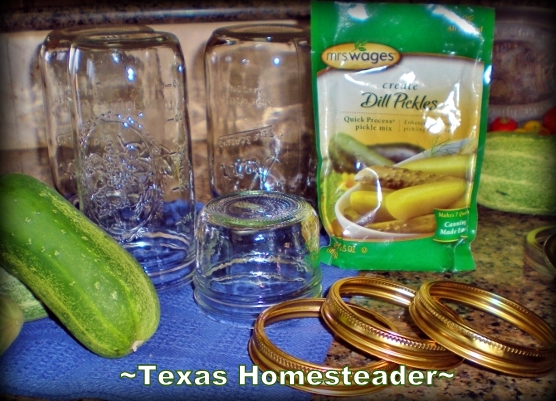 How To Prepare Cucumbers For Pickling
With cucumbers to pickle from my friend's garden, I washed & dried the cucumbers and cut about 1/4″ off each end.
NOTE: I've read that if you don't cut off the bloom end it can lead to soft pickles.
I didn't know what variety of cucumbers these were since they were gifts. So they may or may not have been actual pickling cucumbers.
When To Harvest Cucumbers For Pickling
Some of my friend's cucumbers were harvested a bit large for pickling. If you'll be making pickles with your cucumbers you usually want to pick them when they're still slender and the skin is dark green & bumpy.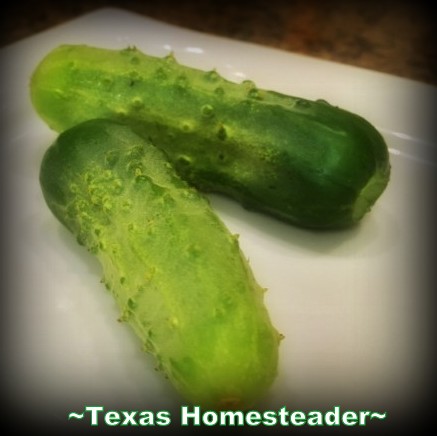 A large, pale green or yellow cucumber with a smooth surface is usually a little too mature to result in a really great pickle.
Can You Use Large Mature Cucumbers For Pickling?
Cucumbers that have grown larger are not ideal for pickling. That's because:
Larger cucumbers have usually formed large tough seeds inside.

Skin of larger cucumbers is often tough.

Larger cucumbers often have a bitter taste.
But larger cucumbers were what I was gifted from my friend. So for those larger cucumbers I figured I had nothing to lose.
Preparing Larger Cucumbers For Pickling
I sampled a slice off of each of those larger cucumbers to make sure they were not bitter. If the cucumbers were still mild tasting I went ahead & used them for my pickles.
Tougher skins were peeled and I removed the seed section from each cut cucumber spear that had larger seeds.
Now the cucumbers were all cut up – some with the seed section cut out, some peeled, some just sliced into spears.
Preparing Canning Jars For Pickles
I washed & dried my canning jars and placed them in a warm oven.
The flat disk of the 2-part canning lid was placed into hot water (not boiling) to soften the rubber seal.
Using Mrs. Wages To Make Dill Pickles
With my canning jars and lids being kept hot I mixed up the Mrs. Wages mix per the package directions and got the mixture boiling, stirring constantly.
Now it's time to make pickles:
Pack prepared cucumbers into clean hot jars.
Pour hot Mrs. Wages mix into jars leaving 1/2″ headspace.
Use a rubber spatula to remove any trapped air bubbles between cucumbers.
If needed top off the liquid in the jar to maintain 1/2″ headspace.
Water Bath Canning Homemade Dill Pickles
You can place your jars of pickles in the refrigerator and they'll last at least 3-4 weeks. But you can make them shelf stable to last longer by home-canning them.
Cucumbers cut and placed in hot jars.
Hot brine added to jar leaving ½" headspace.
Bubbles removed, brine added if necessary to maintain ½" headspace.
Jars loaded into water bath carrier with hot water covering 1″ – 2″ over the top of the jars.
Once water begins to boil, set timer for 10 minutes.
After canning time is up carefully remove jars and set upon a kitchen towel in a draft-free place. Leave untouched overnight.
The next morning check seals. Any unsealed jars should be placed in the refrigerator and consumed within 3-4 weeks.
Remove and clean bands from sealed jars, wipe jars and label, storing in the pantry.
I let the dill pickles sit in the brine for about 3 weeks to allow the pickling process to continue. The resulting dill pickles were delicious!
Read the USDA's recommendations on safe canning for more information.
What To Do With Soft Pickles
Although my pickles were tasty they apparently weren't pickling cucumbers. They were softer than we like for snacking but I still put them to good use.
They are great chopped into sandwich spreads like our homemade Egg Salad or even deviled eggs.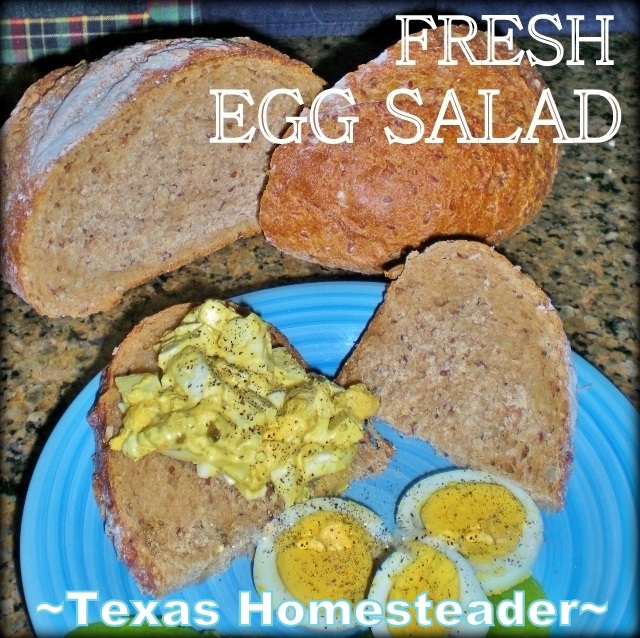 UPDATE: In subsequent years I planted heirloom pickler cucumbers and I use them with this Mrs. Wages mix. They always turn out GREAT!
Tips For Crisp Homemade Pickles
There are several tips I've read over the years to make help you make crisp homemade pickles:
Use cucumber varieties grown for pickling. I like *Pickler Cucumbers.

Fresher cucumbers make crisper pickles. Harvest right before pickling.

Younger cucumbers make better pickles. Harvest when small, dark green and bumpy skin.

Cut about 1/4″ of the blossom end off the cucumber. That's said to remove the enzymes that make for soggy pickles.

Add a fresh grape leaf to each jar if possible. I read that including a leaf from a grapevine right inside your jar will help keep the pickles crisp.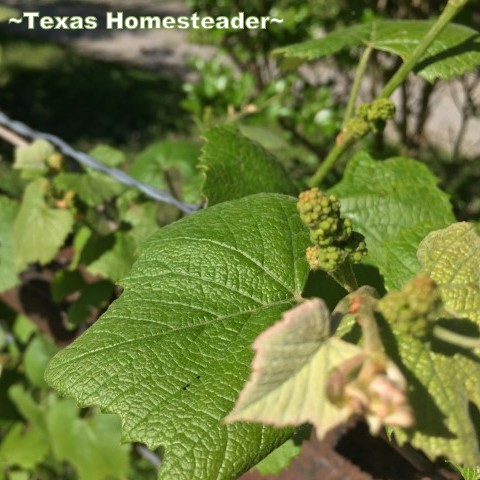 Now I don't know if using a fresh grape leaf is an old wives' tale or not. But using all the tips above to make homemade pickles crisp have always been successful for me.
So if you'd like to make your own homemade pickles, give Ms. Wages mix a try for your brine. Homemade pickles really couldn't be simpler!
~TxH~
Preserving The Harvest Posts
…And Much MORE!

C'mon by & sit a spell! Come hang out at our Facebook Page. It's like sitting in a front porch rocker with a glass of cold iced tea – lots of good folks sharing! You can also follow along on Pinterest, Twitter or Instagram.
If you'd like to receive an email each time a new blog post goes live it's EASY to
Subscribe to our blog!
*Amazon affiliate
Save
Save
Save
Save
Save
Save
Save