by Texas Homesteader ~
* contains affiliate link
Recently I was given a handful of cucumbers from the veggie garden of a sweet friend. RancherMan won't eat cucumbers any other way but pickled, and a girl can only eat so many raw cucumbers. So instead I set out to preserve them.
I use dill pickles often in deviled eggs, making pickle relish and in other dishes but especially in my homemade ham salad, So the decision as to what to do with these cucumbers was easy for me – make DILL PICKLES!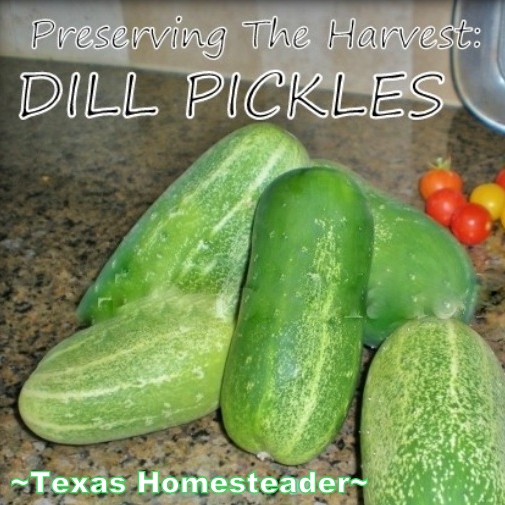 My Secret For Making Great Dill Pickles!
Now I've made pickles completely from scratch on a few occasions. But I've never been pleased with the results.
The finished pickles were often soft, even when using special pickling cucumber varieties, adding addition, etc. And the brine (no matter what recipe I used) was always too strong for my tastes.
But one day I happened to be visiting a family member who had grown & pickled cucumbers from his garden. He offered a taste of his finished pickles and I loved them! I asked what his secret was and he whispered "Mrs. Wages".
(Note: Some links in this post are for further information from earlier posts I've written. But links preceded with * are affiliate links. If you click them and buy something (almost anything, not just the item noted) I could receive a small purchase. But the price you pay will NOT change. It's an easy way to support this blog without anything coming out of your pocket. So click often! Thank you!)
I had never even heard of Mrs. Wages so he described the package to me and I went looking for it. (by the way I found that you can get various flavors of * Mrs Wages Pickling Mix from Amazon)
I gave the Mrs. Wages dill pickle mix a try on our own cucumbers. OMGosh y'all, finally SUCCESS! That's the only way I'll make dill pickles from now on.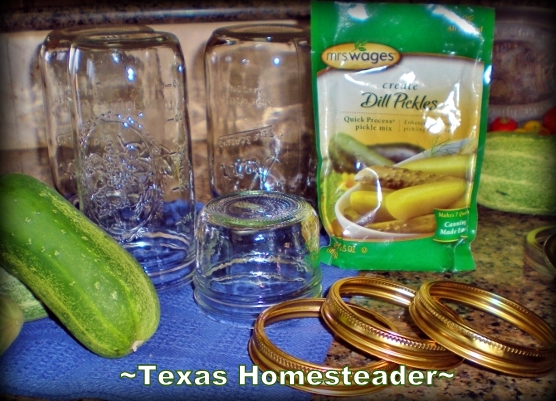 Preparing The Cucumbers
So now that I have a supply of cucumbers to pickle I washed & dried the cucumbers and cut about 1/4″ off each end. (I've read that if you don't cut off the bloom end it can lead to soft pickles.)
I didn't know what variety of cucumbers these were since they were gifts. So they may or may not have been actual pickling cucumbers.
Some of them were harvested a bit large for pickling. You usually want to pick the cucumbers when they're still slender and the skin is dark green & bumpy.
After the cucumbers have grown larger they usually have already formed larger seeds inside. Ad sometimes the cucumber will taste a little bitter or the skin will be tough.
But for those larger cucumbers I figured I had nothing to lose. So I tasted a slice off of them to make sure they were not bitter. If they were still mild tasting I used them for my pickles.
It was easy to peel them if the skins were tough, and cut the seed section off of each cucumber spear which had formed larger seeds.
I washed & dried my jars and heated water for my canning lids. The flat disk of the 2-part canning lid was placed into the hot water to soften the rubber seal & then I went to work on the preparations.
The cucumbers were all cut up with some with the seed section cut out, some peeled, some just sliced into spears.
Using Mrs. Wages
Then I mixed up the Mrs. Wages mix per the package directions and got the mixture boiling, stirring constantly.
I poured the hot mix into the packed jars leaving about 1/2″ from the top of the jar. A rubber spatula was used to remove any trapped air bubbles between the cucumbers. If needed, I topped off the liquid in the jar to maintain 1/2″ headspace between the top of the liquid and the rim of the jar.
Then I wiped the rim of each jar, screwed on the 2-part canning lid and turned the hot jars upside down.
I don't like to process my pickles using a water-bath canner, as I'm concerned that may be one of the reasons my pickles were always soft. This procedure typically seals the lid fine overnight, then I can store them in the fridge.
Canning Safety Message:
I MUST say here that I'm not recommending that you skip the canning process, I'm just showing what I did with these cucumbers. I figure back in 'the day' they made pickles by soaking raw cucumbers in brine in big crocks in the cellar, so it must be the brine itself that preserves the cucumbers. This time I decided not to put my cucumbers through the water-bath canning process. BUT you'll need to read the USDA's recommendations on safe canning and decide for yourself.
Anyway I let the dill pickles sit in the brine for about 3 weeks to allow the pickling process to continue. The resulting dill pickles were delicious!
Although since they apparently weren't pickling cucumbers they were still softer than we like for snacking. But they are great chopped into sandwich spreads like our homemade Egg Salad or even deviled eggs.
UPDATE: I planted heirloom pickler cucumbers and use them with Mrs. Wages mix and a grapevine leaf to make pickles and they always turn out GREAT!
I read that including a leaf from a grapevine right inside your jar will help keep the pickles crisp. Now I don't know if it's an old wives' tale or not, but my pickles are always crisp now!
~TxH~
Preserving The Harvest Posts
…And Much MORE!

C'mon by & sit a spell! Come hang out at our Facebook Page. It's like sitting in a front porch rocker with a glass of cold iced tea – lots of good folks sharing! You can also follow along on Pinterest, Twitter or Instagram.
If you'd like to receive an email each time a new blog post goes live it's EASY to
Subscribe to our blog!
*Amazon affiliate
Save
Save
Save
Save
Save
Save
Save