by Texas Homesteader ~
I only planted a few okra plants in the garden. So how will I accumulate the few okra I harvest each day until I have enough to fry?
I keep a dry seasoning mix in my freezer. Then I'll add the cut okra to that mix each day until I have enough to fry.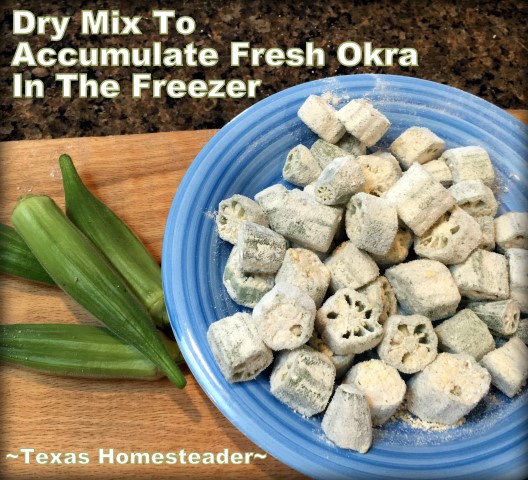 Okra Grows During Hot & Dry Summer Months
Okra is a powerhouse in the garden. Heat? Drought? Poor soil? It just seems to laugh at it all!
My garden struggled this year. When the weather finally moderated, many of the things I'd planted had already given up the ghost. But not the okra.
Now okra will produce you out of house & home if you let it. So I only planted four (count 'em – f-o-u-r) plants!
Those four plants have been about right to supply RancherMan & me with okra. But I'll need to harvest & accumulate enough okra for frying up for us. Thankfully it's easy!
Accumulating Fresh Okra To Fry Later
RancherMan & I love, love, LOVE fried okra. Of course we try to eat fried foods in moderation only. These 4 plants should allow me to harvest slowly and have an okra-fry later. But how do I prepare and preserve it until we're ready?
Each morning when I let the chickens out of their coop I stop by the garden and harvest anything that's ready.
I'll look over my okra plants and harvest any pods that are about 3″ long. They should be nice & tender.
I'll bring them inside and wash the outside of the pods and allow them to air dry. Then I prepare them for the freezer
Okra Coating For Freezer
Into a freezer bag I've placed an okra-coating mixture:
Flour
Cornmeal
Paprika
Onion powder
Garlic Powder
Salt/Pepper
(full recipe is below)
How To Prepare Fresh Okra For The Freezer
Now that my okra pods are washed & dried I cut them into 1/2″ chunks and toss them into the bag, shaking to make sure all the pieces are coated with the okra coating mix.
Then I return the bag back to the freezer.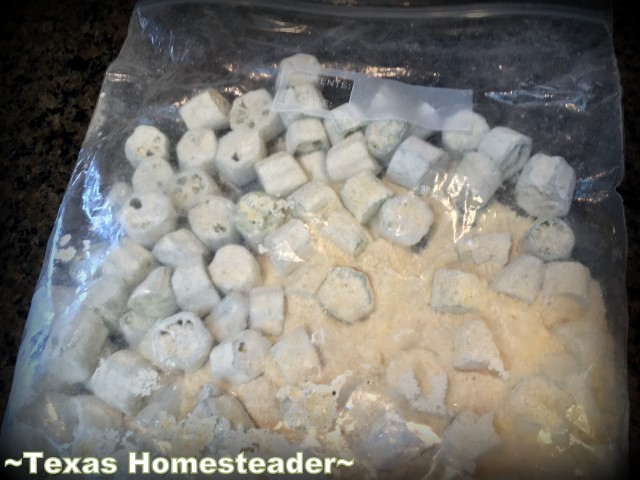 I repeat this step each day until it's time for me to prepare a fried-okra side dish for that handsome man of mine.
Frying Coated Okra From The Freezer
I'll bring out the bag of frozen, flour-coated okra and sift it quickly to separate okra pieces from the flour mixture.
The dry mix is sifted onto a piece of clean newspaper for ease of the next step.
I'd previously tried just frying up the dry-coated okra pieces. I figured they'd fry up crispy in the hot oil. But they sure weren't crispy enough for RancherMan.
So today I mixed up 2 eggs and a little salt/pepper in a small bowl.
As the oil in my Cast Iron Skillet was heating up I dropped portions of frozen dry-mix coated okra chunks into the egg and made sure the okra was coated.
Now that my oil's hot I transfer those egg-coated okra pieces to the dry mix I'd sifted onto the newspaper. The okra pieces are coated well with the dry mix & placed into the skillet of hot oil.
Those battered okra pieces fried up quickly.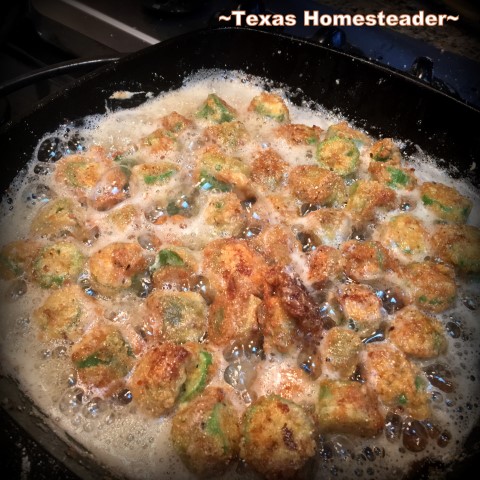 When they were done I transferred them to a plate with a clean piece of newspaper to soak up the oil.
They were delicious, delightfully crispy and RancherMan loved 'em.
Ok, I think we have a winner. I'll continue to accumulate fresh okra from the garden and keep them in this mix in my freezer. Heck we'll even be able to enjoy fried okra in the cold months too!
Did you make this fried okra? Please rate the recipe in your comment below!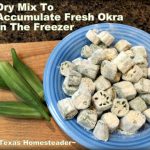 Okra Coating Mix For Freezer
I'm harvesting only a couple of okra pods each day from the garden. This dry mix stays in the freezer. I simply cut the okra and drop them into a freezer bag containing this dry mix. It's stored in the freezer until I'm ready to enjoy fried okra! #TexasHomesteader
Ingredients
Ingredients:
Daily okra harvest - pods about 3" long

1

cup

All purpose flour

1/2

cup

Cornmeal

1

teaspoon

Paprika

1

teaspoon

Onion powder

1

teaspoon

Garlic powder

1

teaspoon

Salt

1

teaspoon

Black pepper
Instructions
Directions;
Mix all dry ingredients and place in a zippered baggie. After daily harvest wash & pat dry fresh okra and chop into 1/2" pieces.

Drop okra pieces into dry mixture & shake to coat. Replace bag into freezer and add okra daily until there's enough to fry.
When Ready To Fry Okra
When ready to fry, heat enough oil to cover okra pieces in a heavy-bottom skillet. (don't fill the skillet over 1/2 way with oil!)

Mix 2 eggs with a small amount of salt & pepper in a small bowl. Add the coated okra pieces to the egg mixture and coat completely.

Drop coated okra pieces into hot oil and cook until golden brown. Remove from skillet and allow to drain (I use clean newspaper)

Serve immediately.
~TxH~
This post categorized in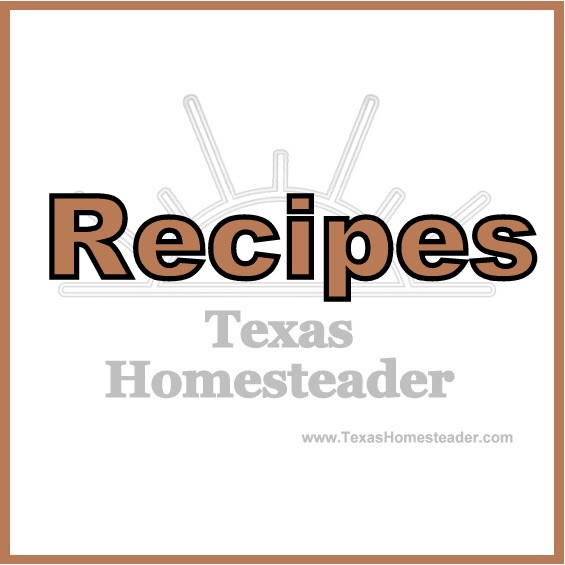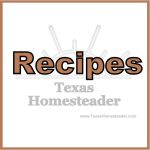 Other Side Dishes We Love

Rice
Beans
Vegetables
Other
…and MANY MORE!


C'mon by & sit a spell! Come hang out at our Facebook Page. It's like sitting in a front porch rocker with a glass of cold iced tea. There are lots of good folks sharing!
And you can also follow along on Pinterest, Twitter, Instagram
To receive an email when a new blog post goes live it's EASY to
Subscribe to our blog!