by Texas Homesteader ~
*contains affiliate link
Recently during our annual family reunion, RancherMan declared the meal would be comprised only of finger foods. There would be smoked brisket sandwiches, chips/dips, veggie trays, stuffed bacon-wrapped jalapenos, fresh fruit trays, cheese/cracker trays and oh-so-much more!
But Y'all know with our homestead hens we're getting lots of eggs these days. And I'd really like to put them to good use. Since it's a finger-foods feast I planned to make deviled eggs to go with our no-utensils-required cuisine. But I didn't want to make plain ole ordinary deviled eggs, oh no. This is RANCHFEST! I wanted deviled eggs with a Texas KICK! Check out today's Homestead Hack for ramping up the flavor of deviled eggs.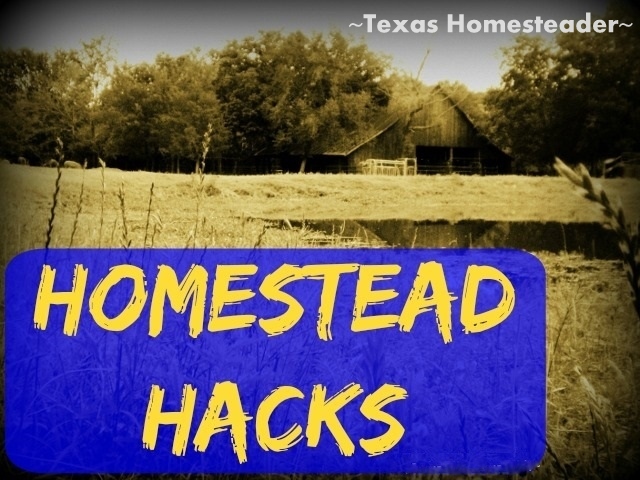 I boiled up about a dozen eggs a day earlier and sat the cooled, cooked eggs in the fridge. The morning of RanchFest I peeled those eggs using my method for easier peeling for fresh boiled eggs. Then I cut them in half and scooped the yolks into a bowl.

Our Favorite Pico de Gallo Chopper
In the meantime RancherMan used our *manual pico-de-gallo maker to make up a batch of pico de gallo in minutes. He used a couple of roma tomatoes, half an onion, a clove of garlic, a fistful of cilantro and a squirt of lime juice.
DANG we love this pico-making thing! We roughly cut tomatoes in half, onions in quarters & drop everything in, squeeze a lime for juice. Then we just give it a few spins and BOOM! Homemade Pico de Gallo!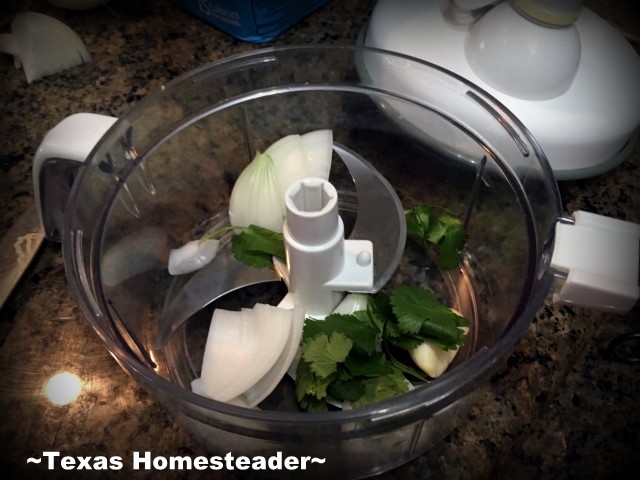 He left the jalapeno out of this first batch so the ramped-up deviled eggs would be palatable to all guests regardless of their tolerance for spiciness. A few healthy dollops of this pico will go into my deviled eggs.
(Of course he made another batch & included the jalapeno for pico de gallo as it was MEANT to be! LOL)
Back to those deviled eggs. I mashed the cooked yolks in a bowl, stirred in a couple of healthy whoppin' spoonfuls of pico de gallo until I liked the color. Then I seasoned with salt, pepper & paprika and added just enough homemade mayonnaise to bind it all together.
I scooped the filling into the hollowed eggs, sprinkled with a little paprika on top for contrasting color.
Although I left several of the eggs alone after that step, I topped the deviled eggs containing pico with chopped jalapeno with a thin slice of fresh jalapeno to identify the spicier ones for those who wanted a little kick!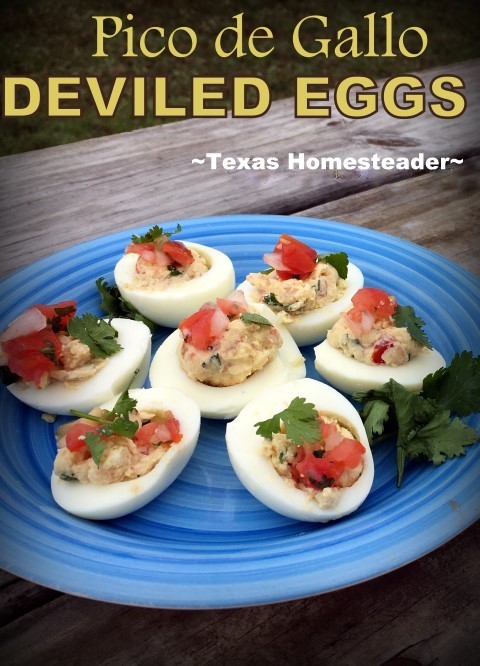 Everyone loves deviled eggs and they're always gobbled up at any gathering when I've brought them before. But THESE deviled eggs were the hit of the party!!


Give it a try, it's a delicious spicy twist on an old favorite!
~TxH~
Other Kitchen Homestead Hacks


C'mon by & sit a spell! Come hang out at our Facebook Page. It's like sitting in a front porch rocker with a glass of cold iced tea. There are lots of good folks sharing!
And you can also follow along on Pinterest, Twitter, Instagram
If you'd like to receive an email when a new blog post goes live,
subscribe to our Blog!
*Amazon Affiliate
Save
Save
Save
Save
Save
Save
Save