by Texas Homesteader

Our family enjoys a very close relationship. Our children and all of our grandbabies reside in northeast Texas. My parents are close enough for a visit and my siblings are all Texas residents as well.
Although we all get together often 'just because', often vacationing together and of course ganging up together during holidays. One of my favorite gatherings is an event that we've named RanchFest. Every spring RancherMan & I host our own country version of a Family Reunion.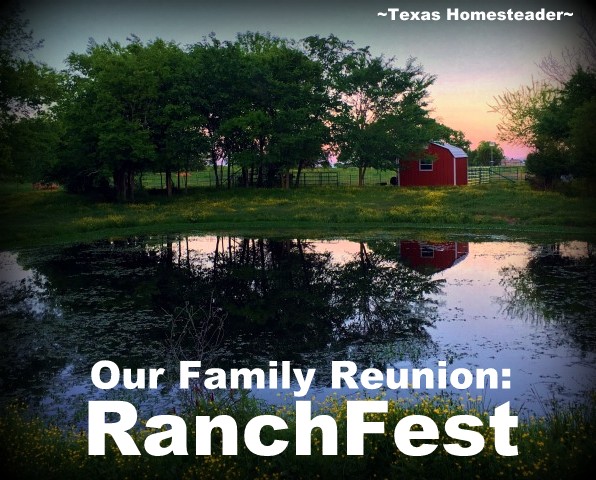 Preparing To Gather
We prepare for this event for months. All year we've been clearing downed limbs, dead trees and brush and piling it up at a location in our back pasture.
Then about a month before RanchFest we employ our 4-legged self-propelled lawn mower crew to manicure this pasture and get it ready for our visitors' many happy hours of romping. The girls absolutely LOVE their lawn-mowing job and tackle it with enthusiasm!
For our RanchFest event we will provide the main dish and everyone brings something to go with it. This year we made pulled pork BBQ sandwiches with some of the wild pork RancherMan has harvested.
I also made a very large pot of Ranch-Style beans and a large pan of my favorite homemade fudgy brownies. And of course we had lots and lots of hotdogs for the grill.
But it ends up being quite a spread indeed as other attendees bring their own favorite additions – homemade baked Mac & cheese, veggie trays, fruit bowls, specialty salads, coleslaw, chips & dips, watermelon and more. The table will be piled high with delicious food!
We gather for RanchFest in the early afternoon and begin by just hanging out visiting & catching up on each others lives, one of my absolute favorite parts of our gathering. There's much laughter and catching up and of course I waste no time hugging & loving on my precious grandbabies!
RanchFest Games
Each year we have a RanchFest game, always themed around ranch life and often involving manure. (oh yeah, you read that right!)
One year we had participants run through a manure landmine trying to miss the piles to win the prize. Another year we had them tee-off a golf ball from a large manure pile. We've even packed a cow pinata with dry manure!
This year was a little more tame and included a little more technology. After everyone arrived we gathered all the attendees & explained the rules to this year's game.
RancherMan has set up a cache event similar to geoCaching. Numbered cattle ear tags have been hidden in various places on our ranch. RancherMan has documented the coordinates and printed them out for everyone.
After he explains the rules of the game he hands out the coordinates, everyone enters them on their smartphone map program aaaaaaand they're OFF!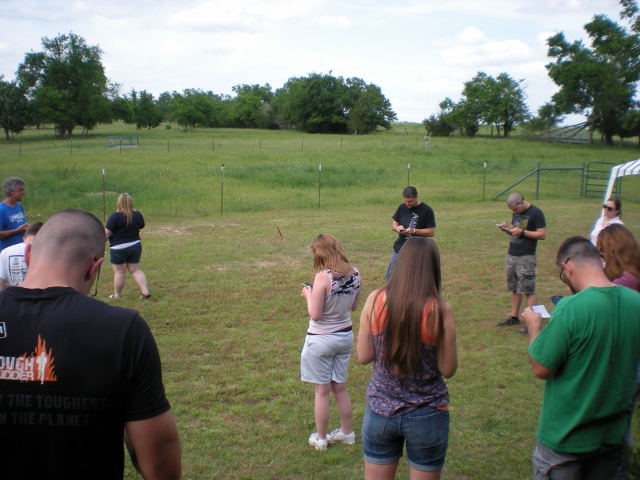 It's so much fun to watch everyone scatter but one by one they bring back the tags they've found – one at the feeder, one at the gate, one at the hog trap, etc. When all have been found we hand out the prizes – anything from fine craft beers to gardening supplies, bath luxuries and huge mammoth boxes of candy.
CornHole Game
We made our own customized CornHole Game too. And I made the cornhole bags out of repurposed denim. It's so much fun to play with this many people gathering!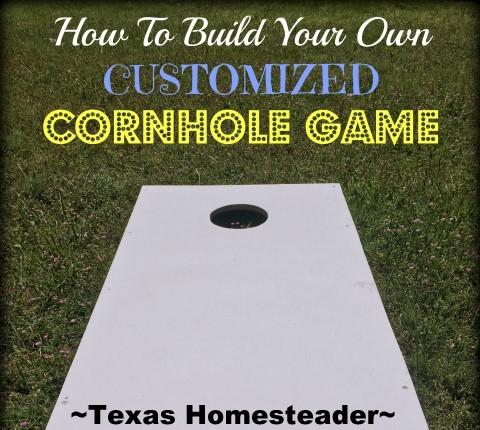 Lots Of Food
Now it's time to throw the hot dogs on the grill and bring out the food. It only takes a short amount of time before everyone has a plate and settles in to eat and just enjoy hanging out together.
The grandbabies gobble up their food quickly and off they go to find ladybugs or play imaginative games of chase. I love how close they are to each other!
Many attendees decide to drop a line in the pond to see what they can catch and several nature enthusiasts pick out the best location to pitch their tents. Soon a small tent city is erected!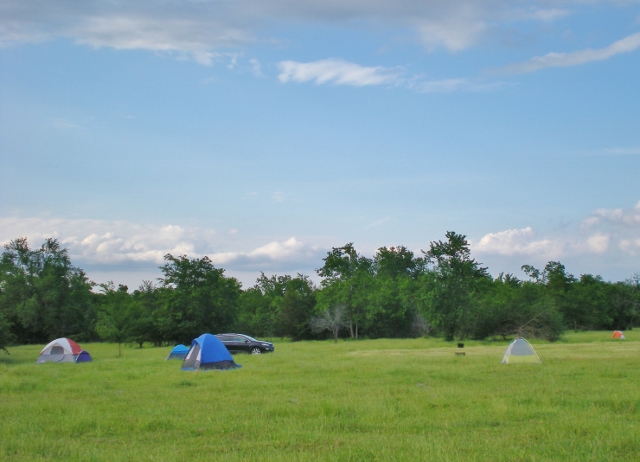 RanchFest Hayride
Then comes our grandbabies' favorite time of RanchFest – the hayride. We all hop onto a hay-covered flatbed trailer pulled by the tractor and we give them a quick ranch tour. RancherMan lets each grandbaby have a turn sitting in his lap and driving the tractor – something they each thrill in.
At last the rounds have been made and the sun is starting to set. The tractor pulls the trailer to a stop at the site of the large brush pile.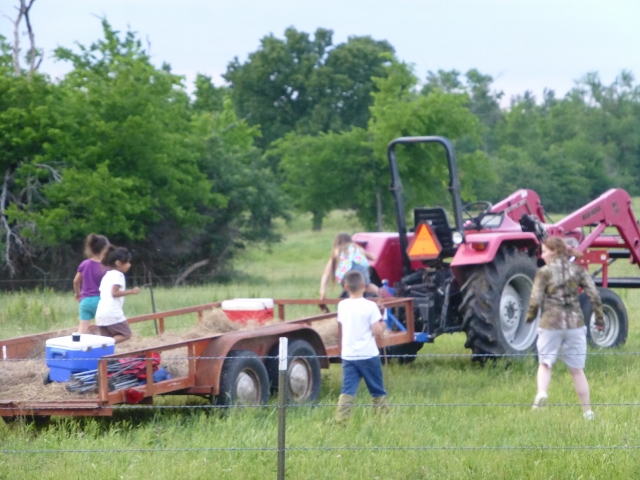 Bonfire
Now comes the grand finale of our RanchFest, the bonfire. The day before our celebration RancherMan mowed a large circle around the brush pile to knock down the grass and he used the front-end loader to push the pile tighter to get it good & compact.
But now is the crowning moment: A propane torch is brought out and the pile is lit for a huge celebratory bonfire. This year is a special celebration given the hard year RancherMan & I endured last year. So RancherMan asks me to be the one to light the bonfire this year. 🙂
Fire Safety & Fun WaterGun Loading Area In One!
We've placed several large buckets filled with water along the perimeter of the mowed area and some large super-soaker water guns. Of course the main purpose for this is fire safety in the event we need to put out a small spark
But the secondary (and most fun) use is when our grandbabies chase each other around and spray their cousins with water! It's an annual tradition they really enjoy.
After they are each thoroughly soaked they've been known to sit on the edge of the bucket & soak their feet. (really I have no idea why they do this, but there ya go!)
As the fire burns there are s'mores made & gobbled with gusto. And folding chairs are brought out for all the adults to sit & watch the kids and enjoy each other's company. Trucks are backed in around the perimeter and music is turned on for enjoyment.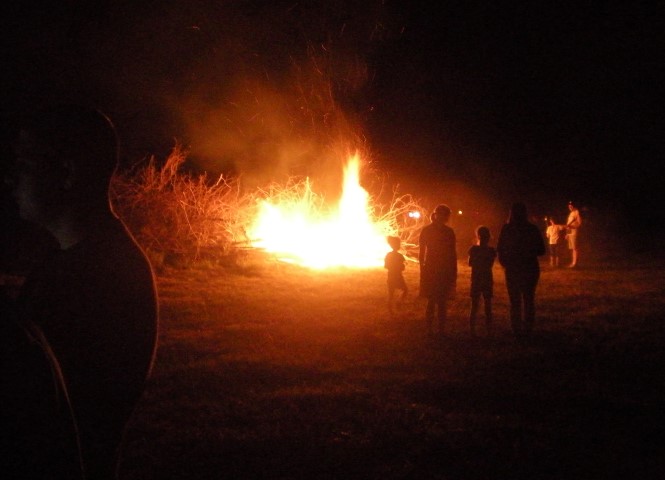 What a great time! Gradually each family heads off to their sleeping quarters for the night, whether their own tent or our house. They've all said how much they enjoy the intensity of the stars and the distant cry of a coyote. I know what they mean – even though we live here I never get tired of it!
We all wake up early the next morning & gather on the back porch to enjoy some coffee and our annual tradition of morning-after horseshoes. Soon goodbyes are said, hugs are offered and a loving wave goodbye.
Although I know we'll all be together many times throughout the coming year I already can't wait until next year's RanchFest celebration!
~TxH~
Related Links:


C'mon by & sit a spell! Come hang out at our Facebook Page. It's like sitting in a front porch rocker with a glass of cold iced tea – lots of good folks sharing! You can also follow along on Pinterest, Twitter or Instagram.
If you'd like to receive an email each time a new blog post goes live it's EASY to
Subscribe to our blog!