by Texas Homesteader ~
Every year my siblings get together for what we call a 'Sibling Trip'. My Brother and his wife, my sister & her hubs, and RancherMan & I pick a fun location and then vacation together. We've been to many fun places, but on this occasion my SIL suggested Broken Bow, OK.
I've heard of Broken Bow, but I don't think I've ever been there. We'd decided to rent a 3-bedroom, 3 bath cabin so we could all stay together. It had a fully stocked kitchen so we could bring food and cook at the cabin a couple of nights to save some cash. Love it! Let's get on the road.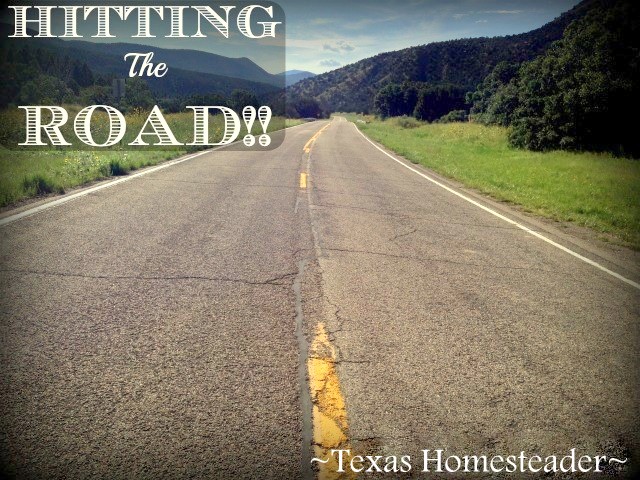 Of important note & something we did not know beforehand: Once we drove from Texas through Hugo, Oklahoma there was no cell signal for the rest of the weekend! We use AT&T & my siblings use T-mobile. No cell service available on any of our phones. Of course we have wi-fi at many of the places we visited but no cell or data at all. So plan accordingly!
2nd Important Note: We have several craft-beer aficionados in our group, so they enjoyed beer samplings on our vacation trip. But we always had an appropriate designated driver when enjoying libations.
First Stop: Paris, Texas
Our first stop was in the old town square of Paris, Texas. We've been through Paris on numerous occasions and I wanted to stop into Olive Paris to pick up flavored olive oils. When my sister & SIL heard that we would be stopping at the Olive Paris place they decided that's where we should meet up because they wanted flavored olive oils too!
So we met up at Olive Paris & I picked up bottles of butter flavor, Italian flavored, garlic flavored & Sage/mushroom flavored olive oils. The Sage flavor is new to me but it's delicious. I'll be putting it to good use soon!
After we'd all bought our favorite olive oils we went shopping at a couple of antique shops in the Paris square. It was an absolutely lovely day for strolling & we all had a good time and bought some fun things. But now it's getting close to lunch time.
Grateful Head Pizza & Beer – Hochatown, Oklahoma
Since check-in wasn't until 3 that afternoon, we'd previously decided we'd stop at the Grateful Head restaurant. Their specialty was pizza and craft beers. There are several craft-beer aficionados in our group so we thought we'd stop in.
Everyone felt the menu was pretty overpriced and although food was good enough I guess, nothing to write home about. The pizza was very sparse with toppings and service was a bit slow.
Beer was waaaay overpriced, but RancherMan loved the Turtle Head Imperial Coffee Stout beer (a single glass of it cost him $12 though!)
Beavers Bend Brewery – Broken Bow, OK
As I mentioned, we have several craft beer aficionados in our group. So we decided to walk across the street from the pizza restaurant to try out the Beavers Bend Brewery.
It was a nicely laid out place with a comfortable patio and plenty of room for playing horseshoes or golf-ball toss. But that's where the niceties ended…
Each couple purchased a 'flight' to split among all of us (which is a small sampling of a few beers). So even though it was only a sip a piece, we were able to at least taste each of the beers brewed here.
One by one we sampled them and almost without fail it was a thumbs down. Most of us felt they were very watered-down tasting beers – none of the beer-drinkers liked them. And that's not even the bad part…
In order to actually drink a beer, you had to first buy a mug, then pay $6 for tap beers to go in it. Now that's an odd way to do business and very off putting…
The advertising-emblazoned mug wasn't necessarily ugly but none of us wanted it in the first place. Yet we were forced to buy one to even drink a single beer here. A big thumbs down – we will not be coming back to this one.
Now let's get to that cabin & relax!
ArborLawn Cabin – Hochatown, OK
Now here's where things get interesting! We pulled into the driveway of the ArborLawn Cabin in Hochatown, OK and I was blown away. It was beautiful!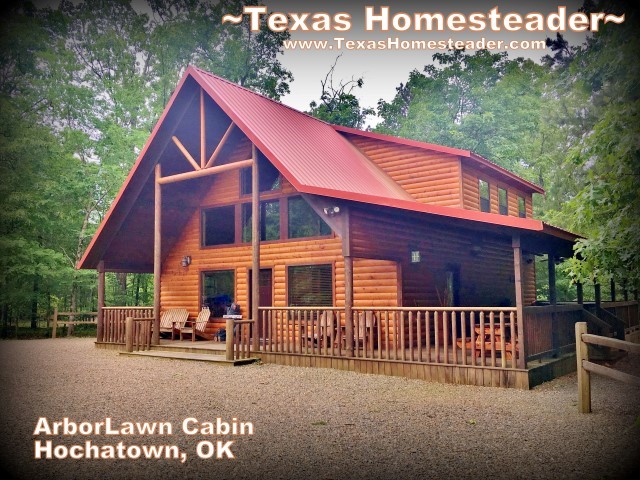 There was a bedroom and bathroom for each couple. Upstairs was one of the bedrooms and bathroom. But there was also a gorgeous pool table up there in the loft area that overlooked the area below.
The kitchen was roomy & fully stocked. There was also a lounge area with a large sectional sofa.
And there were wonderful, spacious, outdoor amenities such as a horseshoe area, hot tub, covered pavilion with gas grill, rock fire pit, (complete with plenty of cut wood), playhouse/swings for the kids, large covered porches, and lots of comfy Adirondack chairs.
1st Night – Cook-Out On The Gas Grill
We'd already planned to cook out that first night & we'd decided on hamburgers. Since we each have our seasoning preferences, each couple brought their own seasoned ground beef. Then each of us brought something to round out the meal – hamburger buns, cheese, lettuce, tomato, etc.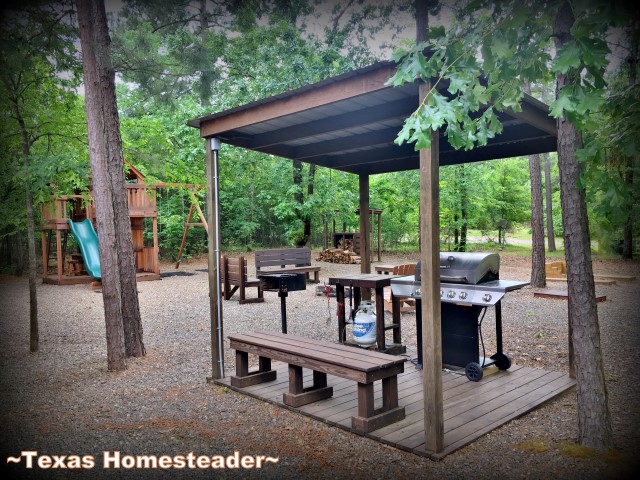 I opted to bring dessert. I'd decided on Crazy Cake because, you know, CHOCOLATE! It was a big hit. Afterwards we went upstairs and played billiards. So much fun!
Day 2: Hiking @ Beaver's Bend State Park – Broken Bow
We got up the next morning & my SIL made some breakfast burritos. We enjoyed it with fruit & hot coffee. I'd brought some Blueberry Muffins for a sweet treat too.
We drove a short distance to Beavers Bend State Park in Broken Bow. There you can rent canoes, paddle boats or kayaks. But it was another gorgeous day so we decided to go on a nature hike & hiked the Cedar Bluff trail.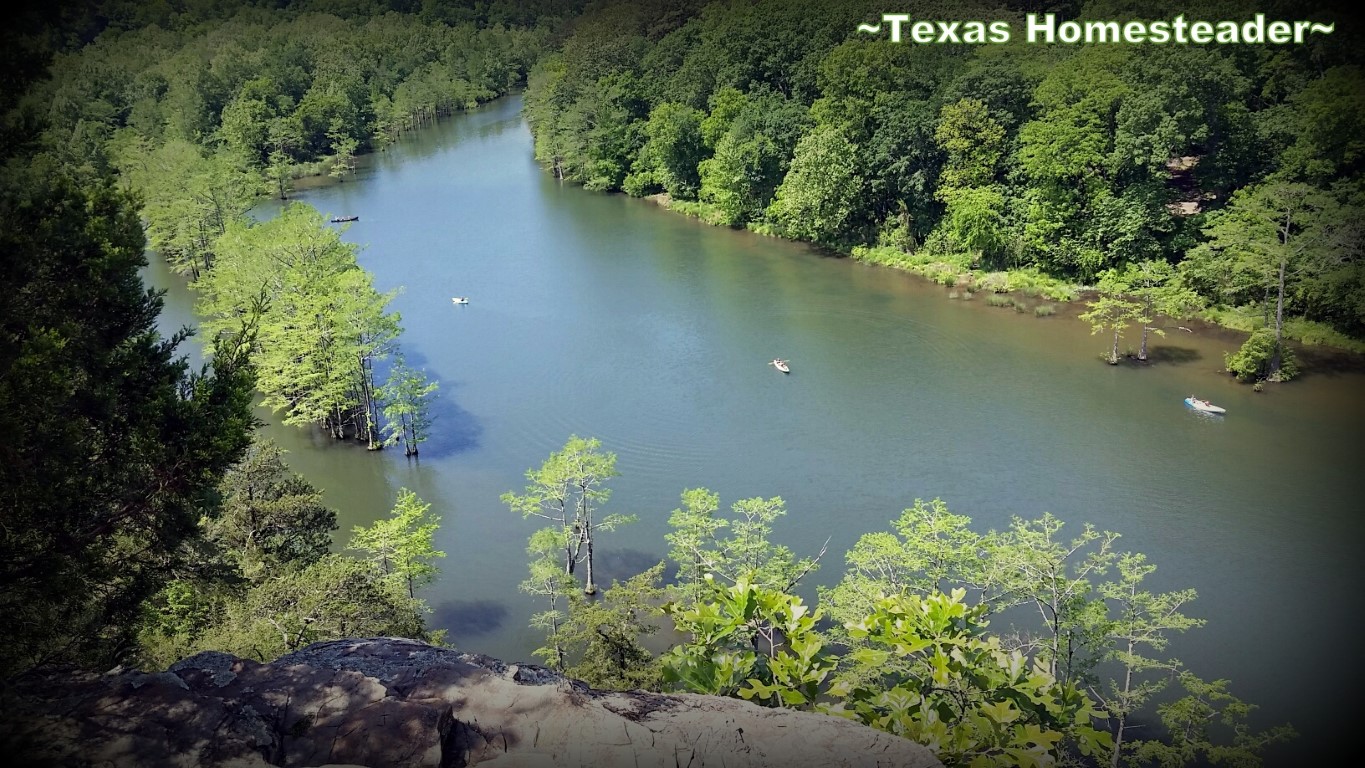 So many beautiful views! All in our group enjoyed the hike immensely.
By now it was lunch time and we'd all worked up an appetite. We stopped into Beavers Bend Restaurant & Country Store.
The service was good and food was tasty. It wasn't fancy – just basic grill foods. But the view of the river from the patio was really nice.
Beaver's Bend Depot Train Ride
We decided before we left the state park that we'd enjoy the Beavers Bend Depot Train Ride.
It was more of a kiddie ride than for adults but it was really fun anyway. The train takes you though a forested area where you see white-tailed deer as the conductor gives you some historic facts about the area.
If you wanted you can also enjoy a 1-hr horseback trail ride in this area. Something for everyone at this state park!
Mountain Fork Brewery – Broken Bow, Oklahoma
We decided since the last brewery left a bad taste in our mouth (pardon that pun – HA!) that we'd scope out another local brewery to try, Mountain Fork Brewery in Broken Bow. Once again each couple purchased a flight so we could sample all their beers. All agreed they were all good, solid brews.
There was a nice outdoor patio with giant Jenga & Connect 4 games. Oh, and their food was good too. My fave – New York Style Cheesecake.
Mountain Fork Brewery gift shop was right next door. There was a nice collection of souvenirs to purchase if desired.
Vojais Winery – Broken Bow, OK
So the beer drinkers have enjoyed some brews, but how 'bout those of us who enjoy wine instead? We decided to check out Vojais Winery (Pronounced Voga – rhymes with yoga)
They offered a free wine tasting, it was fun getting to sample their different wines. I picked a sweet wine for RancherMan & me to share and a semi-sweet for myself as souvenirs. Afterward I purchased a glass of wine and we all sat on the patio to relax.
Cook-Out At The Cabin
Soon it was time to get back to the cabin. There were horseshoe tournaments played and lots of Frisbee tossing too. (and one Frisbee/face casualty. LOL)
We each brought our grilling meat, whatever we preferred. My brother brought steaks, my sis brought sausages and RancherMan & I brought boneless pork chops. There was a foil-pack of fresh green beans cooked on the grill too and sis made & passed out cheese/crackers/sausages for us to snack on.
We all ate our fill and went back outside to enjoy the surroundings. The men gathered kindling & made a nice bonfire in the pit. We all sat around it talking for a while as we watched the flickering flames. Then after the fire went out we went upstairs for more trash-talking games of billiards. LOL.
Day 3: Last Day
This would be our last day of our vacation, check-out was at 11. I'd previously made & frozen egg/sausage/cheese breakfast muffins. It was an easy dish for me to make up in advance & freeze so I wouldn't be spending my vacation time in the kitchen.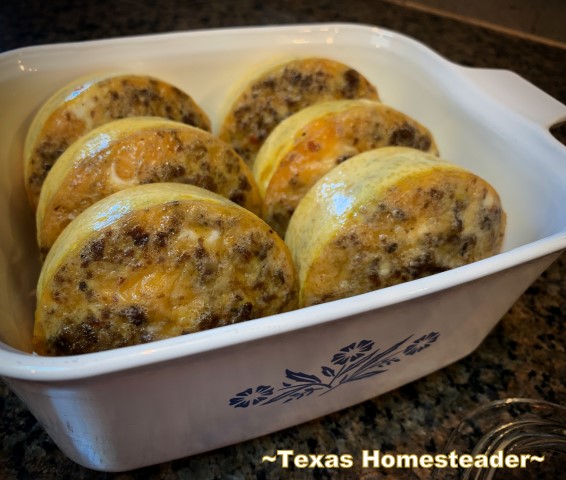 Now I simply heated them up & we enjoyed them with white gravy. My SIL made baked grapefruit with maple syrup to go with breakfast.
But now it's time to pack up & head towards Texas. By the time we were all packed up it was getting close to check-out time. As we drove through town we decided to have one last meal together to cap off this vacation.
Last Meal Together For The Trip
We stopped back into Mountain Fork Brewery to grab a bite to eat. RancherMan & I ordered a pizza and it was delicious – piled high with fresh toppings. We also got some loaded fries for the table and the others ordered wraps. All agreed the food was delicious!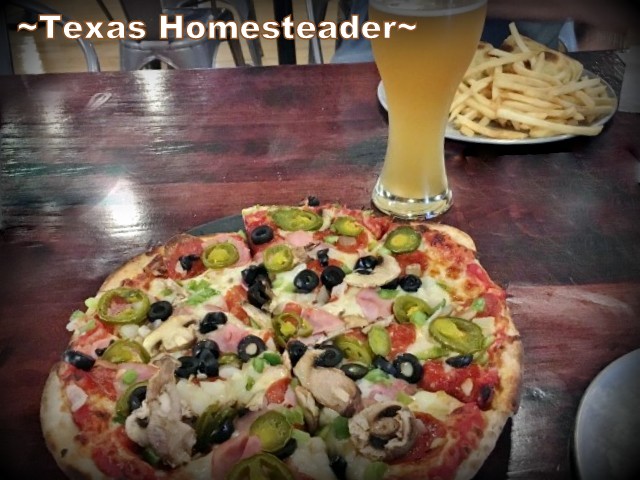 Before heading out some in our party purchased some of their specialty beers to take home. My brother even had a growler filled & capped so he could enjoy deliciousness for several days, even after our vacation was over.
At last we said our goodbyes and headed our separate ways. I love our fun sibling vacations!
~TxH~
Post Links Included In This Post
Travel-Related Posts
Other Fun Trips


C'mon by & sit a spell! Come hang out at our Facebook Page. It's like sitting in a front porch rocker with a glass of cold iced tea – lots of good folks sharing! You can also follow along on Pinterest, Twitter or Instagram.
If you'd like to receive an email each time a new blog post goes live it's EASY to
Subscribe to our blog!
Reference Links:
ArborLawn Cabin – Hochatown, Oklahoma – Gorgeous spacious cabin with 3 bedrooms, 3 baths
Olive Paris – Paris, Texas – Nice selection of flavored olive oils & vinegars
Grateful Head Pizza – Hochatown, Oklahoma – Pizza & Craft Beer, Priced high & food was mediocre
Beaver's Bend State Park – Broken Bow, Oklahoma – Hiking trails, train ride, canoe, kayak & paddleboat rentals
Beavers Bend Depot Train Ride – Broken Bow, Oklahoma – Train rides and horseback riding
Mountain Fork Brewery – Broken Bow, Oklahoma – Nice selection of beers, great service and good food.
Beavers Bend Brewery – Hochatown, Oklahoma – Local brewery but none of us liked their beers. And the brewery forces you to actually buy the glass you drink from! Big thumbs down. 🙁
Vojais Winery – Broken Bow, Oklahoma – Free wine tastings, nice patio