by Texas Homesteader~
Occasionally I'll share a short list of 5 Frugal Things I've done recently to save time, money and/or the environment. The beauty is that often these 5 frugal things check off all of those categories.
It's been a while so I thought I'd share a quick list of 5 frugal things I did this week.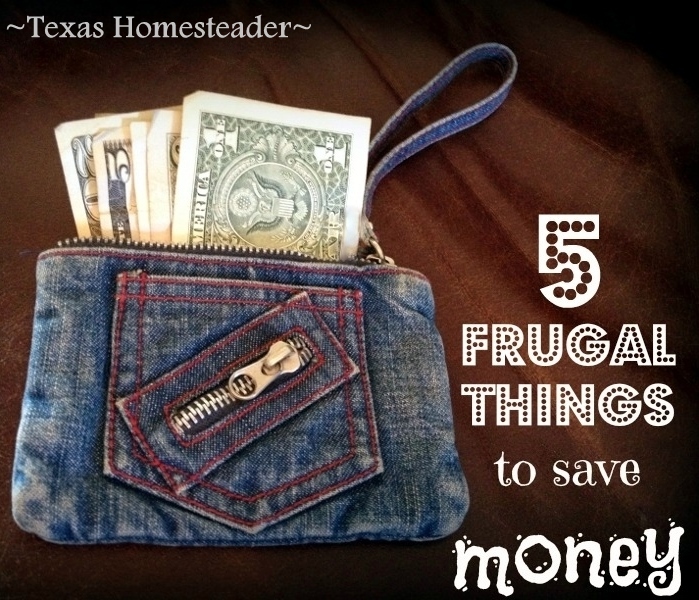 Brought Homemade Bread to Dinner Invite. We were invited to an impromptu dinner party with friends. When I asked what I could bring to go with the meal, our host indicated there was really nothing necessary to bring. But mama always says don't show up empty handed! Since I didn't have much time I whipped up a loaf of No-Knead Skillet Bread.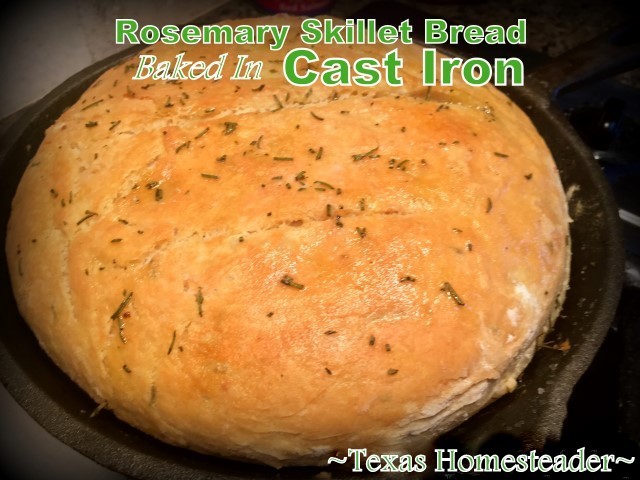 I used minced fresh oregano from the garden in place of the rosemary this time since the main dish was going to be pesto chicken pasta. It was easy & inexpensive. And, I mean, who doesn't love homemade bread?? It was still hot out of the oven when we arrived for dinner. It went over very well yet cost pennies to make!
2. Cool Refreshing Beverage For CHEAP! – RancherMan used to be the king of soft drinks. Enough to where I was concerned and asked him to consider a healthier (and cheaper) alternative. He still drinks soda when we go out to dinner because it's all about moderation. But at home – it's always iced tea.


The sun finally decided to shine so I put my special repurposed hourglass-shaped glass jar outside to let the tea brew using only the power of the sun.
And since RancherMan prefers his tea sweet I pulled off about 5 stems of the stevia growing in my edible landscape, crushed the leaves & tossed them right into the jar of water with the tea bag.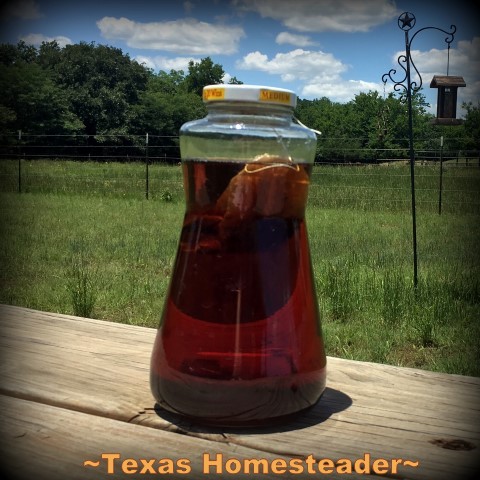 There's no waste since the tea bag and spent Stevia leaves went right into the *Compost Tumbler and the glass jar was washed & placed on the shelf until next time. And it's a much healthier drink than soda, and oh-so-much cheaper too!
3. Save Money On Chicken Feed – I've always been shocked at how much feed chickens waste. I've been filling a small feeder for our new hens until recently. They haven't been here long & I'm getting them used to being around me and eating a feed brand that may be different than what they were used to at the breeder's location.
But this week I put out my Low-Waste PVC Chicken Feeder. Oh man, I love that thing! And it makes our chicken-feed waste go down to almost zero.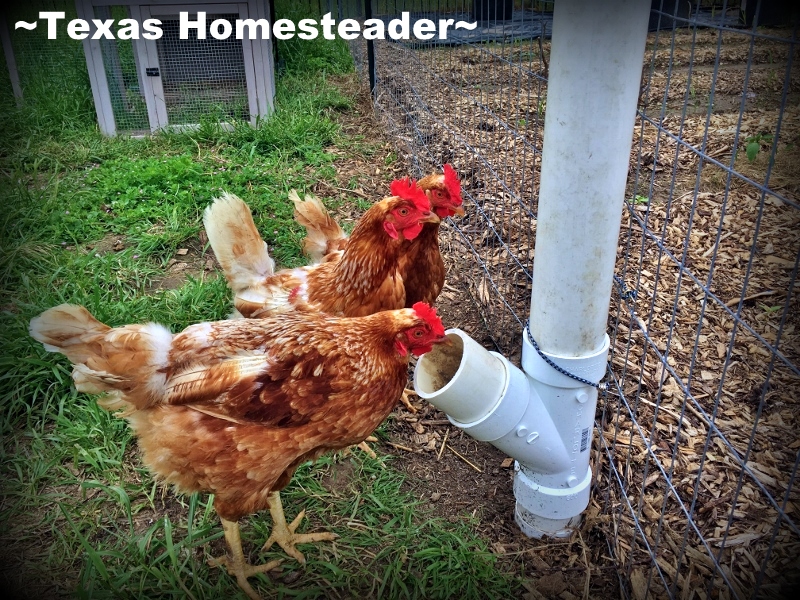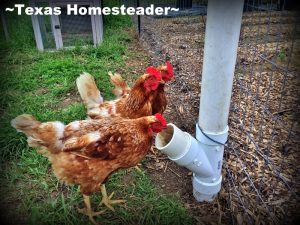 4. Storm Damage Silver Lining – We had a pretty powerful storm blow through here recently. We lost a few very large tree limbs. (of COURSE they landed on the fence, where else would they land??)
So as RancherMan & I went to clean up the mess, we first cut the 'fans' off the large branches. We loaded them up on the flatbed trailer and hauled them to our burn pile in back.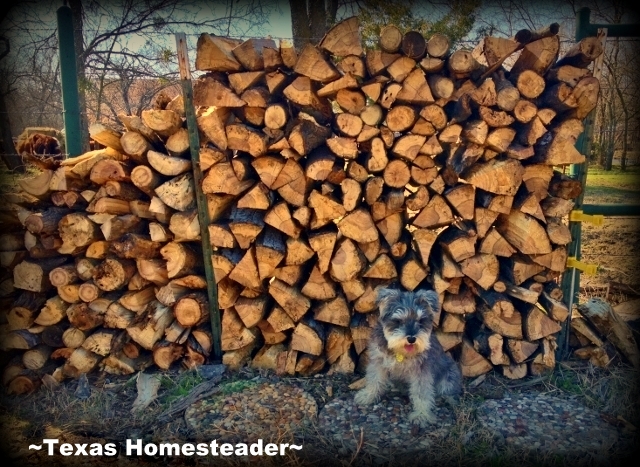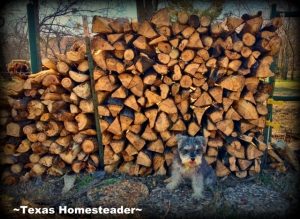 Then we cut the remaining logs into the length to fit into our fireplace and stacked them neatly for our winter fireplace usage. Storm damage now will be comforting warmth later. Silver linings!
5. Feeding The Hummingbirds On The CHEAP! – We enjoy watching the hummingbirds and we have a feeder very close to our windows. But I don't buy plastic-entombed, artificially colored stuff from the store, oh no!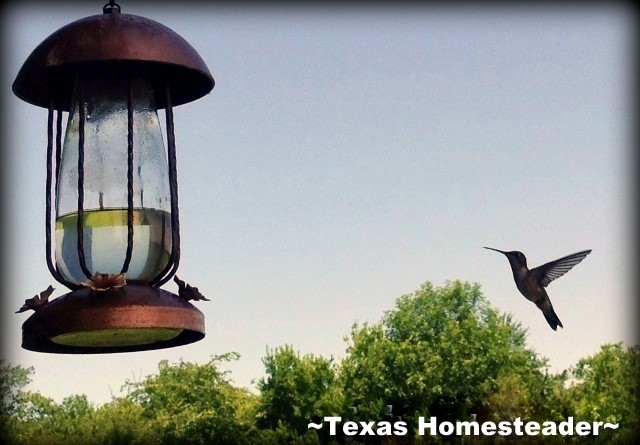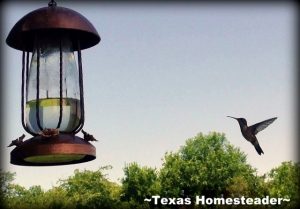 It's beyond easy to make your own Hummingbird Food. We've fed them this ratio for several years now and they always come back for more.
~  ~  ~  ~  ~  ~  ~  ~
So there ya go, a quick list of 5 frugal things to save money/time/environment this week. It's not an all-inclusive list of course, just meant to get your creative juices going.
For instance I also made 1/2 gallon of homemade yogurt, cooked most of our meals right here at home from scratch and was mindful of our electrical usage.
And RancherMan researched many purchases both imminently & in the future for the best quality we could afford at the best price possible. It's important to remember the best money saved is the money NOT spent, y'all!
But I find there are always ample opportunities throughout the day to do things to save some cold hard cash.
What about you? What did you do this week to save money? Let's learn from and/or be inspired by each other!
~TxH~
Links In This Post
Other Frugal Tips
…and many MORE!


C'mon by & sit a spell!  Come hang out at our Facebook Page. It's like sitting in a front porch rocker with a glass of cold iced tea. Lots of good folks sharing!  You can also follow along on Pinterest, Twitter or Instagram.
If you'd like to receive an email each time a new blog post goes live it's EASY to subscribe to our blog