by Texas Homesteader ~

Like most folks, RancherMan & I enjoy the hummingbirds. When we first moved here we didn't see any hummingbirds. But apparently putting out a feeder brought them out of all corners of our homestead!
Back in "the day" I just bought the packages of dry powdered red stuff for my feeder. But I hated that it involved a plastic package to contain it.
(did I ever mention how much I'm trying to eliminate extraneous plastic from our home??)
But I do so enjoy the hummingbirds that come to this beautiful feeder first thing every morning.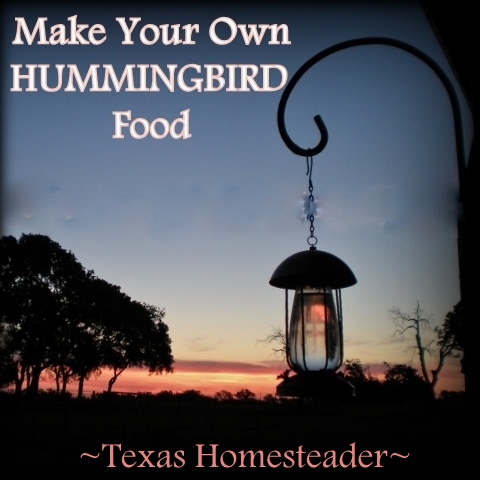 Our feeder is on a shepherd's hook right outside our large windows. We enjoy the constant acrobatics from these little guys.
But they stay hungry and they eat a lot! It doesn't take them long at all to drain the nectar from the feeder.
Hummingbird Food – Only 2 Simple Ingredients!
What's an enterprising country girl to do? Well several years ago a quick search of the internet promised that you could indeed make hummingbird nectar at home for a fraction of the cost of buying the commercial stuff.
And it's so easy with only TWO INGREDIENTS: Water and Sugar!
Sugar / Water Ratio
The recipe I use has a ratio of 1 part granulated sugar to 4 parts water. To make things easy I always use 1/4 cup sugar to a full cup of water.
To make things easy I don't heat the entire cup of water, just enough necessary to dissolve the sugar. That way I can dump the room-temp portion into the hotter water to cool it faster.
So in a microwaveable-safe container I heat that small amount of water until it's almost boiling, Then I stir in the sugar until it's completely dissolved. Finally I'll add the rest of the water and stir to mix it all together and cool it a bit.
This heating method accomplishes two things. First I don't have to heat the water as long since it's only a fraction of the final volume. Just a few seconds does the trick.
Plus it also means I can cool the nectar quickly for the feeder with the other portion of water.
Um hummm… this noggin's not just a hat rack my friend! 😀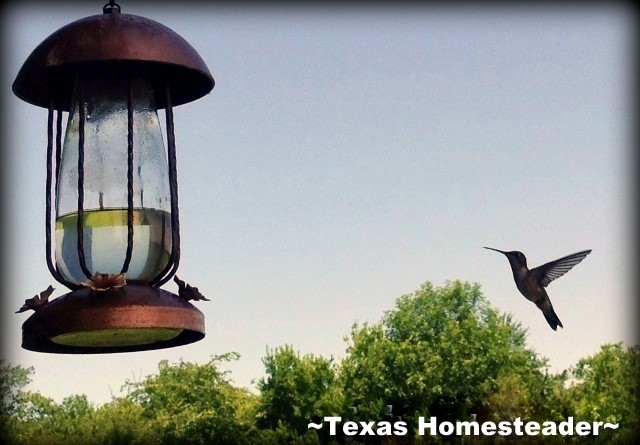 But… What About The Red Coloring?
As a side note: I've always read that coloring of the nectar is not necessary. But wait a minute? They're supposed to be attracted to the color red. How are you going to attract hummingbirds if the nectar isn't red??
But when you think about it, the plant doesn't attract the hummingbird, but only the small flower they feed upon.
How does that compare to a feeder? Well most every hummingbird feeder has a brightly colored flower-shaped feeding tube. That's the part that will attract the hummingbird, not the color of the nectar. So mission accomplished!
They love this nectar and there's no shortage of these little guys at our feeder at all times of the day.
Give it a try. The hummers, your wallet, and the environment will all thank you.
Plus it'll be yet another thing to cross off your shopping list!
~TxH~
Other MIY Ideas
…and MUCH More!


C'mon by & sit a spell! Come hang out at our Facebook Page. It's like sitting in a front porch rocker with a glass of cold iced tea – lots of good folks sharing! You can also follow along on Pinterest, Twitter or Instagram.
If you'd like to receive an email each time a new blog post goes live it's EASY to
Subscribe to our blog!
Save
Save
Save