by Texas Homesteader ~

You can make hummingbird food at home in minutes for a fraction of the cost of buying the commercial stuff. And it requires only two ingredients – sugar and water.
(Note: Some links in this post will take you to other related articles for further information. But links preceded with * are affiliate links. If you click and buy something I could receive a tiny commission.)
Here in NE Texas, hummingbirds usually arrive at our feeders in mid to late March and stay until September. So it's time now for us to put out those hummingbird feeders. Like most folks, RancherMan & I enjoy watching them.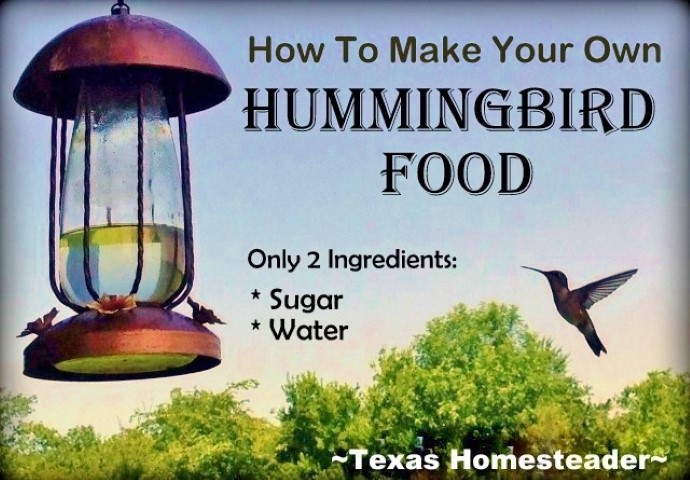 When we first moved to our Texas Homestead we didn't see any hummingbirds. But apparently putting out a feeder brought them out from all corners of our property!
Buying Hummingbird Nectar
Back in "the day" I just bought the packages of dry powdered *Hummingbird Nectar for my feeders. But I hated that it involved a plastic package to contain it.
(did I ever mention how hard I'm trying to eliminate extraneous plastic from our home??)
But I do so enjoy the hummingbirds that come to this beautiful feeder first thing every morning.
Our feeder is on a shepherd's hook right outside our large windows. We enjoy watching the constant acrobatics from these little guys.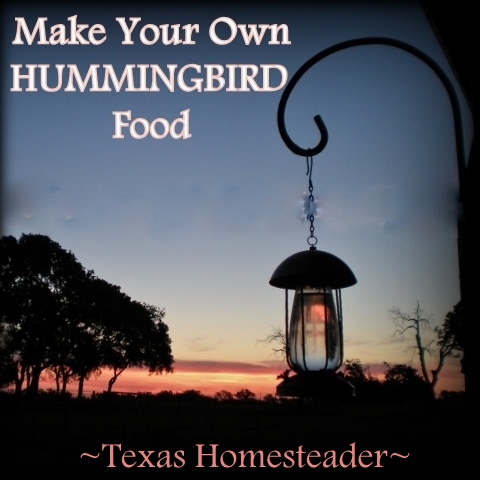 But they stay hungry and they eat a lot! It doesn't take them long at all to drain the nectar from the feeder time and time again.
Homemade Hummingbird Food – Only 2 Ingredients!
But since I don't want to buy hummingbird nectar, what's an enterprising country girl to do?
Well, I use the same homemade hummingbird syrup recommended by Texas A&M University. It costs a fraction of the cost of buying the commercial stuff.
And homemade hummingbird food is so easy to make with only TWO INGREDIENTS:
Sugar
Water
Sugar / Water Ratio For Homemade Hummingbird Food
The recipe I use is easy to remember. It has a ratio of 1 part granulated sugar to 4 parts water. So to keep the measuring easy for my homemade hummingbird nectar I always use:
1/4 cup granulated sugar
1 cup of water
Homemade Hummingbird Nectar Shortcut
And I even have a shortcut when making my hummingbird food!
I don't heat the entire cup of water, just enough necessary to dissolve the sugar.
That way after the sugar is dissolved I can dump the room-temp portion into the hot mixture to cool it faster.
This heating shortcut accomplishes two things

:
First I don't have to heat the water as long since it's only a fraction of the final volume. Just a few seconds does the trick.
Plus it also means I can cool the nectar quickly for the feeder with the room temperature portion of water.
Um hummm… this noggin's not just a hat rack my friend! 😀
So I heat that small amount of water in a microwaveable-safe container until it's almost boiling. Then I stir in the sugar until it's completely dissolved.
Finally I'll add the rest of the water and stir to mix it all together and cool it a bit.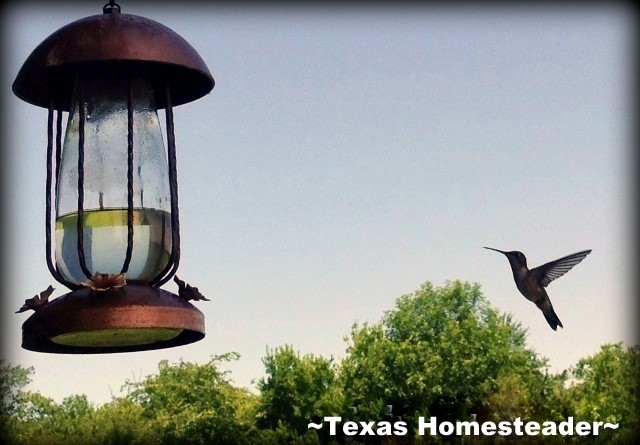 But… What About The Red Coloring For Hummingbirds?
I've always read that coloring of the nectar is not necessary and even not recommended.
But wait a minute? Hummingbirds are supposed to be attracted to the color red. How are you going to attract them if the nectar isn't red??
Well when you think about it, the plant itself doesn't attract the hummingbird, only the small brightly-colored flower they feed upon.
Now think about your hummingbird feeder. Most every hummingbird feeder I've ever seen has a brightly colored flower-shaped feeding tube.
That's the part that will attract the hummingbird, not the color of the nectar. So mission accomplished without adding harmful colorants!
Hummingbirds Love Our Homemade Nectar
They love this nectar and there's no shortage of these little guys at our feeders at all times of the day.
Hummingbird Feeding Notes:
But when feeding hummingbirds, there are some things to do, and a few things NOT to do.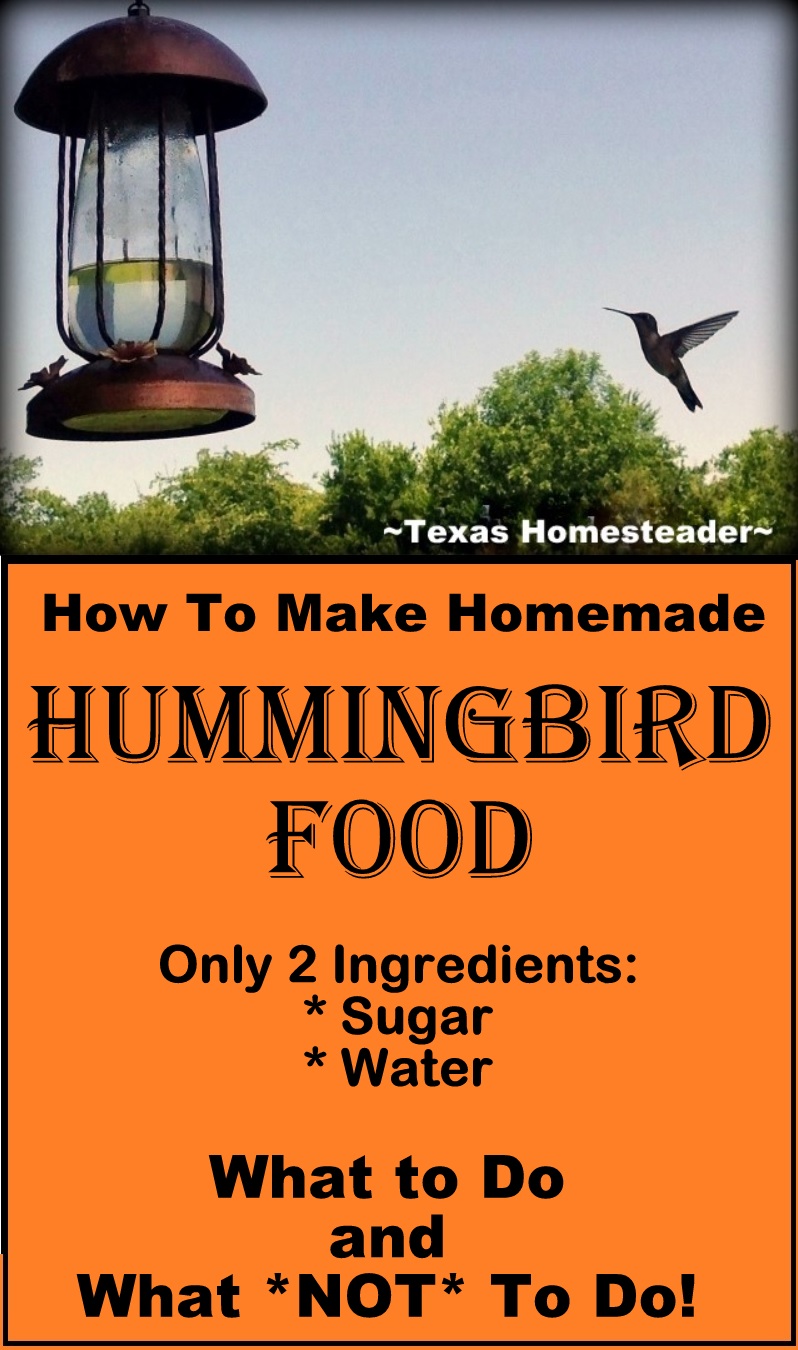 Be sure to refresh the sugar water solution every couple of days. Otherwise the summer's heat can spoil the mixture and cause the hummingbirds to get sick.
Don't add any coloring to the mixture. It's not needed nor is it recommended. So keep it pure & natural.
Don't use honey or any other kinds of sugar when making your sugar water. Just granulated sugar and water is recommended.
Hang your feeder close to a window so you can watch & enjoy them.
To keep territorial hummingbirds from fighting over the sugar water, hang several feeders spaced apart so there will be food for all.
Planting hummingbird-friendly flowers in your yard and garden will offer them supplemental feeding as well. Country Living Magazine suggests such flowers as Trumpet Vine, Honeysuckle, Salvia and Petunias.
So if you enjoy watching the acrobatics of these beautiful birds, give this homemade hummingbird food a try. The hummers, your wallet, and the environment will all thank you.
Plus it'll be yet another thing to cross off your shopping list. Give your budget-minded as well as your eco-friendly self a high five!
~TxH~
Other MIY Ideas
…and MUCH More!


C'mon by & sit a spell! Come hang out at our Facebook Page. It's like sitting in a front porch rocker with a glass of cold iced tea – lots of good folks sharing! You can also follow along on Pinterest, Twitter or Instagram.
If you'd like to receive an email each time a new blog post goes live it's EASY to
Subscribe to our blog!
References:
Save
Save
Save