by Texas Homesteader ~
Raised bed gardening has been popular for years. But these days it seems all the rage! The benefits of raised beds are many. The increased height makes it easier to maintain and harvest from your garden. And it's easier to keep that soil uncompacted & well balanced. Better soils make for a better harvest!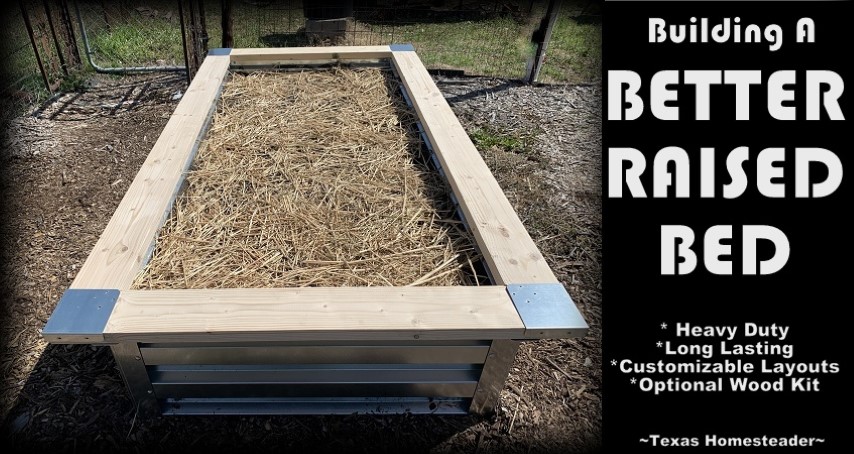 (Note: Some links in this post will take you to other related articles for further information. But links preceded with * are affiliate links. If you click and buy something I could receive a tiny commission.)
I'd been researching raised beds because it makes gardening & harvesting so much easier. I'm not getting any younger, y'all! Less gardening on my hands & knees is a good thing.
But the quality of some of those cheaper raised beds I saw online concerned me. For many of them the metal was so thin it required reinforcing crossbars to anchor the sides of even a smaller bed in 1 to 2 separate locations.
The metal on those beds was apparently just not thick enough to withstand soil being added to the bed. But gosh, isn't that what a raised bed is for in the first place?
Hopkins Hidden Homestead Raised Beds
While attending the Mother Earth News Fair in Belton I was fortunate to meet Kris Hopkins and his lovely wife Kalitta.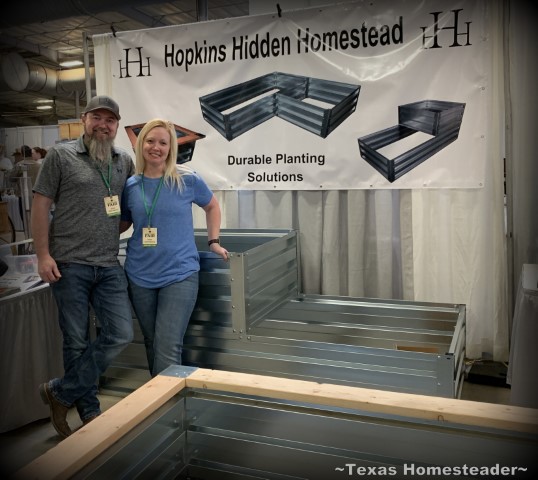 When I saw these heavier metal raised beds they displayed I was intrigued. I got the opportunity to talk to owner Kris Hopkins about them. Here's what I found out:
* He's been making these heavy raised beds for 3 years.
* Kris believes strongly that Made in the USA should mean components are actually made here, not just assembled here. The metal for his raised bed is American made. And he even locally sources the user manuals, shipping boxes and the fabrication of the metal for his raised beds from his own home state of Missouri. That's commitment.
* This family business is owned by Kris & Kalitta Hopkins. Even their young son is hands-on in the business putting the bolt packs together and hand-writing a thank-you card to include with each order.
* Kris is passionate about quality. They've never had a bed returned by an unsatisfied customer.
* When you purchase one of these raised beds you know you're supporting Americans and American-made products!
A Picture Worth A Thousand Words
In talking to Kris about the flimsy raised beds I'd seen elsewhere, he did something that really opened my eyes.
He demonstrated the strength of his raised-bed panels by laying a panel across the width of one of his raised beds and stood in the middle of it. But it didn't budge, y'all. Wow – now THAT'S some kind of metal strength!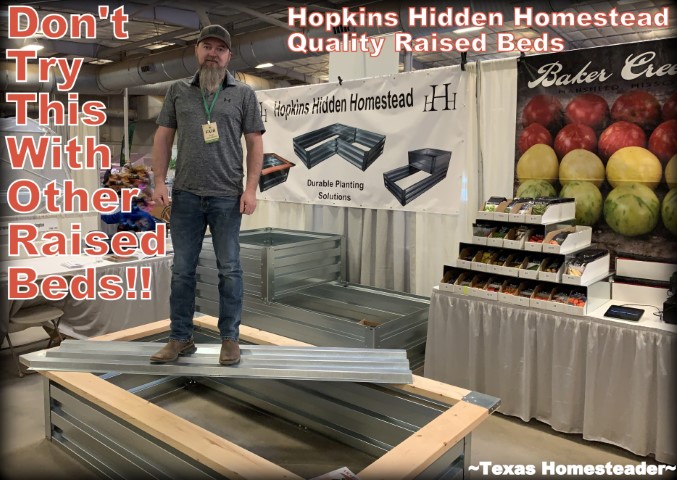 I got a chance to look at the beds closely. No detail is left undone. The edges are rolled for safety. The holes are square to more easily accommodate the carriage bolts. He even includes angle bars to slide into the corner joints so soil doesn't leak out. He's thought of everything!
Kris agreed to provide one of his raised beds to us at no charge in exchange for my honest review. But the thoughts provided below are all mine and I'm going to be upfront and honest about my experience, both good and bad.
My Vegetable Garden Setup
My vegetable garden is in front of our home so my garden is one of the first views our guests see!
I started searching for something that looked nicer than 30-gallon black buckets I was using. Something that makes my beloved garden a beautiful space for me to spend time.
I have a few repurposed galvanized troughs that I'm using in various places as raised beds. But I prefer an open-bottom raised bed to incorporate all the benefits of the earth such as earthworm activity, water drainage, etc. into the planting beds. I want to work WITH Mother Nature.
So I began researching different metal raised beds and was so disappointed in the lack of quality I found with most manufacturers.
Finding A Better Raised Bed
Then I ran across Kris and his raised beds. And he agreed to allow me to give 'em a test run.
The metal bed was shipped to our home and we excitedly got started. It was well packaged and I found a hand-written thank you card included from their young son.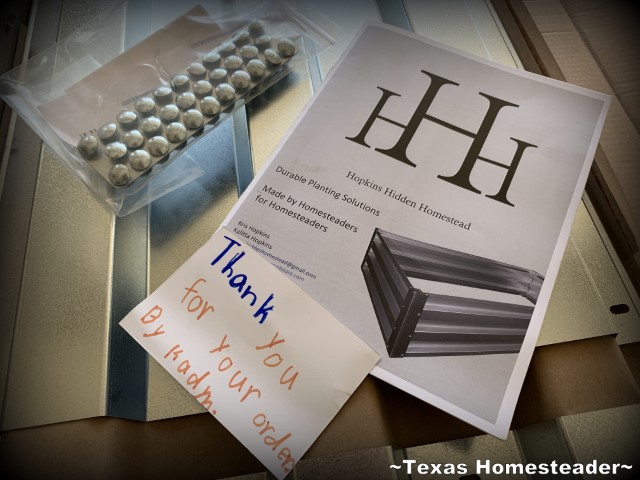 He'd even drawn a picture on the other side of the card. Absolutely ADORABLE. You sure don't get this kind of personalized service anywhere else!
Then RancherMan & I pulled out the pieces of the bed and laid them out. Hummm… this looks like it will be easy to assemble.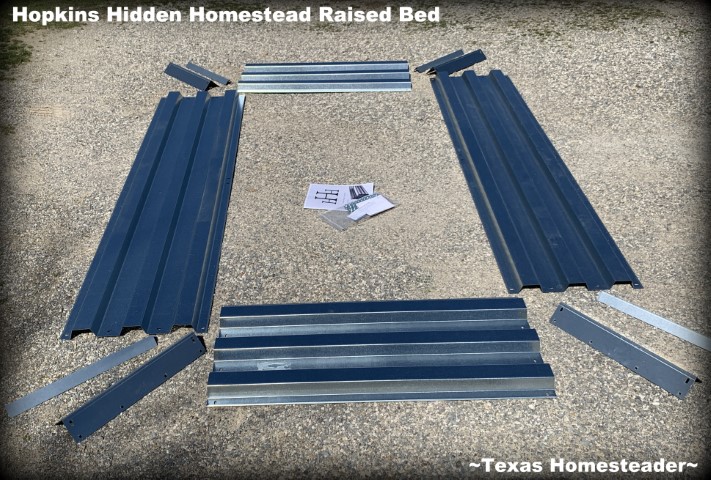 Hopkins Raised Bed Assembly Benefits:
Very quick to assemble – it took us only about 15 minutes.
Requires only 1 tool – a socket wrench with ¼" deep socket.
Bolts come in a tidy metal bolt plate assembled personally by the Hopkins' young son. No searching through a bag for parts or finding out some are missing!
Bolts are square-necked & the panels are cut with square holes. It's easier to bolt them together without the bolts turning.
Angle pieces are included to go into corner joints to better contain soil
Simple assembly instructions are included
Filling My New Garden Raised Bed
When the raised bed was assembled I decided to fill it using a combination of Sheet Composting & the Hugelkultur method. Filling a bed this way has several advantages for both garden and wallet:
Using what you already have to fill the bulk of the raised bed for free saving lots of money, especially for larger raised beds.
The logs decompose and help absorb moisture for future garden plant needs in the raised bed. (Be sure to add nitrogen-rich components such as green grass clippings or blood meal to offset the nitrogen that is bound temporarily from decomposing wood).
The layers create a healthy balance to the soil.
I'd already assured the area in my garden was raked level and ready to receive my new raised bed. I wanted cardboard to lay on the ground to discourage grass from coming through. The box in which the raised bed was shipped was PERFECT!
Then we cut several logs from aging downed trees to fit inside the bed. We laid them in a single layer on top of the cardboard.
We also layered on lots of Free Wood Mulch and Cow Manure (for nitrogen to offset the decomposing wood).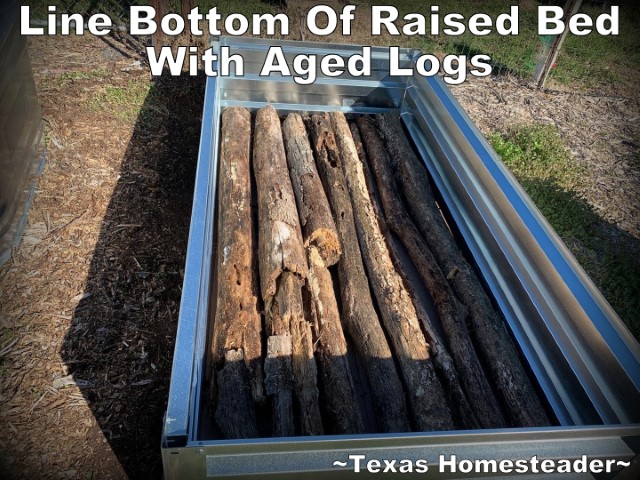 For the final 10 inches or so we added the planting mixture, which was purchased in bulk without those plastic bags I hate. It was a mixture of planting soil, compost & aggregate.
This first year I'm planting green beans in my new raised bed to offset the potential nitrogen drain from the wood I'd placed in the bottom. Next year I'll be able to plant whatever I like!
Optional Wood Kit For Bench Seating
We were interested in the optional wood kit to be able to add a wood bench around the perimeter of the bed. This will make gardening a pleasure!
The Wood Kit was shipped to us and RancherMan purchased (2) 8-ft long 2″x6″ boards and (1) 10-ft long 2″x6″ board to make the benches.
He assembled the metal brackets of the wood kit on the corners of the bed and attached the cut boards.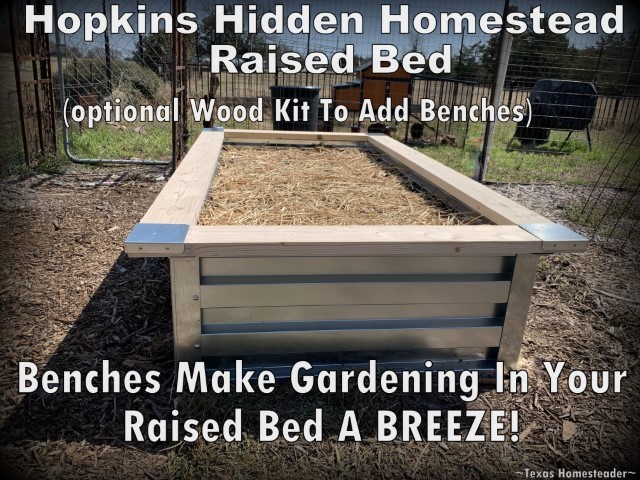 The wood's already been sanded smooth and we'll seal it with *Thompson's Water Seal to protect it from the weather.
I'm pretty excited about this feature. It will be so much easier on my back and make gardening & harvesting in this bed a breeze!
Plus, you know, it looks GREAT!
How Did We Like Hopkin's Homestead Raised Beds?
Now I know I'm about to sound like I'm an on-the-road groupie y'all, but I'm not – I just love this bed SO MUCH!
No wonder Kris had no reservations when I told him I would be up front & honest with my readers about the quality of this raised bed. He had no worries – he WANTS y'all to know how good it is! And so do I.
Galvanized Steel Raised Bed 5% Coupon Code
Get this – they're offering a 5% discount for Texas Homesteader readers! Go to www.HopkinsHomesteadStore and enter the code TXH5off at checkout.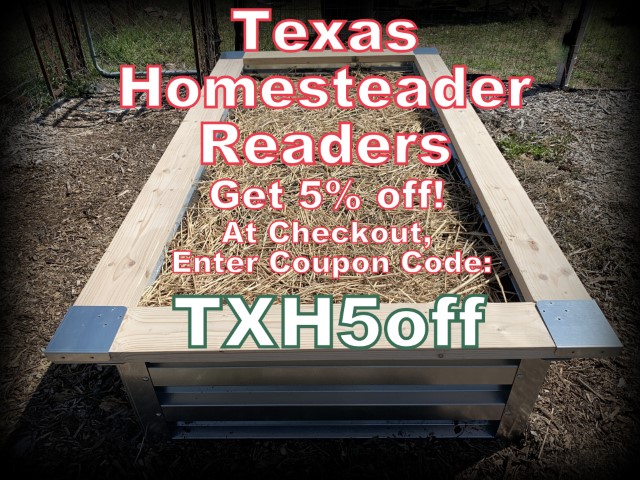 Believe me when I say I love this raised bed. And so will you!
Hopkins Homestead Raised Bed Benefits:
Small family-owned business – You can feel good doing business with them.
American product, made in America!
Strong business ethic.
Heavy duty metal that can withstand the weight of a man standing on it.
Simple design.
Easy assembly.
Only 1 tool needed to assemble.
Rolled edges for safety and durability.
Includes corner angle inserts to keep dirt from spilling out of the bed.
Two 18″ tall bed sizes – 42" x 42" square and rectangular 42" x 84″.
Stackable option with the available stacking kit. Design a garden that works for you!
Bench option with the available wood kit. Sit in comfort as you work in your garden.
Drawbacks:
Somewhat higher priced than some other raised-bed options.
Truly y'all, it's hard to find any drawbacks with these raised beds. My longtime readers know how I feel about price:
It doesn't help to save money buying cheap if it's flimsy, poorly made and bound to frustrate you in the end requiring you to re-purchase over & over again!
RancherMan & I always research each and every purchase first by customer satisfaction, then by features we desire, and only lastly by price.
This bed is of significantly higher quality than other beds I've researched and well worth the price IMO.
Really, I just can't recommend this Hopkins Homestead raised bed enough.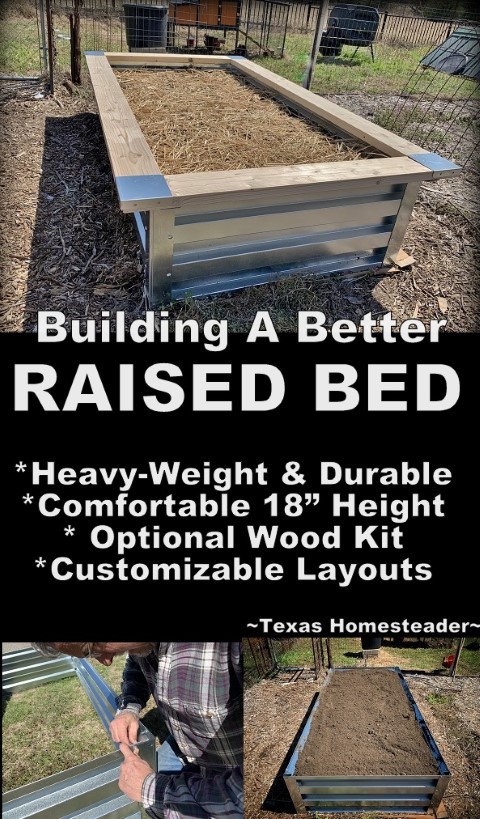 If you're looking for a high-quality sturdy metal raised bed, Go. Now. To HopkinsHomesteadStore.com (and tell 'em Texas Homesteader sent ya!)
~TxH~
References:
Email contact: Kris Hopkins – HopkinsHiddenHomestead@gmail.com
This post categorized in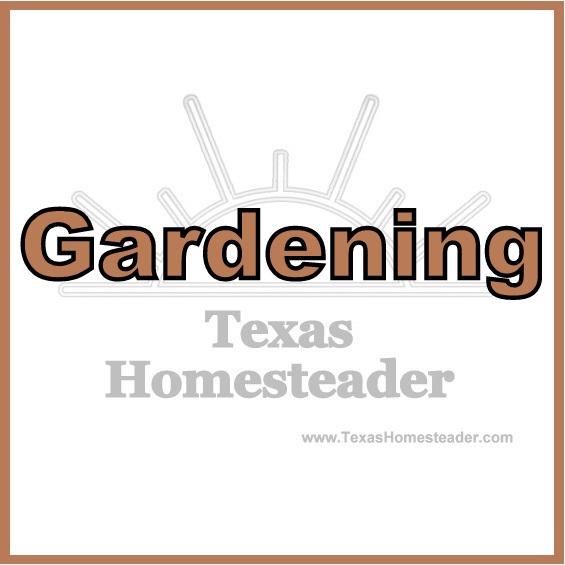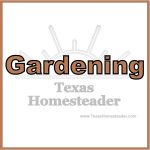 My Favorite Garden Hacks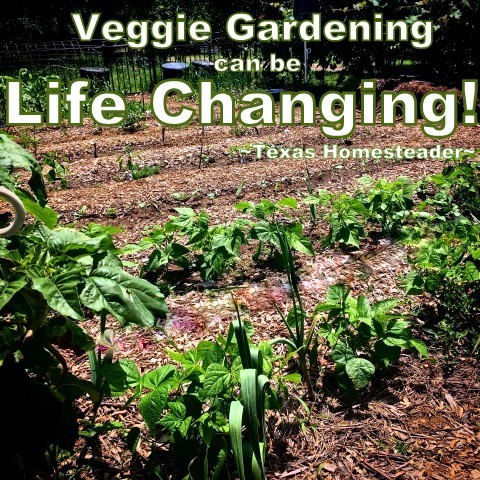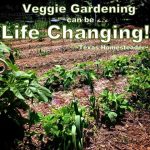 C'mon by & sit a spell! Come hang out at our Facebook Page. It's like sitting in a front porch rocker with a glass of cold iced tea – lots of good folks sharing! You can also follow along on Pinterest, Twitter or Instagram.
If you'd like to receive an email each time a new blog post goes live it's EASY to
Subscribe to our blog!