by Texas Homesteader ~

I needed a way to trick the birds away from eating my garden strawberries before I can harvest. This simple trick helps preserve the strawberries – I painted small rocks red to look like strawberries & fool the birds.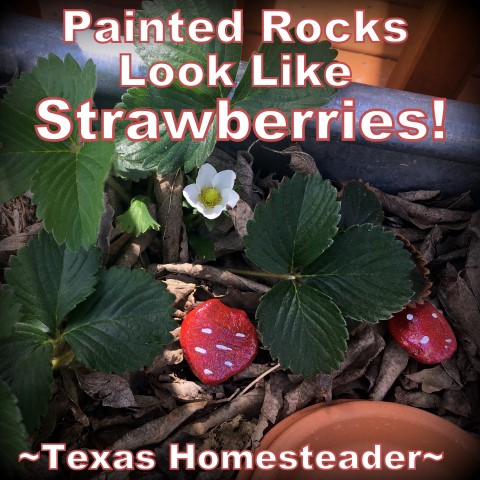 (Note: Some links in this post will take you to other related articles for further information. But links preceded with * are affiliate links. If you click and buy something I could receive a tiny commission.)
Growing Strawberries In My Edible Landscape Plan
I've included *Everbearing Strawberries in my Edible Landscape. They've produced well for me.
Plus Everbearing strawberries produce a crop throughout the growing season, as opposed to just one harvest per year.
But I hate when the birds steal those strawberries riiiiiight before harvest time!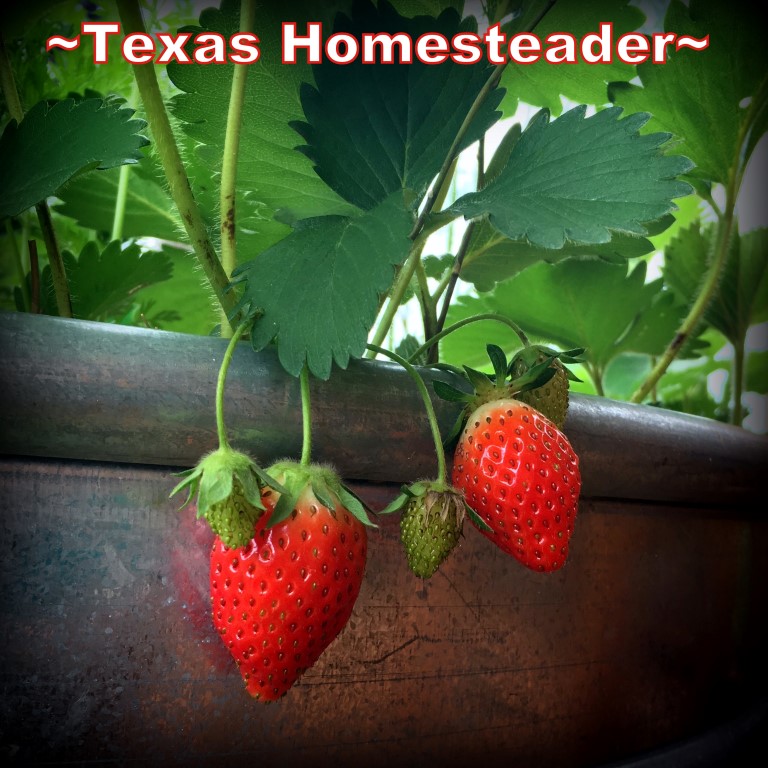 How do you protect fresh, ripe garden strawberries from the birds?
How To Keep Birds Away From Fresh Strawberries
Now I don't remember where I saw this hint (so sorry to whomever opened my eyes to this hack) but this is brilliant.
I learned that you could trick birds away from your fresh strawberries by painting small rocks to look like strawberries.
It's said that painting rocks to look like strawberries will fool the birds. You simply place the fake strawberries around your strawberry plant soon after you plant them. That way there are no actual strawberries available, only these hard rocky strawberry look-a-likes.
A few pecks on the hard faux strawberries and the birds decide that I'm such a lousy gardener that they don't want 'em! LOL
So I decided to give it a try. It was super easy and fast (and CHEAP!) I simply gathered up a few small roundish rocks and a bottle of craft paint that I already had.
Painting Rocks Using Whatever Paint I Had…
To paint your faux strawberry rocks you need:
Several Small Strawberry-Sized Rocks
Red Craft Paint
White Paint Pen
Small Craft Paintbrush
Now the craft paint bottle I had indicated the paint inside was red in color. But to me it's really more of a dark pink color… with sparkles! 😀
But I'm assuming the birds won't mind. And I'd think the sparkles may attract more attention anyway. So I decided to give it a try.
Making A Homemade Temporary Craft Paintbrush
To paint my future strawberry rocks I needed a craft paint brush. But I found that didn't have one in my craft drawer. Did I run to the store and buy one? Nope.
I pieced together a Temporary Paintbrush using things I had at home:
A small piece of terrycloth
a clothespin.
I'm a #UseWhatchaGot kinda girl!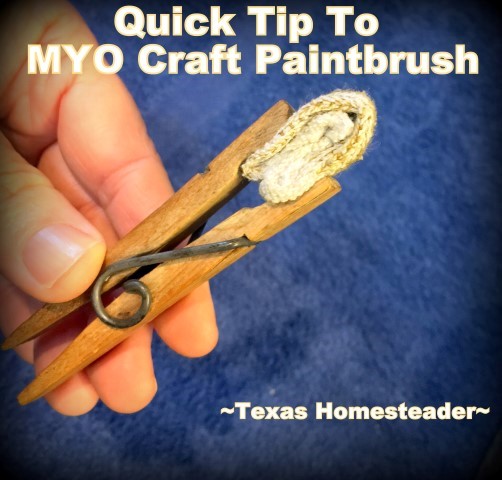 It probably wouldn't work for any fine detail painting projects. But it worked just fine for my little craft. And it was FREE!
Plus after painting I tossed that tiny square of scrap fabric in the trash and returned the clothespin to my laundry room to continue its important work of hanging our clean laundry outside.
Painting Rocks To Look Like Strawberries
Anyway, I used my sparkly pinkish paint and my homemade paintbrush to paint each of the rocks I'd gathered. I decided on a couple of coats to make sure the rocks were solidly covered, allowing the paint dry between coats.
Then I took a white paint pen and put a little detailing on each one. I was hoping that this looks enough like a strawberry that it will fool the birds.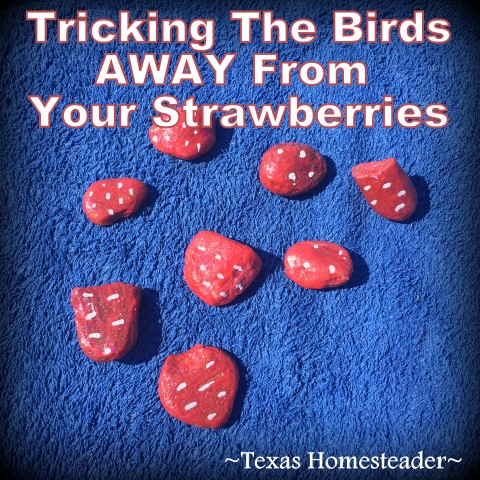 If the paint doesn't weather well I may have to add another coat of paint in the future. But I'm out zero dollars for this trick.
I had the rocks, I had the paint (sparkly as it was…) so if it saves my strawberries for RancherMan & me to enjoy, all the better!
Does Painting Rocks To Look Like Strawberries Work?
Over the years I've read naysayers pointing out that this hack doesn't work. That birds aren't really fooled by pecking on rocks instead of ripe, delicious berries.
I don't know why someone else might experience something different than me, but this little gardening hack for strawberries has worked beautifully here for years.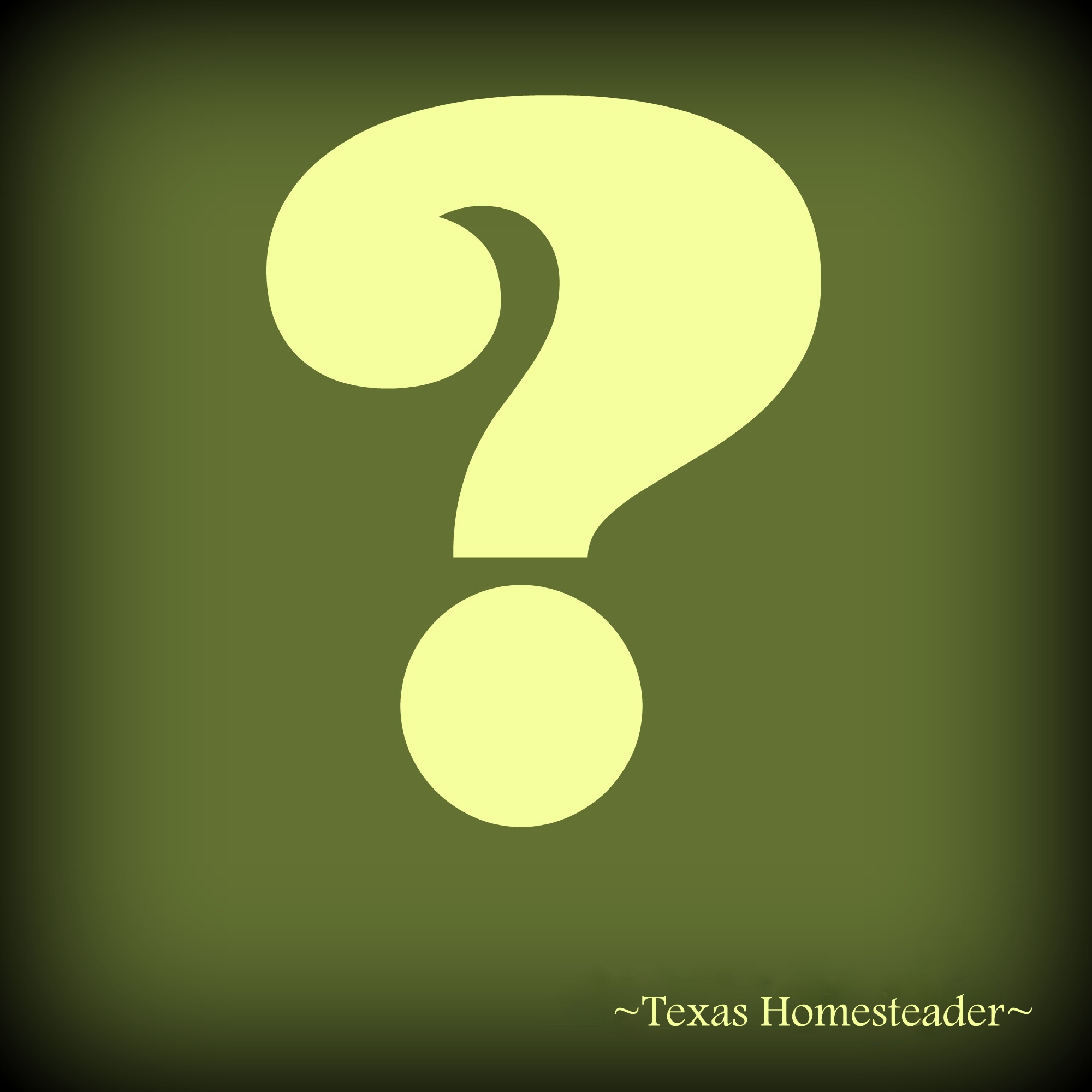 It's not because we don't have very many birds visiting our yard, quite the opposite. We have many birds of all different species. And we have bird feeders in the yard and birdhouses to attract them too.
There are always lots of birds in our yard at any given time. However since placing these strawberry-painted rocks in my strawberry bed I've lost precious few of my fresh home-grown strawberries to the birds.
And don't we all want to enjoy the bounty of our own harvest?
~TxH~
This post categorized in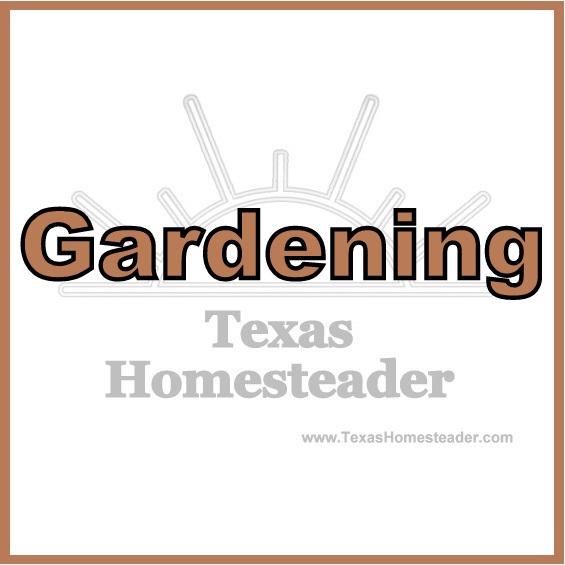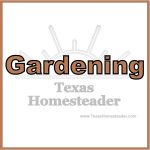 My Favorite Garden Hacks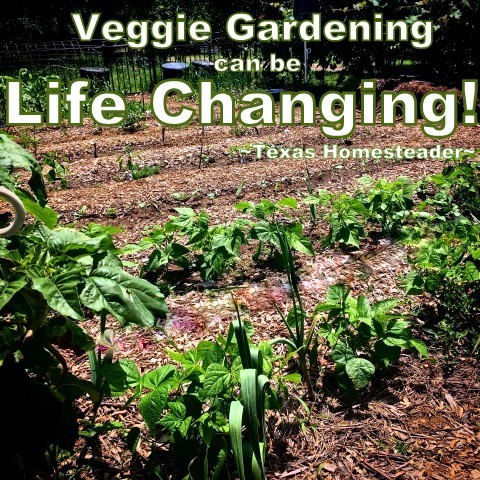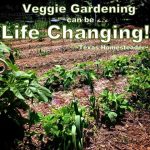 Garden Planning
Seed Planting
Soil Health
Garden Styles
Garden Plants/Harvest
Water/Irrigation/Drought
Weed Control
Garden Tips


C'mon by & sit a spell! Come hang out at our Facebook Page. It's like sitting in a front porch rocker with a glass of cold iced tea – lots of good folks sharing! You can also follow along on Pinterest, Twitter or Instagram.
If you'd like to receive an email each time a new blog post goes live it's EASY to
Subscribe to our blog!