by Texas Homesteader ~
Today as I do each year, I tiptoe into a powerfully emotional & volatile day. It's the anniversary of the day I kicked breast cancer to the curb. First & foremost, I Praise God for my healing!
I'm grateful for my health but… this particular day each year just always sends me into pretty hard emotional turmoil.
Fear, dread, maybe survivor's guilt? I don't know, but it grips me each year. Hard.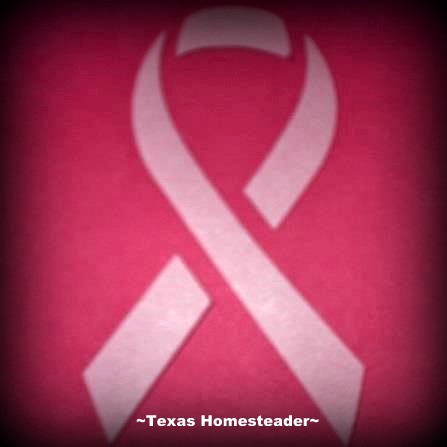 Is It EVER Over?
That cancer diagnosis is the hardest thing I've ever endured. It's the most scared I've ever been in my life. And I don't feel it's EVER over.
I'm wringing my hands at each oncologist visit. Will he find something this time? Will this awful disease have returned? What if…
Gratitude
So as I take a deep breath to prepare for the emotions of the day, I praise God for walking with me each step of the way. I keep this pocket cross in the lipstick pocket of my jeans every day to remind me that no matter what, He is with me.  And I place it on the alter at each communion giving thanks to Him for his faithfulness and His presence throughout the whole awful ordeal.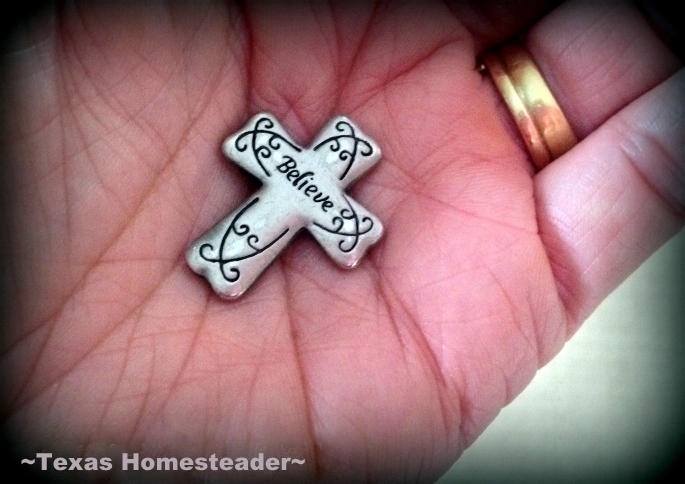 NOTE: If you'd like a pocket cross for your own comfort, I'm offering a limited number of them on my Online Store.
I'm thankful for my healing, and for RancherMan's unfaltering devotion & care before, during & after my surgeries. I'm tremendously blessed by those who have stood by me and lifted me up as I trod that fearful path.
And I pray for peace for others who have heard those awful words, "You have cancer". Yet I weep at the precious lives lost to this awful disease.
Yes, There Is Hope. But There Is Also Fear
For those just now going through the beginning steps, those who are gripped with fear & numbed with uncertainty:
I understand.
And I offer my heartfelt love & prayer as you go through your own journey. I pray that you're able to lean on your faith for comfort & strength. And I hope that like me, you accept that gift of that grace as well as the love & support from angels here on earth to help you through it.
~TxH~
More about my healing journey:
Other Inspirational Posts
…and MANY MORE!

C'mon by & sit a spell!  Come hang out at our Facebook Page. It's like sitting in a front porch rocker with a glass of cold iced tea. Lots of good folks sharing!  You can also follow along on Pinterest, Twitter or Instagram.
If you'd like to receive an email each time a new blog post goes live it's EASY to
subscribe to our blog