by Texas Homesteader 
Well, another year is on the record books for the Relay for Life in our area, an all-night relay to raise money for the American Cancer Society and to bring awareness to the evil that is cancer in  all its ugly forms.
Back in 2013 my team members walked in my honor as I was going through surgeries & recovery to rid my body of breast cancer. They sent a picture to my mother as I laid in that hospital bed recovering from surgery – she showed it to me with tears in her eyes. How touching that my dear friends were doing something so powerful in my honor.
So the following year I proudly joined the team and experienced my very first Relay for Life.  This year is only my second year, but it's just as meaningful & just as powerful. But why do I participate?
Why would I scramble trying to raise money for the American Cancer Society?  And why would I show up on a Friday night and attempt to walk
All. Night. Long? 
Why? The answer is simple.  HOPE.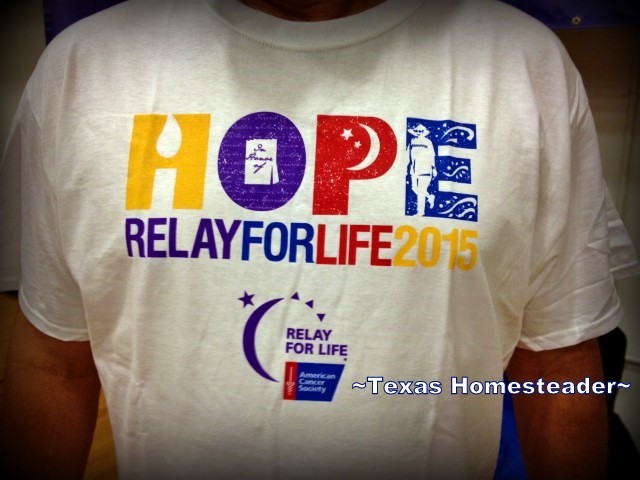 So RancherMan & I made plans to attend this year's Relay for Life event. It was requested that all cancer survivors show up at 5:00 for a special survivor's dinner.
We were treated to a delicious meal served up all fancy-schmancy by an entire line of professionally-dressed servers. And we were presented with a special purple-colored survivor's Relay for Life T-shirt along with a goodie bag filled with goodies that various companies had donated. Things such as candy, notebooks, pens, etc. It's a very touching gesture that they cradle the survivors so, and it was an honor to be in that room with the other survivors – some of which were just young children.
Then we went to the track to prepare for our relay. Although the event's usually held on the huge track outside, this year heavy rain was predicted so they moved it inside to the gymnasium. The different teams were setting up their canopies & tables. They will sell various things to continue raising money even during the event itself. They might offer face painting, a photo booth or various wares for sale. But most tables are selling food that relay walkers can purchase. It's a very popular way to raise funds on the night of the event and there's always lots of great food to be had.
Last year I noticed there were many ribbon-styled trinkets but no PINK ribbon trinkets being sold. So RancherMan & I purchased vinyl stickers, charms and key chains to raise extra money for our team. I had the Fight Like A GIRL cards and photo printed at a local printing company to both draw more attention to as well as organize to our small display. I think it turned out great.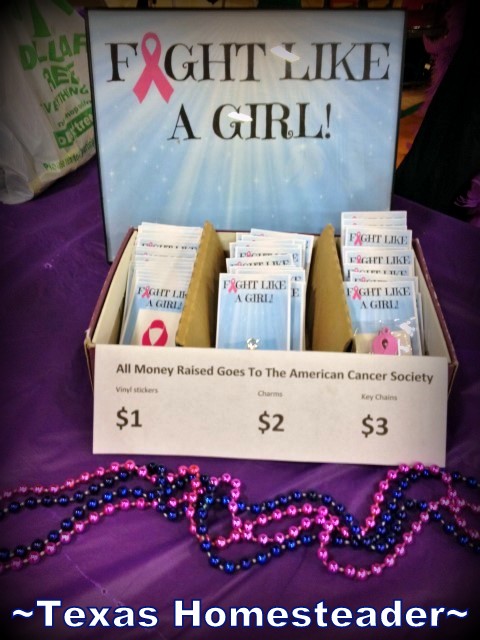 The Relay for Life committee had some of the decorating done already and had taped luminary bags up on the wall of the bleachers to spell out '2015 The Cure # TAMUC' (Texas A&M University Commerce)  I thought that was a very clever idea.
On the other bleacher wall were luminary bags taped up to spell out the word 'HOPE'.  Right there – THAT's the reason I participate in the Relay for Life.
I've been the one sitting in that doctor's office when he said the 'C' word to me, I've felt that fear and that helplessness. I want to offer someone else caught in that same place the hope that we're not taking it sitting down – we're fighting to kick cancer's butt. We're fighting for the CURE. It's my sincerest dream that one day no one will ever hear those words again with the same paralyzing fear that I felt.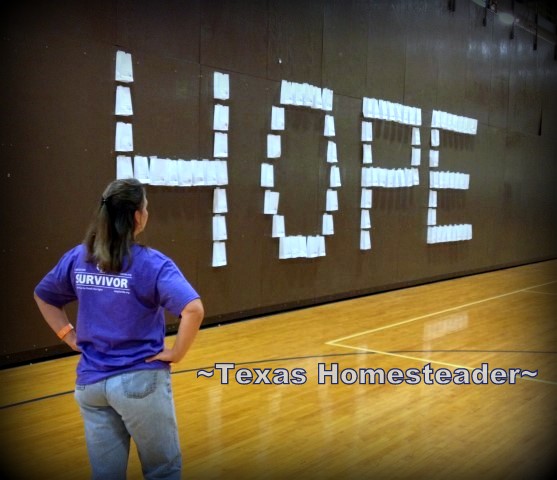 The relay begins with presentations from several of the university's top brass as well as a lifetime achievement award for a team that has raised $100,000 since becoming a part of the Relay for Life. Ironically that was MY team – the Crusaders for the Cure. I was honored to be a part of such a hard-working team.
After the presentations were made the start of the Relay begins by the survivors gathering on the track to make the first round alone while all other participants stood on the sidelines and cheered.  LOUDLY.
Let me tell ya folks, this lap always brings humongo crocodile tears to my eyes. I'm so moved by the whole experience of being a new survivor and feeling this kind of love from complete strangers. As expected this lap left me with tears streaming down my cheeks – tears of appreciation, of amazement and of happiness.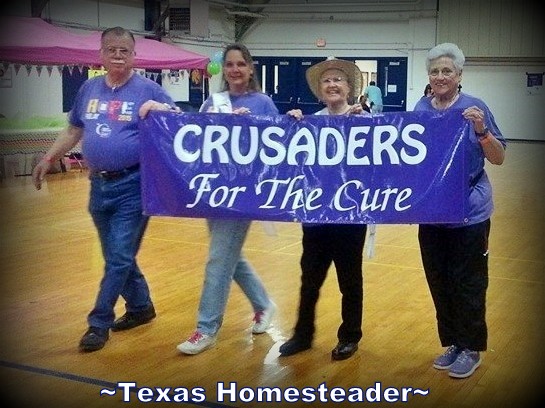 After that lap the survivors complete another lap together with their caregivers, then the relay officially begins with all participants hitting the tracks.  Each team has a walking-stick baton that a member of their team carries for several laps until it's passed off to another team member to continue the team's walk.    Some college kids come in crazy costumes, it's always so much fun to see who will show up wearing what!
The walk begins and 7:00 and it's a very party-like atmosphere. There's music playing and in the middle section people gather to toss a football or Frisbee, on the end by the music speakers there is dancing going on – sometimes line dancing sometimes Zumba, sometimes just freestyle dancing.
After a few hours of walking there is a slideshow presentation coupled with music depicting both various survivors as well as those lost too soon – it's sure to bring a tear to your eyes.  Tears of sadness for those who have lost their battles, and also tears of joy for those that are fighting and those who are finally survivors.
A luminary ceremony follows where all the luminary bags are weighted with sand bags and illuminated (with glow sticks for safety) and a silent lap is done around all those luminaries to honor those people. Luminary bags are purchased in advance and are to remember those lost to cancer and to honor those fighting the disease and also survivors. This year I honored a friend I've never met in person but whom I found out is just beginning her struggle.
I was touched to see a luminary bag was also purchased for me as well by dear friends. What a touching gesture from them! The relay walk continues hour by hour, the baton being passed when one team member tires and another takes it up and completes a few laps before passing it on again.
Every now & then the program breaks for some sort of fun activity like a zumba session or scavenger hunt – it helps keep things fresh & exciting. But the music always comes back & the laps continue. There was even a live band this year – let me tell ya those speakers were PUMPIN'!
All in all although the event is tremendously tiring, it's so very meaningful. I'm honored to have been a part of it and I'm already making plans to attend next year!
~TxH~


~TxH~
More about my healing journey:
Other Inspirational Posts
…and MANY MORE!