by Texas Homesteader ~
One thing I noticed when we first bought chickens several years ago was how wasteful they were. They use their beaks & sweep their feed from side to side. That ends up slinging their food out of the feeder. And all that feed is wasted! The first time I cleaned out the coop I started to sweep out the hay bedding and found it was heavy with wasted feed & grain. I was so frustrated.
Hey, we're feeding these girls organic layer pellets, and that's not chicken feed ya know…
Oh, maybe it *is* chicken feed…
But it's too expensive to be wasteful & sweep it out of the coop & onto the ground! I've tried various ways to make our own lower-waste chicken feeder. Although it helped reduce the waste, way too much feed was still being wasted.
Dang girls, were you raised in a barn?  (Oh, yeah right, strike that…)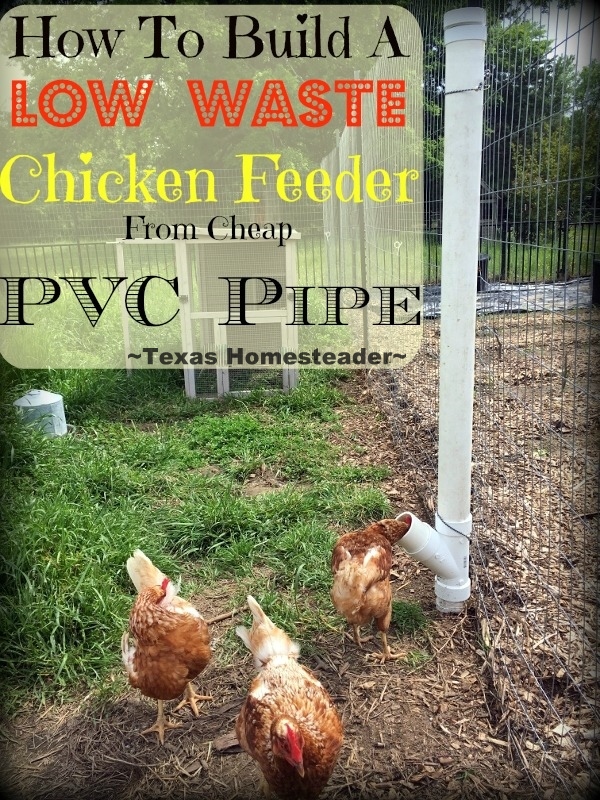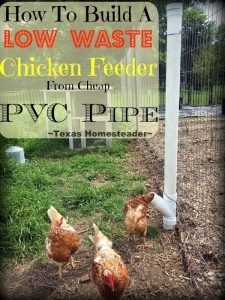 But then at a Mother Earth News Fair I attended this year I was able to share a table with another Texas girl, Cheryl (from Pasture Deficit Disorder blog) at a chicken seminar we attended. I was so excited to finally meet her! She'd mentioned that she too was frustrated with the feed her chickens wasted. So they built a PVC Chicken Feeder (you can read about her feeder here) and she said her feed bill was cut in half. HALF!!?? Well color me interested!
Building The PVC Chicken Feeder
We decided on a 3″ diameter feeder. Want to know the technical & scientific reason why we chose 3-inch? Well it was because we already had some that size in the shed! LOL
So RancherMan scrounged for a 5-foot long piece of 3″ PVC pipe. Then he added a 3″ PVC Y-coupling and a short piece of PVC to use as the feeding tube along with three 3″ caps. He put this feeder together in minutes and we strapped it to a t-post in the chicken run. Now we stood back to see how the girls liked it.
Amending The Feeder For Less Waste
The feeding tube piece was initially cut about 4″-5″ long and they were still able to reach in & sling lots of feed out. So he cut a replacement piece about 8″ long and that seemed to stop the waste.
They still sling the feed around within the feeding tube but the pellets fall back into the feeder so it never hits the ground. YEA!
What about those caps I mentioned? Well one of the caps goes on the bottom of the Y so no feed will touch the ground. Another cap goes on top where we pour the feed in. That top cap keeps out rain so our feed doesn't get wet & moldy. The third cap goes on the end of the feeding tube to close it up when the girls are put up for the night.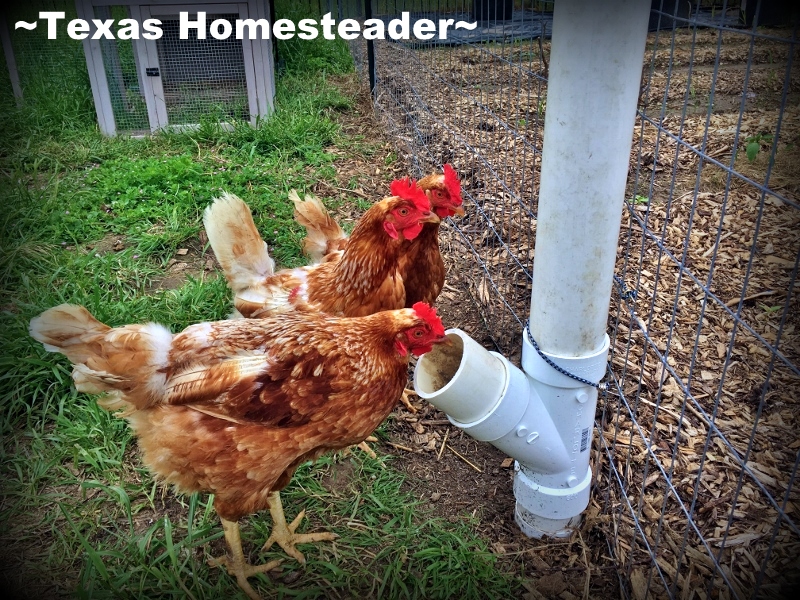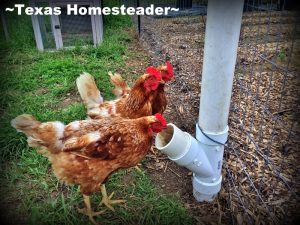 Easy Feeding Routine
Now in the morning when I let the girls out of their coop for the day I remove the cap on the feeding tube. They enjoy their own little buffet all day long. I replace the cap after a while if I think they're being a little too lazy during the day and want them to eat a healthier free-ranging diet rich with grass & bugs to go along with their organic feed.
But the cap always goes back on when I lock them up at night. That keeps other wildlife such as mice or rats from finding the mother lode and thinking it's an all-you-can-eat buffet served especially for them.
I hate when mice use the buffet line – they're terrible tippers.  😉
Cheryl was absolutely right – this little dude really does reduce (or even eliminate) wasted feed.  I love it. It's taken only a very few dollars and a few minutes time to make for ourselves. And the amount of wasted food has plummeted. That's an all around financial/environmental win. Thanks for the tip, Cheryl!
(Note: If wild birds start enjoying your chicken feeder as much as your chickens do, you can use this Homestead Hack to keep birds away from your feeder!)
~TxH~
Chicken-Care Posts


C'mon by & sit a spell!  Come hang out at our Facebook Page. It's like sitting in a front porch rocker with a glass of cold iced tea – lots of good folks sharing!  You can also follow along on Pinterest, Twitter or Instagram.
If you'd like to receive an email each time a new blog post goes live it's EASY to Subscribe to our

blog!
Save