Last year we tried our hand at raising chickens for the very first time. We bought day-old chicks and raised all that fuzzy cuteness into adult chickens/roosters. We ended up with four hens and two beautiful roosters but someone STOLE both of our roosters! Can you even believe that??!
Aaaanyway not wanting to overwinter the hens due to predator issues we sold them last fall. But only after I had preserved many of the excess eggs by freezing them.
I used those frozen eggs all winter and about the time my freezer started running low on my supply we decided it was time to raise chickens again this year!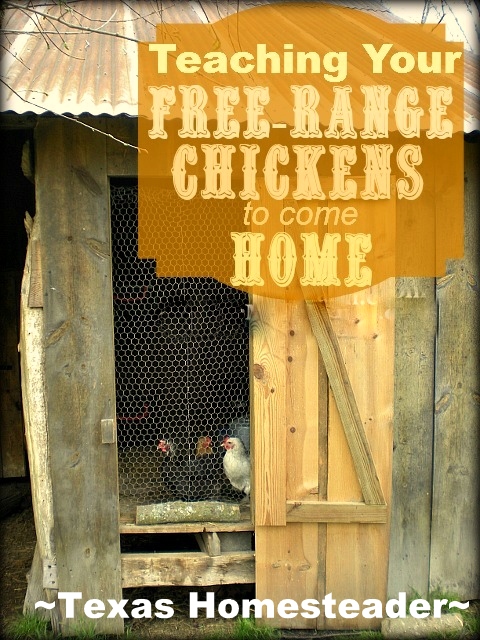 Buying Our Young Pullets
Now this year we decided to skip the day-old chick thing for both simplicity as well as eliminating any roosters. (note bad experience above…) We found a local chicken raiser who loves to hatch eggs with her incubator.
So we arranged to buy 4 young hens from her.
They had just begun laying & at first even though we had four girls, we only got a 1 egg each day. And some of the eggs had a very thin flexible shell.
But as they grew older and the days got longer and warmer they started laying a little more consistently and with regular shells. (yes we fed them calcium, and I know that probably helped as well)

But we like to free-range our chickens. We've heard others who lament that their chickens didn't go back to the coop and were killed overnight by predators.
But these girls are brand new to our homestead. I wonder how you teach chickens where HOME is at the end of the day?
Training Our Free-Range Hens To Come Home
Here's how we do it: When the chicks are old enough to live in the coop of our 1880's barn we tack chicken wire to the door and have heavy-gauge wire on the small opening on the side as well.
Each morning we go out & open both doors and allow them to get fresh air & see outside, but do not allow them out of the coop. We feed and water them inside the coop and we also make sure to bring handfuls of fresh green grass to them several times each day.
We leave the chickens locked inside the coop for two full weeks to allow them to recognize this place as their home.
1st Time Free-Ranging
When that 2 weeks is up we take the wire off the doors and allow them to finally roam outside the coop.
That first time we like to wait until early evening so they don't roam very far before it begins to get dark. If all works according to plan, when it becomes dusk they come back to the coop for the night and we close them in safely. Then the next morning we'll open the coop and allow them to free range during the day & we close them inside the safety of the coop each night.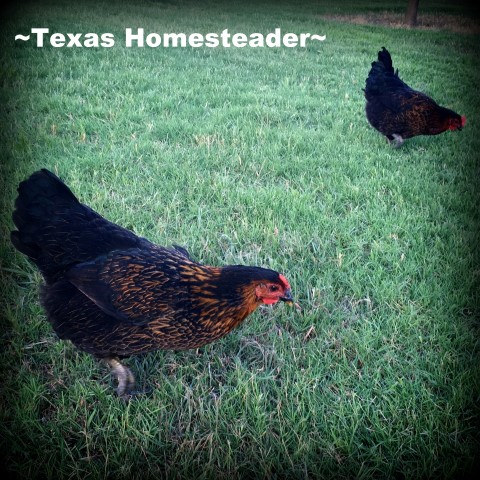 But with these hens we noticed they were sleeping on the floor of the coop instead of hopping up onto the roost. Maybe it's just the way they were raised, we reasoned. So we didn't think much of it.
That first trip outside the coop we noticed that they did indeed come back to the coop at dusk just as we had hoped. But they didn't go inside the coop – instead opting to sleep on the ground UNDER the coop.
So we shooed them out from under the barn and I picked them up and placed them inside the coop, ON the roost.
We replaced the wire on the doors and figured we'd let them try free ranging again when they learned to roost. But I wonder WHY they don't roost. Hummm…
Then I remembered that the breeder that raised them had kept them in a yard with a covered shelter they shared with the goats. She told me she kept their wings clipped so they would stay confined to that open-top yard. Clipping their wings keeps them from flying over fence and out of their safe confines.
Perhaps they didn't have a roost available there, or maybe their clipped wings kept them from flapping up the rungs of a roost. For whatever reason, they never learned to roost.
Teaching The Hens How To Roost
So in order to train them to roost, for several nights when we went to the coop to close them in for the night I would pick them up off the coop floor where they were sleeping and place them on the roost.
After a few nights they began to hop up on the roost themselves, albeit only a couple of rungs up. So after about a week of successful roosting we decided it's time to try free ranging them again.
Again we waited until early evening & opened up the doors for them. They eagerly hopped out and began eating the fresh green grass and taking dirt baths, excitedly running here & there. It was so much fun to watch them!
But will they come back to the coop and this time go INSIDE the coop??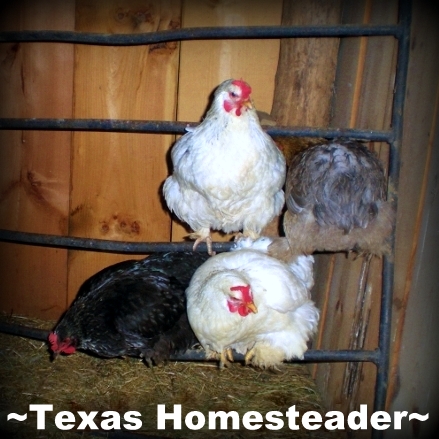 When we went to close them in they were all four inside the coop and up off the floor. SUCCESS!
Now these sweet girls will be allowed to get out each morning to free range their heart's content!
~TxH~
Other Backyard Chicken-Raising Posts
Chicken Care
Saving Money On Raising Chickens
Other Chicken Posts


C'mon by & sit a spell! Come hang out at our Facebook Page. It's like sitting in a front porch rocker with a glass of cold iced tea – lots of good folks sharing! You can also follow along on Pinterest, Twitter or Instagram.
If you'd like to receive an email each time a new blog post goes live it's EASY to
Subscribe to our blog!