by Texas Homesteader ~
*contains affiliate link
A couple of months ago I was scanning my newsfeed and suddenly I stopped cold.  What do I see before my eyes? Could it be?  YES – the Mother Earth News Fair was coming to Texas!  I'd never been able to attend the MEN Fair before since I was under the mistaken impression that it was always held in the same location, far away from our homestead.
Imagine my utter glee at seeing that they hold fairs all around the US and now it was coming to central Texas, certainly within driving distance for RancherMan and me!  So we excitedly made plans to attend the two-day event.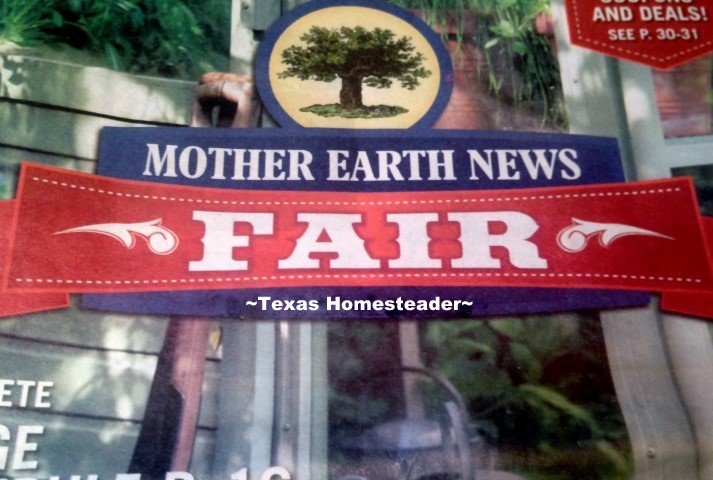 With much anticipation I waited & waited, then finally the big day came.  RancherMan and I left on a Friday morning and headed south. We checked into a hotel and settled in for a good nights sleep before the two-day fair.
The next morning we got up early and headed downstairs for a hearty breakfast before driving on to Belton to attend the fair. When we got there I was astonished, DANG there were a lot of people here!
We waited in line to pick up the wristbands that would grant us entrance and then finally stepped inside the large Bell County Expo Center.  Wow, I stood there to take it all in… Oh man, this is going to be so much fun for me!


Mother Earth News Fair in Belton, Texas
We were here to enjoy two whole days packed with exhibits, demonstrations and over 150 informational workshops. Although with so many workshops I knew I would have to pick & choose which workshops I could attend I was excited that I was going to hear the experts speak about gardening, beekeeping chicken raising and more.
But since the first workshop doesn't start for a while, let's check out those vendors!  There were heirloom seed vendors and prepper-supply vendors. There were solar energy vendors and self sufficiency vendors.  There were so many vendors there with information on anything and everything a person on a self-sufficiency journey could ever want to know!  (Oh, by the way – RancherMan and I visited them all during the two-day fair and between all of the seminars we attended!  LOL)  This is a shot of the smaller building of vendors very early in the morning.  The crowd got larger & larger as the day wore on, and the second building was huge and packed with vendors & fair-goers!
Many Preparedness and Self Sufficiency Vendors
RancherMan bought this cool *Hybrid Solar LED Flashlight at one of the vendor booths.  The flashlight is compact yet super bright using LED lights to reach up to 160 lumens and it also has a screw-off cap covering ports that you can use to charge your cell phone.  The run time on low beam for a single charge is advertised to be 12 hours and it's touted to hold an unused charge for 7 years!  Since it includes a safety mechanism to keep it from overcharging, Rancherman's going to store it on a table by a sunny windowsill so it will be ready when needed.
I bought a gorgeous hand carved wooden spatula and I absolutely love it! I cook almost exclusively with either stainless steel or wood utensils but I prefer wood, and hand-carved artful talent speaks to my heart.
The Mother Earth news bookstore was very popular and it was difficult at any time throughout either day to get in that area but I managed to squeeze in long enough to buy some Mother-Earth News and GRIT publications focusing on organic gardening, raising chickens and preserving food – my three main loves.

Purina Bloggers Brunch Invitation
We attended a couple of seminars but soon it was time to go upstairs to a bloggers luncheon sponsored by Purina that we were invited to. RancherMan and I entered the room & all the luncheon tables were already occupied, although there were plenty of chairs left at the tables.  I walked to one and asked the couple seated at the table if we could join them and they graciously said yes.
As we sat down I extended my hand to introduce myself and all I got out of my mouth was "Hi, I'm Tammy…" And the woman, seeing my shirt had my logo said "Oh, you're from Texas Homesteader.  I'm Cheryl!"
Now I'd never met Cheryl or her husband before but I certainly recognized her name since she interacts often with our Facebook page and this blog. (She writes her own fun blog over at Pasture Deficit Disorder, check 'em out)
OMGosh they were so much fun to talk to and it seemed like we were catching up with long-lost friends!  Then we ate some good food and learned about Purina's organic chicken feed. Finally we said goodbye to Cheryl & her hubby and RancherMan & I hit the exhibits & seminars again.
More Workshops & Vendor Booths
This time while visiting the booths I bought some heirloom seeds to go with the ones I already have at home since I'll be planting this week in my indoor greenhouse.  I use this indoor greenhouse setup to be able to plant heirloom seeds inside this time of the year so I can put those seedlings into the garden in the spring when the danger of killing frost has passed.  I.  Can't.  Wait!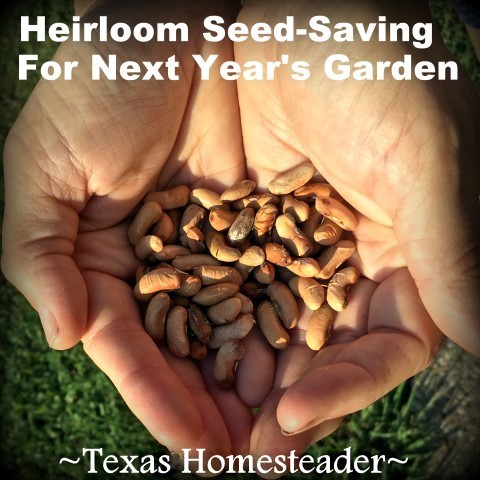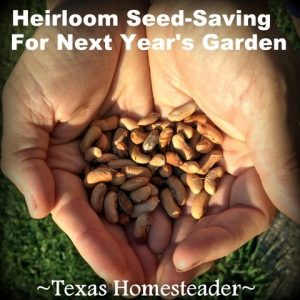 Several more workshops were attended by each of us and then we headed back to the hotel.  The following day we were hoping the fair wouldn't be quite as crowded as the day before but there didn't appear to be much reduction in the people crowding the exhibition hall.  This is a popular event, y'all!
MEN Fair, Day 2
We were only able to enjoy a couple more seminars before I (with a pouting sigh) reluctantly agreed that we couldn't stay until the event concluded that evening and we needed to head back home.   We still had several hours worth of driving ahead of us before we'd reach home and there was much at the ranch we needed to take care of before the stormy weather that was predicted to hit our area, so we headed out.
All in all we both enjoyed two full information packed days and I'll have my fingers crossed that the Mother Earth News Fair will be held in our great state of Texas again in the near future.  Have you ever been to the Mother Earth News Fair?  What did you love the most about it?
~TxH~
Travel-Related Posts


C'mon by & sit a spell!  Come hang out at our Facebook Page. It's like sitting in a front porch rocker with a glass of cold iced tea – lots of good folks sharing!  You can also follow along on Pinterest, Twitter or Instagram.
If you'd like to receive an email each time a new blog post goes live it's EASY to
Subscribe to our blog!
Save
Save