by Texas Homesteader ~
When you leave home for the weekend do you worry that you've forgotten something? Me too! Check out this easy Homestead Hack that gives you peace of mind when leaving for a trip.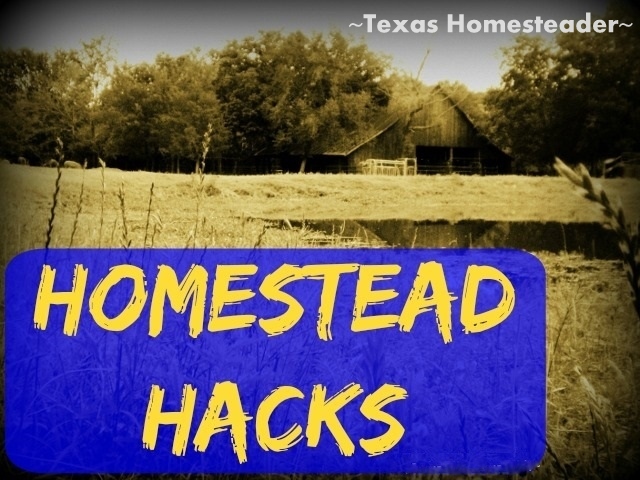 Planning A Few Days Away From Home
Our trips away are often during a weekend. But sometimes the duration is a week or so.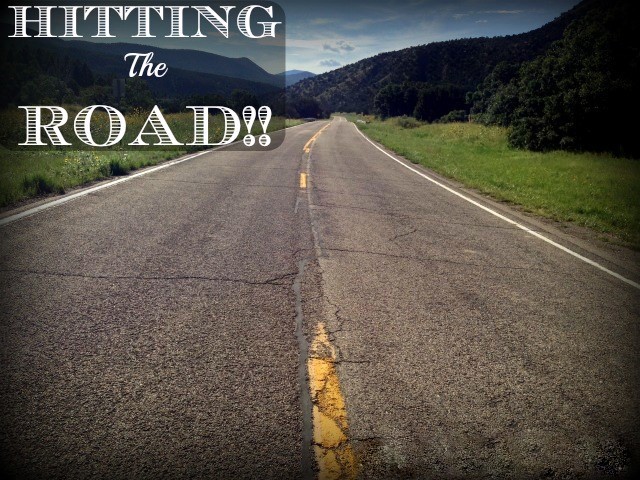 But after all the excitement of planning a quick trip away together, sometimes the joy is sucked right out before we ever drive away.
Clouds of doubt circle my head as we drive down our driveway:
"Did we unplug the coffee pot? What about the garden pump, did we turn it off? Uuuggg, I forgot to take the compost bucket out to the tumbler before we left. It'll surely be a mess by the time we get back!"
We don't travel often but every time we do I feel that familiar "what did we forget" dread. I know most of you must feel the same.
Checklist Of Reminders Before A Trip
This is a simple solution and one we've used successfully for years. I use the note section on my smart phone. (OMGosh y'all, how did we ever get along without smart phones??)
I've created a note page on my phone called Travel Notes. In that note page is a checklist for things to remember to do before we leave, things to pack and even a home security section.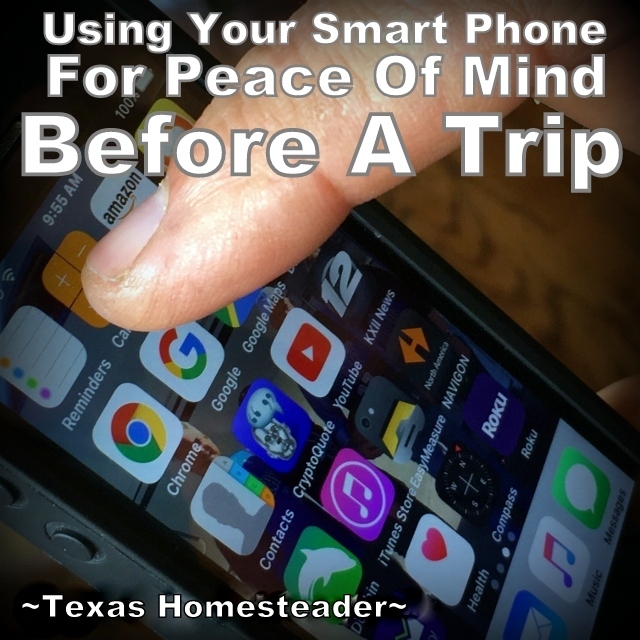 Things To Do Before A Trip
For instance under things to do I've noted such tasks as:
Stop mail delivery

Adjust the HVAC thermostat for our absence

Clean the used coffee grounds from the coffee pot

Empty the compost bucket
…and many more.
These are usually the things we always want to do before leaving for a weekend (or longer).
Things To Pack For A Trip
Under things to pack I have items we typically like to pack for a trip. Things such as our:
Insulated travel mugs

Medications

Dog food & supplies

Sunblock, etc.
There are about a dozen options in this section. But not all items will be needed on every trip.
So I just read off the items & RancherMan notes whether they've already been packed, or whether they're even needed this time.
Keeping Home Secure When Away From Home
There's even a section on security. It reminds us check to make sure things are locked, such as:
The feed shed

RancherMan's tool box,

The gun safe, etc.
Also noted here is to set our security alarm and adjust the notification settings on our security cameras if any movement or sound is detected.
Peace of Mind When Traveling
Let me tell ya, this simple list sure brings us some peace of mind when traveling.
These travel checklist notes solve the conversation:
"Did you lock the shed?"
"No, I thought YOU locked the shed!".
LOL
So when we're finally all ready to leave for a fun trip – before the bags are zipped up and placed in the trunk, I simply open this travel checklist note on my phone. RancherMan and I only need about 60 seconds to go through the list.
We don't necessarily need to pack or do all of the items on the travel checklist depending upon the destination or our length of absence. But all items to consider are brought up just in case.
And we can easily update this list whenever we find another item that needs added. It's a very flexible, ever-changing and very helpful tool for us.
But as simple as this solution is, it sure offers us a peace of mind that was always missing on previous trips. No more leaving the house with that dread, wondering if we forgot something!
If you don't have a smart phone this checklist just can just be written up, printed out and stored in your suitcase instead.
Let me tell ya, that kind of peace of mind when you're away from home is priceless!
~TxH~
Travel-Related Posts
Other Fun Trips


C'mon by & sit a spell! Come hang out at our Facebook Page. It's like sitting in a front porch rocker with a glass of cold iced tea – lots of good folks sharing! You can also follow along on Pinterest, Twitter or Instagram.
If you'd like to receive an email each time a new blog post goes live it's EASY to
Subscribe to our blog!
Save
Save
Save