by Texas Homesteader ~
*contains affiliate link
I'm looking for a way to grab a fast meal out without creating loads of trash. I think I've come upon the perfect yet simple way for me to reduce landfill-bound trash when dining out.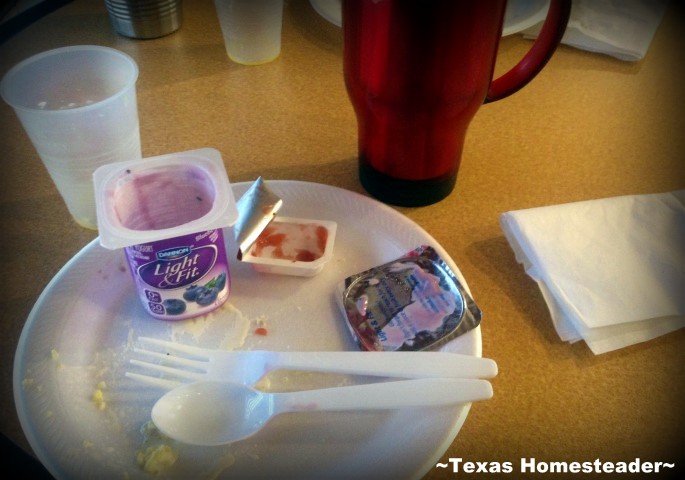 (Note: Some links in this post are for further information from earlier posts I've written. But links preceded with * are affiliate links. If you click them and buy something (almost anything, not just the item noted) I could receive a tiny commission. But the price you pay will NOT change. It's an easy way to support this blog without anything coming out of your pocket. So click often! Thank you!)
My Eyes Opened
During a recent trip, RancherMan & I stayed at a hotel that offers a free hot breakfast each morning. We don't often eat a formal breakfast here on the homestead so it's a treat for us when we travel.
But although I'd fought landfill-bound waste in the hotel room like a ninja I was distressed over the waste created at breakfast. I vowed to work on a solution to the dining trash. (be sure to read my post about a Lower-Waste Hotel Stay)
Whelp, I'm happy to say I was able to significantly reduce the landfill-bound waste for the morning breakfasts. And many of these same solutions can offer less trash at the more local dining establishments too.
If you'll remember, at last year's Mother Earth News Fair I had breakfast twice at the hotel. And each time I produced about the amount of trash shown in the first photo. Ugh, that was for only 15-20 minutes at the table. Check out what I did differently.
Dining Room Trash Solutions
I'd vowed to create a lower-waste way to enjoy that delicious complimentary breakfast without producing so much single-use trash.
My only requirement was that my solution couldn't look overly weird to surrounding patrons. Although he'd never complain, I wanted RancherMan to feel comfortable with my public display of crunchiness.
I decided to skip the yogurt this time as I I didn't see a lower-waste option there. My homemade yogurt is my fave anyway so I'd rather wait until I get home to enjoy it instead of the rubbery overly-sweet commercial stuff. That eliminated the little plastic foil-lined tub right off the bat.
I also eliminated the single-use disposable napkin, fork, spoon & plastic cup that I'd used in earlier trips. This time the breakfast trash that I generated looked more like this: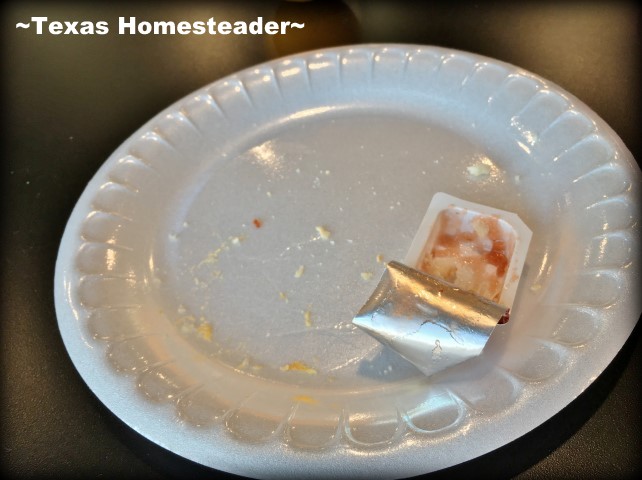 I'm not sure I can reduce it more than this while still enjoying a hot breakfast and keeping my goal of not having it look 'weird' to the other diners which could potentially make RancherMan uncomfortable. (I'm trying to work within RancherMan's comfort zone too in my lower-waste quest)
I guess I could have eliminated the plastic tub of jelly but then my biscuit would have been way too dry to eat.
And there's that styrofoam plate… (Ugh, styrofoam, the only thing I hate WORSE than plastic!) I'm not sure there's anything I can do about that while still enjoying the hot breakfast they offer.
I did notify the hotel 'powers that be' that my preference is reusable dinnerware. We'll see if that actually has any effect. They don't know if someone doesn't speak up!
Celebrating Zero-Waste Accomplishments
But even though it didn't totally eliminate single-use waste, let's celebrate the accomplishment, shall we? I enjoyed a hot breakfast of eggs, sausage, biscuits and jelly with coffee and orange juice. And I did so while generating much less trash than the previous year.
Do you wonder how I lowered the trash without looking too out of place for RancherMan's comfort?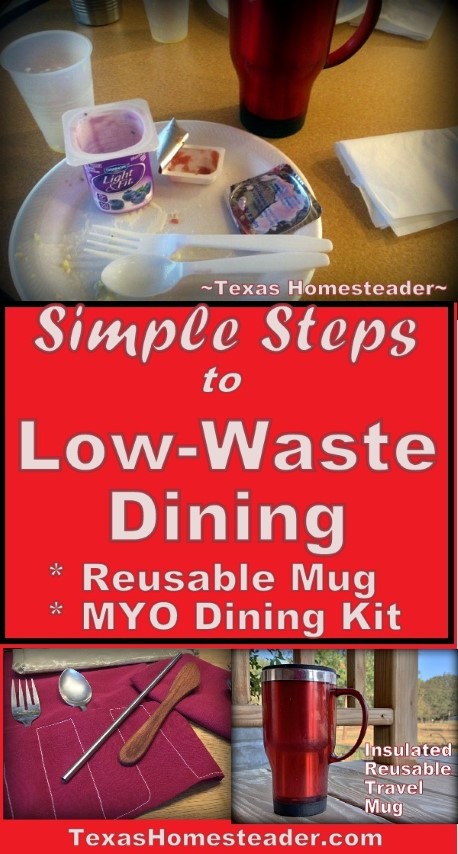 Well, we brought our travel mugs from home the same as last year. But instead of two cups of coffee on the table and two plastic glasses of orange juice, we used one travel mug to hold our coffee to share, the other held our orange juice to share.
No plastic cups this time. Yea! Two plastic disposable cups eliminated for each morning breakfast enjoyed.
Disposable Plastic Flatware? No Thank You.
But what about the plastic disposable flatware? Well, I'd been pondering over this solution since last year.
I was always kinda worried that there were so many different people constantly hovering over the container of plastic flatware and picking through it with their bare hands.
Now I'm not what you'd consider a germaphobe or anything. But watching the unsupervised kids rifling through those plastic forks was enough to give me pause. There had to be a better way.
I know you can easily buy an inexpensive *traveling flatware kit complete with its own case for as low as $3. There are kits that include chopsticks and metal straws. Almost every combination you can dream of and you can even have it delivered right to your door.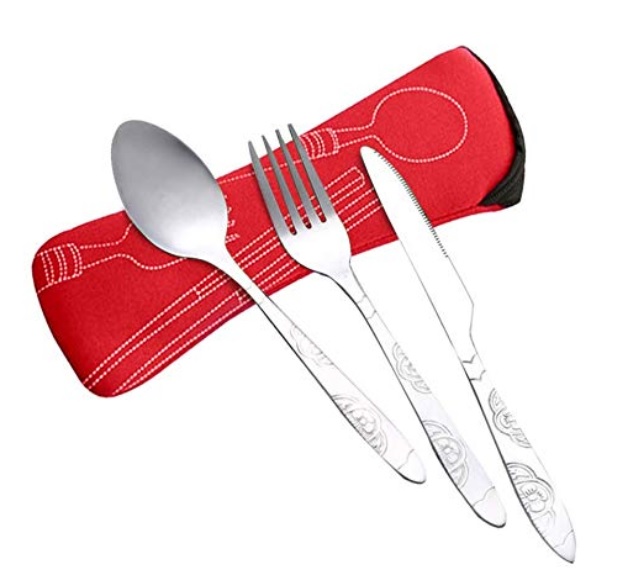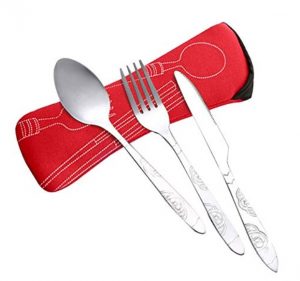 But you know my battle cry: Use Whatcha Got! So I sat out to see what I had at home that would fit the bill for my own traveling dining-ware kit.

Reusable Cloth Napkins
I had a couple of cloth napkins that were too lightweight and didn't match our current set, so they were destined for Goodwill. But to lower my dining-out waste I'll need those napkins after all.
So I pulled these napkins out of the Goodwill pile. They'll be perfect for this project.
I folded the bottom up just shy of halfway & sewed these simple zig-zag pockets in minutes. Although I used white thread so you could see the pattern I followed for this project, using matching thread would make the pockets much less noticeable.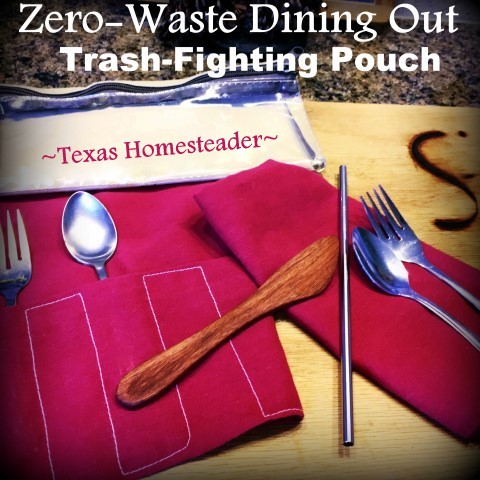 So that my good flatware wasn't in danger of being lost, I purchased a couple of lightweight forks & spoons at a garage sale for this project.
I simply slid the second-hand reusable fork & spoon for each of us into the pockets & folded the top over the utensils. Finally I rolled up the napkin & BOOM!
No more potentially gross, pawed-over plastic disposable flatware for us.
Plus the cloth carrying case also serves as a napkin! After breakfast I simply rolled our flatware back into the napkin and placed it in our suitcase to bring home.
I'll wash up the napkins & flatware & we'll be in business again.
Perfect-Sized Pouch To Hold It All
But I'd like to add a few things that will help when we're dining in our own neck of the woods too.
I thought it would be helpful to have a small zippered pouch to store all my dining essentials to store in our car's glove compartment. This would make it easier to grab & go when we step out to eat.
I found a small unused fabric pencil case that's the perfect size. So here's what else I packed inside.
Cutting A Burger In Half
RancherMan & I love a Braum's hamburger! But it's huge so we often split a burger between the two of us. Each getting our own fries though. (you know, because each person having their own order of fries in one of the keys to a long and happy marriage!)
These days Braum's refuses to cut the burger in half for us citing some sort of health code. (ppfffft!)
So instead, I'd always cringe as I was forced to use one of the plastic-wrapped flimsy plastic knives for the one simple act of cutting our burger in half.
Only TEN SECONDS use and then into the trash it went. Oh how I hated it – the plastic AND the waste!
Handmade Wooden Knife
But I purchased a small handmade wooden knife from a wood craftsman at a craft fair for just a few dollars. I'll keep this knife in the same pouch as my napkins & flatware.
It's there waiting when/if I need it. And at only 7-8 inches long it takes up very little space. If I use it I'll simply bring it home, wash it up and place it back into the pouch.
Disposable Plastic Straw?
One last item is packed into my trash-reduction arsenal. You see, I often opt for a straw when we go out to eat because of a very negative experience in my past.
Picture this: There we were, enjoying a delightful dinner, when I went to take a sip of my beverage & there was the faint outline of lipstick on the rim of my glass. Ewwwwww… The outside of the glass didn't get the cleaning attention that (hopefully) the inside received.
From then on I often requested a straw. At least my mouth will never touch the rim of a glass that's not been thoroughly cleaned.
But c'mon, remember I hate plastic. So eliminating that plastic straw every time we go to a restaurant is something that appeals to me. A lot!
Easy fix. I bought an inexpensive *stainless steel straw. It's now tucked inside my little pouch in its own little sleeve to protect anything from getting inside it while it's in storage.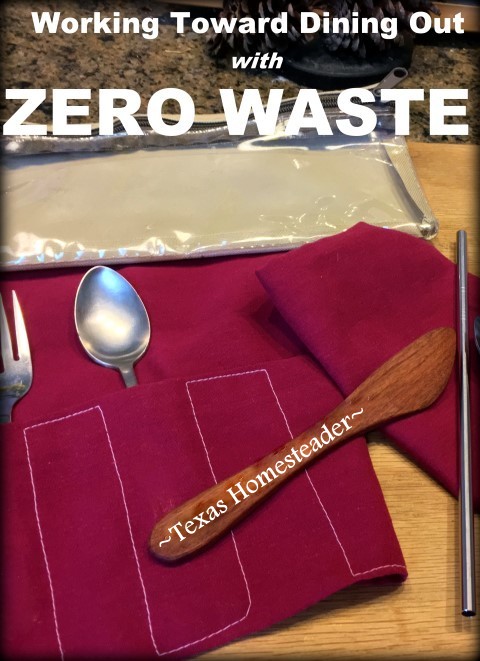 Simple, Compact Dining-Out Kit
And VOILA, there ya go! My own little compact dining out trash-fighter bag.
This small pouch stays in the glove compartment of our car (unless we're traveling & then I pack it in our suitcase).
If we go out to eat I can grab this tiny pouch & take it into the restaurant with me. If the restaurant is fast-food & the flatware is plastic I'll use my own reusable metal flatware instead.
And I'll use my own reusable stainless steel straw instead of requesting a plastic disposable straw every time. After our meal I simply toss everything back into this tiny pouch & bring it home.
Heck if we're just at a restaurant & going straight home & I have any leftovers, I've even eliminated that crappy styrofoam clamshell (ugh) container too! I bring my own reusable take-out container carried with a cute repurposed denim carrier. I get so many compliments on this!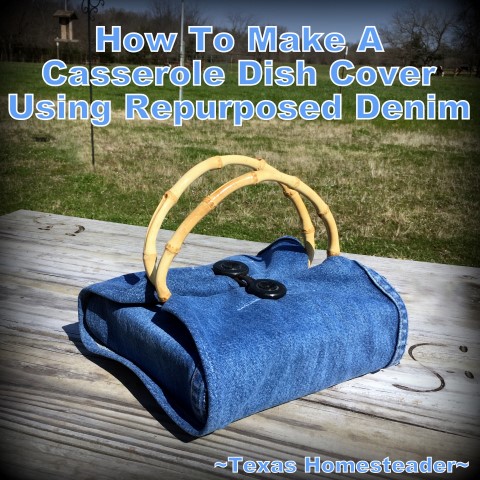 When we get home I'll wash everything up, repack it & place the pouch back in our car's glove compartment. There it'll be ready & waiting for our next dining excursion.
So far, so good y'all! It works great for me and it cost nearly nothing!
~TxH~
Links in This Post
Travel-Related Posts
Other Fun Trips


C'mon by & sit a spell! Come hang out at our Facebook Page. It's like sitting in a front porch rocker with a glass of cold iced tea – lots of good folks sharing! You can also follow along on Pinterest, Twitter or Instagram.
If you'd like to receive an email each time a new blog post goes live it's EASY to
Subscribe to our blog!
Save
Save
Save
Save
Save