by Texas Homesteader ~ 
RancherMan & I love our home in our Northeast Texas paradise.  But sometimes a road trip is in order and we love to travel to West Texas to visit our favorite aunt and uncle. Recently we had just the opportunity after viewing our calendars and seeing it's about to get super busy at the Taylor Household.  So we prepared our animals for our brief absence and headed west for a weekend of fun in Amarillo, Texas.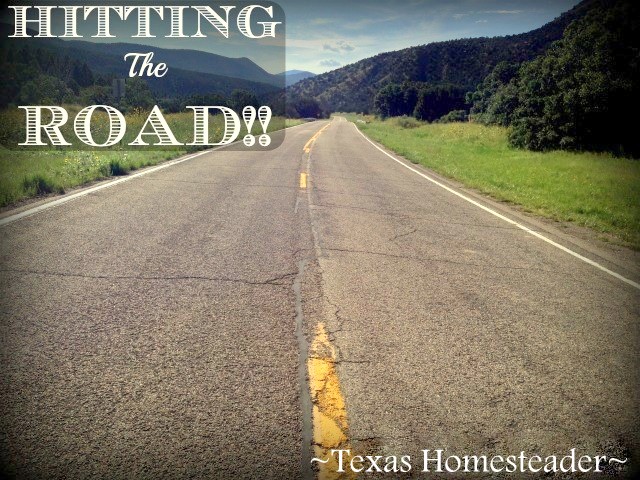 Sights Along The Road
Although there's no shortage of folks that love traveling, I'm not one of them.  It's a long 6.5-hour trip and I really don't like being cooped in the car staring blankly out the window for so long.   Thankfully RancherMan has a traveling office set up for me so I'm able to work in the car (as I'm doing right now!) But occasionally I glance out the window and enjoy the view.
We passed huge fields of vibrant yellow flowers and they were absolutely beautiful.  We did a google search to find out they were probably blooming canola.  How awesome, I had no idea West Texas hosted canola harvests!
I also loved seeing the fields of huge energy-generating windmills.  Man these things fascinate me!  Occasionally we would pass a large 18-wheel truck carrying a replacement blade to one of those windmills and it really brings home how huge the blades are – maybe 50 feet long or so.  Crazy!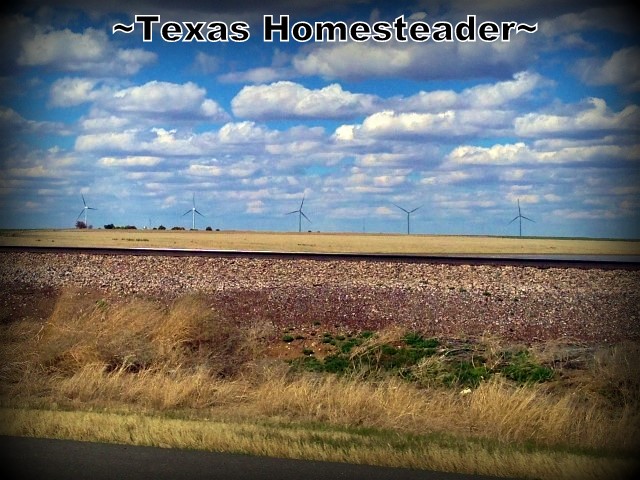 Frozen Treats At Dairy Queen
And of course no road trip is complete unless RancherMan & I stop at what's referred to as the "Texas Stop Sign", Dairy Queen for a delicious and decadent Blizzard frozen treat.  As always the workers prove its thickness by turning the Blizzard-filled cup upside down for a few seconds while handing it to us through the drive-through window.  Now THAT's thick!
I always opt for Chocolate Extreme flavor, which is their signature ice cream blended with hot fudge, chocolate coating and chunks of brownies.  Delicious!
Rest-Stop Rattlesnakes??
Every now & then we stop at a rest area to stretch our legs, use the facilities and let Bailey do her puppy thaaaang.  I'm always shocked to see this warning sign at the rest stops out here – Watch for RATTLESNAKES??  Yikes.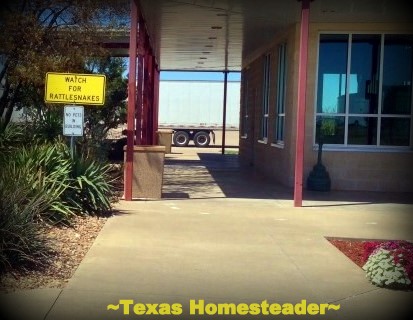 Amarillo, Texas At Last!
Finally we reach my aunt's house and are welcomed warmly as we always are.  My aunt is the most amazing hostess ever – all needs are met before they're even realized.  She thinks of EVERYTHING!  She already had a homemade pork roast supper complete with carrots and potatoes to satisfy our appetites after a long road trip.  Delicious!
Garage Sale Finds
The next morning we rise early – when we come to visit we enjoy getting up early & hitting the numerous garage sales.  Now I like garage saling as much as the next guy, but this location coupled with these crazy family members really take it to the next level.  They've already mapped out the garage sales that are advertised, noting what item of interest they have advertised and the time they open, and they've already plugged all the addresses into their GPS so we can make the rounds with lightening-fast efficiency.   My uncle is so funny he kept us all in stitches the whole time!
OMGosh we had so much fun and came home with some great things for shockingly little money out of pocket.  My favorite find for the day was a huge roaster, the bottom will double for RancherMan's grilling tray that we recently had to trash (recycle) due to its age.  The cost?  FOUR dollars, baby!
We came home and relaxed after our day-long garage saling session, convinced that the next morning would be even better.  My aunt & uncle charted out the Saturday-Only sales the night before and once again plugged the addresses into their GPS.  We were all ready to enjoy a repeat performance of the fun.
Saturday morning the weather was perfect and we hit the sales again. OMGosh the sales were even more numerous!  Today's favored find was this hideous harvest-gold and very crappy vintage stadium seat that was so tattered they basically tossed it in for free with our other purchases.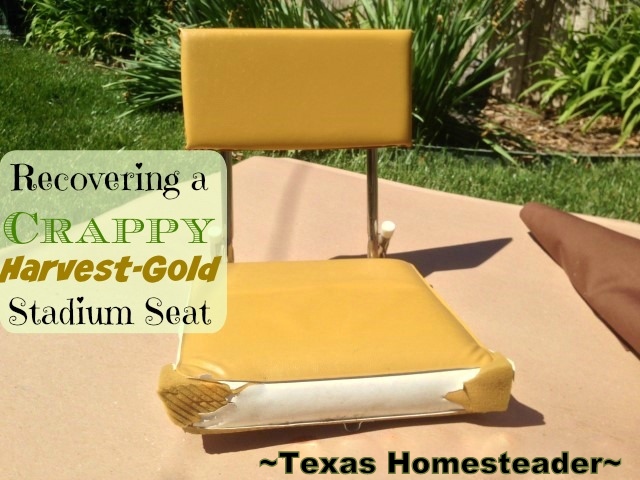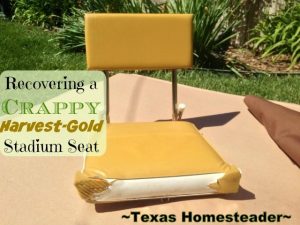 RancherMan's been looking for one to go up in his hunting stand and even buying them used the price was more than he wanted to spend.  My aunt assured us that recovering this one would be cheap and easy, I was skeptical.  (note, she proved right again, and be sure to check out how we did it)
Live Musical At Amarillo Little Theater
That night our aunt had yet another super-fun surprise for us.  She knows how I love to attend live performances so she treated us to the Amarillo Little theater to see the live musical 'Aladdin'.  I especially love this theater because it only holds 453 people – there's not a bad seat in the house!
This performance had some adorable scenes where they included children acting as the twinkling stars as Aladdin and Jasmine glide on the magic carpet through the night.  OMGosh what a wonderful performance!
Finally Sunday morning it was time for us to head home.  This is always the most bittersweet time of our trip – I'm anxious to get home, but I hate to leave.  My aunt packed up enough food for us so we wouldn't have to stop and buy anything on the way home and hugged us goodbye.
At last we reached home-sweet-home.  I love how I feel inside when we see those familiar gates of home.   I've never loved 'home' quite as much as I do living here – what a blessing!  But what a great weekend we had, filled with lots of laughter and fun with those we love most.
~TxH~
Other Fun Trips

C'mon by & sit a spell!  Come hang out at our Facebook Page. It's like sitting in a front porch rocker with a glass of cold iced tea – lots of good folks sharing!  You can also follow along on

Pinterest

, Twitter or

Instagram

.
If you'd like to receive an email each time a new blog post goes live it's EASY to
Subscribe to our blog!