by Texas Homesteader ~
RancherMan & I often get together with my siblings and their spouses and go away for a fun vacation.  We're running off together typically on a long weekend once or twice a year. I love that our family is still that close!  We've been to many various places, mostly within the great state of Texas but also out to New Mexico. We're even planning a cruise together.
On this occasion we conceded that our lives were all too busy to get away for a long period of time.  But we still needed to plan a fun getaway. Family is important! So we decided to stay close to home & go all touristy in Ft. Worth, Texas.
OMGosh what a great idea!  I've lived in the Dallas area almost all my life, so of course I've been to Ft. Worth many times. But it was always to drive to a specific location or event, never to stay & play.  Now this is gonna be fun!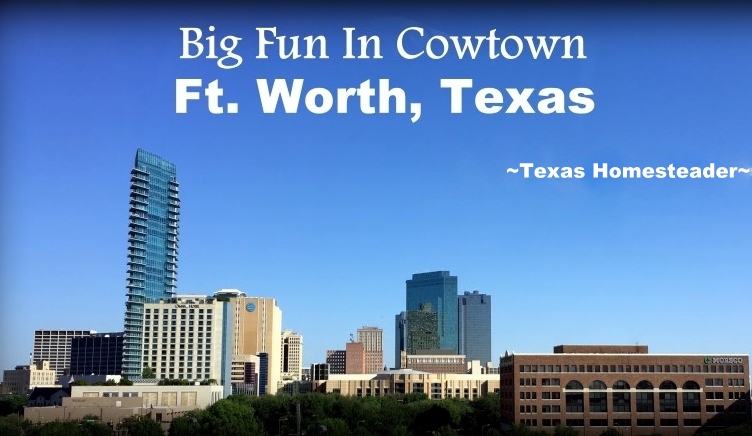 My sister-in-law is amazing at researching fun things to do & see and this trip was no exception.  We rented a van so we could all travel together all weekend. Then we all met up on Friday around  mid-day and headed west. My SIL was pretty familiar with the area so she was our pilot for the weekend. We were all so appreciative of that!
Reasonably-Priced Accommodations
We'd considered various B&B locations as well as fun historic hotels, but dang they were pricey!  So we decided to book our rooms at the Comfort Suites – North Fossil Creek instead. Our Texas Farm Bureau discount gave us a very affordable rate and we've found Comfort Suites are typically very nice, always comfortable & clean and heck – a complimentary hot breakfast the next morning too!
Of course RancherMan & I carried our insulated coffee mugs with us and at check-in we filled them with the icy-cold lemon water they offered at the counter.  Aaaaaahhhh – refreshing!
And we were sure to put the Do-Not-Disturb card in the door so that the maids wouldn't come freshen our room. There was no need – I make my bed each morning anyway and we don't use their complimentary toiletries since for environmental reasons I pack my own.  And RancherMan & I hang our towels to dry and reuse them for our next shower anyway. I always strive to Lower Our Footprint when traveling, it's an easy thing for us.
But now that we're checked in here in Ft. Worth, what shall we do? Although neither my SIL nor I enjoy beer, the others in our group really love tasting various craft beers. So after we got checked in we hopped over to Panther Island Brewery for a sampling of their finest.
Joe T Garcia's Mexican Restaurant
After the brewery visit our SIL suggested for us to eat supper that first night at Joe T Garcia's. It was a pretty unassuming-looking place, but it's been a Ft. Worth staple since 1935.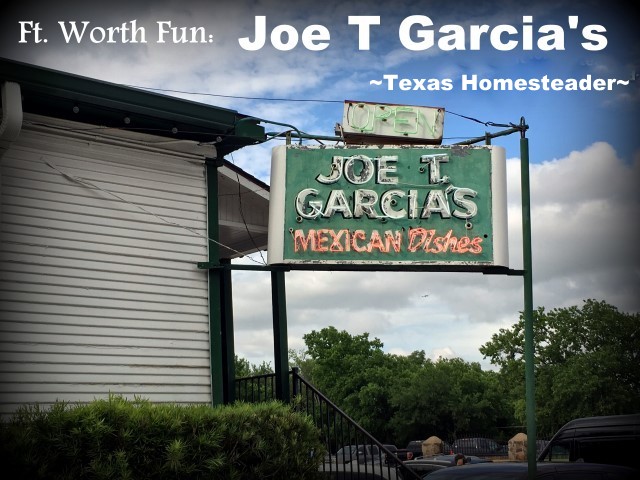 But as we walked in we found it was really a huge place (as in seats over 1,000 huge!)  The tables appeared to be mostly outside with long winding paths of gorgeous planted patio complete with large towering trees.
At last we were seated and the waitress promptly came up to speak with us. There were no menus, she said. They had only 2 options – the enchilada dinner and the fajita dinner. Oh, and you had to pay with cash or check.
Wow, I thought to myself.  How do they stay in business with such restrictions?
My question was answered when the meals arrived. In a flurry of activity several waiters brought our food, filling the table to overflowing. Huge honkin' soup-bowls of salsa – not the tiny servings I was used to. The enchilada plate came with cheese & onion enchiladas and crispy tacos like I'd never tasted before.
Thank goodness RancherMan & I had split a meal because it was a lot of food (and a little pricey for our budget too). But the taste was absolutely amazing and everything was fresh. And it really was hard to beat the beauty of the planted patio with all the full-sized trees canopying over you. Good choice, sis!
The next morning we enjoyed the hotel's hot complimentary breakfast. Although they offered eggs, sausage, potatoes, fruit, danish, yogurt & more, I enjoyed a huge waffle shaped like Texas.
Now you don't get any more 'tourist' than Texas-shaped waffles #amiright??
Ft. Worth Water Gardens
My SIL thought we'd enjoy a stroll through the Water Gardens this morning. They were beautiful and the weather was perfect. There were various water features throughout the large gardens and the landscape was well done and peaceful.  Many people were taking photos of their kids for dance recitals or recent graduates. There was even a wedding reception taking place, and what a gorgeous location for it all!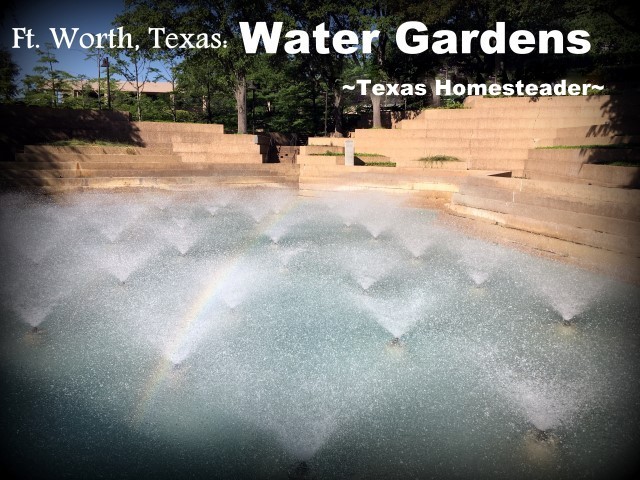 Then we drove to a historic area where many older buildings were located. My SIL knows how much I love gorgeous architecture and she fit this into our trip for all of us to enjoy. And enjoy I did – way too many pictures of gorgeous, old, ornate buildings than I could even share!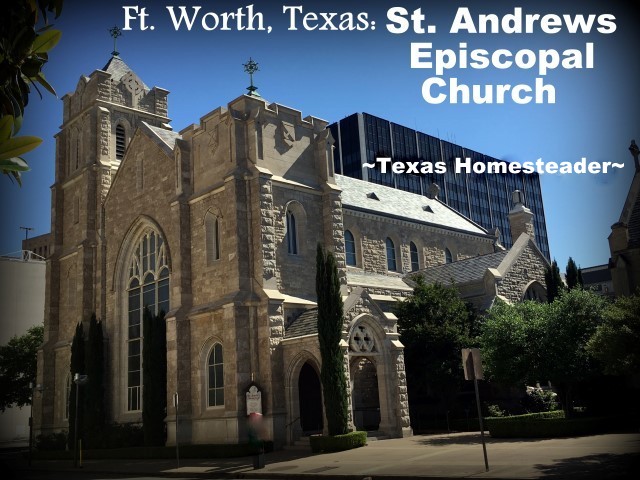 Gus's Fried Chicken
When it was time for lunch I was surprised at her excitement over her suggested location – Gus' Chicken. Now I like chicken as much as the next guy but I was anxious to try this chicken she raved about. It just looked like a fast-food joint to me…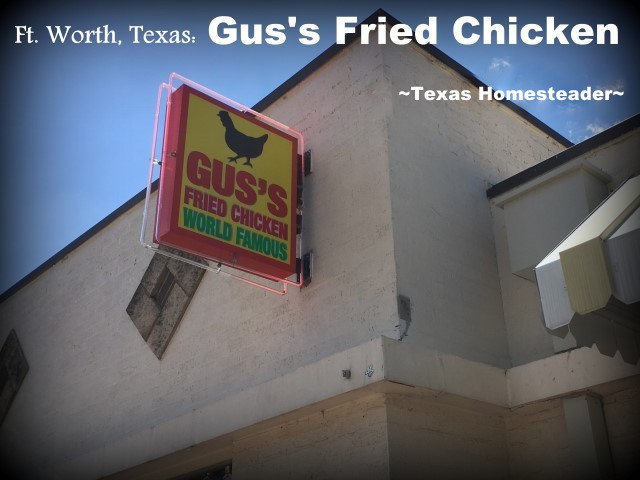 But she was right to be excited – the fried chicken had a spicy crust and was cooked to perfection, perfectly juicy on the inside. But let's be honest the show-stopper was that pecan pie RancherMan & I split for dessert. WOW! Thank goodness we'd also split our entree so there was enough room for dessert!
Tummies satisfied we decided to stop by another brewery – Wild Acre. The patio at the brewery was very well done and there were other patrons lounging out under the patio cover. The weather once again was absolutely perfect.
After everyone sampled their beer and rated them for taste, we decided to go to Rahr Brewery to see what they had to offer. We were surprised to see a line of people backed up all the way down the street. My brother asked the man at the gate what was going on & it turns out they had a special (2000-count sold out) ticket-only event planned for that day. So no Rahr for us this time!
Ft. Worth Stockyards
We ended up at the famous Ft. Worth Stockyards to do a little shopping. And of course people-watching which was so much fun too!
There was a new bride-to-be having her bridal-party day there, all dressed in matching pink shirts. And so many kids running around enjoying the Ft. Worth excitement. Plus it was so amusing to see many people who were obviously not from Texas anxious to get into their new Texas gear and strut around Texas-Style!  LOL
But then it came time for the cattle drive. Here in the stockyards they have cattle drives daily and cowboys on horseback drive the cattle right down the middle of the red-brick street. I've witnessed this cattle drive before but it sure was an amazing thing to see.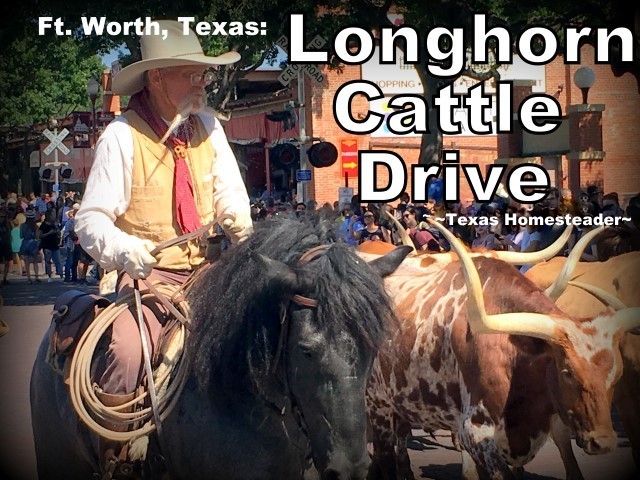 Aren't these Longhorn cattle gorgeous & majestic??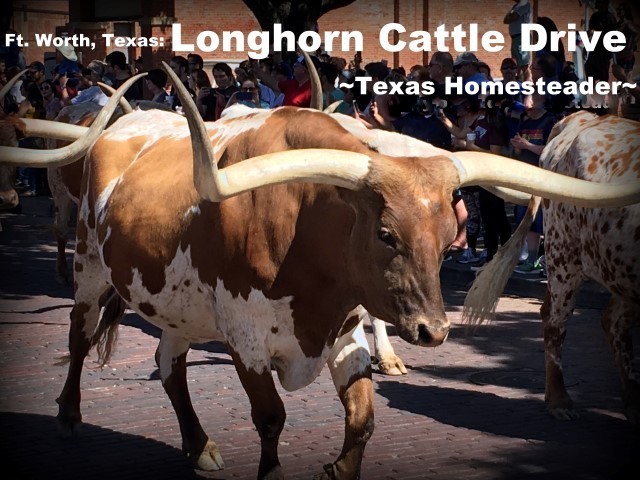 Ft. Worth Cattlemen's Steakhouse
Of course since we were already at the Stockyards we had supper at the well-known Cattlemen's Steakhouse. Although there were some  reasonably-priced items on the menu, RancherMan & I really wanted the more expensive steak dinner. So we once again split a meal – a huge 14-oz ribeye steak dinner – and added another side salad. It was more than enough food for the both of us. The steak was cooked to perfection exactly as we ordered, fork tender and deliciously seasoned.
The next morning after our complimentary breakfast at the hotel we sat out for the final day of our trip. A quick stop at Starbucks for hot chocolate for my SIL and we were off to the Cross-eyed Moose Antique store. Unlike most antique stores that are filled with expensive crystal & fru-fru fineries, this one was filled with more rustic offerings such as galvanized buckets, leather goods, old tins, etc.  RancherMan enjoyed strolling through this one a lot.
Since we were headed home, we thought we'd go via Grapevine, TX. That way we could stop off for lunch at the famous Tolberts, known for their hearty 'bowls of red' (chili)  But first we were off to the Grapevine Brewery to see what flavorful beers they had. While we lounged out on the patio with a flight of their most popular beers, an entertainer played his guitar and sang to us.  Once again the weather was perfect. We all sat around the table talking about our trip.
Tolbert's Restaurant: Grapevine, TX
After how I felt was a littttle too much time at the last brewery, ('cause this girl was getting hungry!) finally we made it to Tolbert's for lunch. I'd been to Tolbert's decades ago when they were in Dallas but I was anxious to check them out here in Ft. Worth.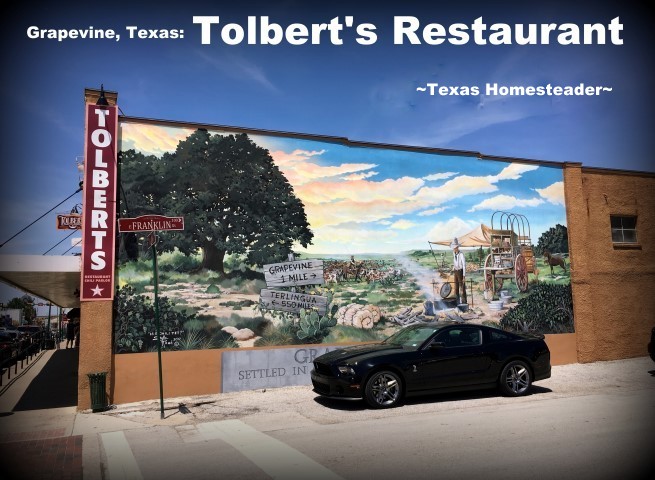 RancherMan & I split a huge burger topped with some of that famous 'red' & topped with onion rings, served with fries.  Of course since RancherMan loves 'em, we ordered an extra side order of onion rings too.
Once again, ample food for the two of us – I'm so glad we split so many meals this weekend!  Not only did it keep our costs down, but it allowed us to sample some of the fine desserts too.
They also serve something called 'Donkey Tails' which is a hot dog with cheese wrapped and fried into a tortilla. Surprisingly delicious!
After lunch we strolled across the street & we three girls sampled the wines at the local winery while the guys hung out on the patio outside doing their guy thaaaang. Then we strolled the sidewalks & stopped by a few shops also. There were little antique shops, clothing stores and even an olive oil store where they had large containers of flavored olive oils and specialty flavored coffee beans.
It was a delightful stop and a nice way to end our vacation before finally heading home.
Oh Ft. Worth, how we love thee.  We'll be back soon!
~TxH~
Travel-Related Posts


C'mon by & sit a spell!  Come hang out at our Facebook Page. It's like sitting in a front porch rocker with a glass of cold iced tea – lots of good folks sharing!  You can also follow along on Pinterest, Twitter or Instagram.
If you'd like to receive an email each time a new blog post goes live it's EASY to
Subscribe to our blog!