by Texas Homesteader ~
You know how it is, you do laundry and at the end of it all there's Mt Socks. Blue ones, red ones, white and black ones. There are socks with stripes & geometric patterns.
Sorting them to match is always a struggle for me. Some look aaaaaaalmost the same, but they're not. Ugh.
You try to pair them up but there's always (and I mean always) one sock of a pair missing. I swear it's like the washing machine is toying with you by playing hide-n-seek with that one sock.
You set it aside hoping the mate will show the next time laundry is done but it doesn't. Nor the next. Nor… Oh how I hate sorting socks!
So although I'm a huge 'Use Whatcha Got' fan, eliminating this maddening frustration for me is something I'm willing to do to save my sanity. Read on, dear friends.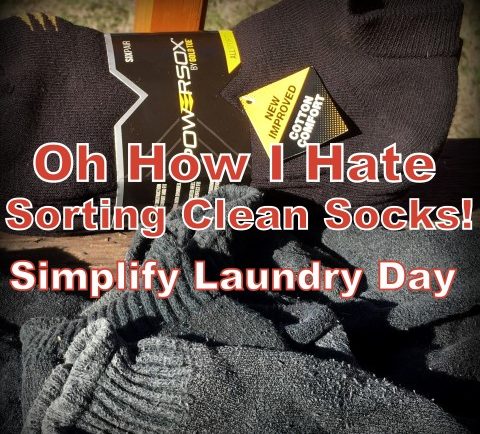 Calming, Meditative Chores
There are some folks that find mundane chores such as ironing or sorting clean laundry almost meditative. A calm comes over them as they go about these chores.
But make no mistake, that's NOT ME! Sorting socks is an maddening irritant to me. Oh how I hate sorting socks!
Sorting and matching socks is a chore I'd almost rather have a root canal than to complete. I'll scrub toilets or hand-wash dishes but please don't make me sort socks! So here's what I do to simplify:
Socks Ruined By Stains
First of all, let's tackle the waste resulting from socks ruined by stains. My solution is simple: make the stains invisible!
To accomplish this my sock color of choice is black. I mean think about it – we live & work on a ranch. It's not unusual for us to traipse down to a muddy barn and run a group of weaning calves through the chute.
Using bleach & struggling with getting my clean but stained white socks unstained again after having them mud (or manure) stained just seems like an unnecessary burden. I want clean, but I want to hide stain here.
Plus we're on a septic system so I use my own gentle homemade laundry detergent & I try not to use harsh bleach.
So years ago I decided I'd always wear black socks so any tale-tale stains won't show. As long as they're clean I'm good to go!
No more groans over taking off muddy shoes, glancing at those muddy white socks and wondering how in the world I'm gonna get those stains out even after the socks are clean.
Socks With No Mate
And having all my socks all the same means they all match. When all your socks match exactly, there's no problem finding a sock mate.
A pair is not ruined because one has a hole. If I get a hole in one, there's always another mate for the good one left behind. No more waste!
The socks with a hole are cut into shop rags for RancherMan and the remaining sock is simply paired with another non-holey mate. It's easy because once again – they all match!
No more sock bag filled with unmatched socks. And no more throwing away a perfectly good sock because it has no match. That saves lots of single-sock waste right there.
Replace All Socks At Once
Now here's a biggie, y'all. Although it may seem counter to my environmental bend, I replace ALL of my socks every so often.
Yeah, yeah I know – it goes against my grain to toss something aside and buy a new whatsit when the old whatsit loses favor with me.
But Stay with me now, there's a means to my madness.
When I've worn my socks for quite a while until the number of pairs without holes is growing slim, a replacement purchase is on the immediate-future horizon.
When that happens I'll do a little research to find out who sells black, high-percentage cotton (a big deal for me) heavy-weight, short ankle socks. After price comparisons are made for the best deal I'll buy 12-15 pair right then.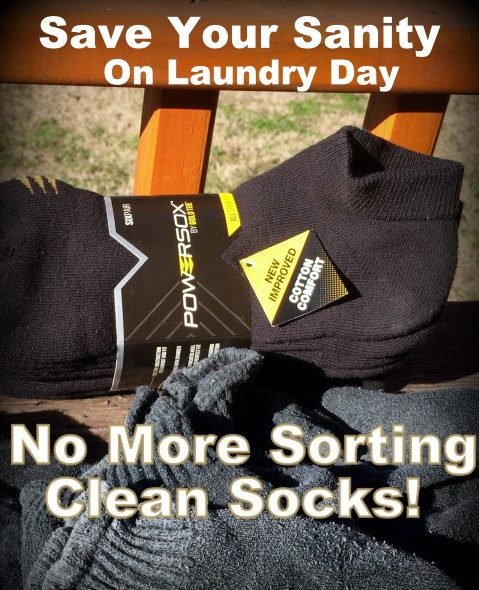 I've found it's almost always men's socks I buy, since for some reason women's socks are made with much thinner material. Even women's sports socks it seems! I'm hard on my socks so I need something that will last.
So after doing some research on highest quality, I'll find the best deal & then buy!
Old But Still-Good Socks Passed On
But what about my older socks? They're perfectly functional and without holes. They're often slightly faded so I don't want to donate them.
So I typically ask a few family members if they'd like to have them. I always have someone jump on the opportunity, especially if they have kids. You know how hard kids are on socks. I've never had to throw away used, perfectly functional, non-holey socks.
So for me that means once again I have a drawer full of socks that all match. And I think I've even saved a little money since I never have a bag full of socks that although are still fully functional, are no longer any good because the mates got stained, developed a hole or were sent away to another dimension by the washing machine.
Oh, and since RancherMan wears gray socks, sorting & pairing socks on laundry day is done in a screaming flash!
It goes something like this: Pick one sock color, pick another random sock of the same color, put them together. Repeat.
Peace & harmony are once again restored in our household & I'm left with my sanity intact.
~TxH~
Other Cleaning Posts