by Texas Homesteader ~
Don't you hate to have a narrow-neck jar that you just can't reach with a bottle brush to clean? I've often wondered how you could effectively clean those wonderful but odd-shaped bottles & jars.
Check out this Homestead Hack, y'all!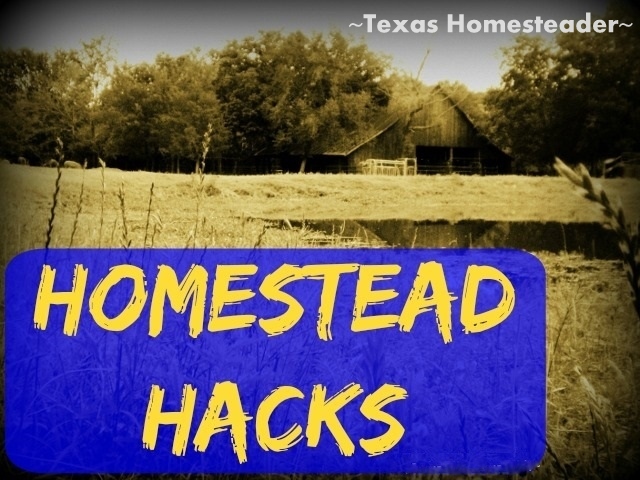 You see, my sun tea is always brewed in a repurposed salsa jar. It's the perfect glass jar to use, partially because it's hourglass shaped.
That shape makes it much easier to grip and safely carry to the picnic table outside to brew our sun tea.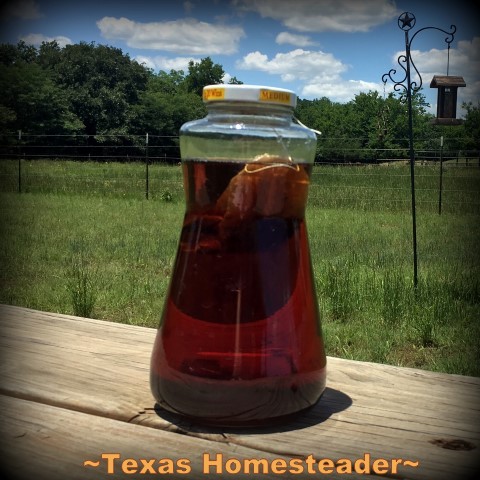 But although I love the shape of the jar, it does make it very difficult to clean. Of course I rinse that sun tea jar well each time I brew our tea. But over time I start to see tea stains on the inside glass.
So I sat out to find a good way to get the tea stains out for a crystal clear glass jar, ready to make sun tea again & again.
I wonder… Hummmmm…
Denture Tablets For Cleaning A Narrow-Neck Jar
I'd read that you can use simple denture tablets to clean the glass. You know the ones – you drop them into water with your dentures & it begins to bubble. Then it cleans the dentures overnight.
I'd bought some of those effervescent denture-cleaning tablets years ago because. Back then I'd read that you can use them to clean your toilet & help keep water stains at bay. (it worked well enough I suppose, but I found that a good ole toilet brush and baking soda works just as well. Much cheaper & less waste).
But since I still have several of those tablets, now I'll try one to see if it will clean my sun tea jar with no scrubbing. So I pulled out one of those tablets and dropped it into my tea jar that had been filled with water.
It bubbled just as I knew it would. But would it actually clean those hard-to-reach areas of my jar? I sat the jar by the sink & left it overnight to do it's thaaaang.
Jar Sparkling Clean Again
The next morning I went to check it out. A quick rinse and I was very pleased to see those tea stains were now gone! Now that was effer(dent)less!
LOL – see what I did there??!


I still have a supply of these denture tablets at the ready for when they're needed again. Periodically I'll just toss one in my sun tea jar and allow it to soak overnight.
That should keep my tea jar sparkly clean & ready to use!
~TxH~
Want To See Our Natural Cleaning Posts?


C'mon by & sit a spell! Come hang out at our Facebook Page. It's like sitting in a front porch rocker with a glass of cold iced tea – lots of good folks sharing! You can also follow along on Pinterest, Twitter or Instagram.
If you'd like to receive an email each time a new blog post goes live it's EASY to
Subscribe to our blog!