by Texas Homesteader ~
I repurposed those plastic mesh bags that produce is often sold in and fashioned them into a handy cleaning tool. Check out today's Homestead Hack, y'all!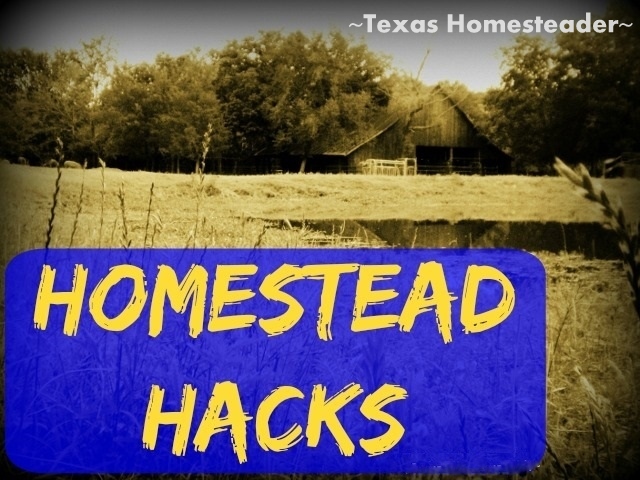 Repurposing Filling A (Cleaning) Need
I'm pretty fond of trying to think outside the box to provide for myself things that I used to buy. Recently I went into a frenzied canning marathon trying to get many fresh apples & pears preserved before they went bad.
But oh the sticky mess it made in my kitchen! I've been scrubbing my kitchen for what seems like days! LOL.
When I've made a mess this big I need a big scrubber – those little palm-sized ones I used to buy just don't do it for me.
I need something big enough to hunker down when I'm scrubbing sticky canning residues from stockpots & countertops. You know, BIG messes for which I may or may not have been responsible. (eh hemmmm…)
And luckily I'm able to easily provide this handy cleaning tool for myself. As a bonus it's much larger and thicker than the wimpy ones I used to buy.
No Tools Needed – Finger Crochet
Have you ever heard of finger crochet? Me neither, did I just make that up?? Although I'd never heard of it before a reader told me they did finger crochet in elementary school.
DARN, there goes another original million-dollar idea destined to make me filthy rich!
I used to do some light crocheting when I was in junior high although back then I used crochet hooks. But I remember nothing but the most basic stitches.
So this post is certainly not a tutorial for crochet (and you're WELCOME) I'm just giving you a quick craft idea & I'm assuming you already know the basic stitches.
But c'mon, it's just a scrubbie – perfection doesn't even matter here anyway! In no time you can whip one of these up for yourself.
Gather Supplies
First I saved several mesh produce bags. I cut off the sewn-paper/plastic advertising part at the top and the metal ring at the bottom. Now I'm left with a long mesh sleeve about 21″ long. I cut each sleeve by 1/4, making 4 rings about 5″ to 5.5″ wide each.
Then I stretched the rings out & quickly joined them together into one long mesh rope chain. I did this by looping one ring through a second ring and then looping the first back through itself.
(clear as mud?? LOL) Although it's hard to describe, it's easy to do.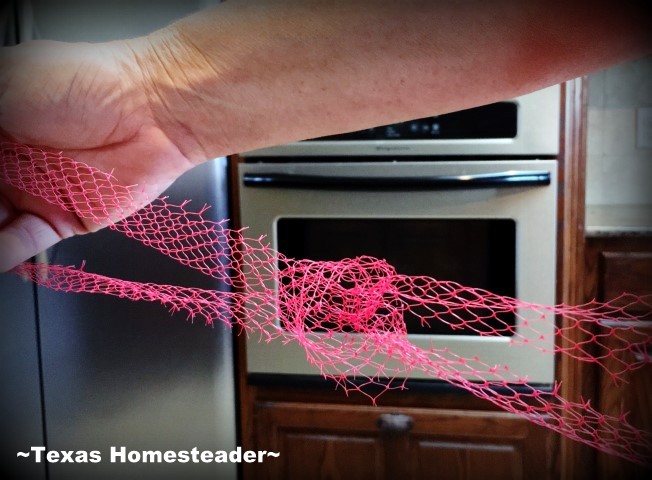 Remember when you were a kid and thought it would be funny to join all the rubber bands into one big rubber band & stuff it all back in your father's desk?
No? Just me??
OK well anyway you'll join these together in the same way children whom shall remain nameless would join together a bunch of rubber bands.

Crochet Scrubber Using Basic Stitch
When I had a large thick rope of mesh I crocheted the rope into a round pad.
Now the first one I made I tried using a rug hook since I knew a crochet hook would be too small. What madness!
The rug hook kept getting hung up into the mesh. I figured it would be much easier to just crochet by hand and you know what?
IT WAS!
The loops are big enough that I can easily use my fingers instead.
So using basic stitches I finger-crocheted that mesh into a large pot scrubber of my own size requirements. Now THIS bad boy does the trick!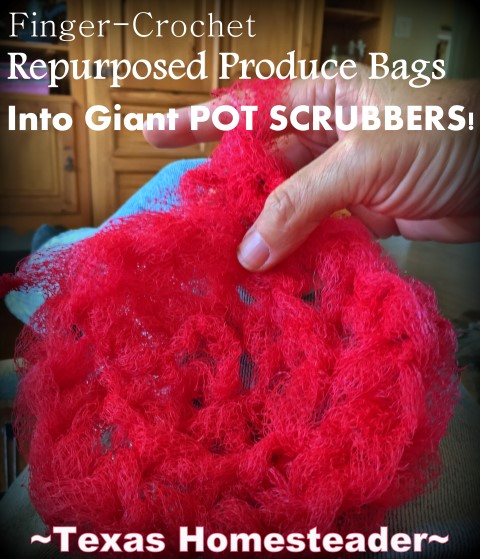 I love that these mesh bags were diverted from the landfill. (I'm not even sure if they're recyclable??)
Instead I've turned them into something useful. This Texas-sized scrubber will greatly assist me the next time I try to single-handedly destroy my kitchen with a canning marathon! 🙂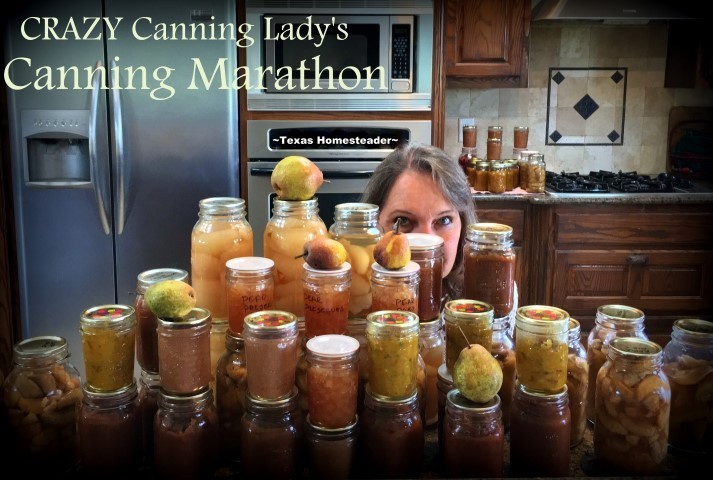 ~TxH~
Want To See Our Natural Cleaning Posts?
C'mon by & sit a spell! Come hang out at our Facebook Page. It's like sitting in a front porch rocker with a glass of cold iced tea – lots of good folks sharing! You can also follow along on Pinterest, Twitter or Instagram.
If you'd like to receive an email each time a new blog post goes live it's EASY to
Subscribe to our blog!
Save
Save
Save
Save
Save
Save
Save