by Texas Homesteader ~
*contains affiliate link
Did you know you can easily grow your own luffa (loofah) sponge in your garden? They're easy to grow, eco friendly and fully compostable. And so many uses too! Use them in the shower, in the kitchen, in an exfoliating soap and more!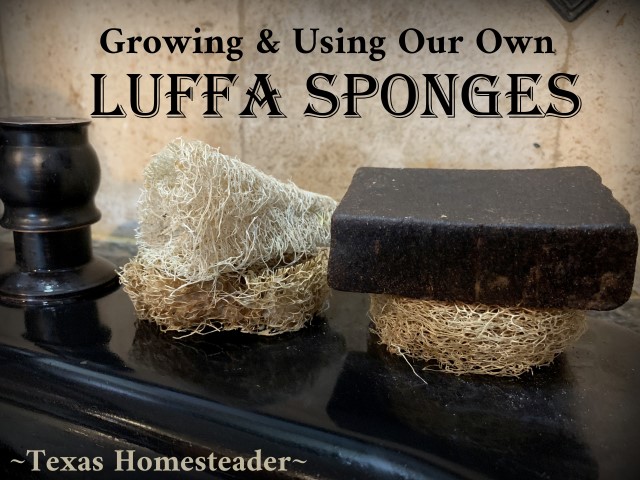 (Note: Some links in this post are for further information from earlier posts I've written. But links preceded with * are affiliate links. If you click them and buy something (almost anything, not just the item noted) I could receive a tiny commission. But the price you pay will NOT change. It's an easy way to support this blog without anything coming out of your pocket. So click often! Thank you!)
What Is Loofah Made Of?
Several years ago I became aware that you could actually grow your own luffa (or loofah) sponge in the garden.
Whaaaaa…..??
You mean those little scrubby things you use in the shower? Who knew??!!
OK I'm embarrassed to admit this, but I'd always thought luffas were some sort of product from the sea. But apparently not! They're grown on a fast-growing and productive vine.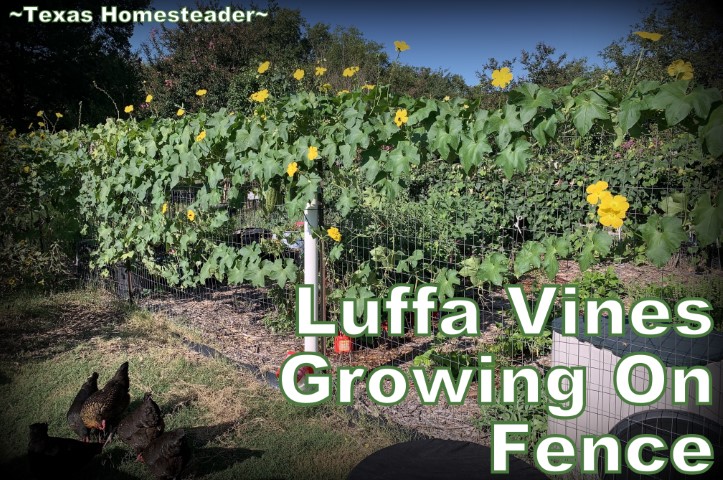 Now I always grow my own luffa sponges and couldn't be happier!
Homegrown Luffa Benefits
There are several benefits I've found to growing my own luffa. (I'll discuss them in detail a little further below.)
Young luffa can actually be eaten like squash.
Luffa is easy to grow and produces heavily.
Luffa sponges are fully compostable at the end of their useful life.
Mature luffa can be used to exfoliate your skin.
Luffa pieces can be used to scrub your shower.
Use luffa to scrub & clean your dishes.
Save soap and soapy mess by turning luffa into a soap holder.
Interesting Christmas gift idea – homemade luffa soap
Growing Luffa
Luffa has a longer maturation date. It's said they need about 4 months of warm weather to produce properly.
So I'll often start them in my Indoor Greenhouse to give them a jump-start.
Then I plant the seedlings in the garden with the rest of my veggie plants when the danger of frost has passed.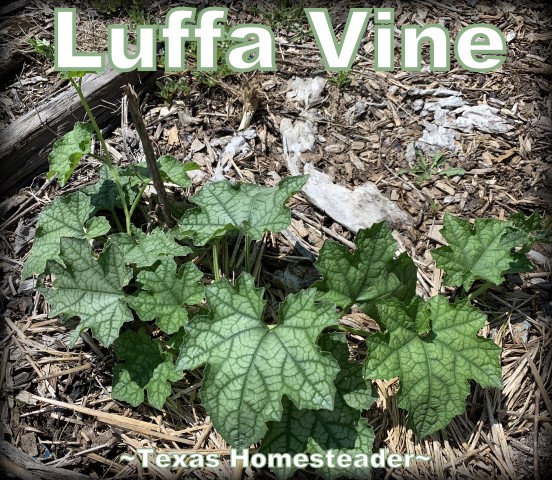 That luffa grows into a long, tenacious vine. Soon pretty yellow flowers began to appear.
Our honeybees love them and visit them every day. But at first I didn't see any luffa growing.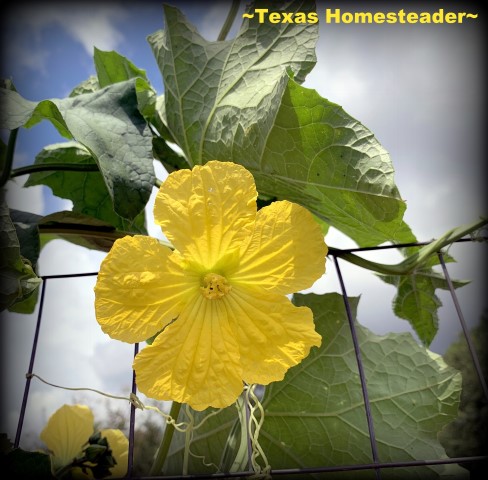 Then one day a tiny luffa appeared. YEA! I was hoping I'd get a good harvest that year. (don't worry, I DID!)
Young Luffa Are Edible
If you harvest those luffas while they're young and small you can actually eat them. Although the flavor is slightly different it's still very similar to zucchini to me.
But you'll want to harvest them young – when they're only about 5″ long or so.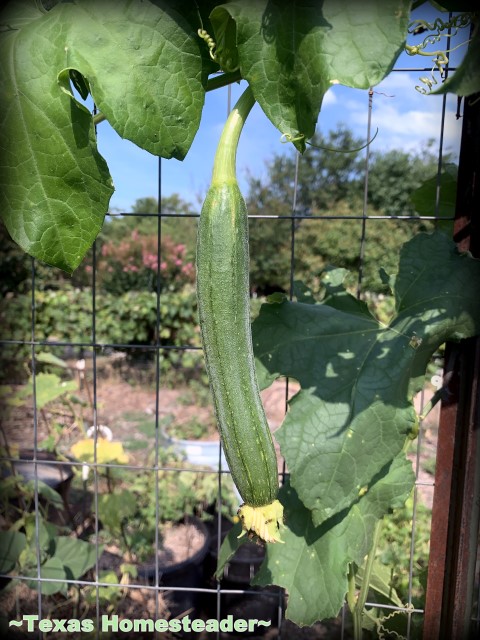 I like to slice them and sauté them in a little butter with onions and garlic.
Squash Bugs Don't Seem To Bother Luffa
I've noticed in my garden that squash bugs don't seem to bother luffa. So I will often plant and enjoy luffa along with my zucchini each year.
Since luffas take longer in the season to produce I'll enjoy zucchini in the early garden months.
Then when the squash bugs decimate the zucchini plants (and despite my best efforts they aaaaalways do) I'll use the luffa for a zucchini substitute for the rest of the gardening season.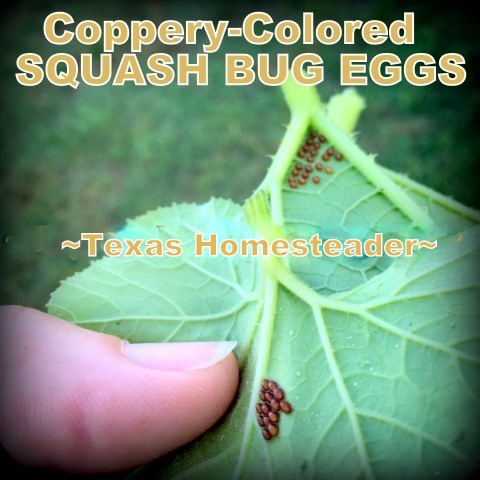 Maturing Luffa For Sponges
But if you want to grow luffa into sponges, just let them go wild! I allow the vines to grow along the entire length of the fence between my garden and chicken yard.
The large leaves offer shade to the chickens. And I end up harvesting about 50 luffa sponges too.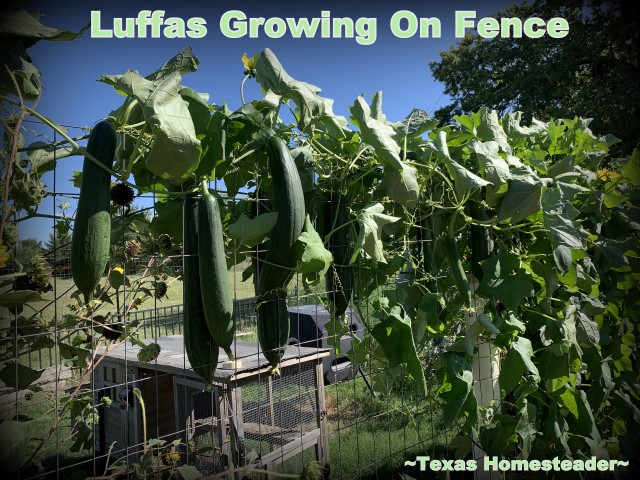 Soon those luffas will grow to 1-2 feet long or more. Let me tell ya, that fence was feeling the strain of the weight of all those luffas!
So you want to make sure you have a sturdy fence to hold them.
Harvesting Mature Luffa Sponges
As the luffa matures it begins to feel lighter as the once-dense and wet insides become dry & fibrous.
The skin feels thinner and begins to turn yellow. I'll watch them until I feel they're ready to harvest from the vine.
You can allow the luffa to dry completely on the vine if you like. The skin will turn brown and be hard and crunchy.
If I've allowed the luffa to dry that way I'll harvest the dried luffa and squeeze it gently all the way around to crack the outer shell.
Then I'll pull the hardened pieces of skin from the luffa.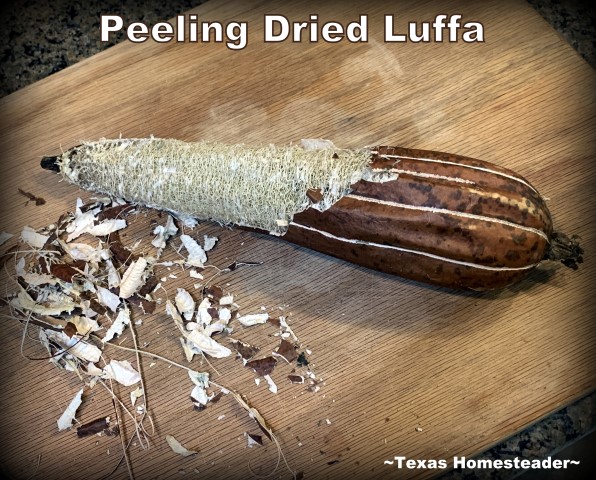 Easier Luffa Peeling Tip
But I've found it's significantly easier to peel the luffa if I'll harvest when they're just beginning to yellow and the skin is thin. By harvesting at this point I can peel a whole luffa in seconds.
I'll take a knife and score along the thin yellowed skin. Then I'll work my fingertips beneath the skin and peel the luffa skin away. I'm left with a very wet, very green fibrous luffa.
There's a sweet spot in peeling time here. Harvest the luffa too early and the skin is still thick and firmly attached.
That means you'll have to pull it off in very wet chunks. It takes a long time to peel and tends to mar the tender still-green luffa beneath.
But if you can time it right, the skins peel off effortlessly and your luffa is left intact.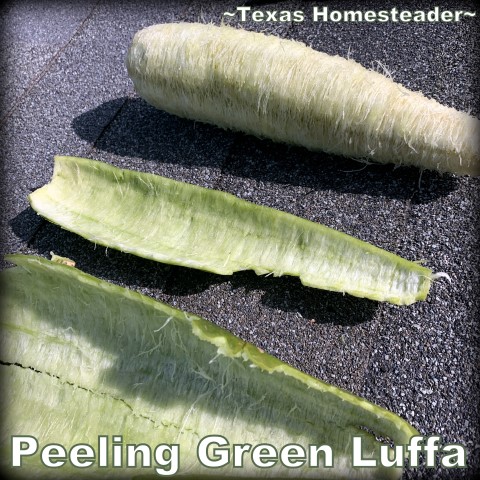 After they're peeled I'll set the luffas in the sun and allow them to air dry completely. Soon they're very dry and very lightweight.
If you shake them you can hear the seeds rattling inside. (and there will be LOTS of seeds!)
How To Use Homegrown Dried Luffa
There are many ways we use the dry luffa. Most people are familiar with the benefits of using a luffa in the shower to exfoliate their skin. You can buy luffa sponges for the shower, but they're often made of plastic. Ugh.
Growing your own luffa makes for an eco-friendly, compostable & zero-waste luffa sponge.
Personally I feel the very first use of the home-grown luffa feels a little harsh to my skin. So I'll wet it down first and allow the fibers to soften for a couple of minutes until I can easily squeeze it with my hand. Then scrub away.
After that first use the luffa is more pliable.
I cut my luffa, removed the seeds, laid it out flat and cut it in half. That way I have a luffa scrubber to keep on the windowsill in my shower.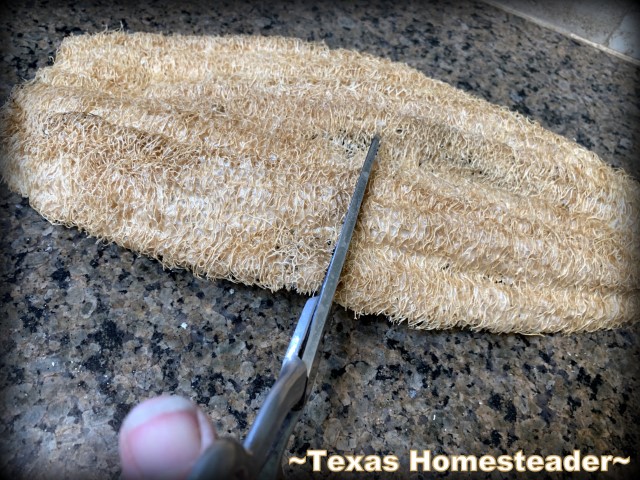 After I've taken my shower I'll often use this all-natural 'scrubby sponge' to clean the shower walls and shower-door glass.
It keeps the soap scum at bay.
The dried luffa can be used as a kitchen scrubby sponge too. After the first use you're easily able to wet & squeeze the luffa.
I use my homegrown compostable luffa for cleaning dishes the same as you would use a sponge or even one of those green plastic scrubby things.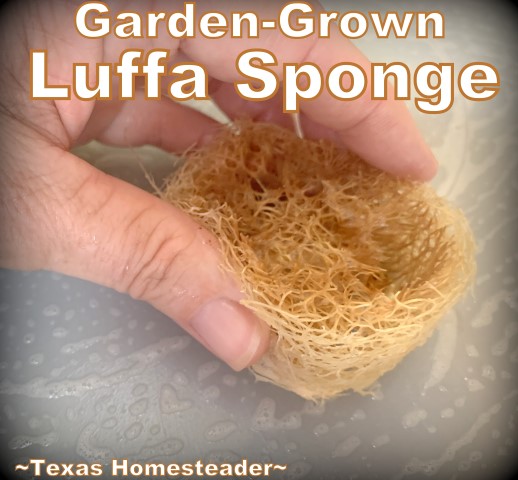 So I keep a luffa sponge on the edge of my kitchen sink to use to wash dishes. No plastic! The luffa can simply be composted when it's done enough heavy duty.
We like to use bar soap because there's no plastic container to dispose of like when you use liquid soap. (Why yes I hate plastic, why do you ask? LOL)
RancherMan & I have made our own homemade bar soaps for over a decade now.
But you know how it is with bar soap. You use it to lather you hands and then return the soap to the edge of the sink where it sits in a puddle of water, dries slowly and makes a goopy mess.
So you buy those little soap holder thingies to put the soap on. But I'm telling you there's no need when you're growing luffa!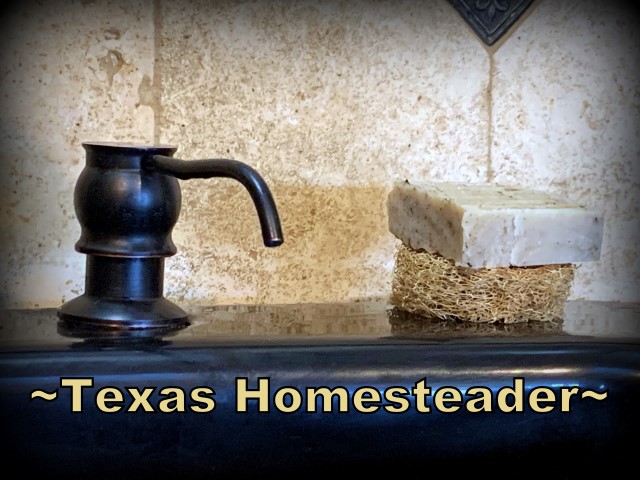 I just cut a thick slice of luffa and place it on the edge of my sink to hold my bar soap. When I use the soap to wash my hands I return it to this luffa round.
There's plenty of airflow through the luffa sponge to allow the soap to dry properly. And no messy soap sludge on the sink. Plus my soap lasts longer!
Luffa Christmas Gifts
Y'all know we like to gift Homemade Gifts for Christmas. We specifically grew luffa one year to include with our homemade Christmas gift baskets.
Included in each gift basket was some homemade soap, a home-grown dried and peeled luffa & some Soapberry Shampoo.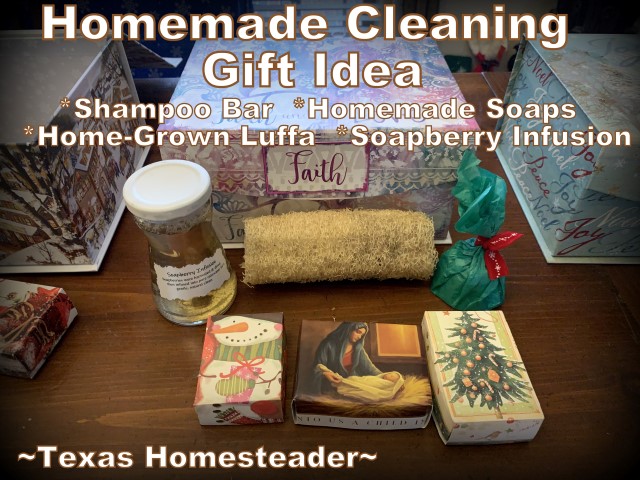 We even made RancherMan's favorite luffa soap. We cut the dried luffa into thick circles and wedged each piece into a *Silicone Muffin Pan. Then we poured the soap on top.
Finally we let them cool and popped the soaps out of the muffin molds. Voila!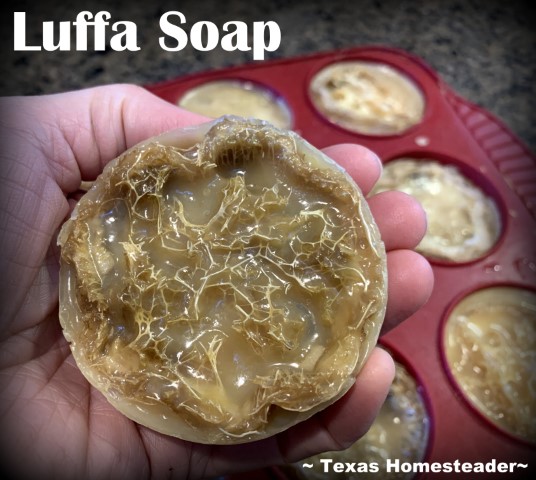 Grow Your Own Luffa – It's Easy!
So if you'd like to grow your own luffa it's easy to do and they grow abundantly. It's a great zero-waste step to take for so many helpful household purposes.
~TxH~
This post categorized in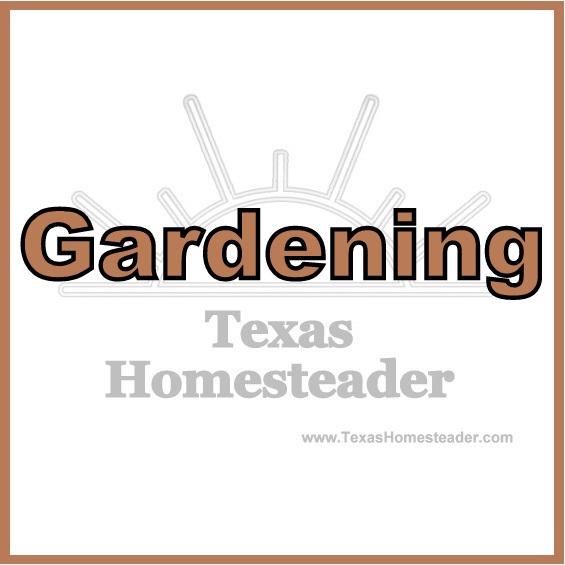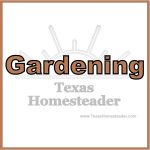 Links In This Post
My Favorite Garden Hacks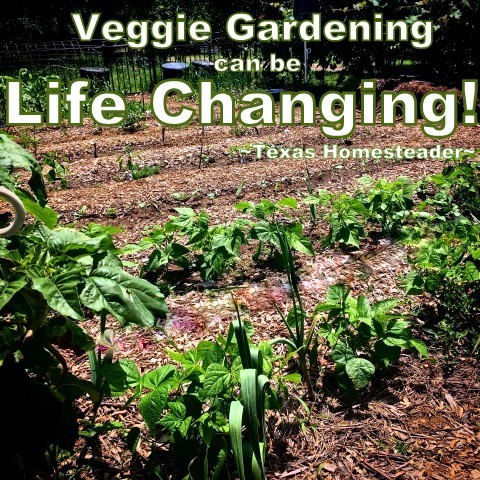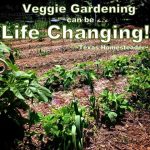 Garden Planning
Seed Planting
Soil Health
Garden Styles
Garden Plants/Harvest
Water/Irrigation/Drought
Garden Tips


C'mon by & sit a spell! Come hang out at our Facebook Page. It's like sitting in a front porch rocker with a glass of cold iced tea – lots of good folks sharing! You can also follow along on Pinterest, Twitter or Instagram.
If you'd like to receive an email each time a new blog post goes live it's EASY to
Subscribe to our blog!