by Texas Homesteader 
I like to use the most non-toxic products when I clean, so I often make my own. Luckily it's super easy (and super inexpensive) to make your own cleaners. One of the most common standbys for me is plain distilled vinegar. So inexpensive and such a great cleaner. And I've read that its acidity makes it effective at killing many kinds of bacteria and molds. Plus it's also a great deodorizer.
But RancherMan's not fond of the smell of vinegar so I typically scent it with something natural. I've used rosemary to scent it for my Rosemary-Scented Hair Rinse. But today I'm making it citrus scented for cleaning.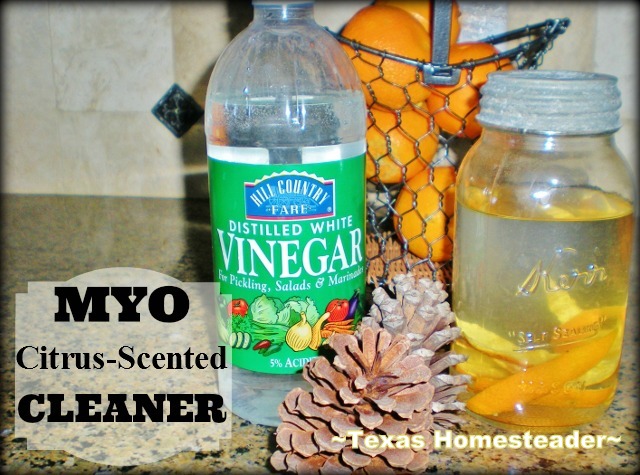 Infusing With Orange Peels
It was so easy too. You see, each morning I typically enjoy a fresh orange with my breakfast. So I took a quart canning jar and filled it with vinegar. Then I enjoyed my orange, removed the white pith from the back of the peel & dropped the cleaned peel into the vinegar, giving the contents a little swirl.
The next morning when I enjoyed my orange I once again removed the pith from the back and dropped the peels into the jar of vinegar, giving the contents a little swirl.  When the jar was full of peels I continued swirling the contents about once every day or so.
Over time the color of the vinegar changes from clear to a light orange. After about a week or so of swirling the contents each morning I was able to strain out the peels. And Hocus Pocus the resulting vinegar is now transformed into a powerful citrus-scented cleaner!
Using My Citrus-Scented Cleaner
I like to use this vinegar in a repurposed spray bottle with a tiny squirt of grease-cutting dish liquid. This cleaner works great for removing soap residue on my shower doors – I spray it on & let it sit for about 30 minutes to soften the soap scum. Then I come back & respray, then with a quick scrub and rinse the shower doors are clean.
I also use this cleaner in other areas of my bathroom – floor tiles, toilet bowl, and bathtub. It does a great job on all these surfaces. And I've been able to take a very inexpensive pantry staple along with a repurposed spray bottle & make it into something useful for my household.
~TxH~
Want To See Our Natural Cleaning Posts?
C'mon by & sit a spell!  Come hang out at our Facebook Page. It's like sitting in a front porch rocker with a glass of cold iced tea – lots of good folks sharing!  You can also follow along on Pinterest, Twitter or Instagram.
If you'd like to receive an email each time a new blog post goes live it's EASY to
Subscribe to our blog!
Save