by Texas Homesteader ~
It's a well-known fact that diluted vinegar is a natural hair conditioner. It's said that with occasional use vinegar helps restore the natural PH of your hair. It also helps clean buildup from your hair. Plus it not only restores that healthy shine but it detangles too.
However RancherMan hates, hates, HATES the smell of vinegar. Although no vinegar aroma at all remains in your hair when it's dry, there is a subtle hint of vinegar as your hair is drying.
To please that man in my life I've scented my vinegar with my favorite herb – rosemary! (a double benefit since it's also said that Rosemary is a good herb to use in your vinegar rinse for healthy hair)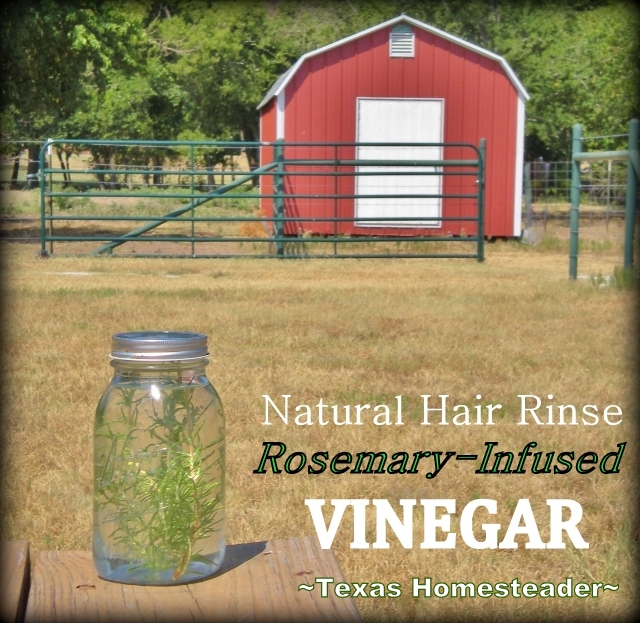 Making Vinegar Hair Rinse
I've tried both regular vinegar and apple cider vinegar for my vinegar hair rinse. But to be honest I've never really noticed a difference between the two.
Today I'm using regular vinegar and the power of the sun to infuse that glorious rosemary scent and benefits into my homemade hair rinse. I lop off a large sprig of the beautiful rosemary plant I have growing right outside my door.
Then I wash it off and place it in a quart canning jar and fill the jar with vinegar. After screwing on the lid I place the canning jar outside in that blazing Texas sun. The infusion takes place without further action by me.
Yeah, I'm just lazy errr… environmental that way!
After about 2 days in the sun the bright green fades from my rosemary sprig. That's when I know it's done. So I bring in the jar and strain the vinegar into another labeled jar.
Now to make my hair rinse I take a repurposed plastic squirt bottle. (I'm a klutz in the shower sometimes so plastic is necessary) I add about 3 tablespoons of my infused vinegar with about two cups of water, shake it up & place it in the shower.
I've never known my mixture to go 'off' and this has worked well for me.
My observations:
My hair tends to be naturally dry & I worry that using a vinegar rinse every day may be a little too drying. So I personally use it about 2-3 times a week. Can anyone weigh in here?
Vinegar will burn if it gets in your eyes so avoid the eyes when squirting the mixture on your hair.
After shampooing I squirt some rosemary-infused vinegar onto my hair, work it in and let it soak in for about 2 minutes before rinsing out.
Although some people leave the vinegar in their hair or only partially rinse it out, I prefer to do a more thorough rinse. That's just my preference. Try it both ways & see what you like.
So there ya go – a more natural hair rinse. It's inexpensive, it's natural and it's homemade.
And there's no new plastic bottle going to the landfill. I love it!
Zero-Waste Health & Beauty


C'mon by & sit a spell! Come hang out at our Facebook Page. It's like sitting in a front porch rocker with a glass of cold iced tea – lots of good folks sharing! You can also follow along on Pinterest, Twitter or Instagram.
If you'd like to receive an email each time a new blog post goes live it's EASY to
Subscribe to our blog!
Save