by Texas Homesteader ~
I make my own light & sheer face powder using cornstarch and colorings such as cinnamon or cocoa. With all the hype these days about toxins in cosmetics, I'm happy to find a zero-waste solution that works well for me for just pennies.


Daily Makeup Needs
Years ago when I quit working in the corporate world I used up the liquid makeup I had already purchased. And when it was gone I went looking for solutions to provide it for myself instead of buying it.
Now I'll admit my makeup needs are few. I live and work on a Homestead. So my typical workday doesn't typically involve makeup anyway.
But I do like to wear light makeup when RancherMan & I go out, or when we go to church.
There are lots of recipes out there that call for various specialty ingredients. But y'all know my battle cry: "Use WhatCha Got!"
Homemade Face Powder Ingredients
So my go-to method of mixing up face powder typically involves a base of cornstarch and various spices to color it. My powdered makeup only includes a few ingredients that I always have in my pantry.
I can mix it up quickly and adjust the color easily when the seasons change.
This face powder needs to be applied very lightly. It's meant to be a sheer powder that just helps even out your skin tone.
If you need something heavier to cover blemishes or more obvious skin imperfections, this is probably not what you're after. But if you want a light, sheer powder, this is what I use:
Homemade Face Powder Recipe
Now I have no sensitivities to any of these natural ingredients. Of course you'll want to be aware of your own skin sensitivities to determine if this is right for you. But I love it!
To mix it up I start with plain ole cornstarch & color the cornstarch with cinnamon for a little bronzy color.
In the summertime I like to add just a touch of cocoa and/or nutmeg for a darker powder. You'll have to experiment with the combination that works for your skin color.
My complexion is considered olive so this is what I mix up for myself:
1 Tablespoon Cornstarch
1 teaspoon Cocoa
1/2 teaspoon Cinnamon
1/4 teaspoon Nutmeg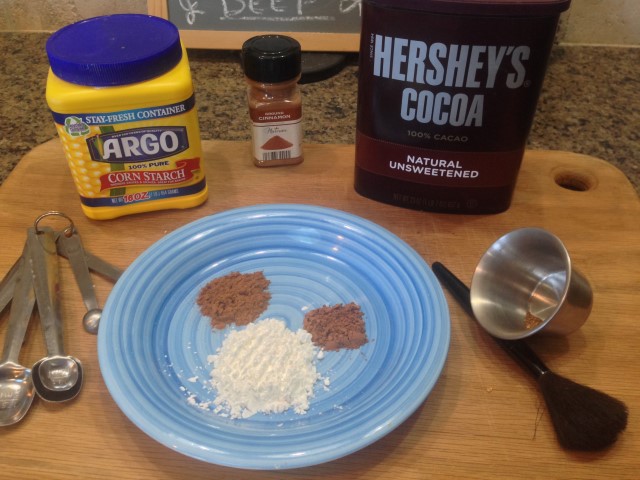 Now here's the hard, complicated, labor-intensive step: I mix it all together until all ingredients are thoroughly combined.
Really, THAT'S IT!!
Homemade Face Powder In Vintage Jar
…and here's a little fun turn of events, I recently went on a treasure-hunt on our property. I found a very old and very cute little metal-lidded milk glass jar.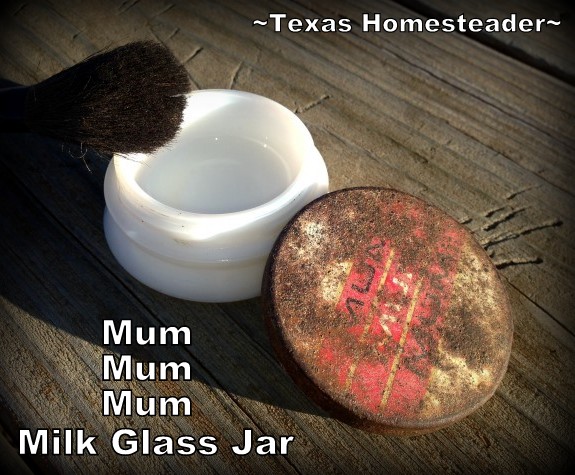 It will be perfect to store my homemade face powder!
Using My Homemade Face Powder
After transferring my face powder into this container I tuck it into my vanity drawer so it stands at the ready to be used.
When I'm getting dressed, after applying moisturizer to my face I dip the tip of my makeup brush into the makeup powder.
Much more powder than I want always clings to the brush. I'm sure to tap it several times until all excess powder is dislodged back into the container before I sweep the brush across my face.
I'll admit this took some trial & error for me since the first time I used it I tapped what I *thought* was all the loose powder out of the brush. But I ended up looking like I had a baking mishap in the kitchen! LOL.
So be sure to tap the brush on the side of the container several times to dislodge all excess powder first.
Now all that's left to do to apply this powder to my face is sweep the makeup brush in long sweeping strokes across my face. The color contained in the powder evens out my complexion.
I wonder if I can make a liquid or compressed-powder version too. Hummm….
With all the hype these days about toxins contained in cosmetics or cruel animal testing by the big corporations, I'm pretty happy to have found a solution that really works well for me for only pennies.
Plus my makeup powder adds nothing to the landfill. A humongo big PLUS that I'm always on the watch for!
~TxH~
This post categorized in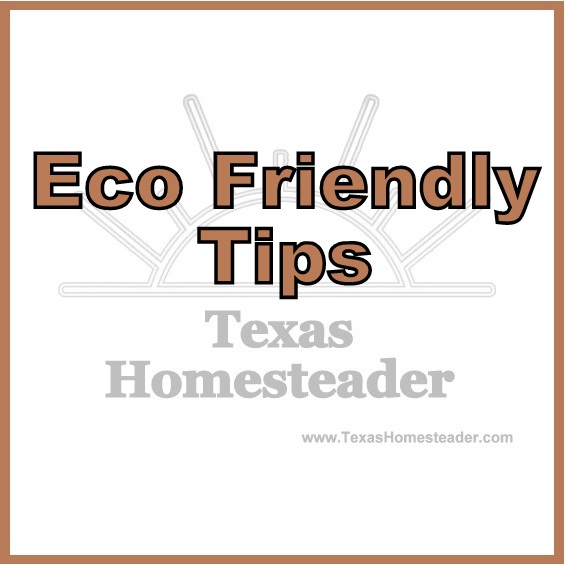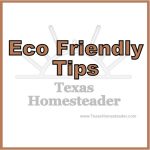 Zero-Waste Health & Beauty


C'mon by & sit a spell! Come hang out at our Facebook Page. It's like sitting in a front porch rocker with a glass of cold iced tea – lots of good folks sharing! You can also follow along on Pinterest, Twitter or Instagram.
If you'd like to receive an email each time a new blog post goes live it's EASY to
Subscribe to our blog!
Save