by Texas Homesteader ~
One day RancherMan took my hand & suggested we enjoy an unseasonably warm day & take a walk around the homestead.
As I often do this time of year when the poison ivy and snakes are (for the most part) dormant, I found myself once again at the location where the previous owners used to take their household discards.
Although our barn and some of the barbed wire on our property dates back to the 1880's, the last residents before us had their house burn down because of a lightening strike sometime in the late 1950's.
So this area where they tossed their no-longer usable household items so long ago is like a mini time travel for me and I love it!
It seems I can learn about those inhabitants from so long ago from what they left behind, a broken child's die-cast car, broken household trinkets and glass jars.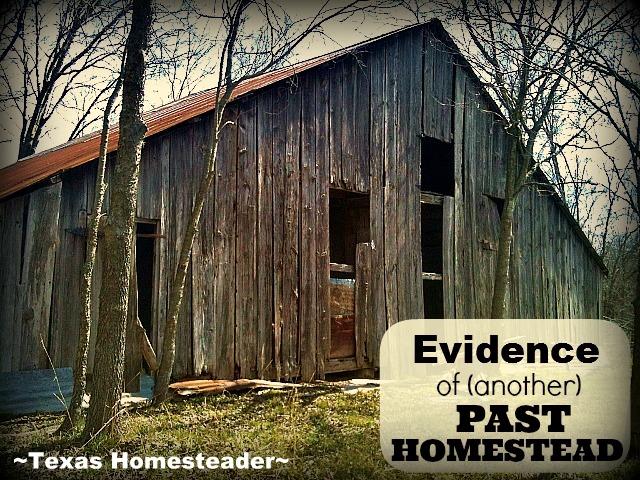 Old Long-Gone Homestead's Discards
Over the years we've worked to clean up much of the trash back in this area. We've recycled flatbed trailer-load amounts of metal and hauled off buckets of broken glass jars to the glass recycler.
But every now & then I like to see what we've missed back there.
Summer is too difficult a time to search since it's very overgrown in that area. But this time of year I get the opportunity… It's just so much fun for me.
I found some canning jars to clean, sanitize and use for storage or display. I also found a vintage Bristol-Meyers milk glass "MUM" jar, a milk glass salt shaker and this cool textured green glass jar & some zinc canning jar rings an old tea kettle and more.
I guess having these things just makes me feel connected to the family who used to live on our homestead, whomever they were…
I initially rinsed them off in my rainwater collection barrel to wash most of the dirt away to see what I was working with.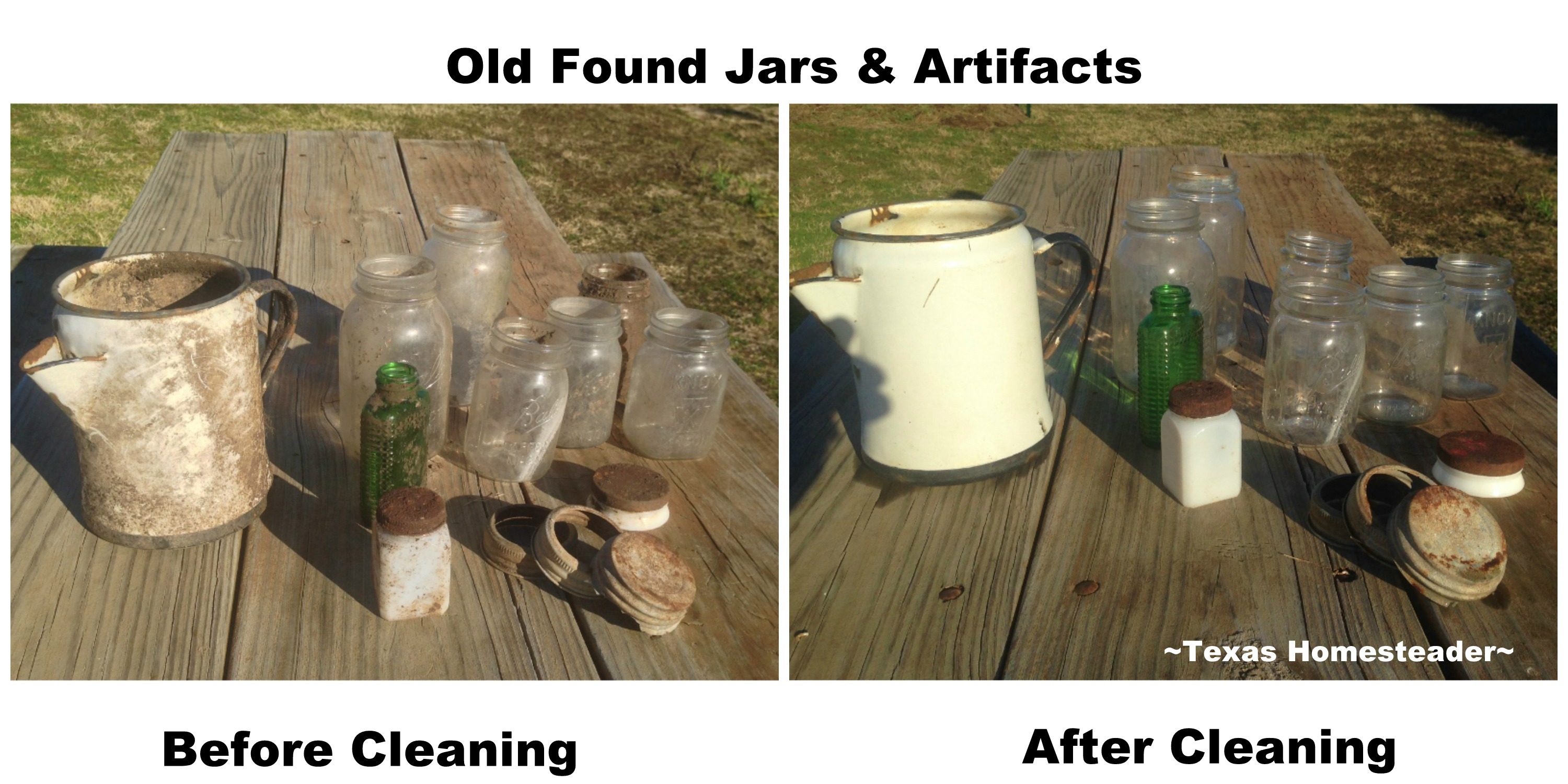 After I'd given everything an initial cleaning I brought the glass jars inside and washed them up a little more thoroughly.
But obviously being buried for 50-60 years has left a white mineral film on them. I scrubbed repeatedly and then washed them in the sanitizing cycle of the dishwasher.
Old Vintage Canning Jars
When they came out I labeled the bottom of each canning jar "For Storage Only" so that I can use them in the pantry to store dehydrated vegetables or other purposes but they won't accidentally be used for canning. I don't know that they would be strong enough for that.
The canning jars were Knox, Ball and Kerr brand. So I had a little of everything!
I also cleaned up the zinc lid and rings. I used one of those rings & put some hardware cloth between the ring & jar to make a county-chic vase out of this old Knox jar – très cute!
What better way to display these beautiful vibrant yellow daffodil blooms?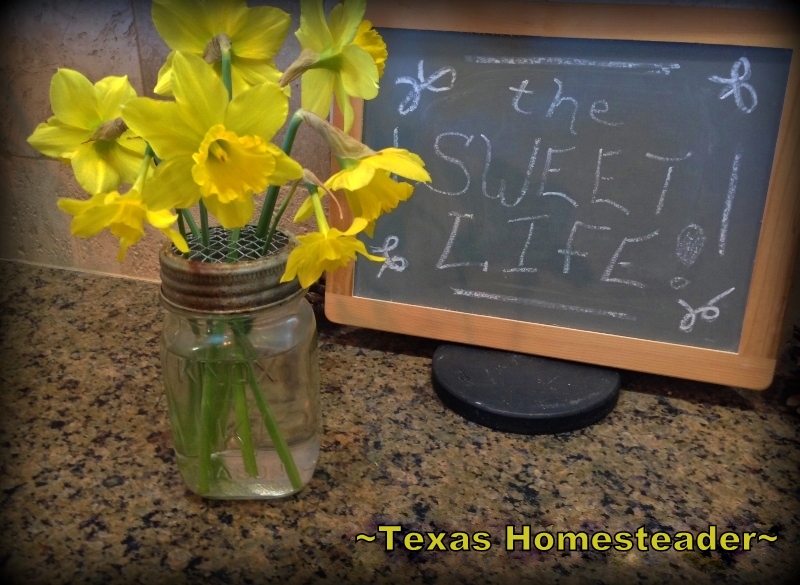 The rusted lid with the glass insert will top another old jar I found on this day. I'll use it to store my grandmother's old button collection.
Although it's hard to see in this picture, this old jar has a barrel pattern to it. AaaaaahDORABLE!
Have I mentioned how much I love glass jars?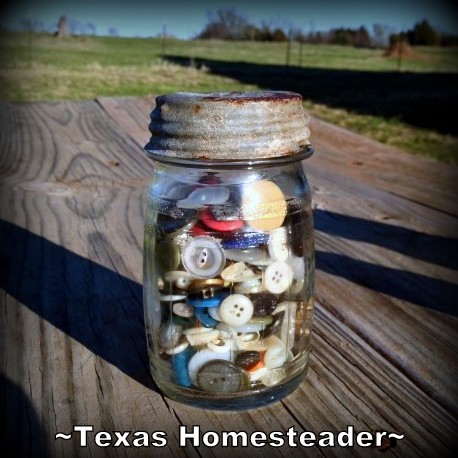 Milk Glass Salt Shaker
The salt shaker's lid was rusted tight when I found it. But with time & some oil I was able to gently remove it.
RancherMan located another metal lid that fit it and I had him drill small holes in it. We've returned this old salt shaker into service again!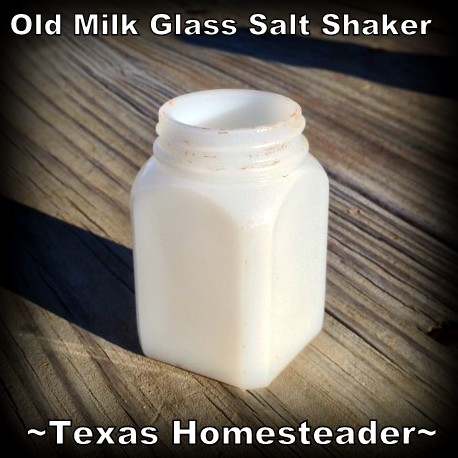 MUM Deodorant Glass Jar
I also found an old white squatty jar with a rusted lid. A light sandpaper cleaning of the lid revealed the lid had a white surface with a red stripe through the middle divided into thirds with the word "MUM" repeated 3 times.
My research shows that this was one of the first commercial deodorants available from Bristol-Myers Company before it eventually went to BAN roll-on deodorant.
I'm going to clean this jar up & fill it with my homemade face powder. I had considered sanding and painting the lid but I wonder just how old this jar is.
So I contacted the Bristol-Myers company (twice) but they refuse to respond.
Does anyone know?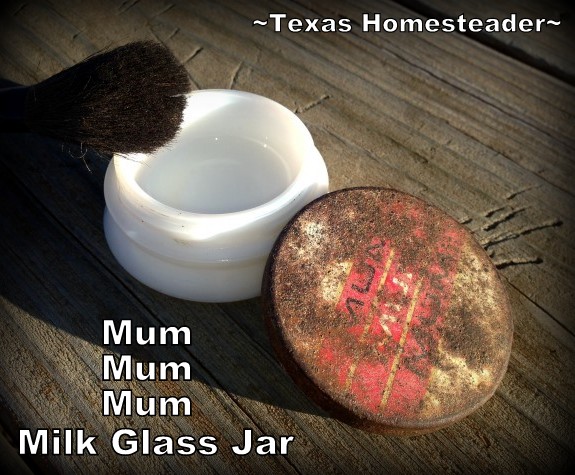 Anyway, I'm pretty pleased with my glass jars.
Do you have a fun place to go prospectin' for fun like this? What is your favorite thing you've found so far?
~TxH~
Other Homesteading Posts
Love Our 1880's Barn? See More!
Other 'Use Whatcha Got' Ideas


C'mon by & sit a spell! Come hang out at our Facebook Page. It's like sitting in a front porch rocker with a glass of cold iced tea – lots of good folks sharing! You can also follow along on Pinterest, Twitter or Instagram.
If you'd like to receive an email each time a new blog post goes live it's EASY to
Subscribe to our blog!
Save
Save