by Texas Homesteader ~
Spring is almost here in NE Texas! How glorious to see things turning green, colorful flowers popping up and the temps warming. RancherMan & I have been busy building new chicken runs and preparing the garden for planting. We're in Planting Zone 8 so I'm safe to drop the veggie seedlings into the ground around Easter and I. Can't. WAIT! But I digress… (eh hemm…)
Today's topic is saving money, and saving money is important to RancherMan & me – being self-employed means we're always keeping a watchful eye on our dollars. Thankfully there are ample opportunities to save some cold hard cash. C'mon and see what we did this week to save money.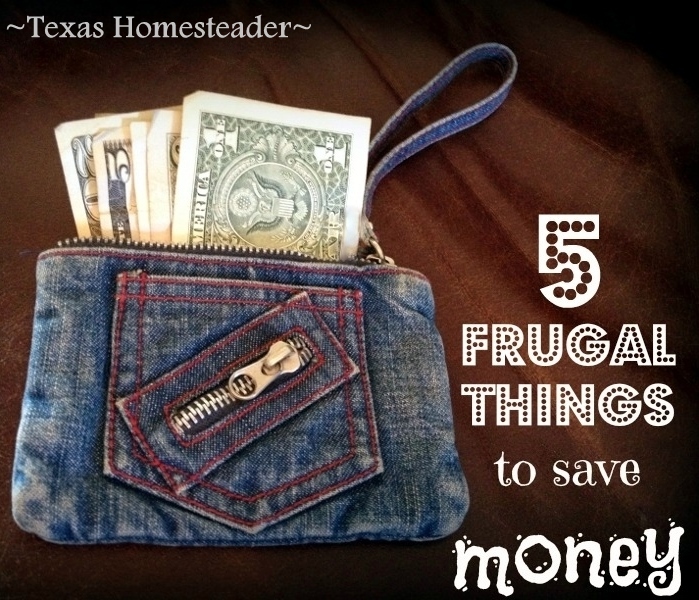 GET YOUR HANDS DIRTY – As I mentioned before, gardening has been forefront on my mind – but I like to plant heirloom seedlings. No problems, I have a setup I refer to as my 'Indoor Greenhouse' where I plant my saved heirloom seeds a few weeks in advance using a very inexpensive setup. Come planting time I will plant those seedlings in the ground for much less money than if I'd just gone out and bought seedlings somewhere. It's not only money saved but it also pacifies my need this time of the year to get my hands in the dirt!
CREDIT CARD BENEFITS – Although we pay the balance in full each month, using our credit card gives us 'points' for our purchases which we often turn into money-saving gift cards. But we recently discovered our credit card company also has a 90-day price match on items purchased using their card. RancherMan is the king of research and he's been keeping watch on the prices paid when we bought a new dishwasher to replace the CRAPPY, uh, old one. He was able to find a lower price advertised elsewhere online and promptly contacted our credit card company and requested their price match guarantee. They verified the price we found elsewhere was indeed lower and BOOM! They're reimbursing us for the $59 difference!
EFFICIENT ERRANDS – We had business to take care of in a nearby town this week so we ran several errands while we were out. We stopped by Tractor Supply to make good use of the chicken feed coupon given to us by the Purina folks while we were at the Mother Earth News Fair. (This is a two-fer score since we were driving right by the store AND we used a coupon!) We also stopped into the Farmer's Co-Op to pick up needles for upcoming calf immunizations and since we were driving right by the store we popped into Staples to pick up a ream of their paper offered for 1 penny (after rebate). We simply arranged our errands to where we were driving in one big loop so that we were driving right by each of these places while in town.
DINING OUT CAN STILL BE INEXPENSIVE – While we were running those errands we discovered we were hungry, but even though we'll stop for a quick fast-food bite to eat we're saving money. You see, while we were traveling for the above-mentioned Mother-Earth News Fair we had stopped at a Whataburger (our favorite fast food burger place) and the receipt indicated if we filled out their survey we'd get a code for a free WhataBurger with the purchase of a medium fry and medium drink. So today we stopped by with this completed-survey receipt and ordered a medium fry & medium drink (which was HUGE) and added another order of fries and split the free hamburger. We were both completely full when we left and the cost? $7! (Oh, and the new receipt had the same offer on the bottom so we'll definitely be doing this again.)
DO THE MATH WHEN BUYING – Living in the country means we must travel to nearby towns when we need something. Don't get me wrong – I LOVE IT! But while researching prices for the wire we needed for our chicken run we found it available at two farm supply stores in opposite directions in two different towns. Although the farm supply in a slightly farther town was a couple of dollars cheaper than the same type of wire at the town that's a few miles closer, it's important to do the math on the total amount to be paid. Our truck is a heavy-duty one to be able to pull a trailer loaded down with cattle, but as a result it gets crappy gas mileage. It's important to remember that driving our truck (at 9 miles to the gallon!) is part of the price paid too, so by paying a couple of bucks more per roll at a slightly closer area we actually came out ahead in terms of both dollars as well as time spent. Remember, the sales price is not always the bottom line in what you pay for something!
So there ya go – 5 easy things we did this week to save money. Of course there were other things that we typically do every week such as cooking from scratch or being mindful of utilities used (or not) but hopefully these 5 things give you food for thought… What are some of the things you did this week to save money?
~TxH~
Other Frugal Tips
…and many MORE!


C'mon by & sit a spell! Come hang out at our Facebook Page. It's like sitting in a front porch rocker with a glass of cold iced tea. Lots of good folks sharing! You can also follow along on Pinterest, Twitter or Instagram.
If you'd like to receive an email each time a new blog post goes live it's EASY to
subscribe to our blog
Save